Budweiser NFTs?! Enter the Budverse.
Well I'll be damned. I can't believe it. I missed out on the most American thing I've ever set eyes on. The Budweiser NFT collection. Yes, you read right. Budweiser the beer company. About an hour ago (they sold out in a few minutes) Budweiser released its collection of 1,936 Budverse Cans Heritage Edition NFTs. These are generative beer cans and god damn it I DIDN'T GET ONE! 1936 is the year that Budweiser was founded so it's like a commemoration collection.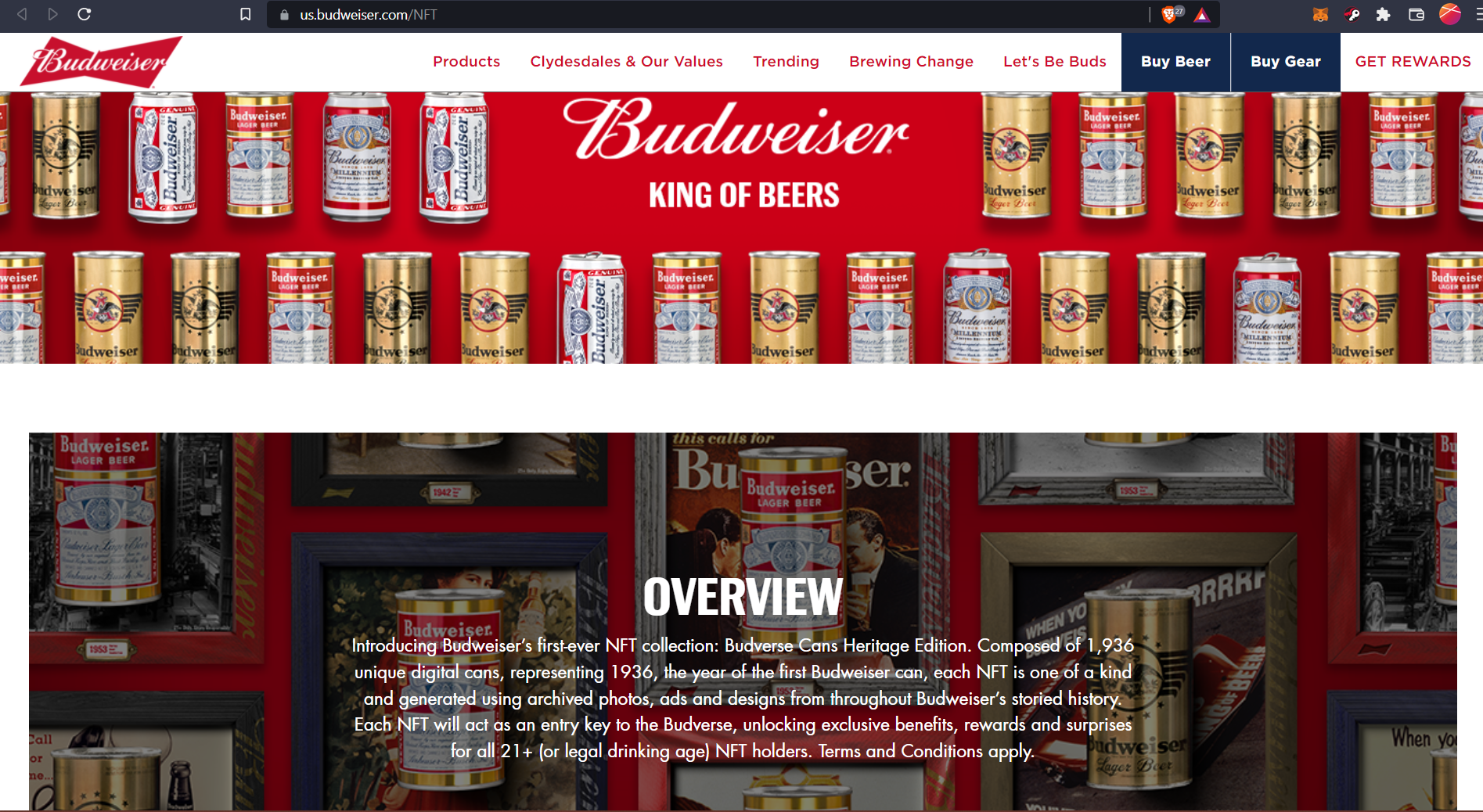 The Budverse
These 1936 Beer Cans were sold for a whopping $500 each and they fucking flew off the virtual shelves. Each Can NFT represents a key to enter the Budverse and grants owners access to exclusive rewards and prises. Wait.... Budverse? Holy shit. They're building a metaverse?!I need more information. I also need to check the secondary market. Oh, wait... These are on Ethereum and I don't want to pay $300 for gas to get an NFT.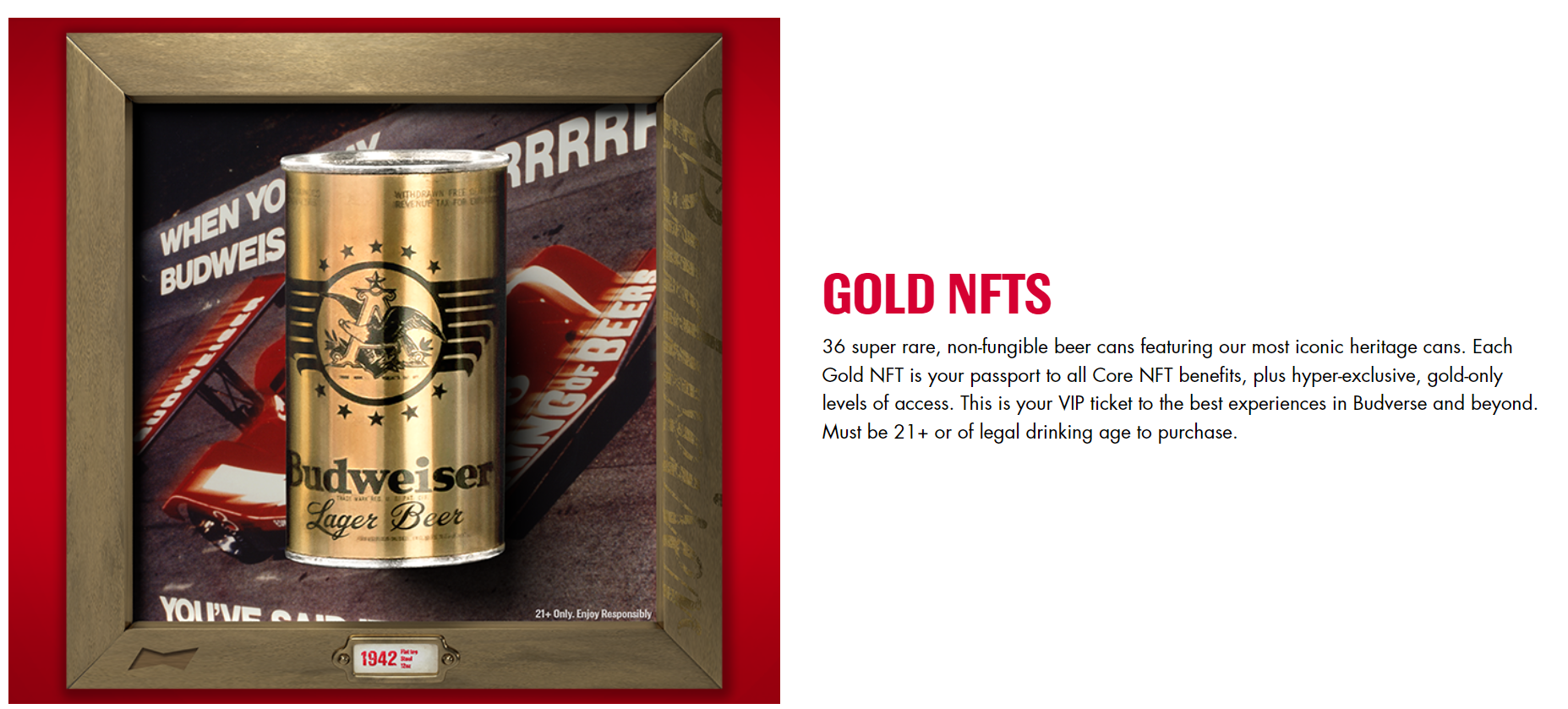 There's 36 Gold Can NFTs in the collection. They apparently grant you hyper-exclusive access. To what? I dunno apparently the Budverse. Of course you need to be 21+ to own these bad bois lol. No underage NFT drinking out here. These 36 Gold cans sold for fucking $1000.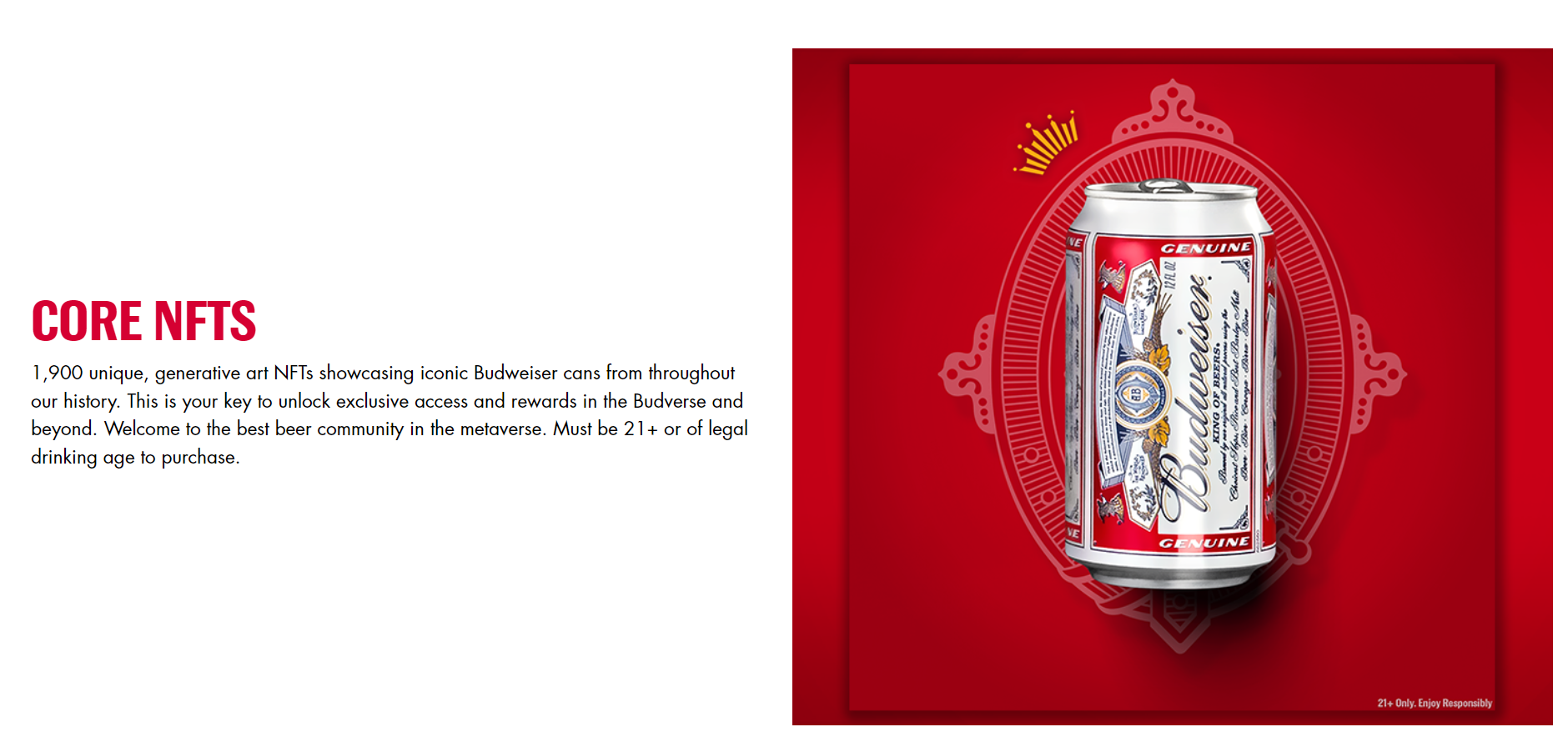 The core set grants you access to the Budverse and more. I don't really know what that means, but hey. I'm just a degen. This is really all the info that's out there. Pretty cool though - Budweiser got their ENS address beer.eth. I knew I should have bought beer.eth and weed.eth. Hindsight 2020.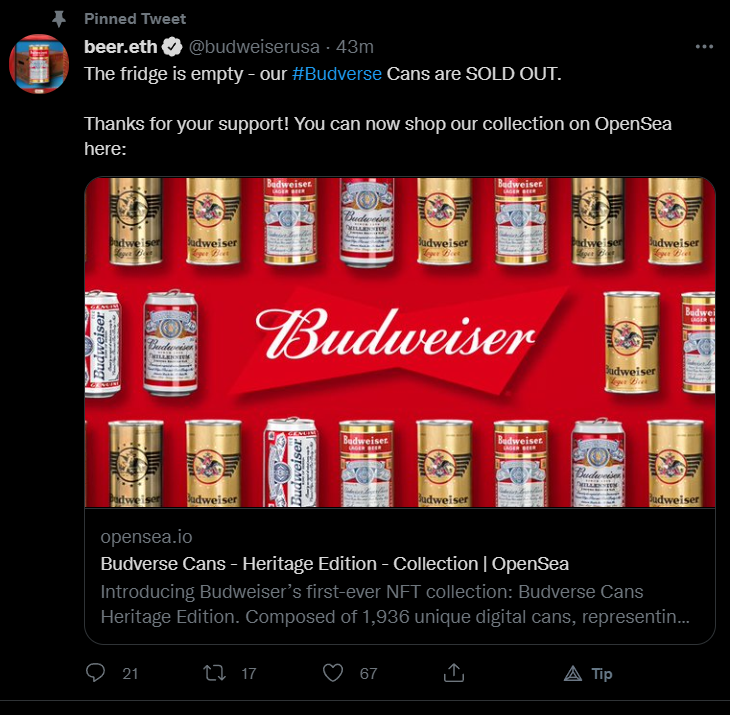 Of course the floor price is over 0.5 ETH so the lucky people that got their hands on these are happy right now. That's a pretty nice quick flip bois! Even make some money after paying for gas with that kind of resell lol. They range from 0.58 ETH all the way to 696,969 ETH. Niiiiice, someone with a giant brain must have listed that one. I love this space so much.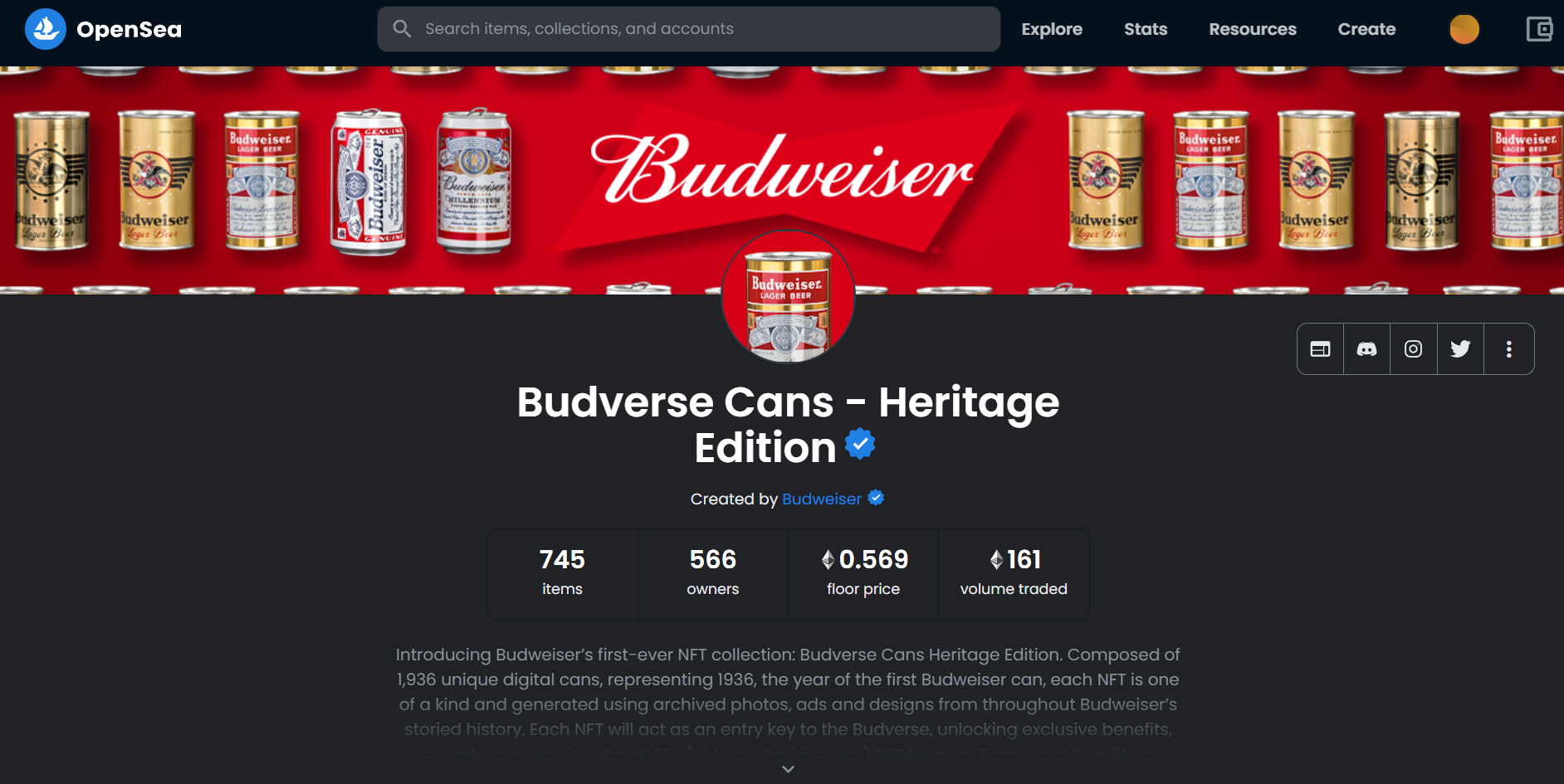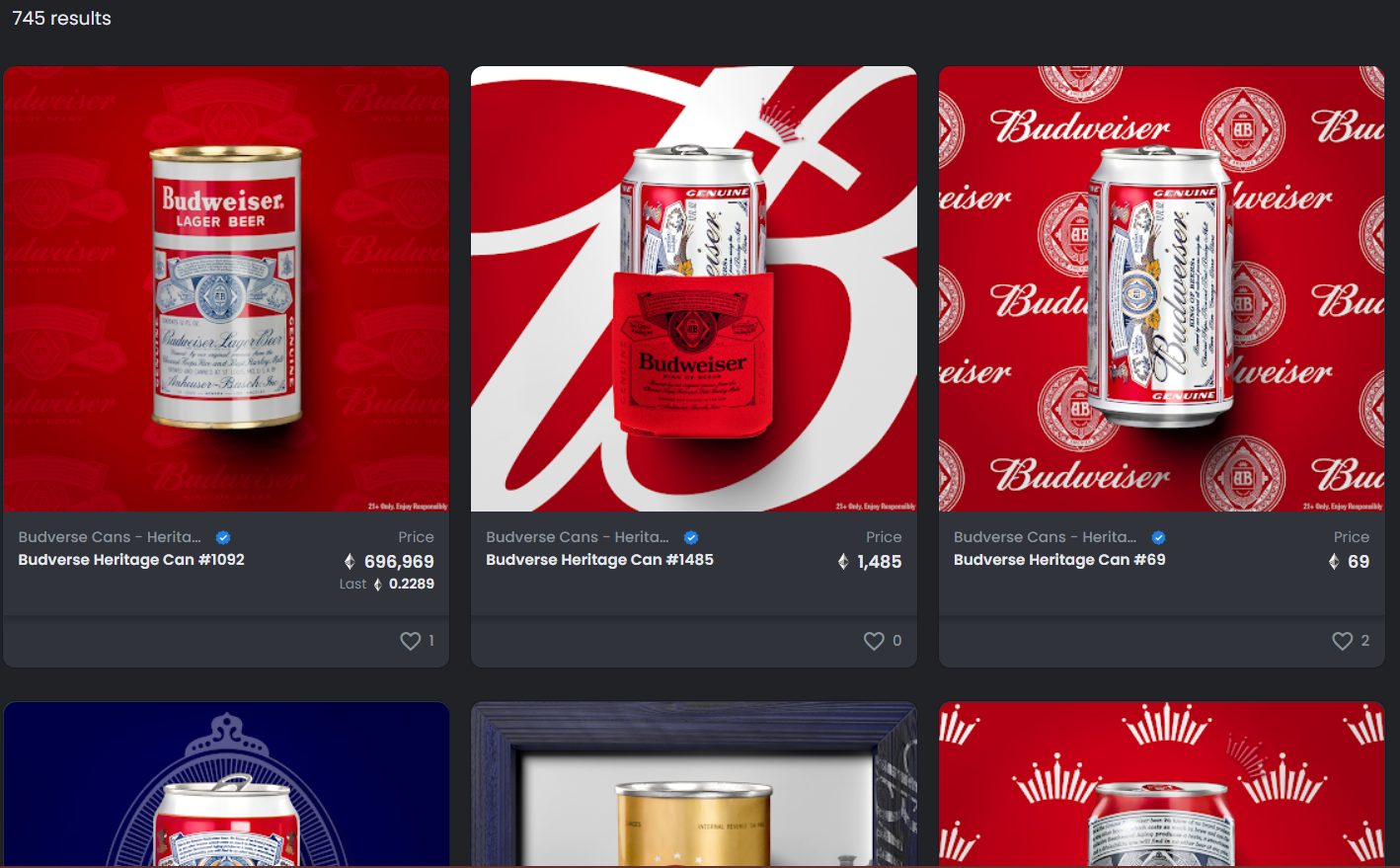 I fully expect the floor price to get swept by the rich people that can afford it. Very exclusive, even more so than Bored Ape Yacht Club. I'm really interested to see this Budverse they speak of. Oh yeah, only available in America!
(Unsupported https://giphy.com/embed/JJ6lmrIKzxBiE)
---
---