GM:FRENS | GM:Miner v0.1 NFT - Only 32 Hours Remain!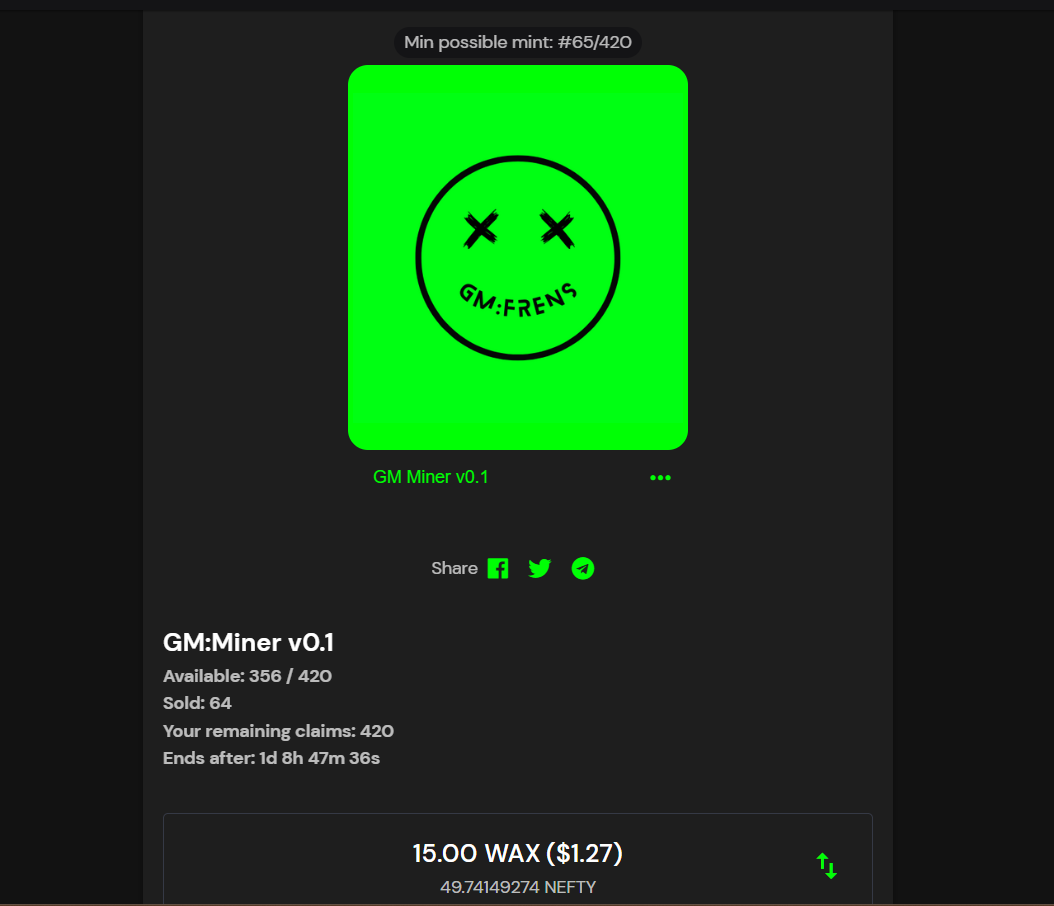 GM:FRENS!
I wanted to give a quick update on the GM:Miner v0.1 NFT release because I have been overwhelmed with the amount of support I've received on the project. If you haven't heard about the GM:FRENS project, check out the official announcement as well as the NFT drop announcement to get acquainted. Now that you know what I'm talking about, GM:FRENS is a project that I launched a couple weeks ago with the sole intention of getting more users and more activity on Threads. This is something I'm doing totally on my own to show my support and dedication to the LeoFinance community.
Threads is an incredibly powerful tool, and I truly believe it is going to be the killer feature that brings the next 10,000 or even 100,000 users to Hive as a whole. I even said this on the LeoFinance AMA, where I got to talk to Khal for the first time live. It was super chill, and he gave me the opportunity to talk about the project because it's all about supporting Threads. My idea when I decided to create this project was simple - create a social token that people can earn by interacting. Then Threads came along, and I knew it was the place to nest the project.

---
With all this being said, the past 24 hours have been a complete whirlwind. I've been hyper-focused on the GM:FRENS project few weeks now, so I know a lot of my posting has revolved around that. That will cool off very soon, I'm just obsessed with it for the moment. I'll be back to my normal content and stuff soon, I just don't have the time for that plus the work I've been doing on the project. I just want to build cool shit.
This project is my baby, and it's kind of evolving really fast. I've got an incredible fellow Hiver helping out with some stuff on it, and there's some building going on. We will have an interface soon where you can register your WAX wallet with your Hive account, and that is the first step in making this work. As it exists right now, the distribution of GM tokens is completely manual, using my own 2 eyes and hands. It's an excel spreadsheet and it's growing pretty fast.


Between sales on the drop page in WAX and sales on Hive in HBD, there have been 98 GM:Miners minted! I've also done a giveaway for 2 NFTs, and there's another giveaway for a third NFT on Twitter so make sure you join! The rules are simple - comment on the Tweet with your WAX address, tag 3 friends... That's it!
If the 420 Miner NFTs sell out, I have a special plan! Alright - time to go outside and touch some grass. Much love. Thank you for supporting me.
LFG!

Thanks for reading! Much love.
Wanna learn about all kinds of things you can do with the crypto you earn blogging on Hive? Check out my index - Learn Crypto Stuff for some fun educational crypto stuff.
Posted Using LeoFinance Beta
---
---