Hive to Binance Smart Chain Bridge - Insanely Easy & Fast
If you live in the U.S. like me, you probably know how annoying it is to try to move funds from Hive to Binance Smart Chain. Binance doesn't like the U.S. because of the regulators and they will even terminate accounts that use a VPN to access the site. Just not worth the risk of having my funds frozen or whatever. Bittrex is the only other decent option, but their HBD and HIVE wallets have been disabled for like a month or more now. Fuck a centralized exchange anyway...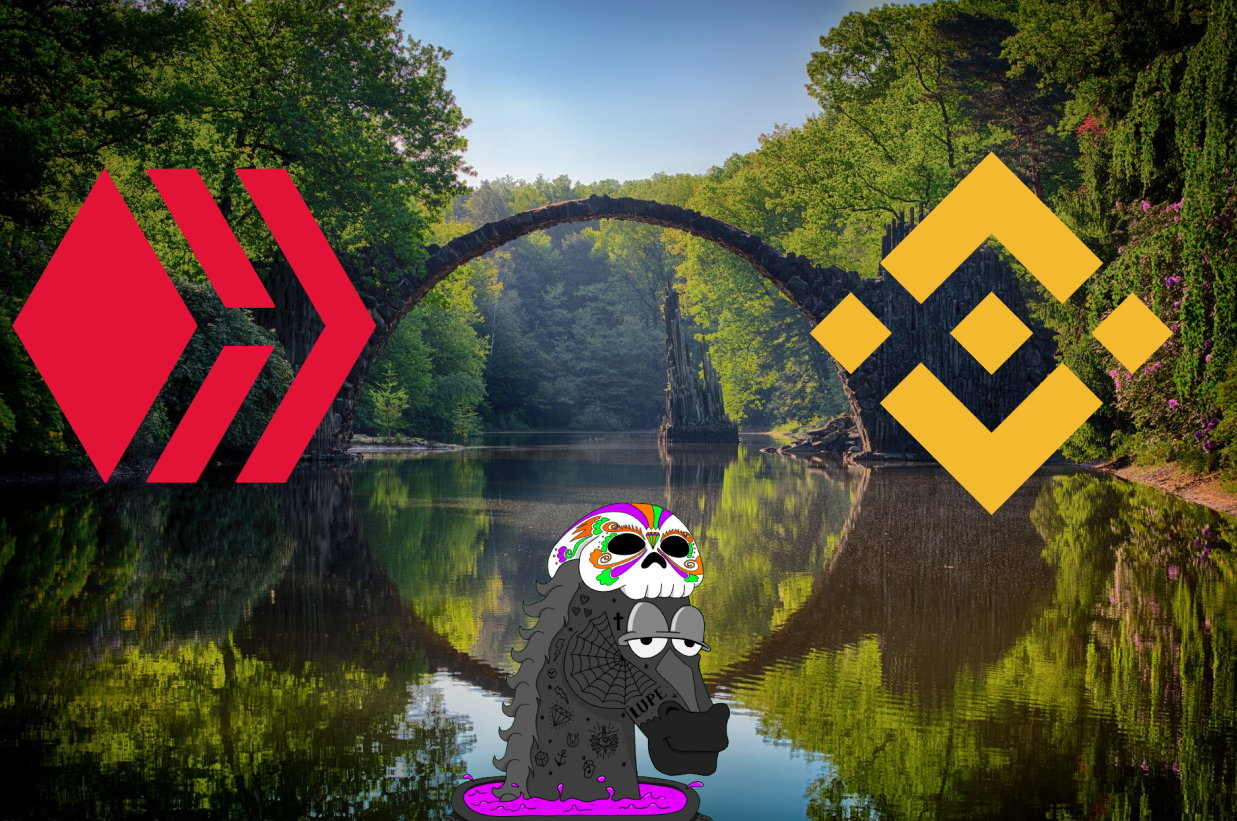 BSC Bridge 2.0
I was doing some poking around on some large accounts here on Hive to see how some of the larger accounts move money around. I don't remember which account I saw it on, but I saw a transfer to @bscbridge with a transaction hash. I clicked on it and eventually came across this post by @deathwing announcing an update to his already existing BSC bridge. The way this service works is kinda like a liquidity pool on a DEX. You send HIVE and instantly receive BNB on BSC. If you send an amount greater than the liquidity available, you'll get an instant refund and a memo stating how much HIVE/BNB is available to swap in the pool.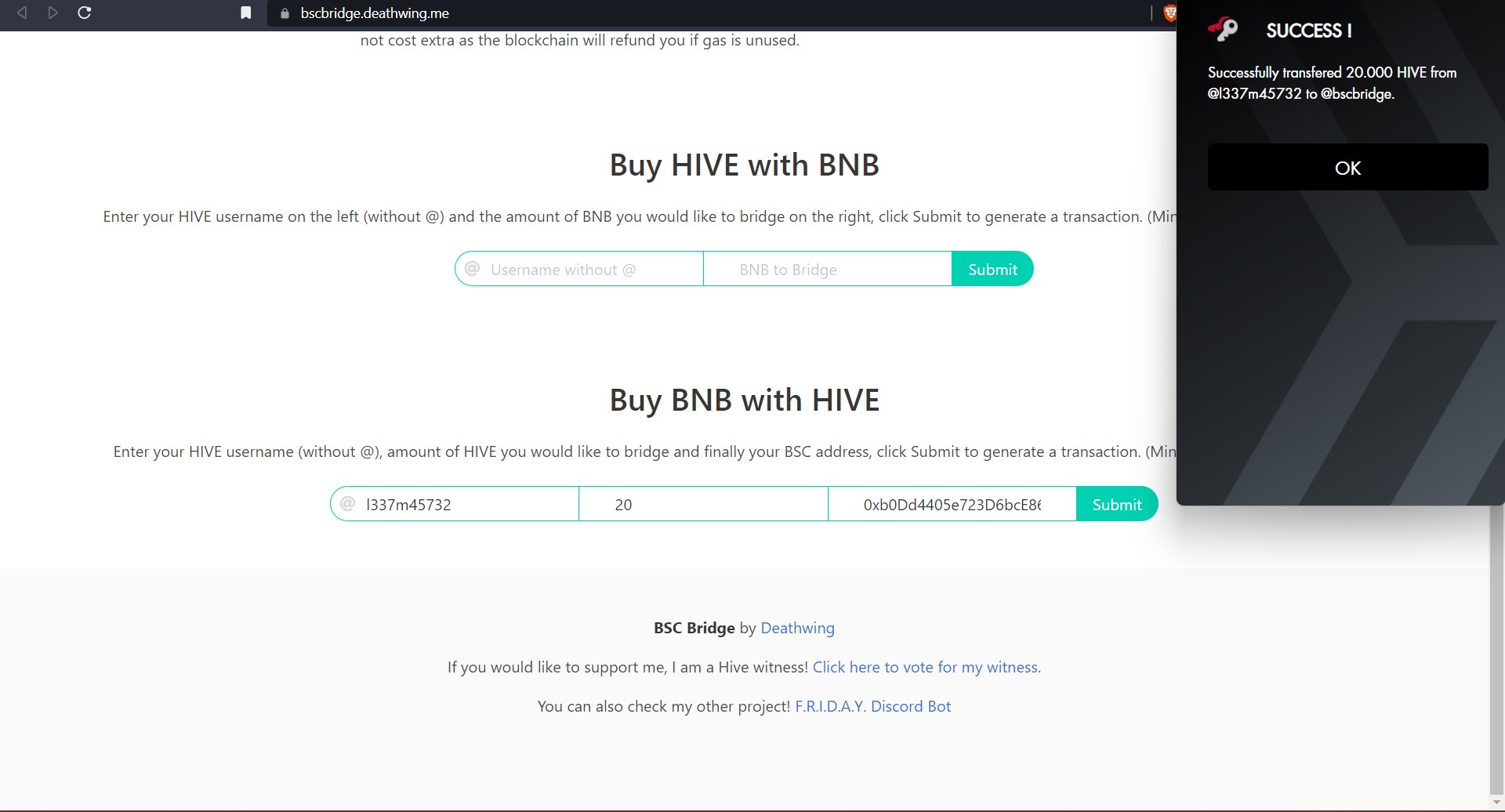 The minimum amount that you can swap is 20 HIVE and there is technically no limit. Fuckin sweet! There is a 2.5% fee but that's a small price to pay for the convenience and not having to deal with an exchange. I'm no fan of KYC or really using centralized exchanges much at all. The more ways I find to avoid them, the better. Obviously, use at your own risk. Do I think a Hive Witness would take your funds and run? No I don't but you know. Just have to give the disclaimer because anything can happen. I tested with 20 HIVE first as always and it went perfectly. Literally instant. All you do is enter your Hive account name, how much HIVE you want to send, and your BSC wallet address. Once you hit Submit, you confirm in Hive Keychain and then your swap will be fulfilled. Then after a short chat with deathwing in Discord, I decided to try a larger amount because I felt more confident. This guy is a true wizard.

2000 HIVE was too much apparently lol. I kinda figured there wouldn't be that much liquidity. Instantly got a refund and he advised me to try slightly less than the available amount which was 904.71 according to the memo.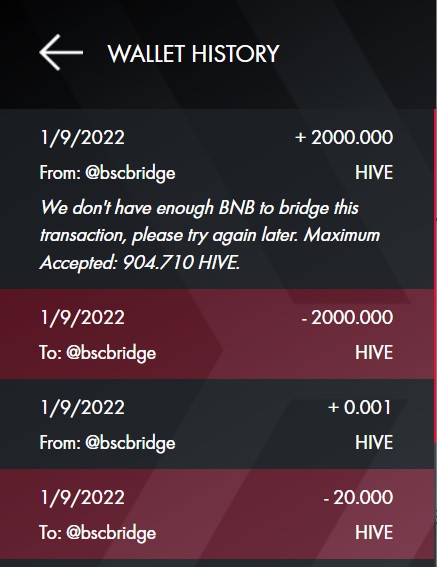 I ended up sending 904 HIVE and received my BNB within about 30 seconds. Incredibly experience. I highly recommend checking out this service. The more it gets used, the more liquidity there will be for people to swap between. Fuck Binance and Bittrex. Use this bridge when you want to move funds from Hive blockchain to BSC. It also supports BNB to HIVE swaps but I have not tested that one. I think I read in the Discord that it is currently disabled, but if you have questions... He responds very quickly and is super cool. He's built some other pretty awesome services for Hive as well such as a SWAP.HIVE to HIVE swap service. I'll be testing more of them for sure. Now I'm off to get more CUB to stake.

Thanks for reading! Much love.
---
Links 'n Shit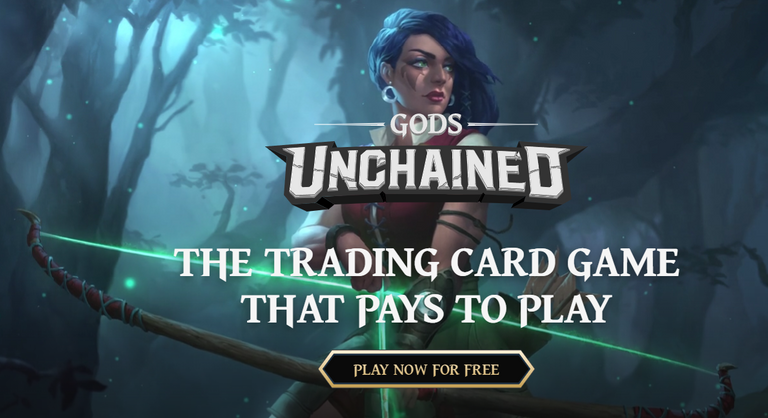 Posted Using LeoFinance Beta
---
---