Some Thoughts on Apple's Self Repair Program
wow
Apple has announce their Self Service Repair program. Yes, Apple, the biggest tech company in the game that has been against the right to repair longer than any other company. They have said publicly many times that they do not support the right for consumers to repair their own phones and computers. In order to have your device serviced with original Apple parts, you either had to go to Apple directly (nightmare) or go to an "authorized" repair shop. That's finally changing.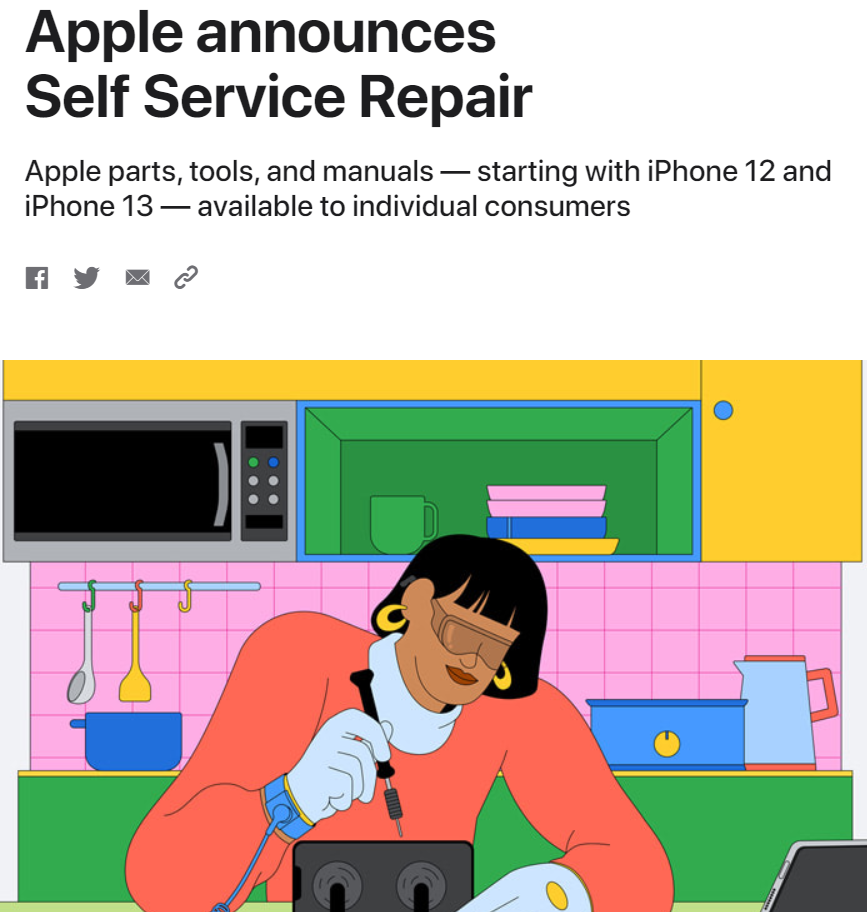 As someone that has been repairing iPhones and other smartphones, tablets, etc... since 2008 this came as quite the surprise. I can't tell you how many shitty aftermarket parts I've dealt with. There's obviously good aftermarket parts, but there's no real in-between really good and really bad. I've used everything from aftermarket screens to aftermarket batteries, home buttons (when those were a thing), and charge ports, etc... More than I can list. They're hit or miss. It's like getting Walmart branded beer. You know it could be good but odds are its really bad.

The initial phase is iPhone 12 and 13 models. Only screen, battery, and cameras. That covers the repairs for about 50% of customers I'd say. From experience, I've done more charge ports than batteries. What do I know, though? Anyway - I think the Self Repair Program is pretty damn awesome. At first I laughed. Then I though about how big of an impact it could have on electronics waste. Apple contributes to a large amount of electronic waste, and a good chunk of that will (hopefully) be reduced by this program. They will be offering credit for returned parts which is pretty awesome. Hopefully it will be enough of an incentive for people to ship their broken screens in.
The iPhone parts will be followed by parts for the new M1 Macbooks. Hopefully soon after that, iPads, and Apple Watches as well. People should have the right to repair anything they purchase. Why do we need to be so wasteful? The pollution levels are already insane - we don't need Apple to keep pushing it. I mean, they already removed charging bricks from boxes so they could sell you more of them in BOXES to reduce waste. lol. I can't believe people still buy their shit. I guess at least they are giving their customer something with this.
Would be cool if they used the Ethereum blockchain to record the amount of waste this eliminates. Maybe allow users to verify the parts on chain? How fuckin cool would that be? I'm sure it would drive value for genuine parts.
Time to pump Apple stocks.
What do you think?
lemme know
Posted Using LeoFinance Beta
---
---