Verify Your Brain - Proof of Brain Airdrop POB Pump
hello frens
I hope you're having a good weekend. I came across something here on Hive the other day that really caught my attention. So much so that the post (source of images and screeenshots) has been open in a browser tab for 4 days and I a, just not getting around to diving in. I read it but I didn't read it. You know what I mean? Like it is a long post with a lot of information tot digest so I kept it tabbed to read again when I could focus.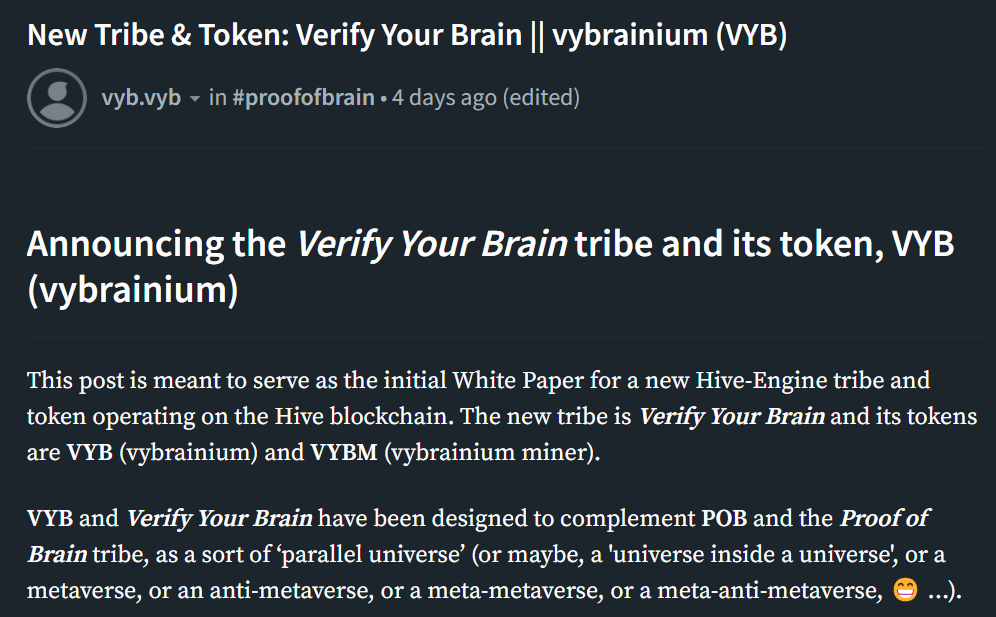 Verify Your Brain
The first feature of the Verify Your Brain tribe that's unlike others is that downvotes will have no weight. Self votes will also have no weight to discourage farming. I don't disagree with the self vote portion necessarily... But I don't agree either. It's kinda baked into the platform. As far as downfvotes go - I personally have never downvoted someone on Hive. Well, maybe a couple times but none that I remember. I can only see this being used for spam really. I do love that they are implementing a mute function.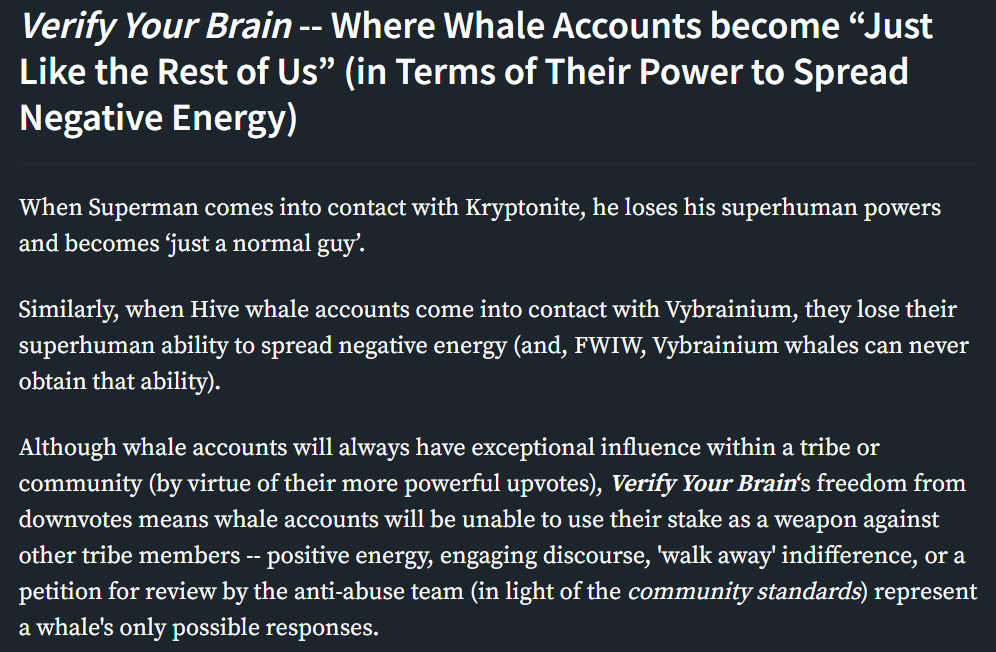 Check the post linked above for the full details. I'm just pulling some parts of it. The idea here is that VYB is supposed to compliment POB as a sort of parallel univese. Or a meta-metaverse as they called it. It is not mean to overtake or hurt POB, it is design to help it. I love this symbiosis idea.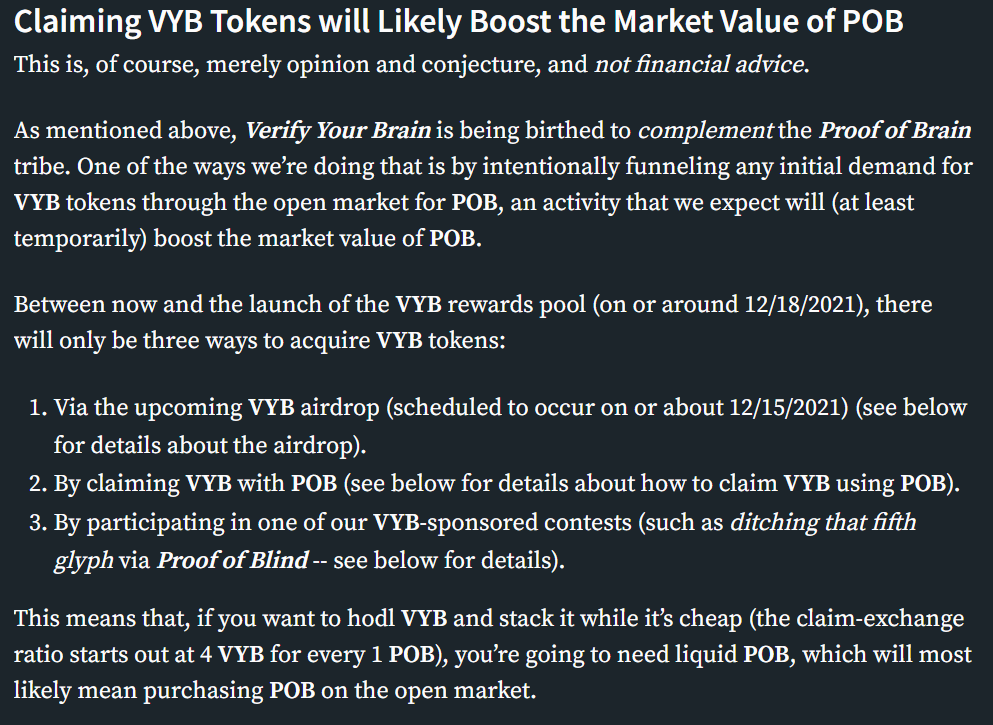 You can get VYB or vybranium (genius name guys) via the upcoming airdrop, buy swapping POB for VYB, or by participating in contests. Basically to get it now you have to buy POB to convert so it should boost the price. Probably nothing though. I'll just leave this here.

I don't know if it is directly related. But it just kinda came at the right time. I definitely bought some POB before this pump. Haven't swapped it yet as I'm waiting on an unstake. I know, I plan to replace the POB I unstaked with earnings.


Now people who submit via Proof of Brain will earn rewards in POB and VYB. The VYB will be staked and will have to be unstaked to be traded. I love it. Forced hodling. They also blacklist accounts that unstake from community curation. Damn, that harsh but again, it's to encourage staking.
As far as the tokenomics, there's a total supply of 2,042,042 with the same inflation curve as POB. 1,000,000 will be airdropped to POB holders and 1,000,000 are claimable via swapping POB now. Use tags listed here to earn staked VYB. There are also VYBM miners that receive rewards similar to LEO miners.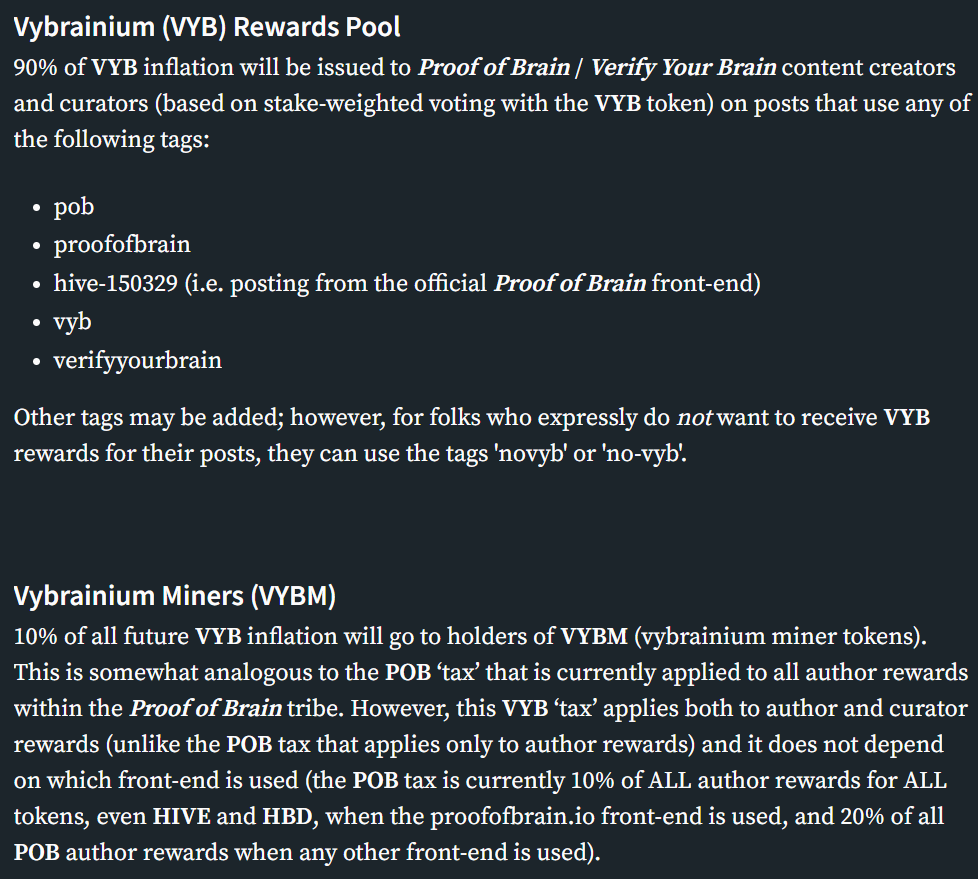 I kinda love this project. I hope it does well. I'll be using it for sure for testing and to see what the vibe is like. I wanna earn some VYB too because fuck it why not? I could see this overtaking POB at some point. Hopefully the interface is better. I'm swapping some POB probably tomorrow and will update on the process. Until then - accumulate POB for the airdrop too.
What do you think?
lemme know
Posted Using LeoFinance Beta
---
---