My Life in Palette: A Quiet Moment for the Soul

Quiet the mind. And the soul will speak.
~Ma Jaya Sati Bhagavati
As most of us here are battling with everyday hustle and bustle of everyday mundane, have you ever asked yourself when did you give it a break? A time to breathe and relax?
When did you last listen to what your soul is saying?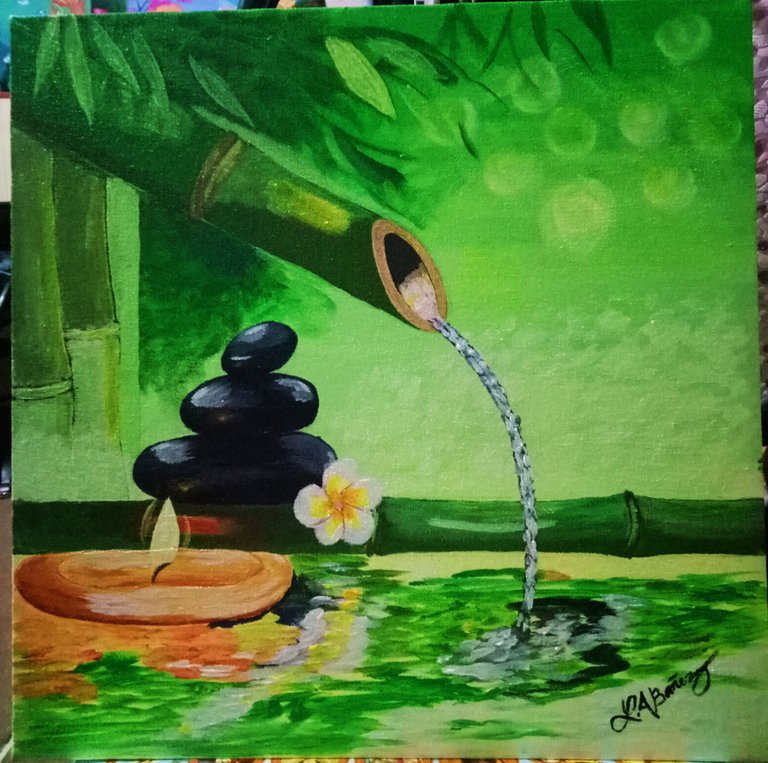 A 16"x16" acrylic in canvas
Hello everyone!
For most of us, we probably define the perfect escape as an adrenaline-pumping adventure like mountain climbing, getting close to nature could be of big help. Or finding the serenity in a relaxing beach getaway with family or friends could probably be very therapeutic.
We all need, or rather deserve these escapes, don't we?! Even just for a while. As life's chaos has all been drenching us in toxicity and stress and all those negative energies we so wanted to get rid of.
Well, I am like those many who desperately need a break. I could almost hear my heart screaming at the top of her lungs shouting for escapeeeeeeeee!
Amidst the loud noises of this life's chaotic roller coaster ride, we all need a break. A total disconnection before this seemingly-endless chaos shouting inside you will take your sanity.
But guess what? There's this one amazing thing that I get to realize, how to achieve the perfect escapade even without packing your bag and traveling to some spectacular destinations and spending money.
Yes, sometimes the perfect escape is to meditate. Sometimes, it's better to stop and spend a quiet moment because, for all we know, the chaos we are battling is the inner strife inside us. We just have to surrender our minds to our inner tranquility and for a moment, listen to our soul speak. We just need to listen to how beautiful the hymn of our soul is singing.
A zen fountain for meditation and relaxation - it is what I want to virtually share with you. A piece of something quiet painted in acrylic.
And it is with great joy that I will be sharing how my mind and soul were gracefully dancing in one tune while doing this piece of art.
The progress...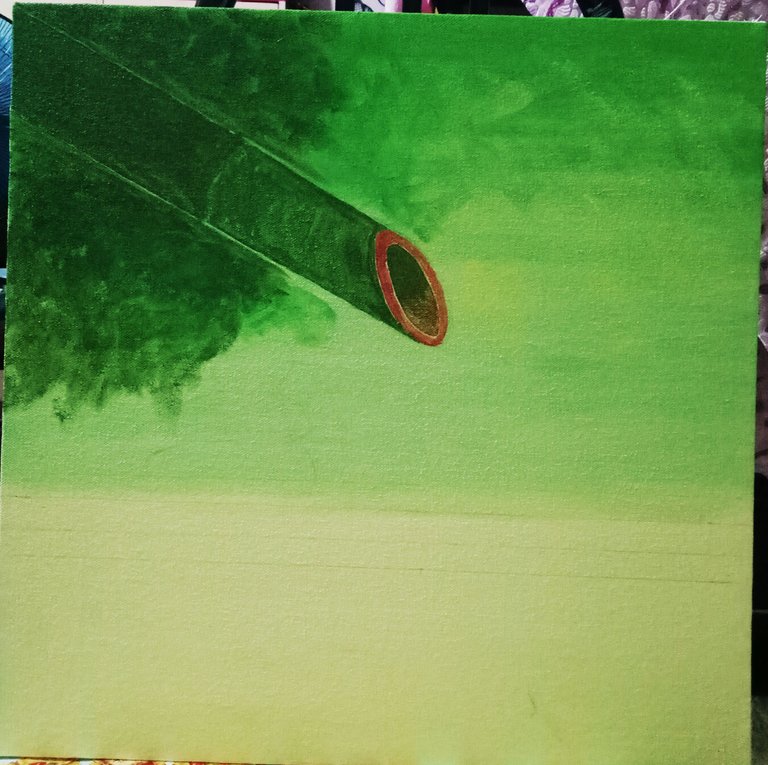 🔸First, I painted the background with different shades of green and painted the first bamboo which will serve as the fountain.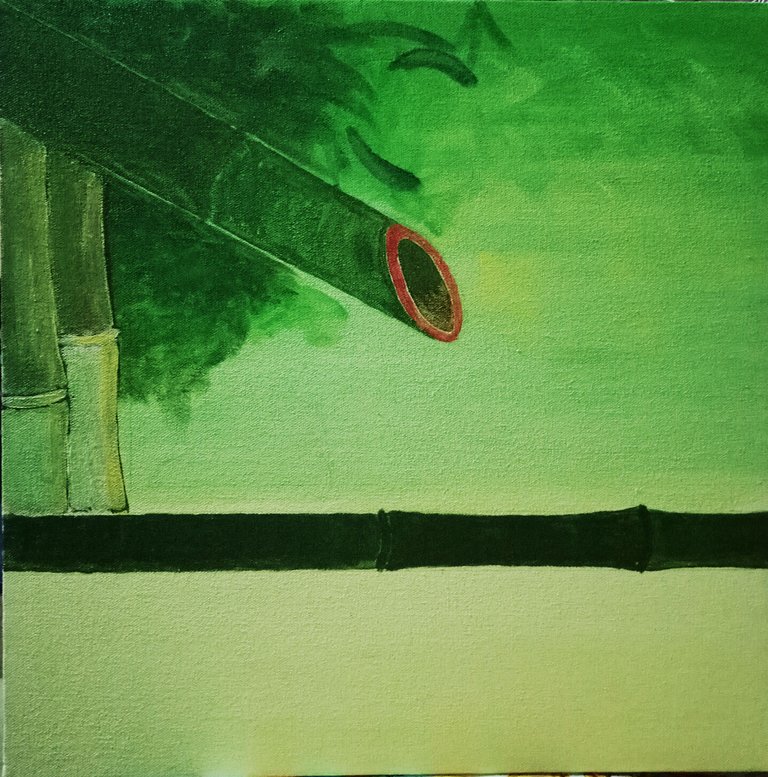 🔸Then, I added some bamboo in the background and added the second bamboo which was placed horizontally.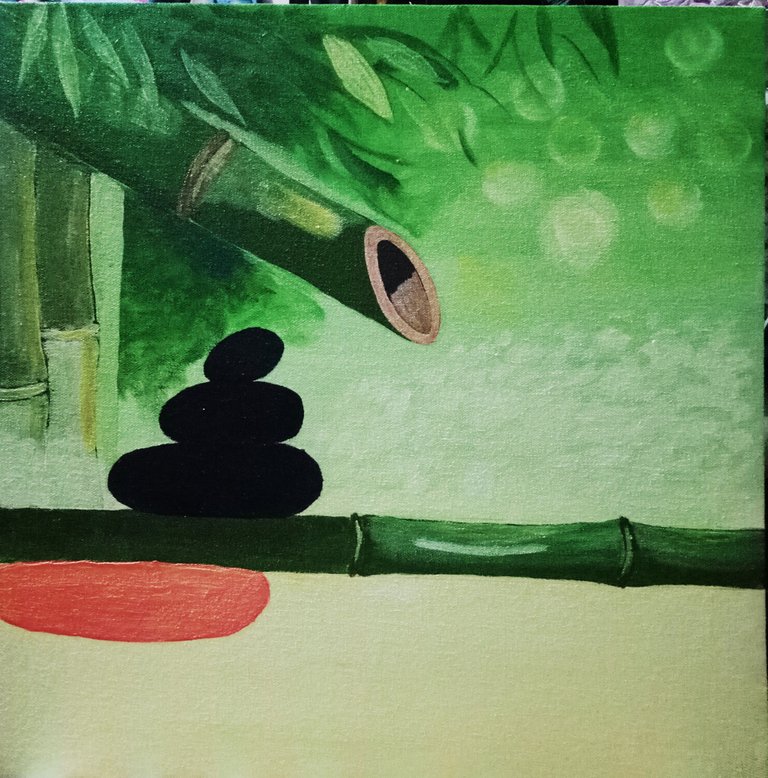 🔸And then, I added the three stones and the candle. I also added some bokeh effects in the background. Well, for those who do not have any idea what a bokeh effect is, it is the blurry effect in the background (the white circles which are seen in this painting) to highlight the focus in the images at the front.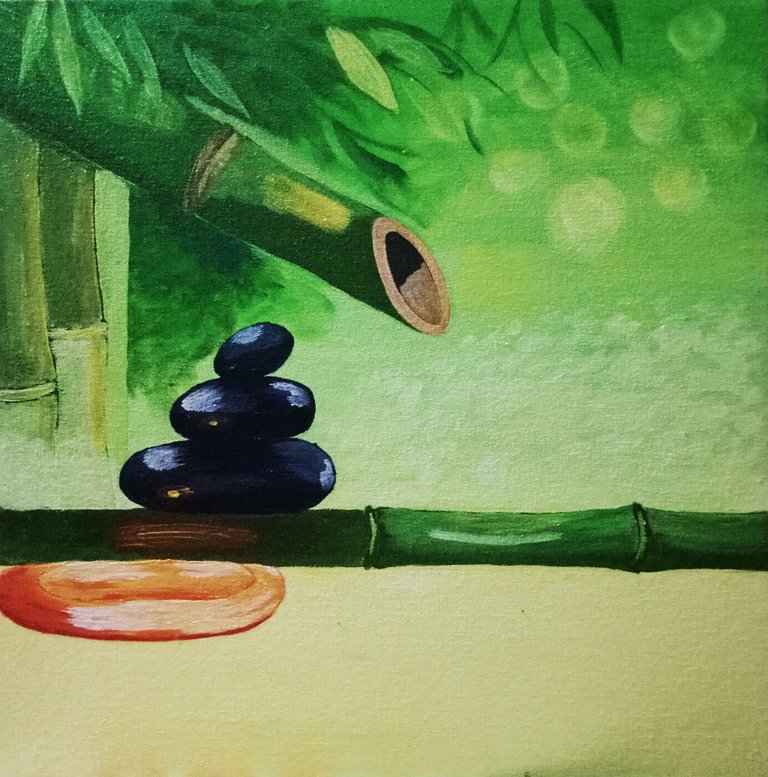 🔸Next, I added details to the bamboo, the stones, and the candle.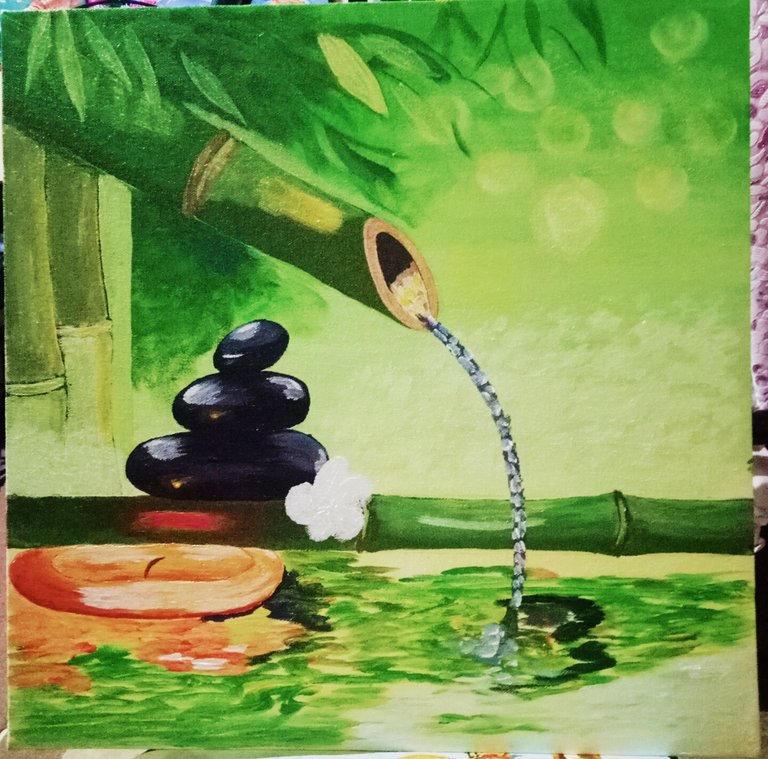 🔸And then, I added to paint the flower, and the water flowing from the bamboo. And also added details to the water as they are being scattered by the flowing water. Initially, the water flows in combined colors of gray and white.
I also added the reflections of the bamboo, flower, stone at candle to the water.

🔸And then, almost done as I am already adding the highlights. I added highlights to the flower and of course, the water flows. To make it look more like t flowing water, I added a mixture of white, blue and gray, and tadaaaaa, for me it's magic.
I am almost relaxed as I could almost hear the water and I am starting to meditate just by looking at it. Anyone? Are you with me?! 😊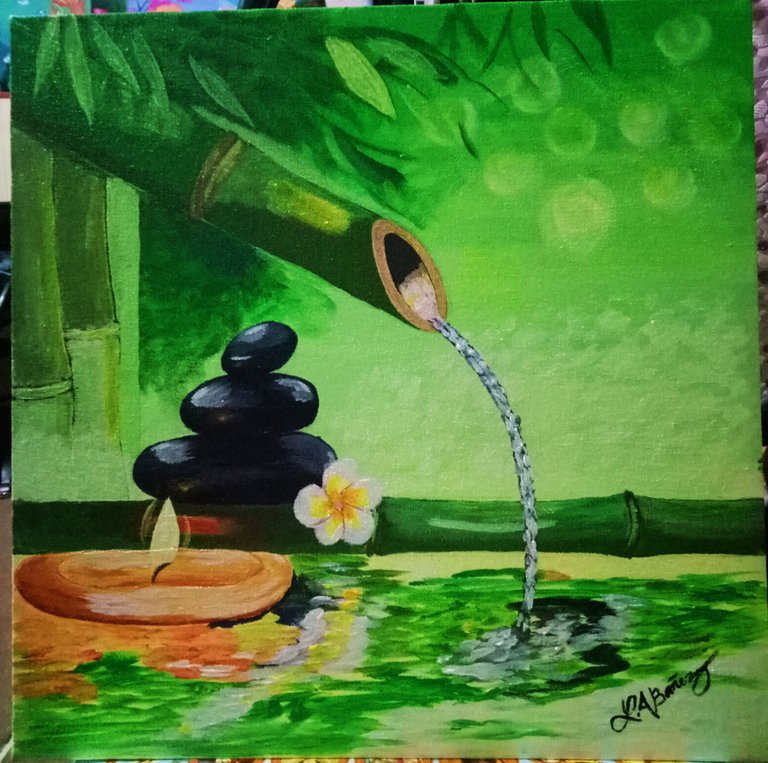 🔸Lastly, my favorite part of painting --- adding my signature.
I hope this piece has virtually given you a quiet moment for relaxation and meditation.
Sometimes, slowing down our pace and spending a bit of our time to be still and meditate could lead us to the inner peace we have long been searching for.
Just be quiet, and listen to your soul do the talking.
---
---