Retrogaming: Rediscovering a love, Ninja Gaiden Trilogy!. [eng/esp]
---
Hello gamer friends of HIVE! 🎮
Retro games have marked generations of children who lovingly and nostalgically carry memories to adulthood. And it is that spending hours and hours playing on consoles was a childhood habit and that many adults still keep for moments of disconnection. In my case, I grew up with a couple of brothers and therefore the more manly games like attack and ninja themes reigned.
One of the games that I liked the most I will highlight today, its name is Ninja Gaiden Trilogy. It was made by TECMO, for Nintendo, in 1995.
---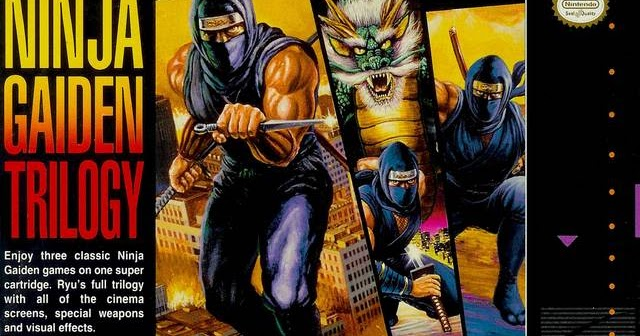 ---
This video game tells the story of the ninja path of a character named Ryu Hayabusa, belonging to the Dragon clan. Really far from all this noise of the story, for me it was simply "Ninja Gaiden", later as an adult I discovered the story that it developed, the versions and the colors. Yes, the colors, I started playing on a black and white TV, I think my imagination was empowered there because I could barely distinguish figures. Now, in the adult stage and in full color, I discovered that some creatures were not what I thought back then (😱).
But let's get back to the game.
This basically is about the main character going through various scenarios and facing enemies, which can be ninjas or other creatures. After successfully passing certain distances, you reach a crucial point where you come across a "Monster or Major Boss", which you must kill to pass the level. Let's now see a bit of the interface and talk about the gameplay, through screenshots. I mention at the same time that I have currently run the game from my mobile with the use of an emulator. Unfortunately I can't upload videos yet on 3Speak, but as soon as I can I'll make short Gameplay types so that you can better appreciate the features that are outlined in the review.
---
Playing Ninja Gaiden Trilogy:
When we start the game, we find a simple interface where we see the name of the game, "NEW GAME" and "CONTINUE" options. In addition to license limitation. Remember: The buttons seen in the screenshots below are not displayed in the original interface development, they are noted here because it is a mobile version of a touch, using a console emulator.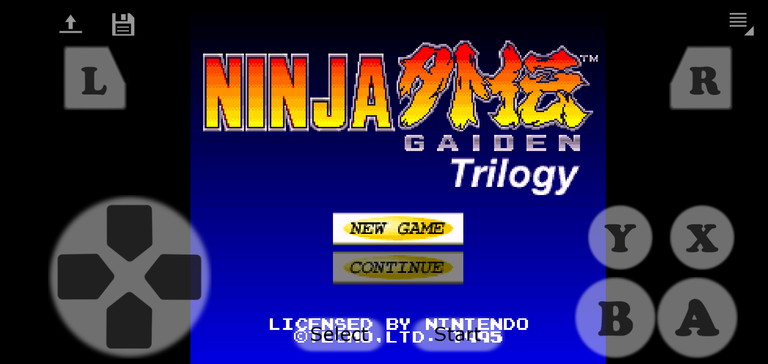 Screenshot taken from my mobile
---
Next we will have an interface to select the version that we like. Remember that this version collects 3 of the game for us, where one differs from the other by some characteristics. After choosing, we press "START", to start the game now.
---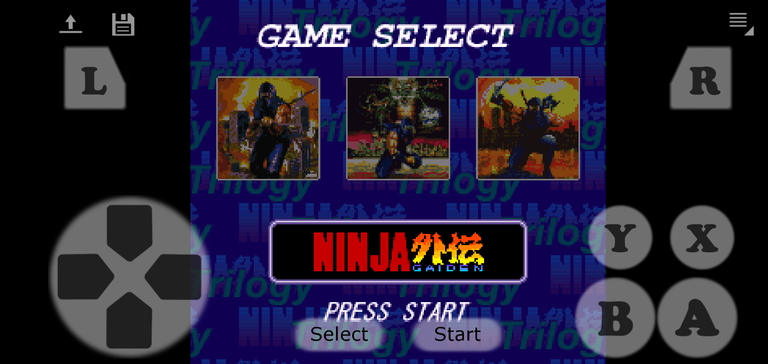 Screenshot taken from my mobile
---
In reference to the versions that we find here, they maintain common design lines that characterize the game, thinking that it is not to lose the essence. But, in the versions you can notice some mobility features regarding the character, like when in the first added version you can't move the character on the wall. That is, the ninja is hanging on the wall and there is no movement or attack. Meanwhile, in the following versions, it can be seen that the ninja moves and not necessarily only on a ladder. In addition, you can also use the katana and the "mega katana" (That's what I've baptized it 😉) more fluidly. However as long as he is hovering he cannot execute sword movement, but rather only the use of Shuriken.
---
Version I.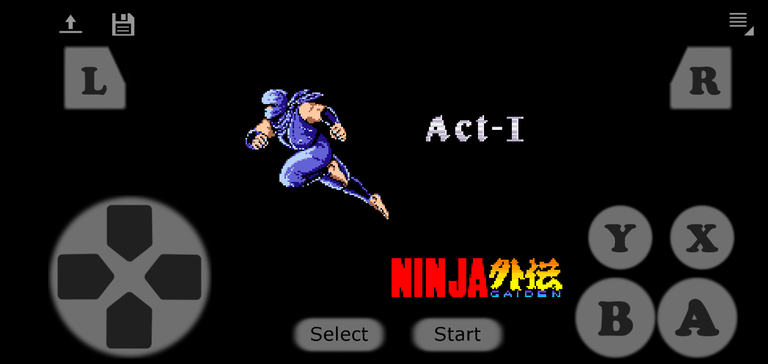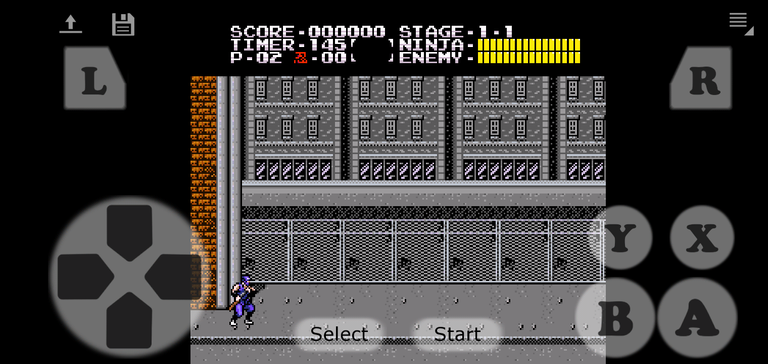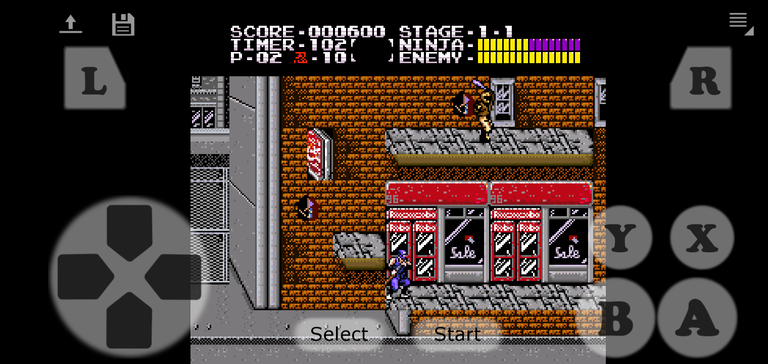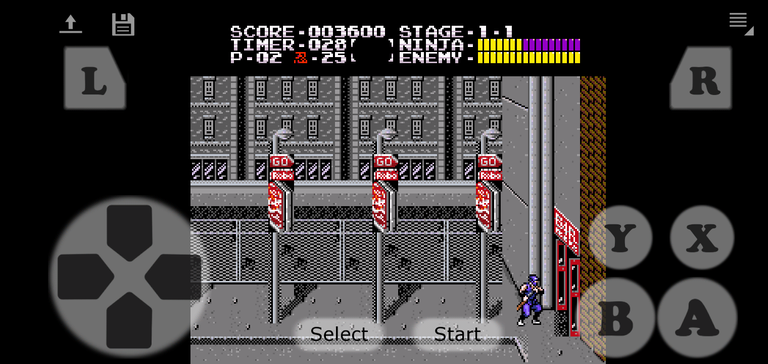 As a final act we must face an enemy inside a kind of chamber, it is denoted formed and carrier of a kind of Broad Axe. The enemy makes quick and accurate movements, to hurt Ryu. The setting of this version goes back to a Broklyn neighborhood type space, which we must go through and cross with the ninja.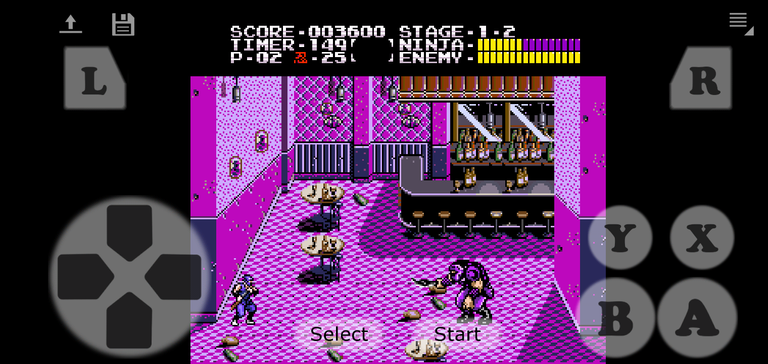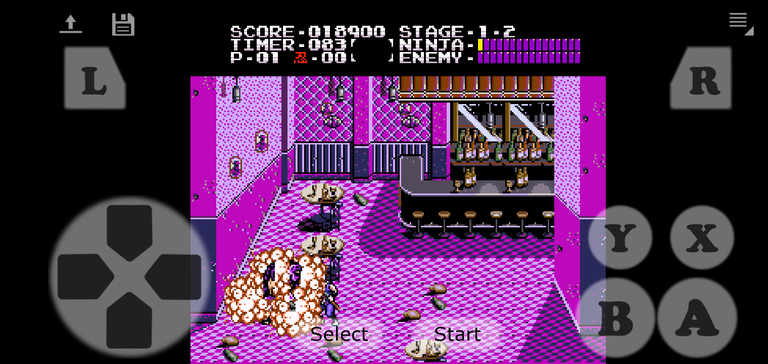 ---
Version II.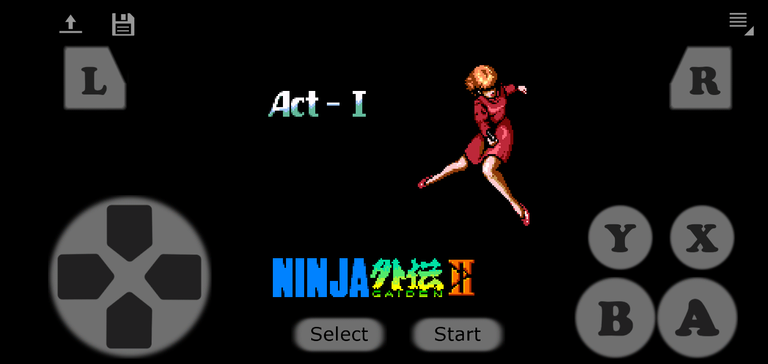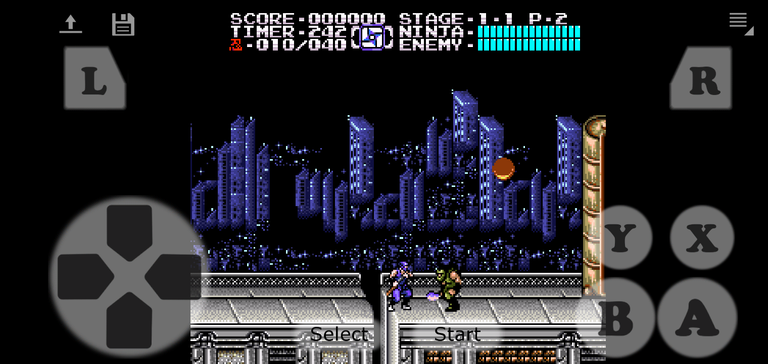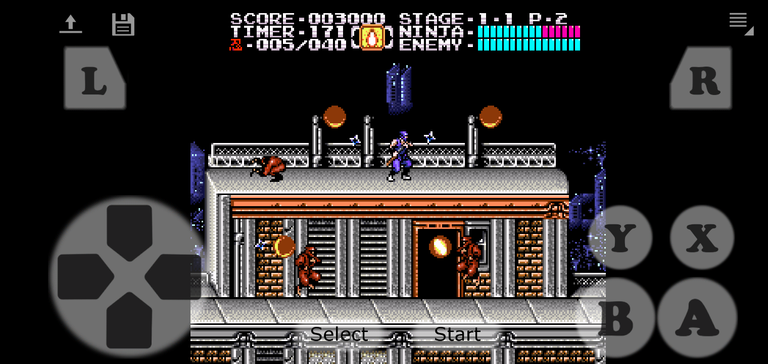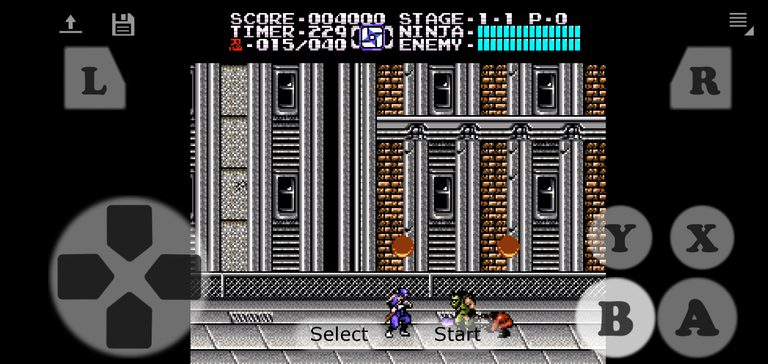 As the final act, we are faced with a greenish-looking character who does not have a weapon per se, but rather attacks the main ninja with blows and headbutts. The setting of this version is set in an area like a city, the buildings represent the plane that must be traveled, stairs and garbage drums form relief and force our ninja to jump and climb.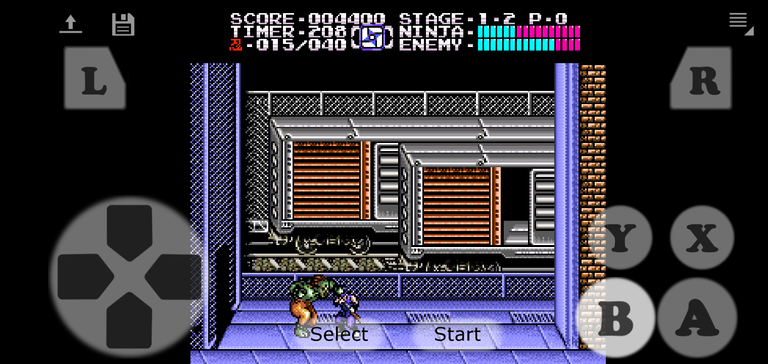 ---
Version III.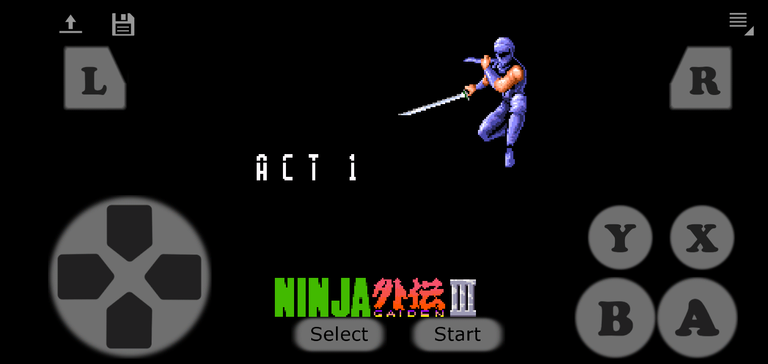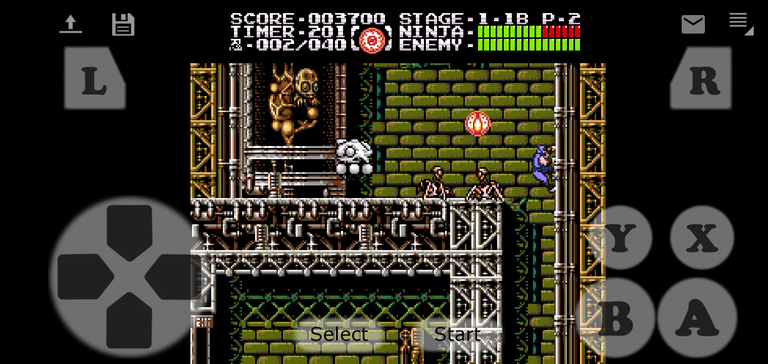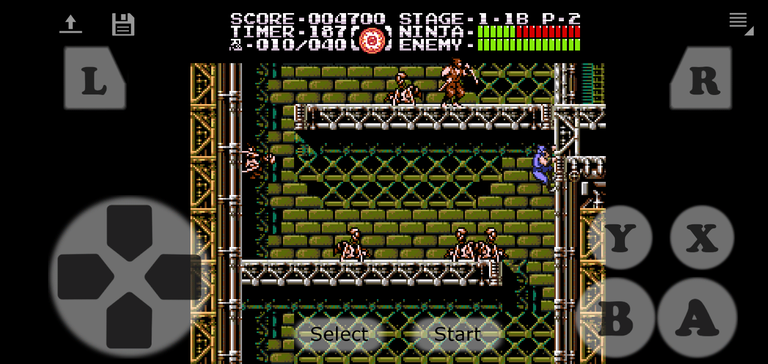 As a final act we find a type of metal armored monster, in a green tone. It has a kind of blades for hands, lethal movements. This version is one of my favorites, because the character's mobility is more developed, he can be in free fall and use the katana. In addition, the setting goes back to a more skull point, and with flying species that I previously thought were evil pandas, but in reality they are a deformed sack.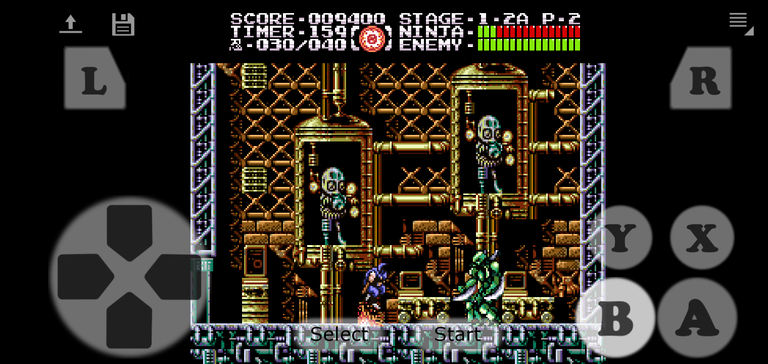 ---
The truth, this version of collected games is extraordinary. It allows us to have an entertaining and captivating collection. The graphics and designs are good despite the time of creation, and allow us to show the improvement steps in the development and progress of the game. In addition, we can notice progress in the colorimetry of characters and sound in general. I tell you that when I spent a lot of time playing, I listened to the music burning in my brain, over and over again. Did it happen to them?
---
For this occasion, it seems to be everything. If you made it this far, thank you very much for your time. Greetings, La Cochina en Salsa says goodbye.
---
Banner: Canva.
Translation: Google Translate.
Texts of my authorship, screenshots taken at the time of executing my user experience.
---

[ESPAÑOL]
---
¡Hola amigos gamers de HIVE! 🎮
Los juegos retro han marcado generaciones infantiles que llevan con cariño y nostalgia los recuerdos a etapas adultas. Y es que pasar horas y horas jugando en las consolas, era un hábito de infancia y que muchos adultos aún conservamos para momentos de desconexión. En mi caso, crecí con un par de hermanos y por ende reinaban los juegos más varoniles como de ataque y temas de ninjas.
Uno de los juegos que más me gustaban lo destacaré hoy, su nombre es Ninja Gaiden Trilogy. Fue hecho por TECMO, para Nintendo, en el 1995.
---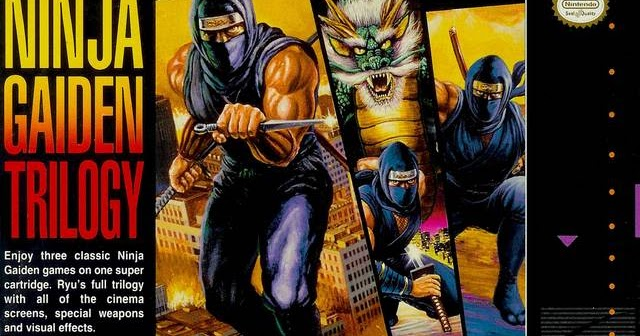 ---
Este videojuego relata la historia del camino ninja de un personaje llamado Ryu Hayabusa, perteneciente al clan Dragon. Realmente lejos de todo este barullo de la historia, para mí simplemente era "Ninja Gaiden", más tarde de adulta fue que descubrí la historia que desarrollaba, las versiones y los colores. Sí, los colores, inicié jugando en un TV a blanco y negro, creo que mi imaginación se empoderaba allí porque apenas podía distinguir figuras. Ahora, en la etapa adulta y a full color, descubrí que algunas criaturas no eran lo que pensaba en ese entonces (😱).
Pero, retornemos al juego.
Éste básicamente se trata de el personaje principal pasando por diversos escenarios y enfrentando enemigos, pudiendo ser ninjas u otras criaturas. Luego de transcurrir ciertas distancias de manera exitosa, llegas a un punto crucial donde te tropiezas con un "Monstruo o Jefe Mayor", que debes asesinar para pasar el nivel. Veamos ahora un poco de la interfaz y hablemos de la jugabilidad, a través de capturas de pantalla. Les menciono a la vez, que el juego actualmente lo he ejecutado desde mi móvil con el uso de un emulador. Lamentablemente no puedo subir videos aún en 3Speak, pero en cuanto pueda haré tipos Gameplay cortos para que puedan apreciar mejor las características que se acotan en la reseña.
---
Jugando Ninja Gaiden Trilogy:
Cuando iniciamos el juego, nos encontramos con una interfaz sencilla donde visualizamos el nombre del juego, opciones de "NEW GAME" y "CONTINUE". Además de acotación de licencia. Recuerden: Los botones que se ven en los captures de pantalla a continuación no se visualizan en el desarrollo de interfaz original, éstos se notan aquí porque es una versión móvil de un táctil, usando un emulador de consola.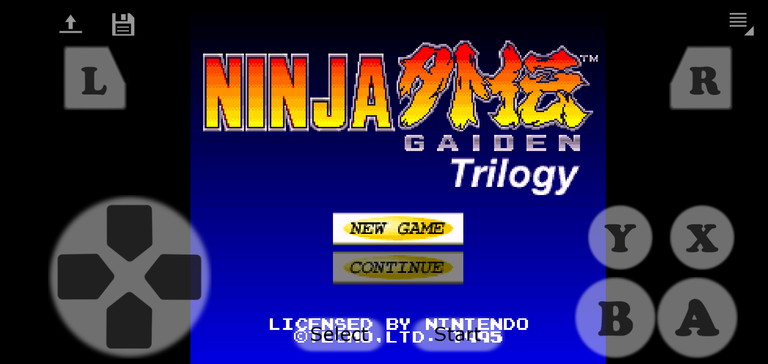 Capture de pantalla tomado desde mi móvil
---
Seguidamente tendremos una interfaz para seleccionar la versión que gustemos. Recuerden que esta versión nos recopila 3 del juego, donde una discierne de la otra por algunas características. Después de elegir, presionamos "START", para iniciar ahora en sí el juego.
---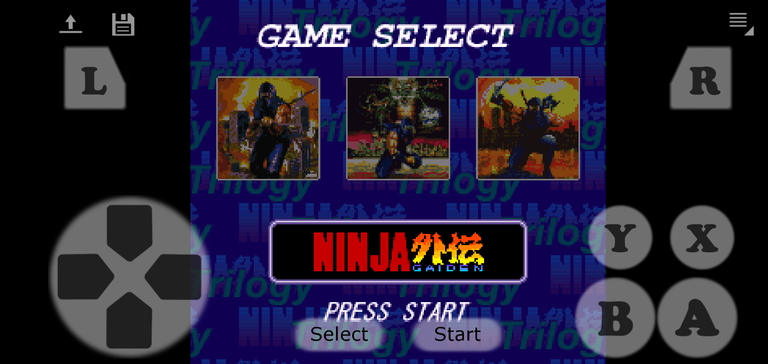 Capture de pantalla tomado desde mi móvil
---
En referencia a las versiones que encontramos aquí, éstas mantienen líneas de diseño en común que caracterizan el juego, pensando que es para no perder la esencia. Pero, en las versiones se pueden notar algunas características de movilidad en cuanto al personaje, como cuando en la primera versión agregada no puede desplazar el personaje sobre la pared. Es decir, el ninja queda colgado en la pared y no hay desplazamiento ni ataque. Mientras, que en las versiones siguientes, se puede evidenciar que el ninja se desplaza y no necesariamente solo en una escalera. Además también puede hacer uso de la katana y la "mega katana" (Así le he bautizado 😉) de manera más fluida. Sin embargo en cuanto va guindado no puede ejecutar movimiento de espada, sino más bien solo el uso de Shuriken.
---
Versión I.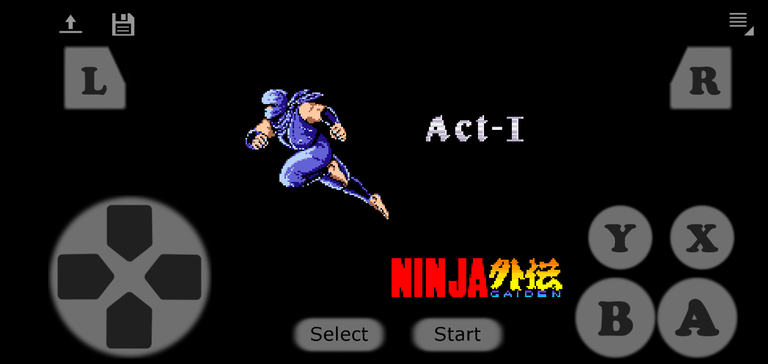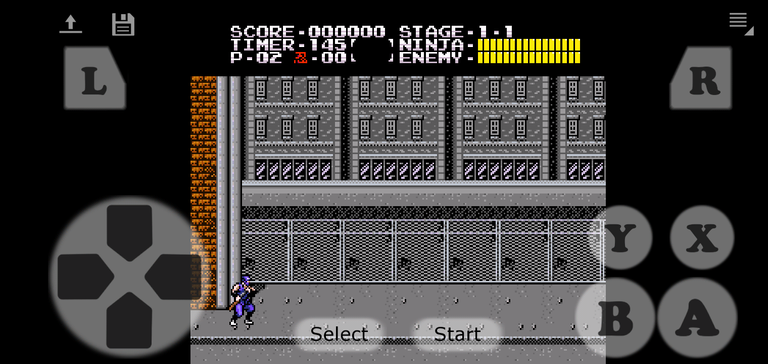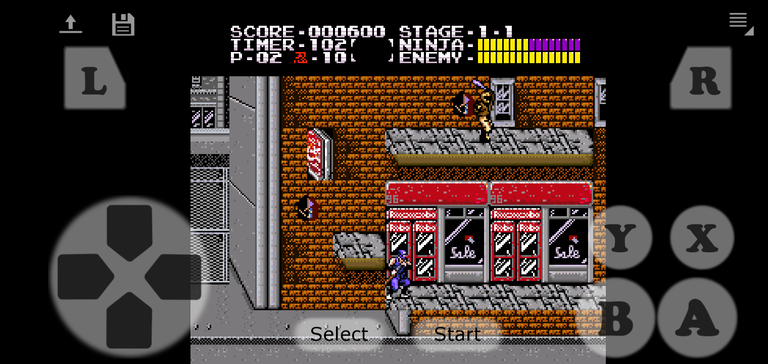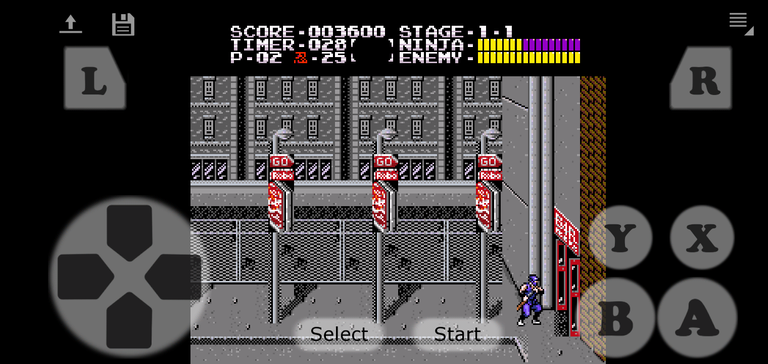 Como acto final debemos enfrentarnos a un enemigo dentro de una especie de recámara, se denota formido y portador de una especie de Hacha Ancha. El enemigo da movimientos rápidos y certeros, para herir a Ryu. La ambientación de esta versión se remonta un espacio tipo barrio de Broklyn, que debemos recorrer y atravesar con el ninja.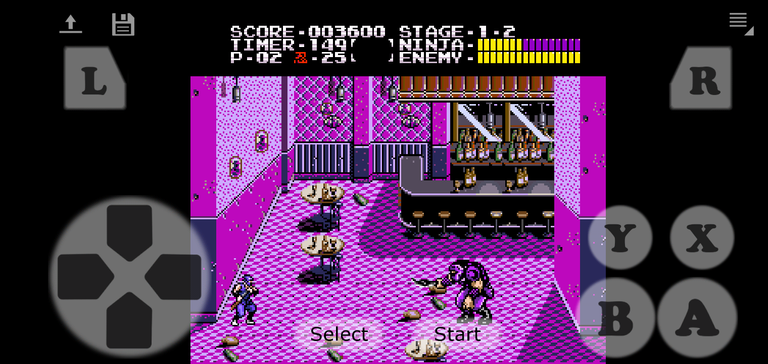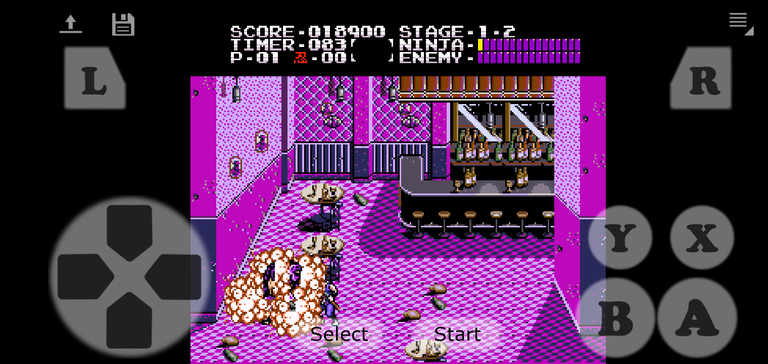 ---
Versión II.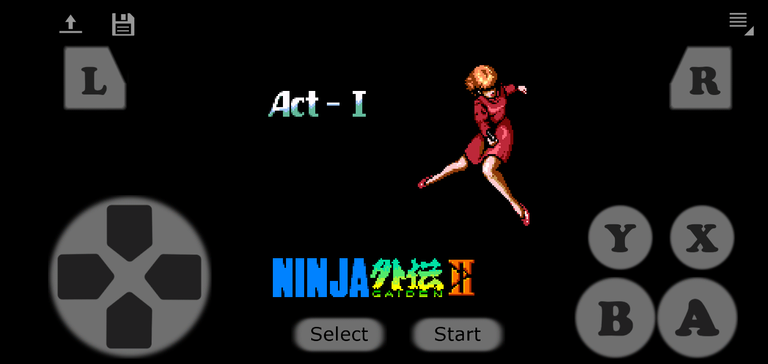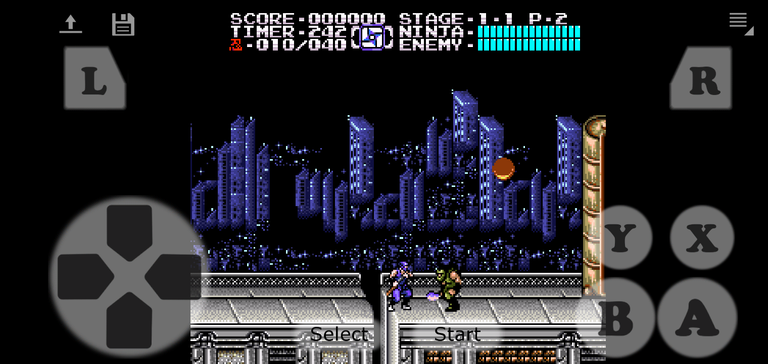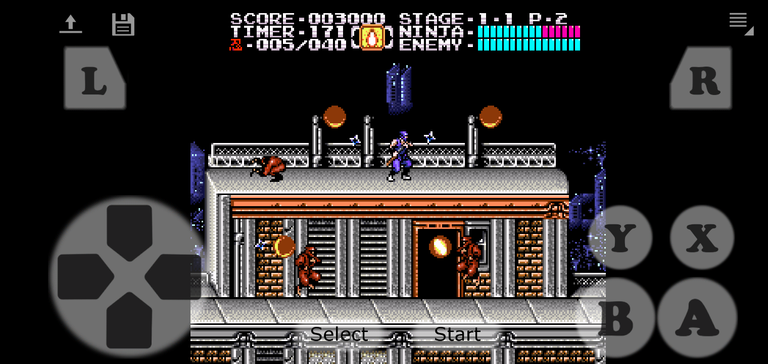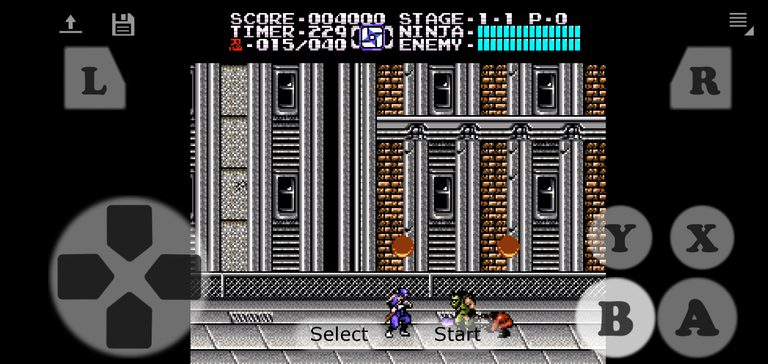 Como acto final, nos enfrentamos a un personaje de apariencia verduzca que no posee arma en sí, sino más bien ataca al ninja principal con golpes y como cabezazos. La ambientación de esta versión se ambienta en una zona como una ciudad, los edificios representa el plano que se debe recorrer, escaleras y tambores de basura forman relieve y obligan a nuestro ninja a saltar y escalar.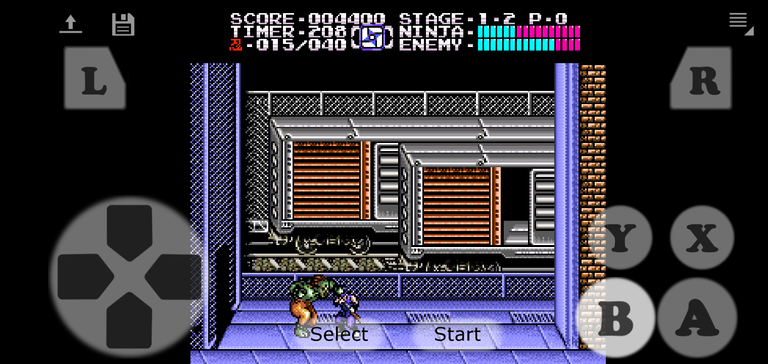 ---
Versión III.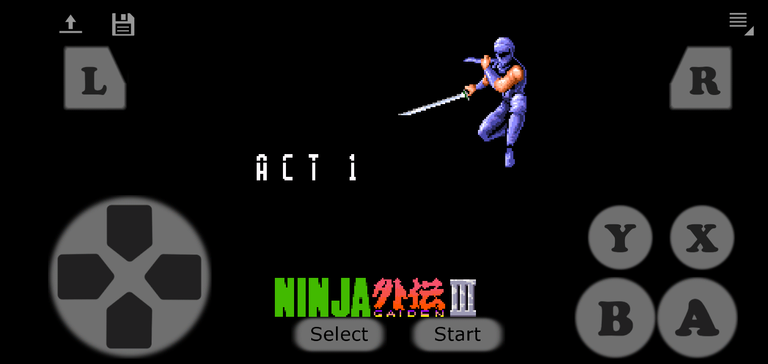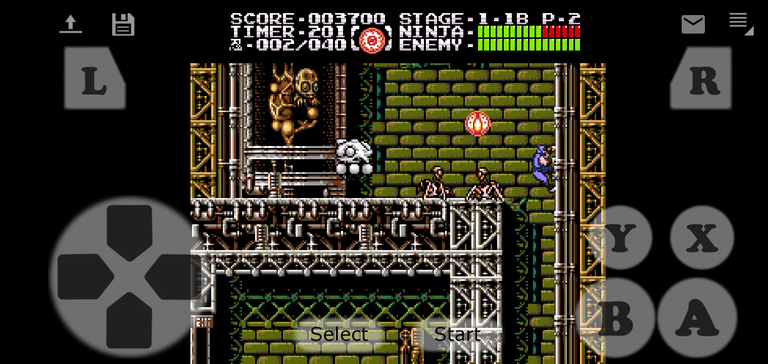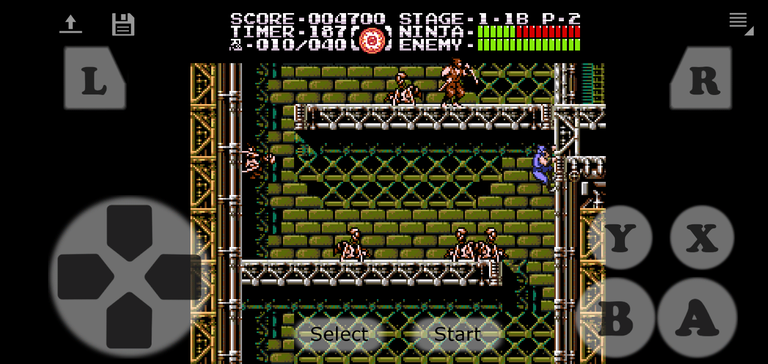 Como acto final encontramos un tipo de mosntruo acorazado de metal, en tono verde. Tiene una especie de hojillas por manos, movimientos letales. Esta versión es una de mis favoritas, debido a que la movilidad del personaje se ve más desarrollada, puede estar en caída libre y hacer uso de la katana. Además, la ambientación se remonta a un punto más calavérico, y con especies voladoras que yo antes pensaban eran pandas malvados, pero en realidad son un saco deforme.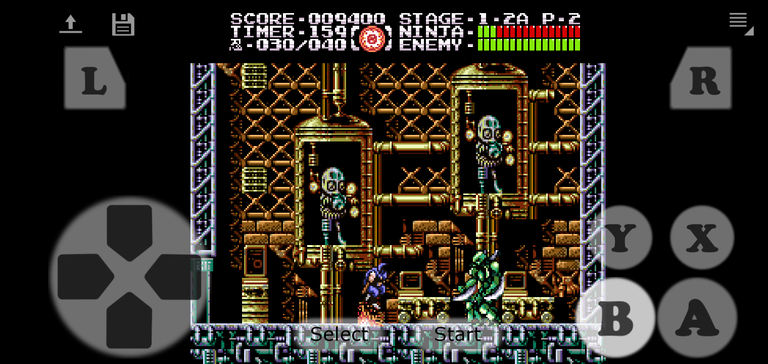 ---
La verdad, esta versión de juegos recopilados, es extraordinaria. Nos permite poseer una colección entretenida y atrapante. Los gráficos y diseños, son buenos a pesar de la época de creación, y nos pemiten evidenciar los pasos de mejoría en el desarrollo y avance del juego. Además, podemos notar progreso de colorimetría de personajes y de sonido en general. Les comento que cuando pasaba ya mucho tiempo jugando, escuchaba calcinante la música en mi cerebro, una y otra vez. ¿Les pasaba?
---
Por esta ocasión, parece ser todo. Si llegaste hasta aquí, muchas gracias por tu tiempo. Saludos, se despide La Cochina en Salsa.
---
Banner: Canva.
Traducción: Google Traductor.
Textos de mi autoría, capturas de pantalla tomadas al momento de ejecutar mi experiencia como usuario.
---

---
---