Far Cry 3 - Full Review PC - ENG/ESP
English
Welcome to the Jungle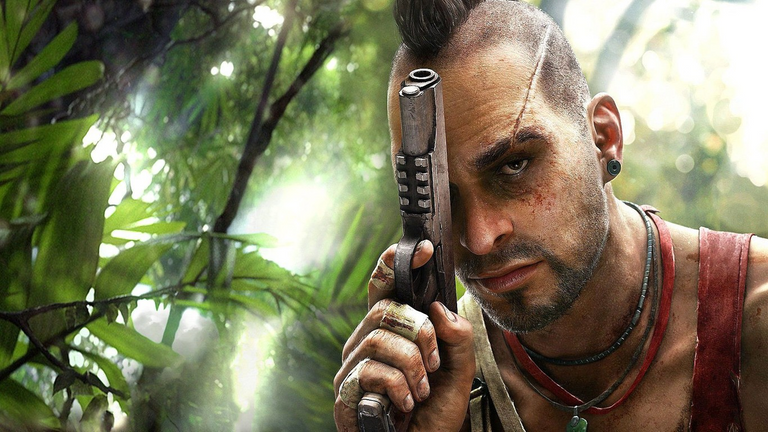 Source
What's up my gamer friends? 👋
Today we are going to analyze the beloved Far Cry 3. The one that for many is the best game of the whole saga (for me it is). And how not to be, if it is the most complete of all.
In the game we control Jason Brody, a young man from California who is with his friends and his two brothers on an island in Asia enjoying a nice tropical vacation. But everything goes crazy when they are captured by Vaas and his pirates. Jason manages to escape from the camp and that's where this great game starts, where the mission is to locate and rescue your friends.
Far Cry 3: The Story trailer
To achieve the objective, Jason joins the Rakyat tribe, which is led by Denis Rogers and Citra, who guide him to follow the path of the warrior to take down Hoyt Volker, a drug dealer and slave trader who pulls the strings on Rook Island.
In the game we have ample freedom. We can explore the gigantic map, swim through the water, hunt animals, infiltrate guard posts, perform side quests, play mini-games like poker, etc etc etc. In short, a wide variety of things to do that will always keep us constantly having fun.
Weapons are the essential point in the game. There are: pistols, submachine guns, shotguns, assault rifles, sniper rifles, light machine guns, rocket launchers and special weapons (bow, grenade launchers and flamethrowers). There are also exclusive weapons that you unlock as you complete certain objectives in the game. All these weapons can be bought in the stores on the map, but as you advance in the game you can get them for free.
There are not only firearms in the game. You also have a knife for stealth moments. There are also explosives and mines, as well as a camera to mark your enemies on the map. Many missions can be overcome bare-chested by shooting like crazy, but there are many others where infiltration and stealth are key to success.
Source
Weapons are not the only key point in the game. The character also has skills that you unlock as you complete the Rakyat's tatau with experience points. The tatau are divided into 3 branches of skills: the Heron (to improve long-range shooting), the Shark (to improve health) and the Spider (to improve stealth and survivability), and the best thing is we can acquire all the skills.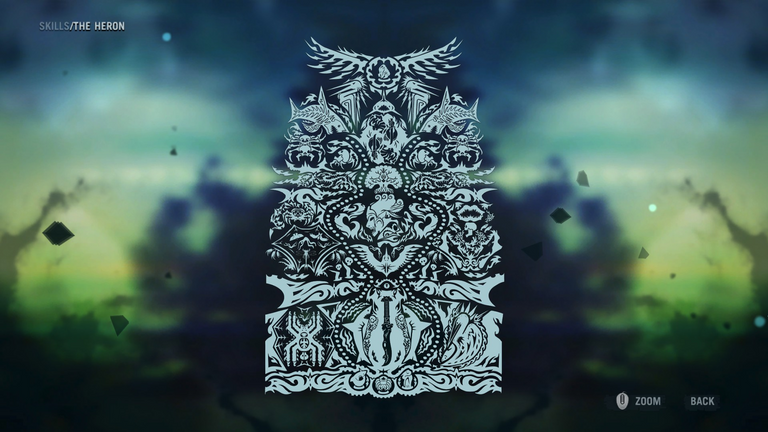 Source
Rakyat Tatau
Vehicles are another indispensable resource if we want to move quickly around the island and during the missions. Vehicles are divided into: land (car, truck, truck, quad, buggy), sea (boat, jet ski) and air (hang glider, parachute, air suit). All with excellent handling.
The main story has 38 varied missions. There are stealth missions, escape zones, chases, as a sniper, among others. And on the other hand we have the secondary missions, which are practically another game, where we must overcome tests of the Rakyat, free posts, help citizens, kill pirates, overcome time trials, etc etc..
But the most striking is the hunt, in which we must face animals like bears, tigers, goats, komodo dragons, etc. kill them and then skin them to create bags and thus be able to carry different types of objects. As well as we can also collect herbs to create medical syringes and other uses.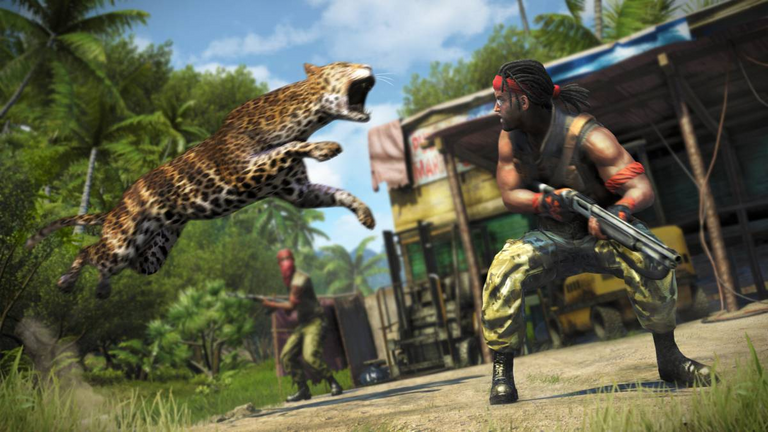 Source
As for the multiplayer mode, we have a cooperative mode and a competitive mode.
In the competitive mode we have game modes such as: Domination, Firestorm, Transmission and Deathmatch, with a total of ten maps and fourteen players.
On the other hand in the cooperative mode you can play between 4 players or 2 players in split screen. The cooperative story is different from the solo story. This is set 6 months earlier and has 6 chapters, in which we can play with Leonard, Callum, Mikhail and Tisha, who seek revenge on the captain who betrayed them. This story is linear and each chapter lasts approximately 30 minutes.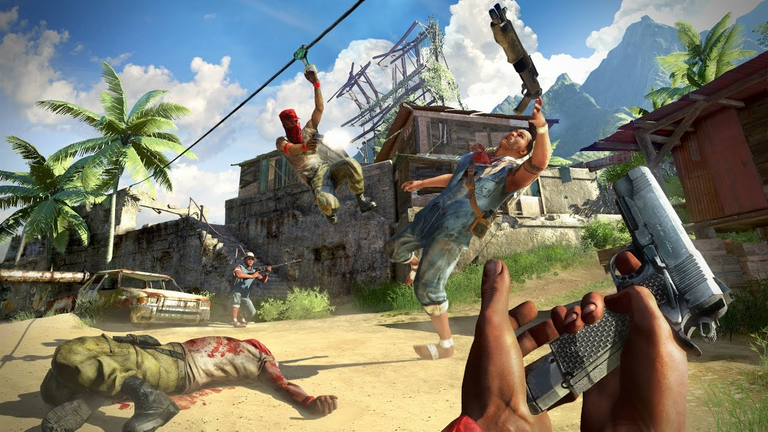 Source
As for the graphics, they are wonderful for PC. The vegetation, the animals, the sea, the skies.... Everything is very well done, especially the faces of the characters that are very detailed and quite expressive.
The sound of the game is amazing. The sounds of the animals allow you to recognize them without having to see them. The sound of the weapons is very realistic. But the most notable of all is the reggae theme in the mission to burn the marijuana plantations with the flamethrower, that is undoubtedly an epic moment hahaha.
For me the truth is one of the best FPS and open world game I've played. Without lying to you I think I've already passed the story about 8 times, and I still want to pass it again, maybe in the next few days I will 😂😂.
I hope you liked this video game review. Let me know your opinion in the comment box and your vote if you want me to upload more content of this style💪
Greetings my gamers friends! 👋

---
Español
Welcome to the Jungle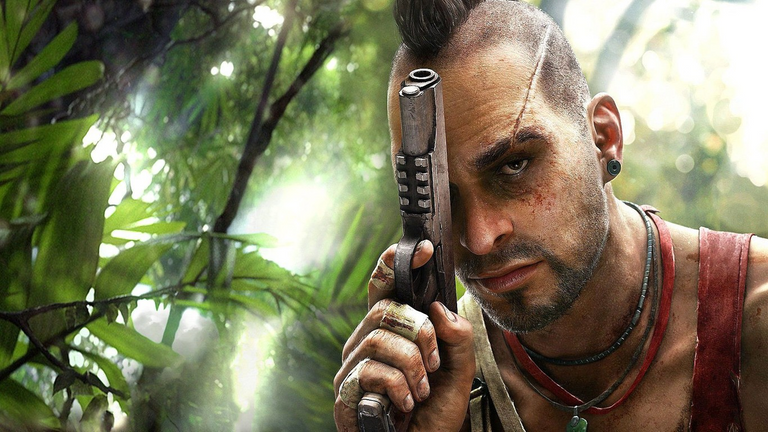 Fuente
Qué pasa mis amigos gamers? 👋
Hoy vamos a analizar el querido Far Cry 3. El que para muchos es el mejor juego de toda la saga (para mí lo es). Y cómo no serlo, si es el más completo de todos.
En el juego controlamos a Jason Brody, un joven de California que se encuentra con sus amigos y sus dos hermanos en una isla de Asia disfrutando de unas bonitas vacaciones tropicales. Pero todo se vuelve loco cuando son capturados por Vaas y sus piratas. Jason consigue escapar del campamento y ahí es donde comienza este gran juego, donde la misión es localizar y rescatar a tus amigos.
Far Cry 3: Trailer de la historia
Para lograr el objetivo, Jason se une a la tribu de los Rakyat, liderada por Denis Rogers y Citra, que le guían para que siga el camino del guerrero y acabe con Hoyt Volker, un traficante de drogas y esclavos que maneja los hilos de la isla Rook.
En el juego tenemos una amplia libertad. Podemos explorar el gigantesco mapa, nadar por el agua, cazar animales, infiltrarnos en los puestos de guardia, realizar misiones secundarias, jugar a minijuegos como el póker, etc. En definitiva, una gran variedad de cosas que hacer que nos mantendrá en constante diversión.
Las armas son el punto esencial del juego. Hay: pistolas, subfusiles, escopetas, rifles de asalto, rifles de francotirador, ametralladoras ligeras, lanzacohetes y armas especiales (arco, lanzagranadas y lanzallamas). También hay armas exclusivas que se desbloquean al completar ciertos objetivos del juego. Todas estas armas se pueden comprar en las tiendas del mapa, pero a medida que avanzas en el juego puedes conseguirlas gratis.
No sólo hay armas de fuego en el juego. También tienes un cuchillo para los momentos de sigilo. También hay explosivos y minas, así como una cámara para marcar a tus enemigos en el mapa. Muchas misiones se pueden superar a pecho descubierto disparando como un loco, pero hay muchas otras en las que la infiltración y el sigilo son la clave del éxito.
Fuente
Las armas no son el único punto clave del juego. El personaje también tiene habilidades que se desbloquean a medida que se completa el tatau de Rakyat con puntos de experiencia. Los tatau se dividen en 3 ramas de habilidades: la Garza (para mejorar el tiro a distancia), el Tiburón (para mejorar la salud) y la Araña (para mejorar el sigilo y la supervivencia), y lo mejor es que podemos adquirir todas las habilidades.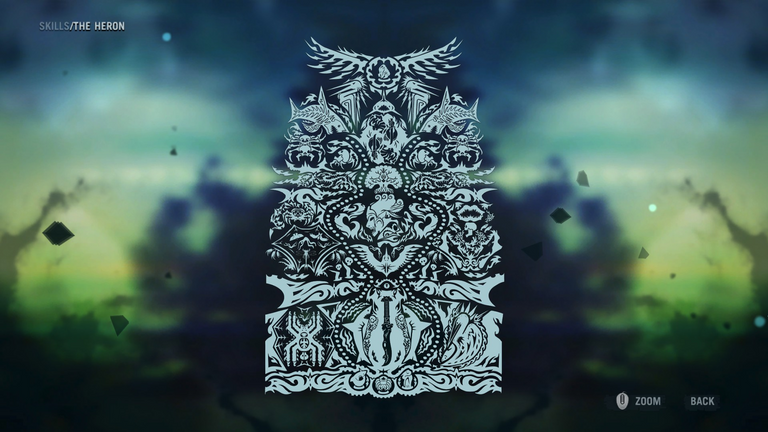 Fuente
Rakyat Tatau
Los vehículos son otro recurso indispensable si queremos movernos rápidamente por la isla y durante las misiones. Los vehículos se dividen en: terrestres (coche, camioneta, camión, quad, buggy), marítimos (barco, moto de agua) y aéreos (ala delta, paracaídas, traje aéreo). Todos con un excelente manejo.
La historia principal tiene 38 misiones variadas. Hay misiones de sigilo, zonas de escape, persecuciones, como francotirador, entre otras. Y por otro lado tenemos las misiones secundarias, que son prácticamente otro juego, donde debemos superar pruebas del Rakyat, liberar puestos, ayudar a los ciudadanos, matar piratas, superar pruebas de tiempo, etc etc.
Pero lo más llamativo es la caza, en la que debemos enfrentarnos a animales como osos, tigres, cabras, dragones de komodo, etc. matarlos y luego despellejarlos para crear bolsas y así poder llevar diferentes tipos de objetos. Así como también podemos recoger hierbas para crear jeringuillas médicas y otros usos.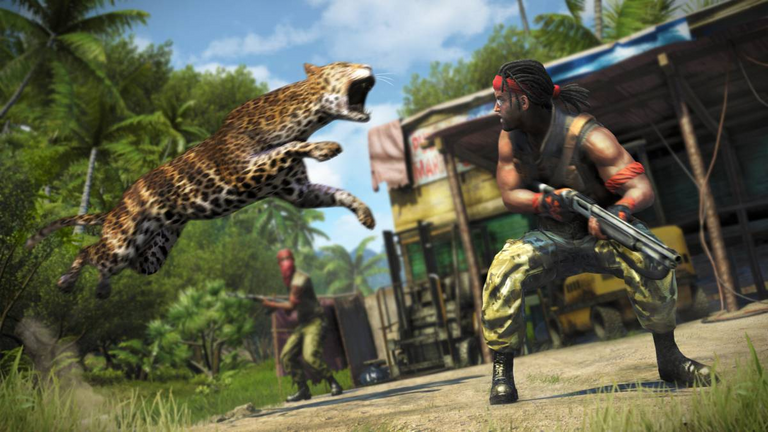 Fuente
En cuanto al modo multijugador, tenemos un modo cooperativo y un modo competitivo.
En el modo competitivo tenemos modos de juego como: Dominación, Tormenta de fuego, Transmisión y Deathmatch, con un total de diez mapas y catorce jugadores.
Por otro lado en el modo cooperativo se puede jugar entre 4 jugadores o 2 jugadores en pantalla dividida. La historia cooperativa es diferente a la historia en solitario. Esta se ambienta 6 meses antes y tiene 6 capítulos, en los que podemos jugar con Leonard, Callum, Mikhail y Tisha, que buscan vengarse del capitán que los traicionó. Esta historia es lineal y cada capítulo dura aproximadamente 30 minutos.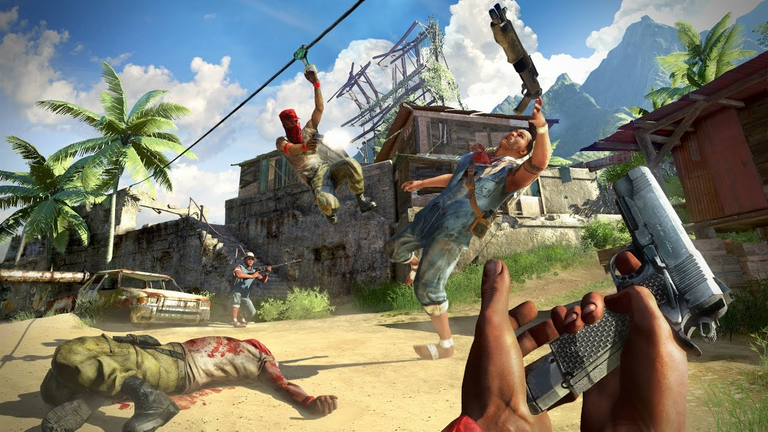 Fuente
En cuanto a los gráficos, son maravillosos para PC. La vegetación, los animales, el mar, los cielos.... Todo está muy bien hecho, especialmente las caras de los personajes que son muy detalladas y bastante expresivas.
El sonido del juego es increíble. Los sonidos de los animales te permiten reconocerlos sin tener que verlos. El sonido de las armas es muy realista. Pero lo más destacable de todo es el tema reggae en la misión de quemar las plantaciones de marihuana con el lanzallamas, eso es sin duda un momento épico jajaja.
Para mi la verdad es uno de los mejores FPS y juego de mundo abierto que he jugado. Sin mentirles creo que ya me pasé la historia unas 8 veces, y aún quiero volver a pasármela, quizás en los próximos días lo haga 😂😂.
Espero que os haya gustado esta reseña del videojuego. Dejadme vuestra opinión en la caja de comentarios y vuestro voto si queréis que suba más contenido de este estilo💪.
Saludos mis amigos gamers 👋

---
---