Looking into LBI's 3 CUB finance investments
Hello, LBIer's. Today we are going to look into the investments LBI now has on CUB finance. We got in on launch day, received the airdrop last night and have already harvested a bunch of CUB's. It's been a good week and it's official, we have off-platform investments, yee-ha!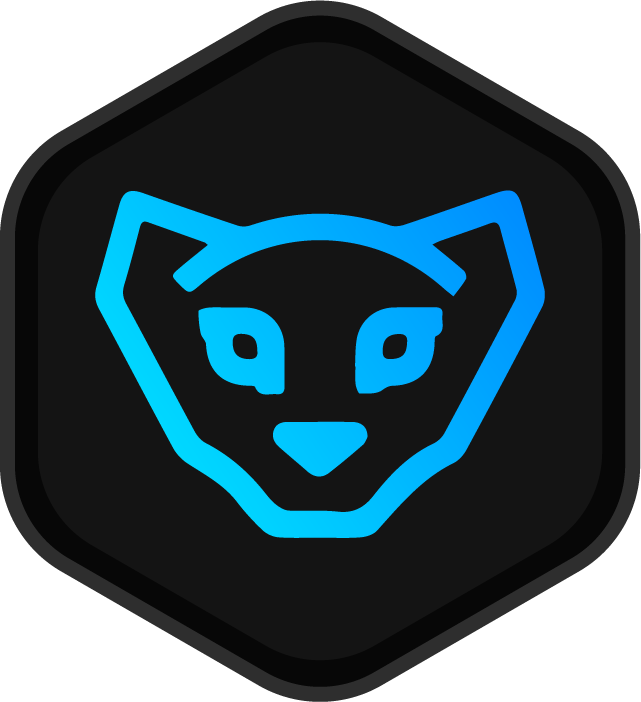 CUB Finance
OK, not going to go into detail about what CUB finance is, if your not aware, go back to sleep. So the long-awaited Leodefi project turned out to be a goose farming clone. I must admit, at first I thought Leodefi was going to be a lending platform much like Nexo or Celsius, when I saw it was a farming project my interest peaked at 120% because I've done a bit of farming in the past and it can be very profitable so I was excited about this due to the fact there's no fear of an exit scam with CUB. CUB finance is a standard farming clone, there are hundreds of them out there, all very similar to use, most offering great ROI's in the hundreds of per cent and many with TLV's (total locked value) of well over $30 million. If CUB finance can market correctly and catch a few crypto farming influencers, it'll spread like wildfire in telegram chat groups it could become a farm on the BSC circuit.
For CUB to go to the next level, the team would need to get CUB onto other farming platforms. Having for example some sort of CUB LP on pancake would bring thousands of new buyers to CUB as they scramble to enter a new LP while it's ROI is at its peak. This in turn would bring hundreds of new users to CUB as they research the token they have just bought. Crypto farmers are not investors like you are me, they are an impulsive bunch and very adverse to risk. They will invest large sums into new tokens to get the ROI and then research what they have bought after. Crypto farmers act on FOMO x10 and if CUB can get itself on other platforms as an LP are stakable token, it's market cap could 10-30x.........easy. Of course, there are smart farmers with set strategies but as a whole the crypto farming community act on FOMO x10. I've seen new farms launch, collect $120 million in locked LP's and disappear in under a week. I've also watched people turn $10k investments into $600k only for the platform to die off slowly to the point that person sold to break even.
I have high hopes for CUB finance, they are off to a great start with over $7 million locked up on the platform. Let us take a look into the 0.0014% slice that belongs to LBI token holders.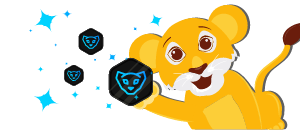 Pre airdrop
bLEO/BNB LP
On launch day we had a little over 5000 liquid LEO sitting in our accounts. Every single last one was converted to bLEO. From that 5000 bLEO, I converted 2500 into BNB, put everything into the LP token and staked it on the farming page. At the time, the total investment was worth around $3500. Since staking the LP, all CUB harvested has been added into the CUB den.
Sorry, I have no snapshots, at the time I was sitting up 3 wallets and zoning the bit out. Between sitting things up, chatting with people in DM's and discord servers and of course FOMOing, I forgot the take snapshots. lol.
Post airdrop
We received 1093 CUB is the airdrop, this is very simple to claim. I did a tester of 10 CUB and when it hit our BCS wallet, I shipped the rest, the bridge the LEO team have set up was perfect and super simple to use, no manual required.
I debated in my head for around 20 minutes about how to use these 1093 cubs to our best advantage. I was really thinking about 2 options, CUB/BNB LP or CUB den. I decided to go 50/50 and we ended up with 500 CUB put into the LP and the rest staked into the CUB den. I have done it this way for a few reasons, the risk factor being the decider. CUB could go to $1 are $50, we are bullish but we are not blind and aware of the risks. LBI's current CUB investment reflects this being spread all 3 very different level of risk investments, i'll explain more below. Let's look at us getting into the LP.
First thing was to convert 250 CUB into BNB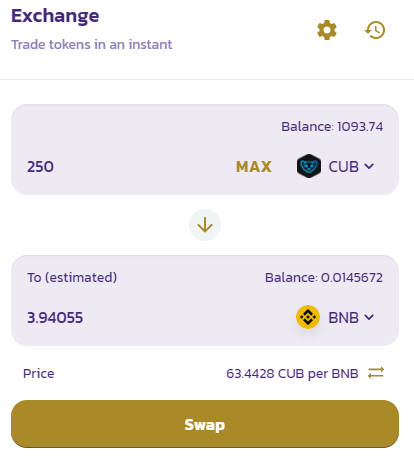 Next, I bought to use the CUB/BNB LP token. We can this LP is worth 251 CUB and 3.94 BNB. At the time of investment, this was worth $2400.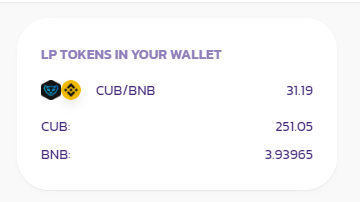 Finally, i went to the farming page and staked out LP token.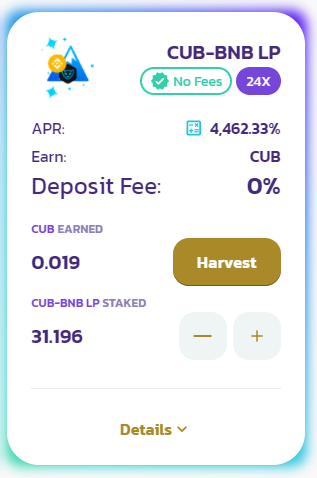 The other 593 CUB were deposited into the CUB den. As the can see, the balance is a few hundred more already because of our bLEO LP earnings.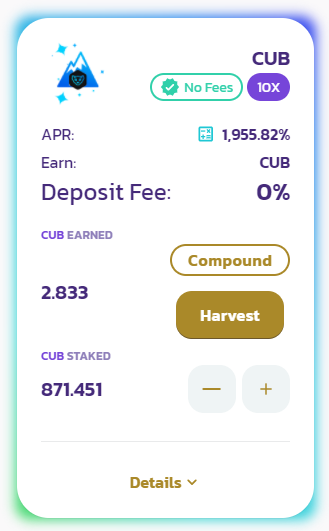 LBI's 3 level's of risk
Below you can see our 3 investments. This information can be retrieved from a website called https://howmuchismylp.com.
Connect your BSC wallet

In the section to fill in called "Masterchef Address", you enter 0x227e79C83065edB8B954848c46ca50b96CB33E16. This will show all your CUB investments in 1 place with a good ballpark value.

Shout out to @jk6276 for sharing this nugget in the SPI discord server.
Weirdly enough, they are listed in order of risk 😁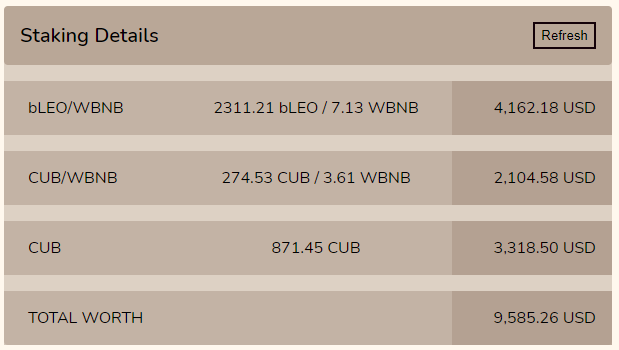 Lowest risk - bLEO/BNB LP
Both LEO and BNB have long histories, the prices of these tokens will fluctuate but only really inline with the market. This investment was 100% paid for with hard-earned LEO and not connected directly to the CUB airdrop. Taking the lowest possible risk with these funds is important to preserve value for if CUB should flop (dont think so, but it's crypto). This LP is up by roughly $700 as both LEO and BNB prices have increased since CUB launch.
Meduim risk - CUB/wBNB LP
The ROI on this LP is the second-best on CUB finance and gives us exposure to both CUB and BNB. A brainer really if only for the ROI. This one is a little risker as CUB is a brand new token and it's price im sure will swing violently over the next few months as the project matures, expands and develope's. This LP was funded with our airdrop. We are down around $300 from entry 12 hours ago but it's still early days.
High risk - CUB den
All CUB earned from both LP's is added into this den with earnings compounded. This is the riskest investment LBI has on CUB, this is basically because it's new, we have no idea where the platform will be in 1 months time never mind 12 months time. The plan in my head, for now, is to compound until we hold 1000 CUB and see what is happening. We could reinvest back into LP's are there might be new LP's or products released by this time. 597 CUB from the airdrop were placed into the CUB den, the rest are earned from harvesting. I should also point out that the CUB den has the best chance of mooning compared to the others but its risk/reward.
That is our bag
So there you have it LBIer's, we have our first off-platform investments and we are starting to expand ourselves. I dont think this will increase the price of the LBI by that much but it's likely the price will increase from 1.10 LEO to 1.15 LEO over the next week are so. Please remember that off platform investments are not included as part of weekly LEO earnings, they will reflect in the LBI token price as these compound over time.
If you are an LBI token holder, I hope you are happy with the investments LBI has made and got involved with, if not I have someone I can throw under the bus as a bad adviser, haha.
Thank you for reading through the post as always, 100% upvotes, reposts and comments are welcomed 😀
Posted Using LeoFinance Beta
---
---