My Hive Growth Statistics
This statistic is not intended to brag, but rather to measure my success in Hive blogging.In November 2021, my Hive earnings decreased, but the value of the USD increased. The rise in USD value is caused by the bull market in Hive.
| | October | November |
| --- | --- | --- |
| Hive | 163.2 | 125.28 |
| USD | 125 | 232 |
| Upvote | 1901 | 3559 |
| Comment | 206 | 198 |
| - | - | - |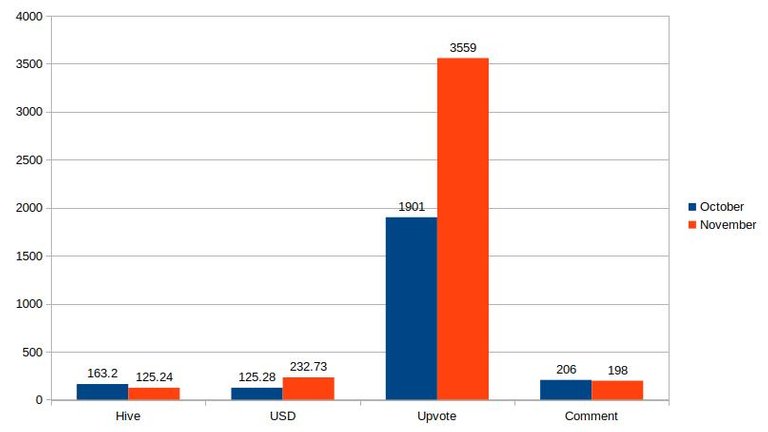 From the data, My Hive earning decreased by 23% or 38 Hive from October. while the USD value increased 59% from the previous month. Upvotes that I received increased by 46% from October. The comments that I received decreased by 3%. From the data, I see that, in general, my Hive blogging performance decreased.
I am entertained by the increasing number of upvotes. This means my audience is growing. Therefore, I must continue to maintain the quality of my posts, both for personal blogging, and reviews of cryptocurrencies.
Plan In December 2021
I don't have any special plans for this December. I will continue to post regularly and explore creative ideas to provide better content. One thing that I should do is increasing my participation in engagement. Leaving comments on posts gives me a lot of opportunities to get new followers. I would be very grateful to get new friends or followers. I always follow back to my new followers. Besides that, I will mantain my Hive power to increase. I should be honest that I cast out my HBD reward but I keep my Hive Power. My plan in the short term is to achieve 1000 Hive Power. Curently I have 856 Hive Power. I need 144 Hive power.
I would like to say thanks to all the curators in all the communities in Hive that helped me grow on this amazing platform. The current growth is much better than a year ago. Thanks to all my blog readers and friends.
October 2021
---
---