Trying the new DEFENSE QUEST! Experimentando o novo DEFENSE QUEST! [ENG/PT-BR]
Hello @splinterlands fam! Today i got a new Focus quest from the recent update, i had a lot of conversations were people suggested to include abilities on quest and not only element. That for sure will bring a dynamic way to play and also to rent cards for daily quests.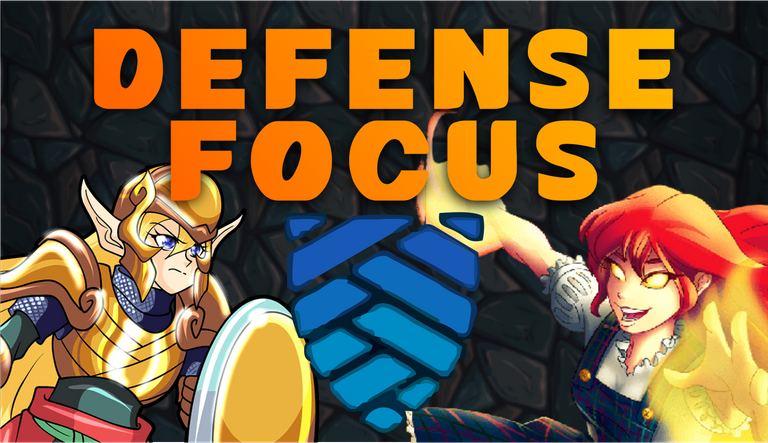 img source Splinterlands

• PROCESSING AND LEARNING •
This system works to bring more diversity to the game in matter of cards options to chose, but this can be limited by how many cards of this type can be used. I mean, in a DEFENSE daily focus it's hard to use more then 3 cards with SHIELD

or REPAIR

. Can be extended to 4 cards if you consider to place a SHIELD card in last position, also in certain rules you can use SHIELD cards when they are able to hit from anywhere like MELEE MAYHEM

rule.

SUMMONER
In a regular match you can easily place up to 3 cards, specially if you use a DRAGON summoner because dragons has those ones with reach and shield so you can have this extra shield percentage by using this type of card. Because of that i believe that a DRAGON summoner is a good choice to use, but we certainly will need another splinter in case we can't use dragons, for that i have chosen a FIRE splinter because of Living Lava as our main tank and also we can have a fire backdoor strategy.
As a DRAGON SPLINTER i have chosen Daria Dragonscale, and for the FIRE SPLINTER i chose Tarsa.
With this two summoners i can focus in a melee strategy and rent melee monsters of dragon and fire element to try a fire and dragon backdoor.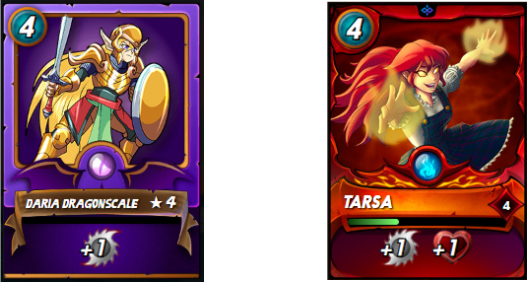 CARD COMBINATION
As i said before, the main concern is to use monsters with
SHIELD

and REPAIR

in order to always have at leat two of them i set the priority to use those combos while playing. Living Lava as the main tank and Gloridax Guardian in second position with his Reach ability, they both will get the buff bonus from summoners.
When possible i also try to use a Scavo Hireling in order to maximize the bonus points.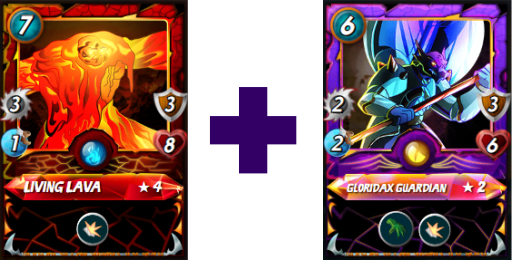 BATTLE STRATEGY
I have already wrote about Fire Backdoor and Dragon Backdoor compositions and this strategy works well for this kind of rule because as were going to use 2 melee creatures as priority and also our summoners will buff all melee creatures that wee place on board.
Living Lava is a extremally powerful creature and i like to use him even whit out DEFENSE QUEST, one of my favorite cards and will have always his place.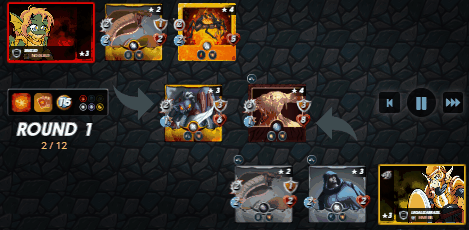 Living Lava and Gloridax Guardian combination will give you a solid block composition, that's where you understand the "DEFENSE". Having 2 creatures with shield to block incoming damage certainly will be good, principally in this case where my enemy was using physicals damage.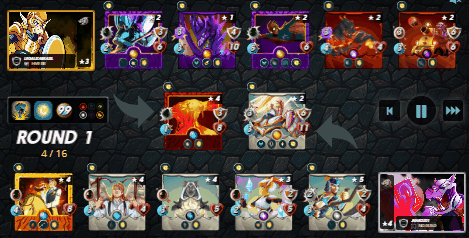 PT-BR


Olá família @splinterlands! Hoje eu recebi uma nova missão Focus da atualização recente, tive muitas conversas onde as pessoas sugeriram incluir habilidades na missão e não apenas no elemento. Isso com certeza trará uma forma dinâmica de jogar e também de alugar cartas para missões diárias.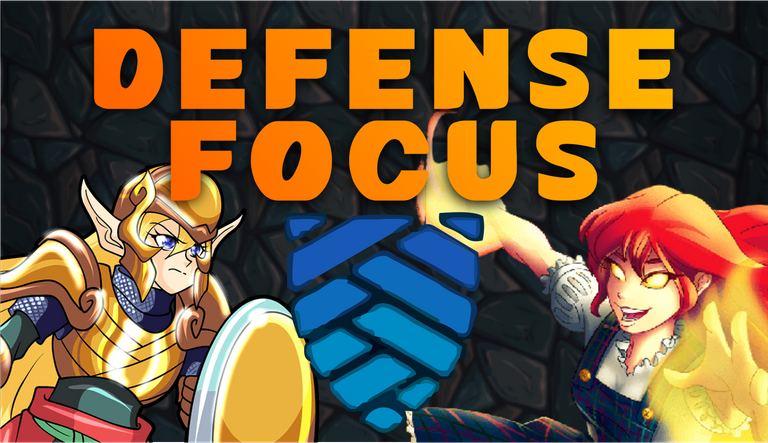 fonte img Splinterlands

• PROCESSAMENTO E APRENDIZAGEM •
Este sistema funciona para trazer mais diversidade ao jogo em questão de opções de cartas a serem escolhidas, mas isso pode ser limitado pela quantidade de cartas desse tipo que podem ser usadas. Quer dizer, em um foco diário de DEFESA, é difícil usar mais de 3 cartões com SHIELD

ou REPAIR
. Pode ser estendido para 4 cartas se você considerar colocar uma carta SHIELD na última posição, também em certas regras você pode usar cartas SHIELD quando elas conseguirem acertar de qualquer lugar como MELEE MAYHEM

.

INVOCADOR
Em uma partida normal você pode facilmente colocar até 3 cartas, especialmente se você usar um invocador de DRAGÃO porque os dragões têm aquelas com alcance e escudo para que você possa ter essa porcentagem extra de escudo usando esse tipo de carta. Por isso acredito que um invocador de DRAGÃO é uma boa escolha para usar, mas certamente precisaremos de outra lasca caso não possamos usar dragões, para isso escolhi uma lasca de FOGO por causa de [Living Lava](https:/ /splinterlands.com/?p=card_details&id=162&gold=false&edition=4&tab=) como nosso tanque principal e também podemos ter uma estratégia de backdoor de fogo.
Como DRAGON SPLINTER eu escolhi Daria Dragonscale, e para o FIRE SPLINTER eu escolhi Tarsa.
Com esses dois invocadores eu posso me concentrar em uma estratégia corpo a corpo e alugar monstros corpo a corpo de dragão e elemento fogo para tentar um backdoor de fogo e dragão.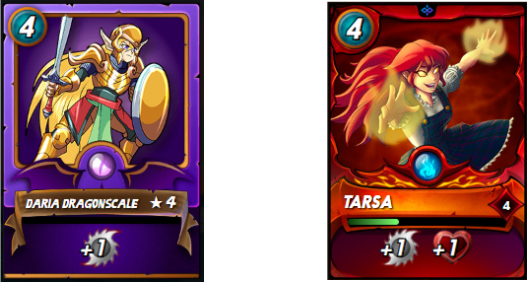 COMBINAÇÃO DE CARTÕES
Como eu disse antes, a principal preocupação é usar monstros com
SHIELD

and REPAIR

in order to always have pelo menos dois deles eu defino a prioridade de usar esses combos durante o jogo. Living Lava como tanque principal e Gloridax Guardian na segunda posição com sua habilidade Alcance, ambos receberão o bônus de bônus dos invocadores.
Quando possível, também tento usar um Scavo Hireling para maximizar os pontos de bônus.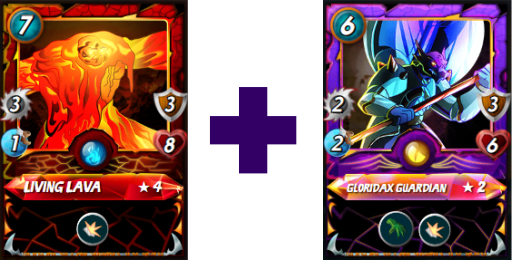 ESTRATÉGIA DE BATALHA
Já escrevi sobre Fire Backdoor e Dragon Backdoor e essa estratégia funciona bem para esse tipo de regra, pois vamos usar 2 criaturas corpo a corpo como prioridade e também nossos invocadores irão buffar todas as criaturas corpo a corpo que colocarmos a bordo.
Living Lava é uma criatura extremamente poderosa e eu gosto de usá-lo mesmo sem DEFENSE QUEST, uma das minhas cartas favoritas e terei sempre o seu lugar.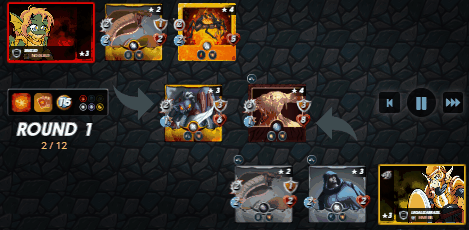 Living Lava e Gloridax Guardian vai te dar uma composição de blocos sólida, é aí que você entende a "DEFESA". Ter 2 criaturas com escudo para bloquear o dano recebido certamente será bom, principalmente neste caso onde meu inimigo estava usando dano físico.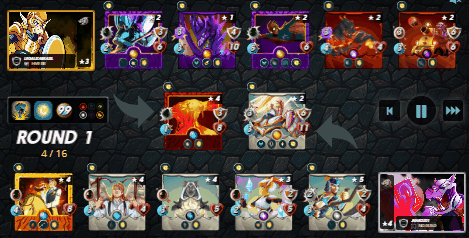 ---
---