Saturday Savings Club / Week #3 by @leidimarc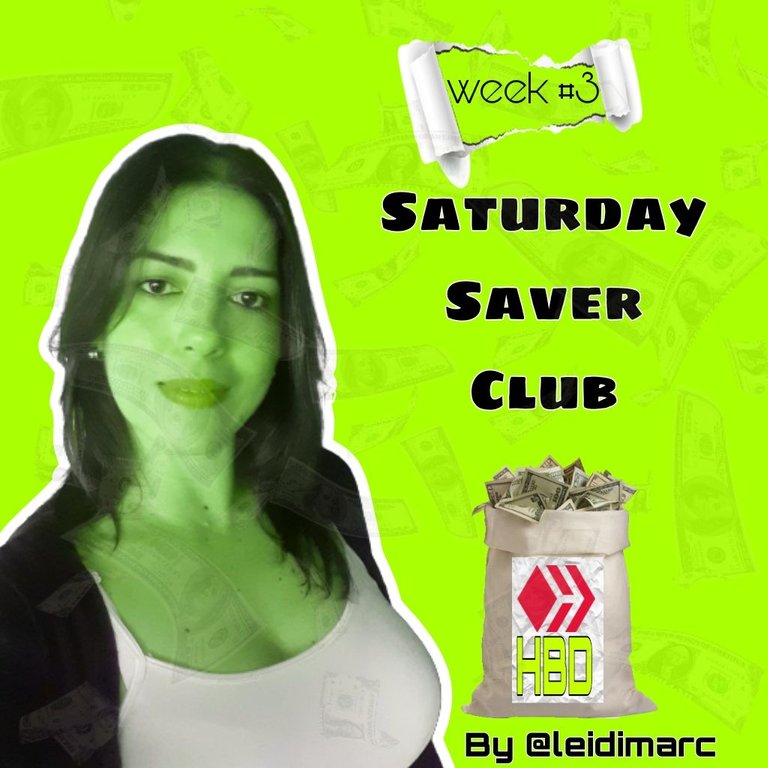 Happy Saturday, have all my readers, I am very happy to make my first post in the @leofinance community, I had been wanting to come in and share with you around here for a while. And as the saying goes, "it's never late when it's good" and I say that because I came at the best time to make my first post.
The first days of this month I was reading my dear friend @soyunasantacruz in which she talked about her resolutions for this 2023, I thought all her proposals were great, especially those of traveling, which I would like, but I see it unlikely as I want it, however, I saw a very interesting one that I was immediately interested in joining, the initiative that I come to tell you.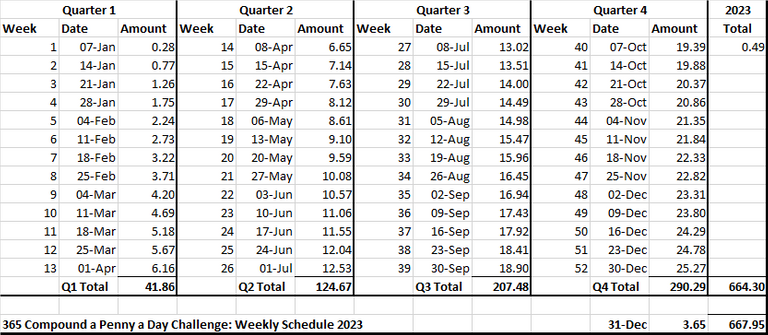 It is about the Saturday Savings Club, proposed by the hivers friend @eddie-earner, who in this publication explains us what this Club is about, which they implemented it last year, giving good results to several hivers like @coquicoin and @lauramica, in the post you will see some comments about it. Something that gave me a lot of confidence because I follow them and I trust their criteria to support this project.
Reading all the parameters, I thought it was great, I made a comment in the post mentioned above asking where we should make the savings, which indicated the tables that they provide us, by the way the one that I present to you I take it from their publication and I will continue using it in future opportunities.
They answered me that we should make the savings in our own Hive accounts, which I think is the best thing to do, we have full control of our funds. They provided us with a chart in which they put what we can save daily throughout the year and another where we will save on a weekly basis, which was the one I identified with to make my savings plan.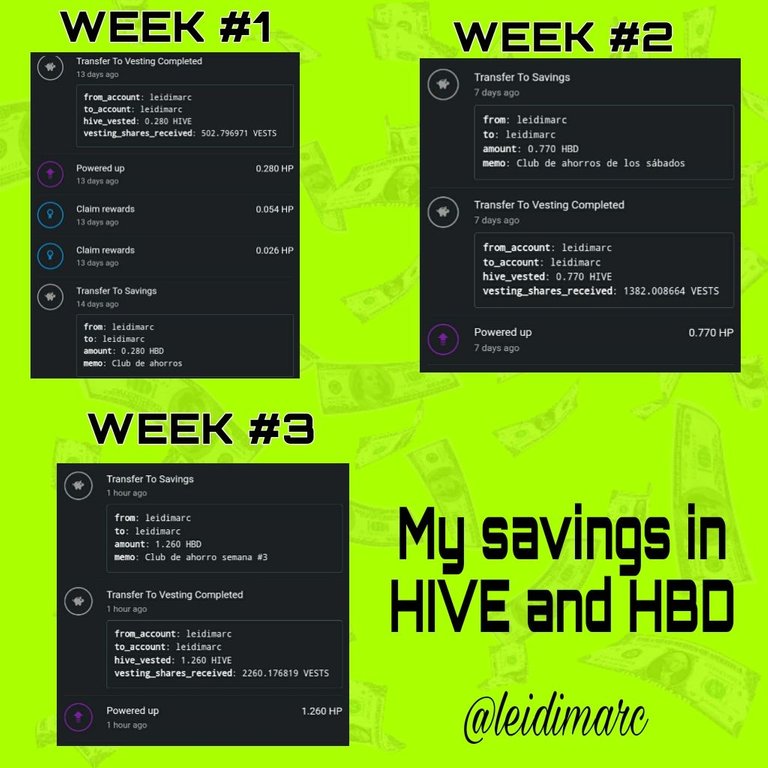 I took the weekly savings chart for Saturdays, first because it was a few days into the year and second, because the signal around here is not very good and neither is my memory heh, heh, heh, it is easier for me to memorize that on Saturdays I will save the amount set for each week.
Following the chart this is what I have been saving:
| Savings | HIVE/HP | HBD |
| --- | --- | --- |
| Week #1 | 0.28 | 0.28 |
| Week #2 | 0,77 | 0,77 |
| Week#3 | 1,26 | 1,26 |
| TOTAL | 2,31 | 2,31 |
I know it doesn't look like much, but I had used this strategy many years ago and if it works, when one gets into the habit and little by little or step by step, we fatten the pig.
I have not yet made my list of resolutions, however, this one was put forward and I love it, I hope to be consistent and that many join the initiative, I have seen when we are several who are struggling to achieve something, we do it with more enthusiasm and motivation.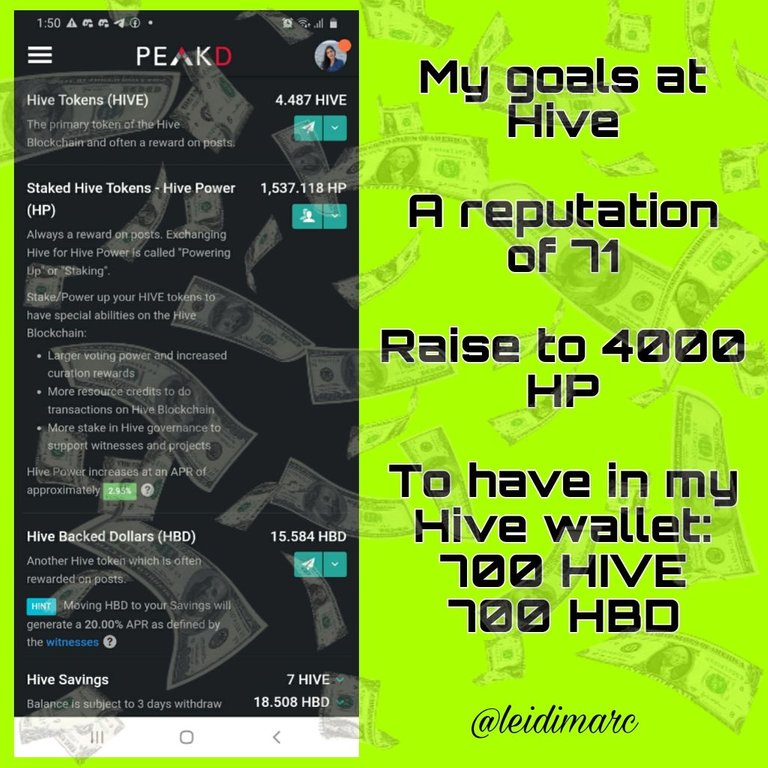 Saving these small amounts, every Saturday is going to be something that I will do religiously, for that I will be constant in my blog, bringing you every day something that I would like you to read, because I always do it with love, dedication and effort, nothing to make a post and that's it, I know that my blog is mostly personal, but I always seek to bring to your face a smile, a memory or a motivation to create what I teach you.
My goals with my participation in this Saturday savings club, is to increase my HP, which benefits my voting power, I would like to have it at 4000 by the end of the year, is what I estimate, God willing I can achieve it, I will work for it.
Another very important thing is to take my reputation to 71, I don't know how much it takes to get there, since only next month I celebrate my first year in the Blockchain, however, I had not published all year, now I plan to be more consistent, something I learned in the group of Organization by Telegram from the friend @lunaticanto, from there I feel more prepared to make my publications following all the written and unwritten rules of Hive.
As for what I want to save at the end of the year, they are in addition to the 667.95 that appears at the end of the table, I hope to bring it to 700 HBD, in my savings account. As for the Hive I will be saving, I clarify that they will not be in my savings account but in my HP, so I will be doing my Power with the amount that appears weekly in the table. In addition to the ones I will do the first of each month, it could be 700 HIVE or more, to reach those 4000 HP, that I mentioned above.
For what I want to save my HBD, I still do not have it clear, that if it will be to invest it, I know that it will not be easy, because I rather need to take out to cover some expenses. And I won't say that I won't take out, but I will continue to make my savings every Saturday.
To you who read me, if you think that what we are doing is something you would like to do in your account, do not hesitate to visit the post mentioned at the beginning to find out everything, you can start whenever you want, with the amounts you want, it is not something imposed, you can go at your own pace. Do your own research and venture to save, you only have a lot to gain. Any day is a good day to join us. We are waiting for you.

Thanks to @raj808 for the Saturday Savers Club banner.
Thank you very much for reading me, I will be doing a monthly update, to tell you how my savings are going. God bless you all.

Photos taken by @leidimarc
---
Device | Samsung Galaxy A20
---
Photos edited in | App Picsart
---
Separators made in | CC Express for Samsung
---
Translation with| DeepL

---
---