CUB Monthly Report | November 2022 - 50% of CUB Inflation Bought & Burned, TVL Continues to Grow & Arb Bot 2.0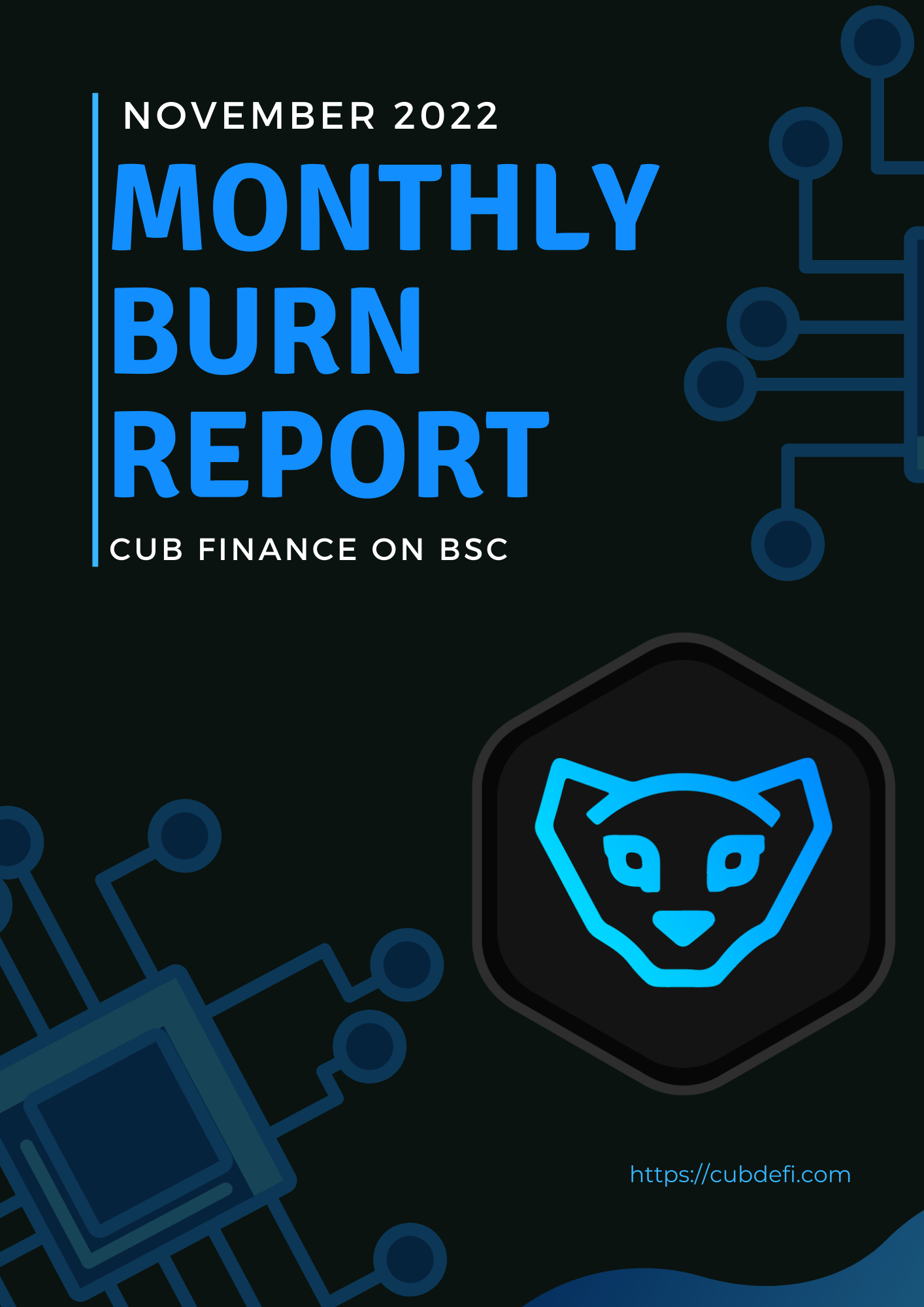 CUB has continued to grow throughout this downtrend in the broader Crypto Market. While many asset prices over the last month have fallen ~30%, CUB has managed to still grow the bHIVE & bHBD liquidity in its pools.
We're only in month 4 of the Multi-Token Bridge being live on CUB and revenue is currently at $9,125 for the month of November.
This is an amazing figure. It is exactly 50% of the amount of CUB inflation that is minted to pay LP Incentives each month.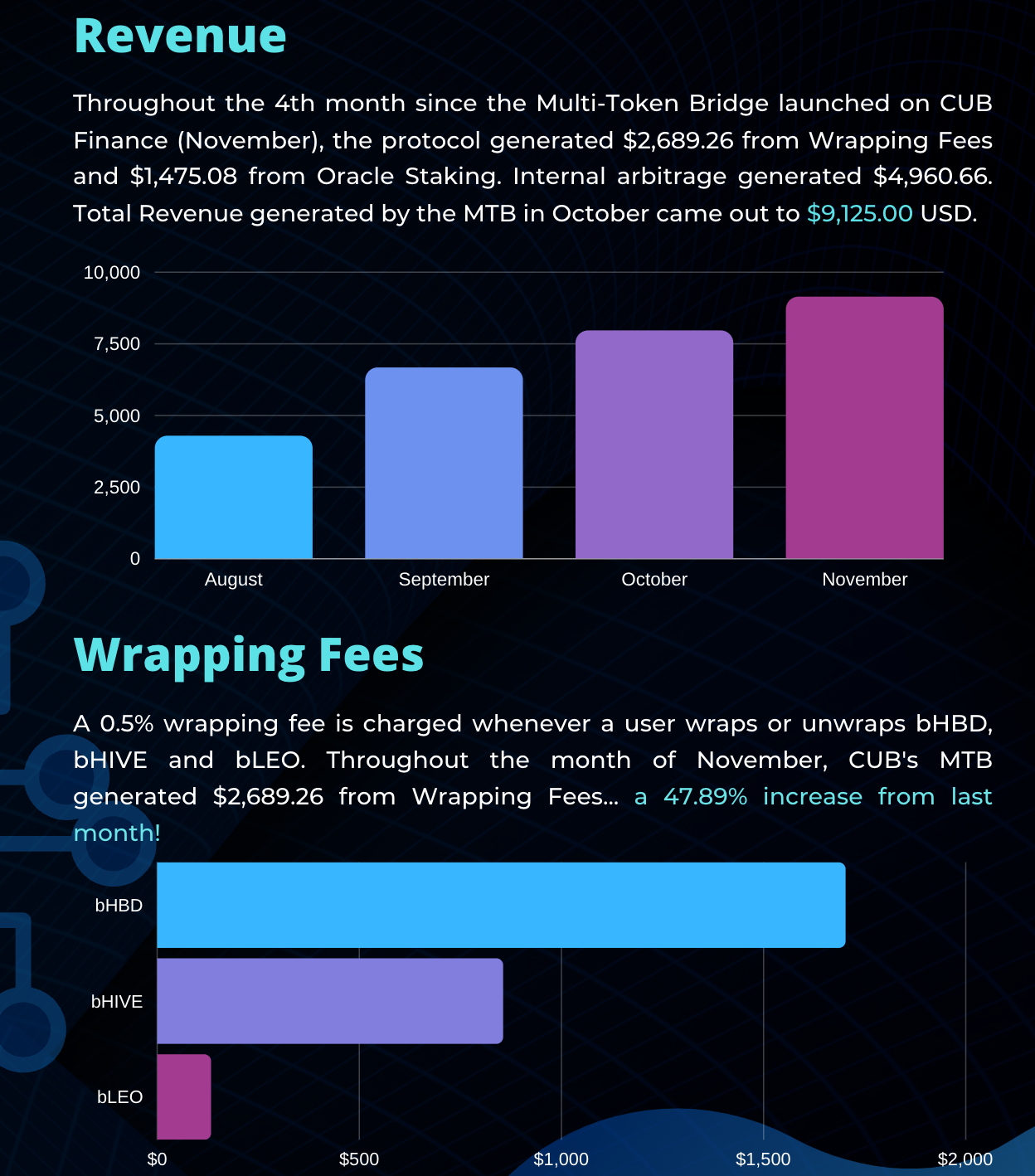 apologies for the late report. We were adding a number of charts / sections about the Arb Bot 2.0. We ended up including a wide range of new charts in this report but have a lot more in store for January when 2.0 goes live and starts skyrocketing Trading Volume. Stay tuned 🦁
We are halfway to our goal of flipping CUB deflationary. If the price of CUB can stay at the low levels that it is currently at, we believe it can have a very beneficial impact on the CUB economy.
$17,640 per month. That is the amount of $$ that CUB is paying in LP Incentives for users to pool assets on the platform.
$9,125 per month. That is the November figure for revenue generated by the CUB DAO. That's 51.7% of monthly inflation.
Closing the gap on these two numbers would mean that CUB has officially flipped deflationary.
Arb Bot 2.0 is one of our newest developments. We're hoping to have it done sometime around the end of December.
The current Arb Bot generates ~$4-$5k per month with current liquidity depth on bHIVE & bHBD.
As you can see in the monthly reports, this number has been growing ($4k in October, $4,960 in November). This is growing thanks to liquidity deepening in the pools. As liquidity continues to deepen, total revenue will grow on all sides: arbitrage, staking and wrapping fees.
Arb bot 2.0 introduces new routs for arbitrage as well as an internal market maker directly on the Hive blockchain for HIVE->HBD trading. This combined with greater speed and overall efficiency puts our estimates at 2-3x+ in terms of revenue generated per month.
That alone - even if there is no growth on bHIVE & bHBD - should flip CUB deflationary (more than $18k per month generated by CUB DAO to buyback and burn CUB).
As liquidity deepens, growth continues. We're excited to see CUB become one of the first truly sustainable, reliable and growing DeFi platforms... and the first HIVE & HBD derivatives platform to successfully launch on another blockchain.
Our mission is to grow Hive. We believe HIVE & HBD trading needs to be decentralized and CUB is at the core of creating just one notch in the broader solution to take HIVE & HBD trading off centralized exchanges and move it onto Decentralized Exchanges. Derivatives like bHIVE & bHBD make this a reality.
---
View The Full November CUB Report in PDF Format for Best Experience
---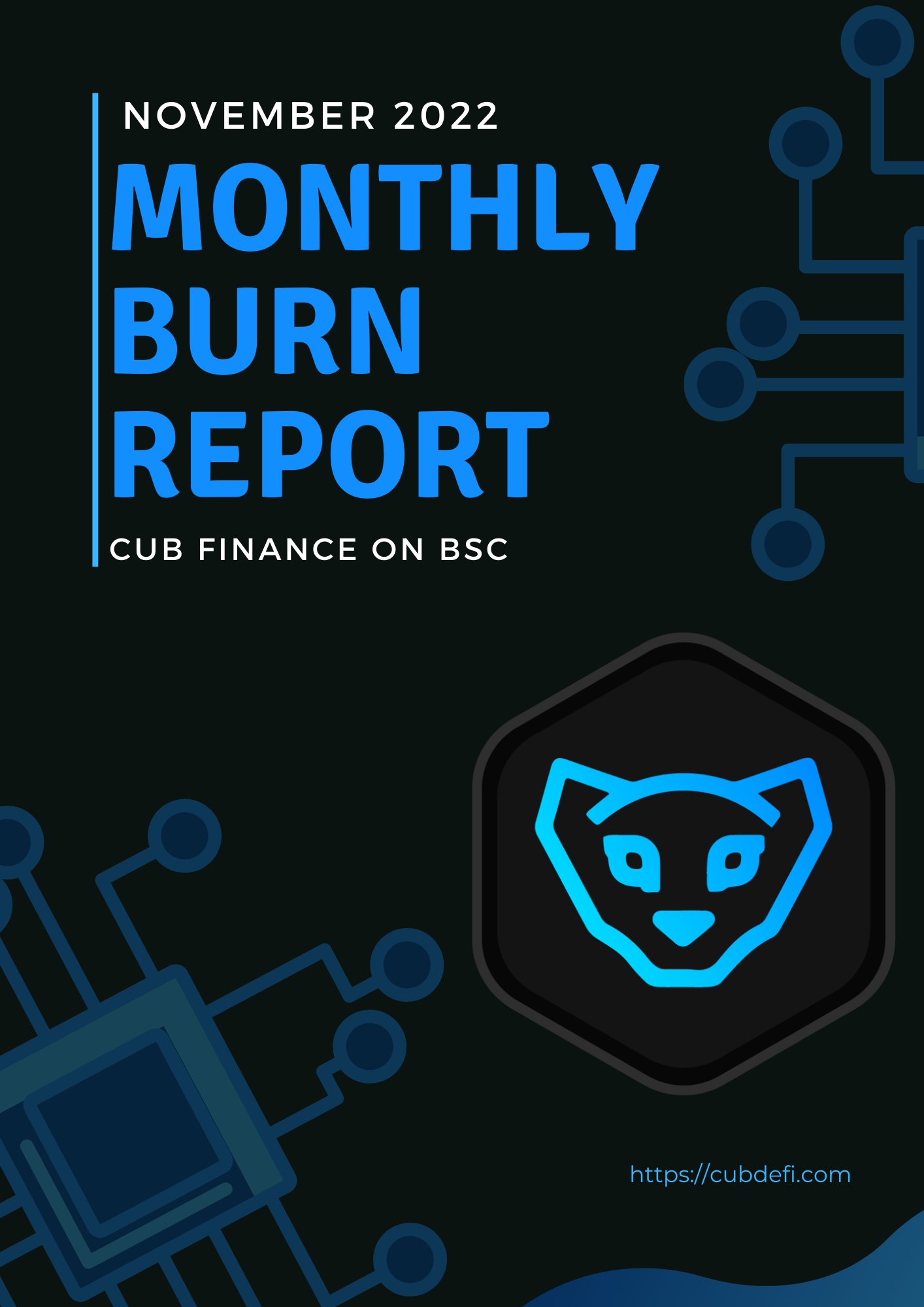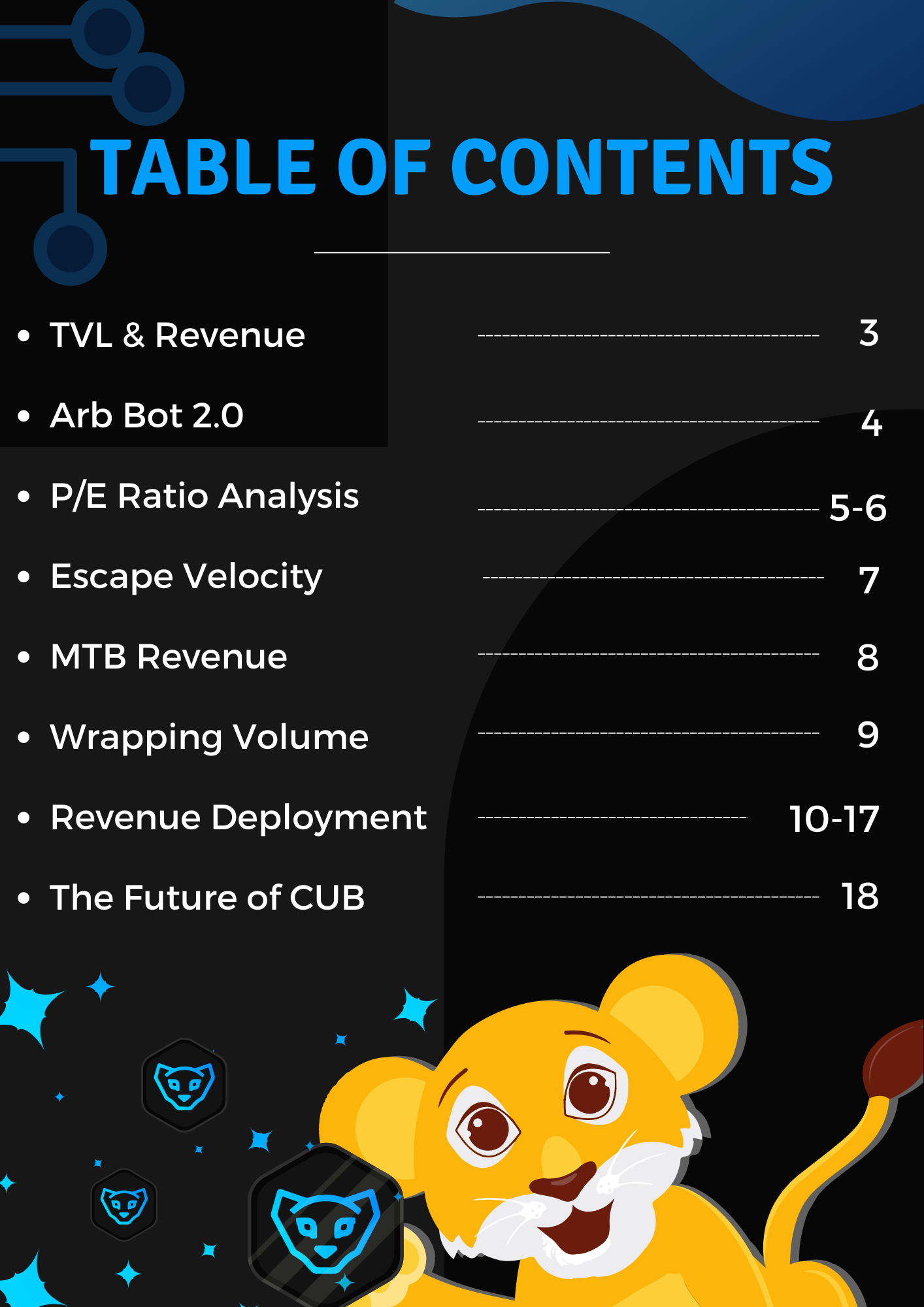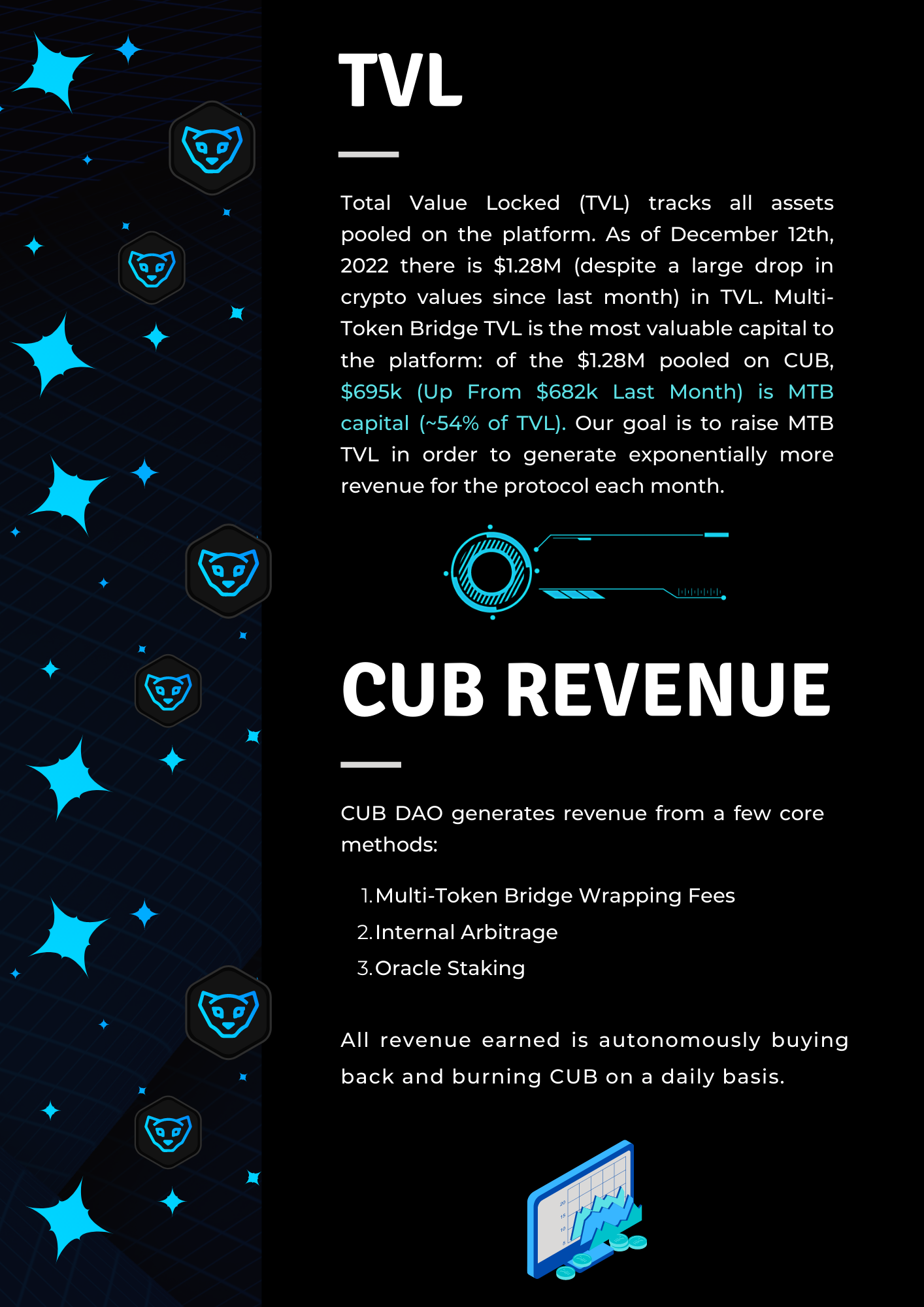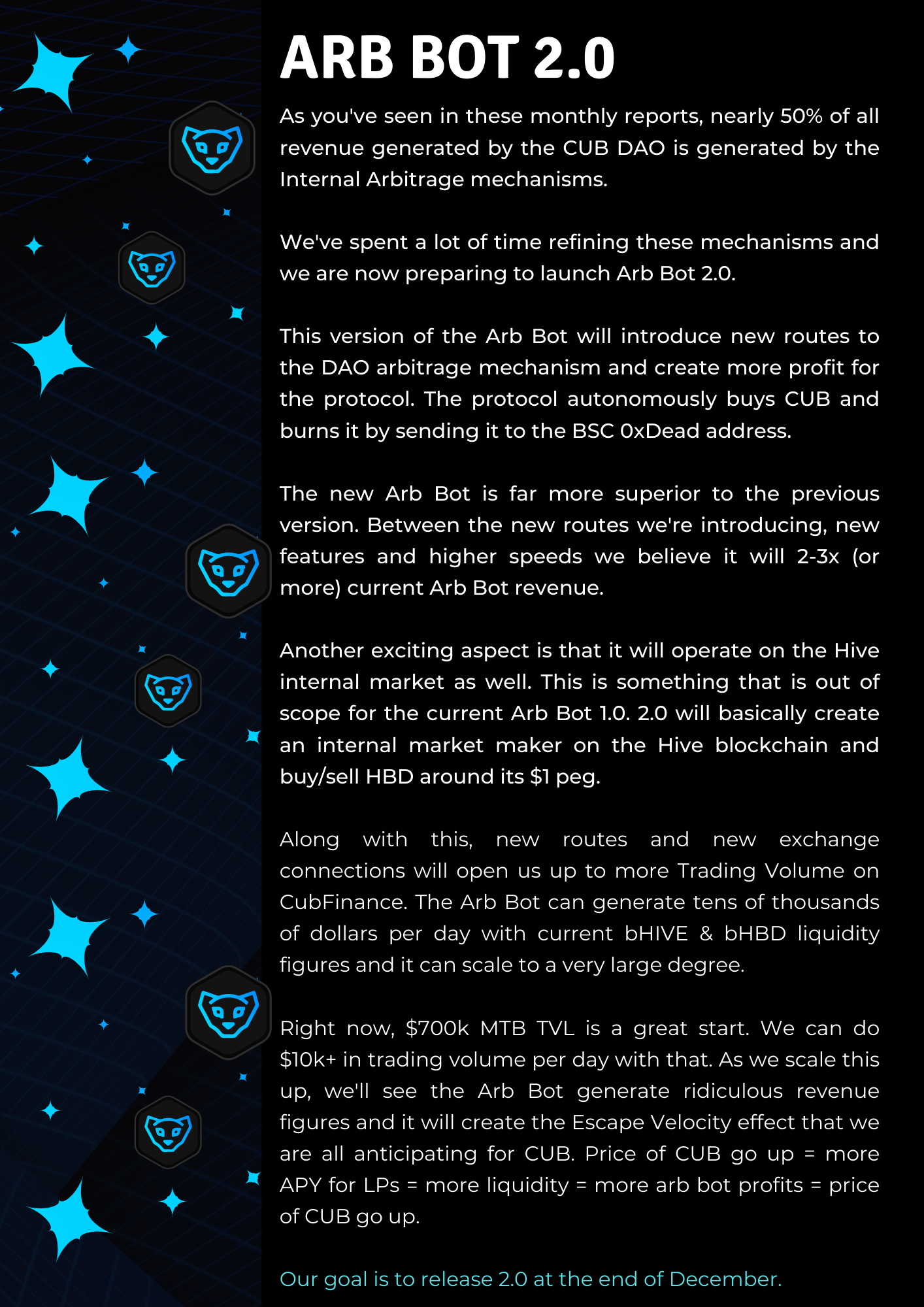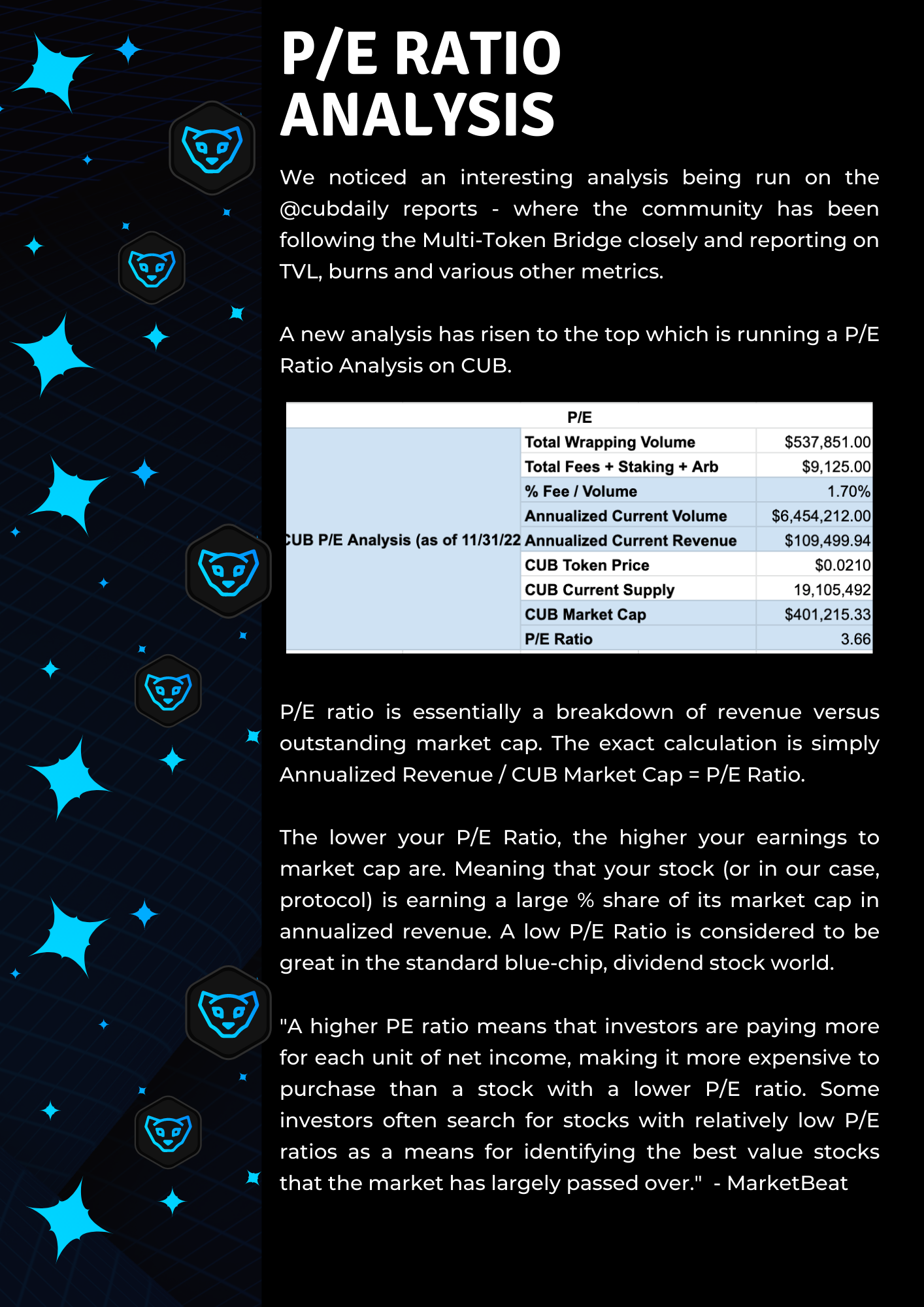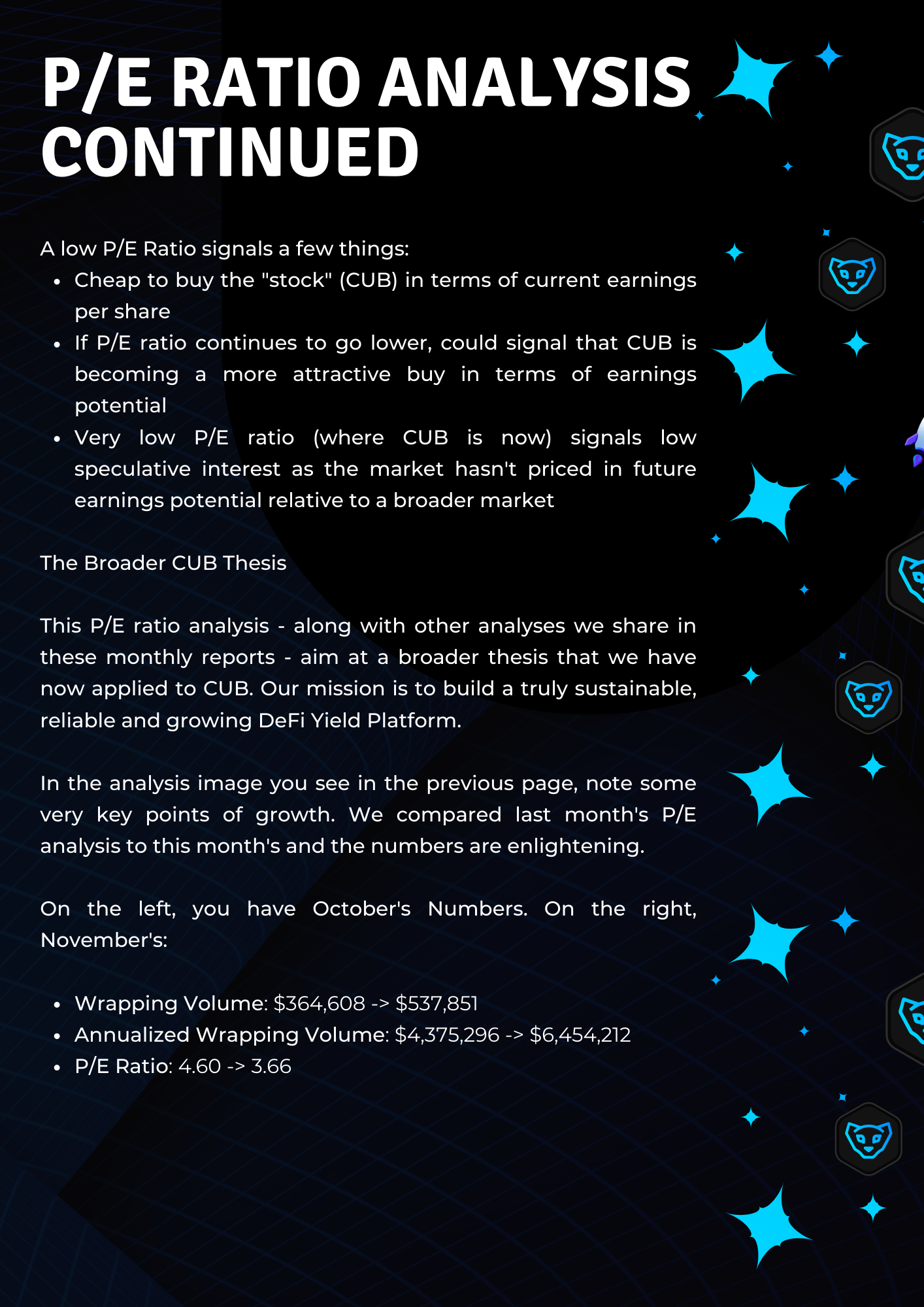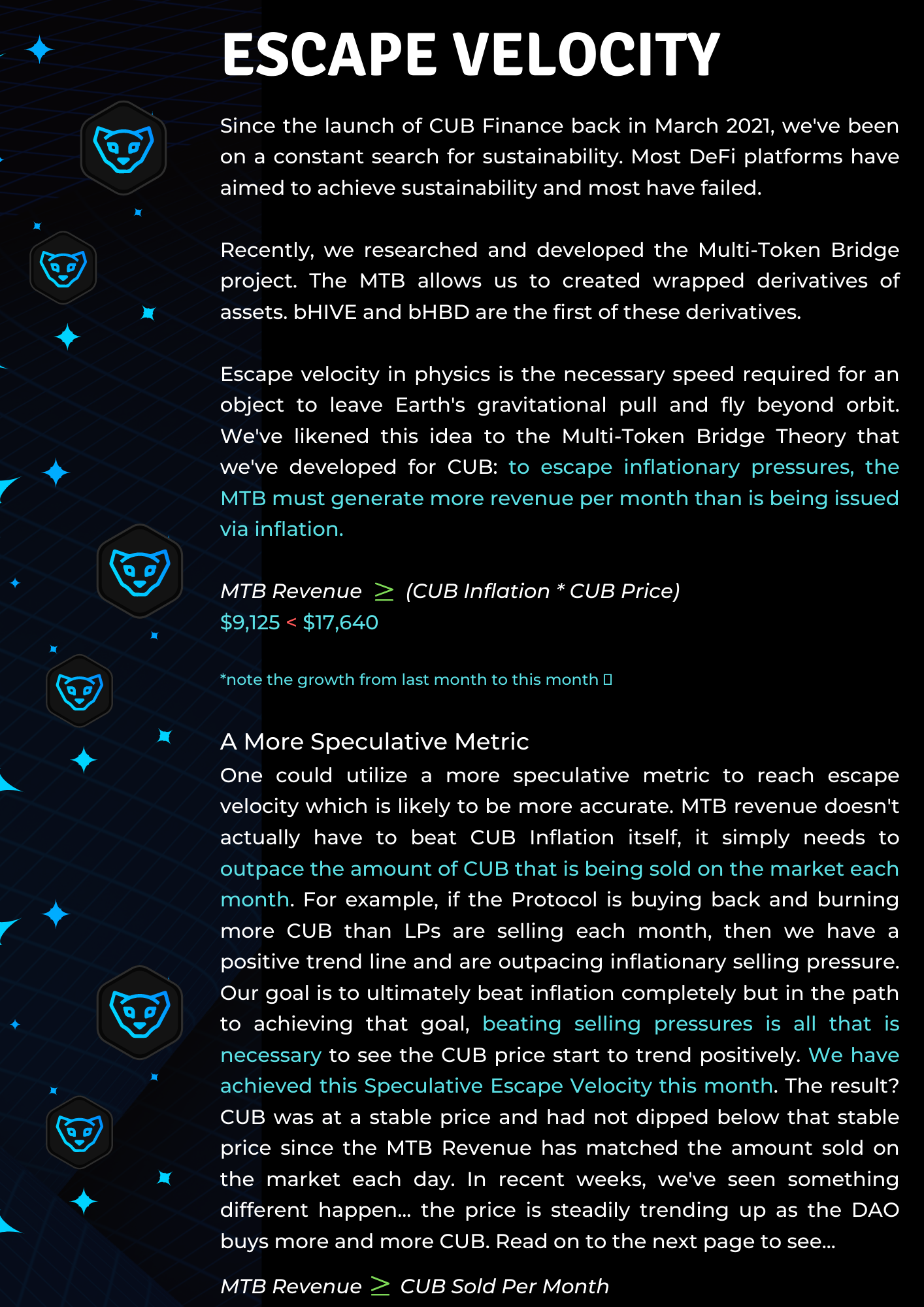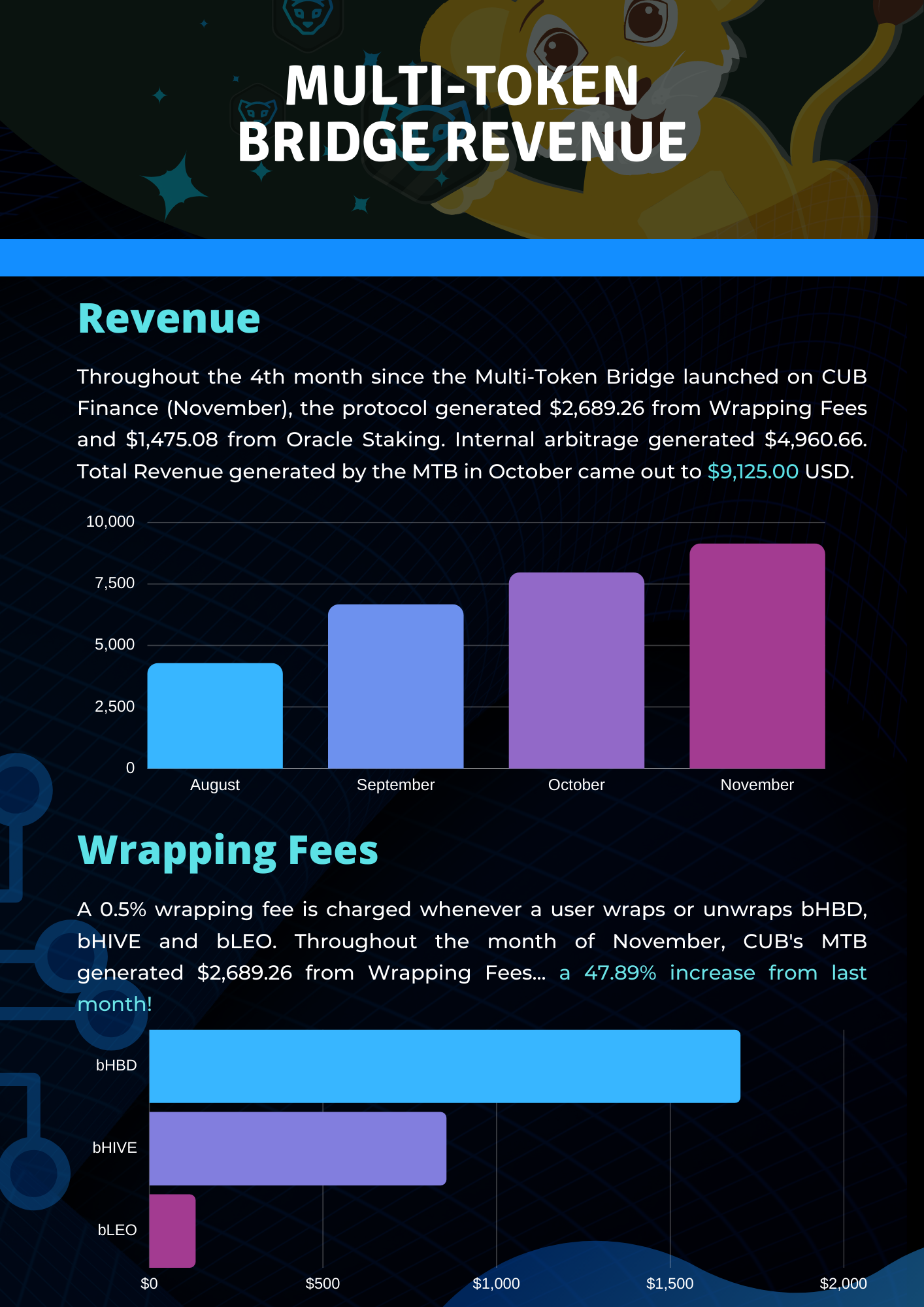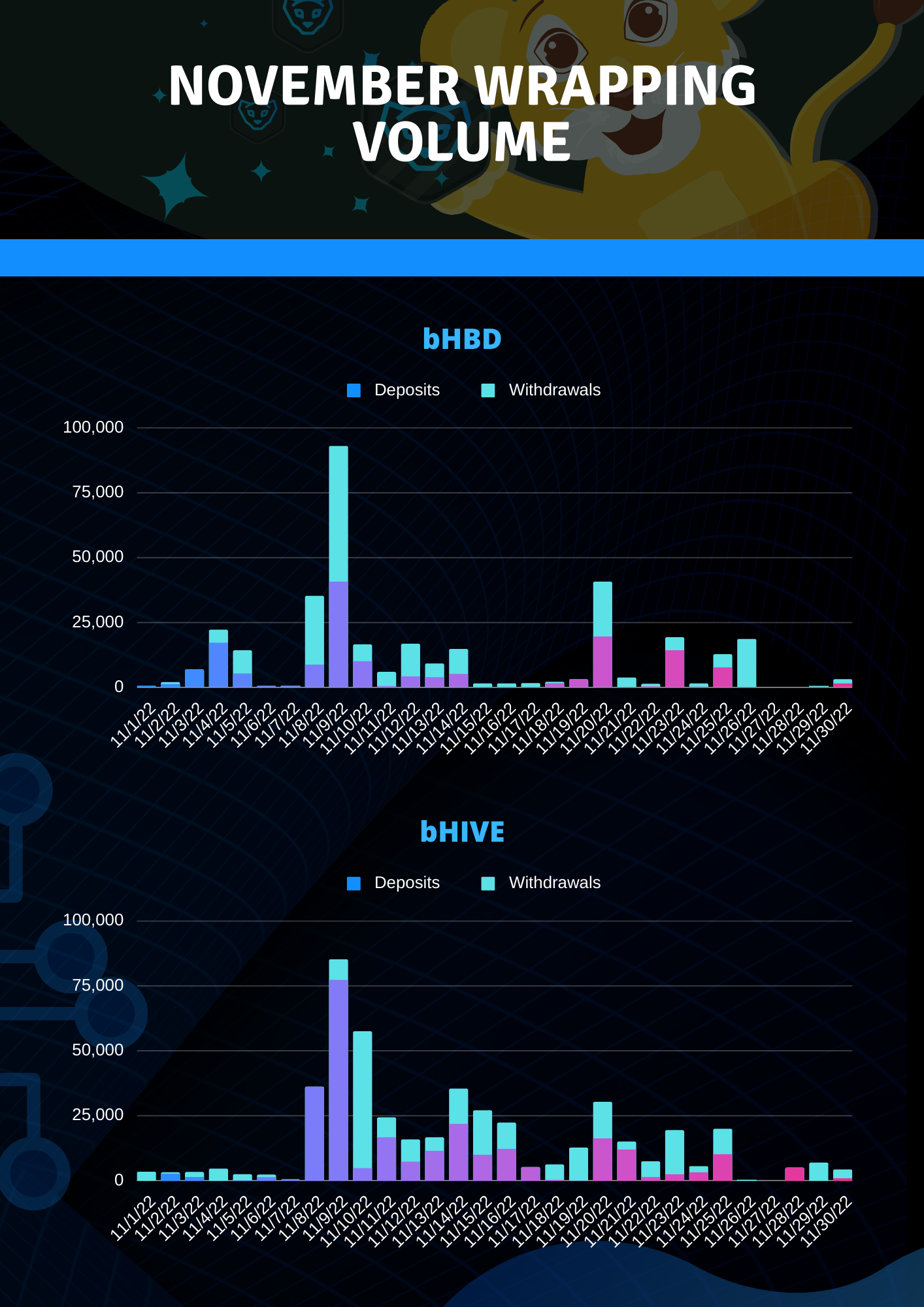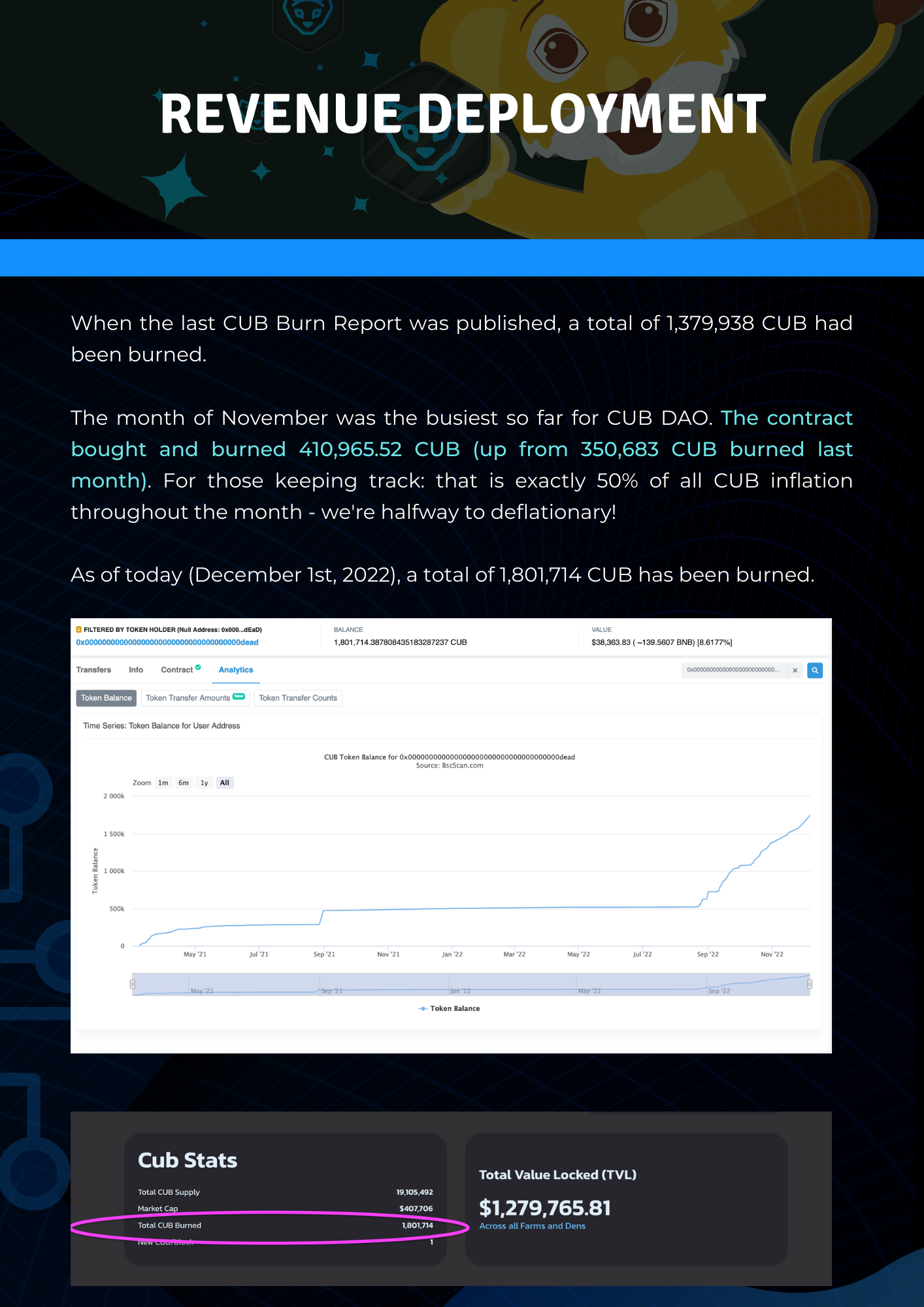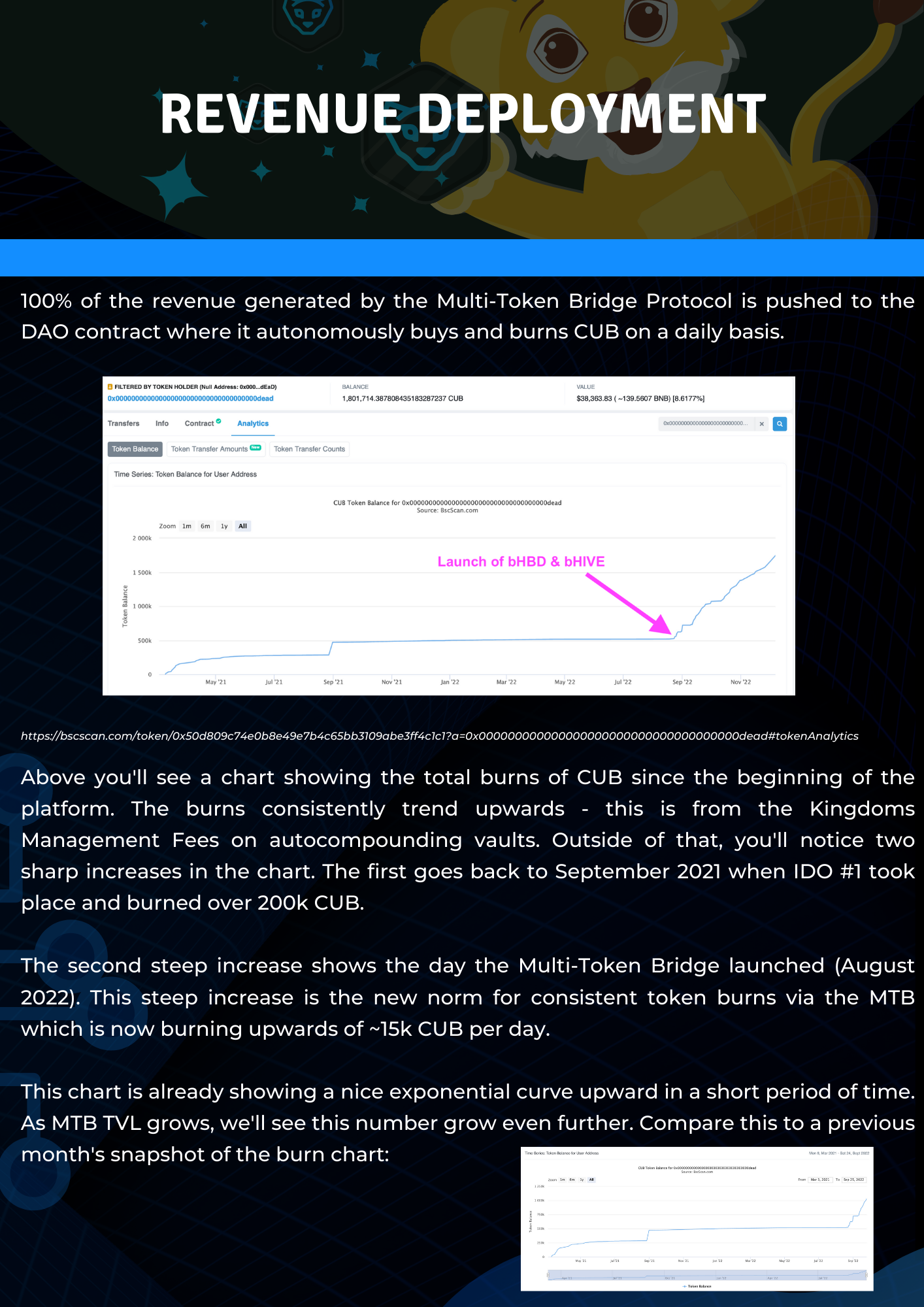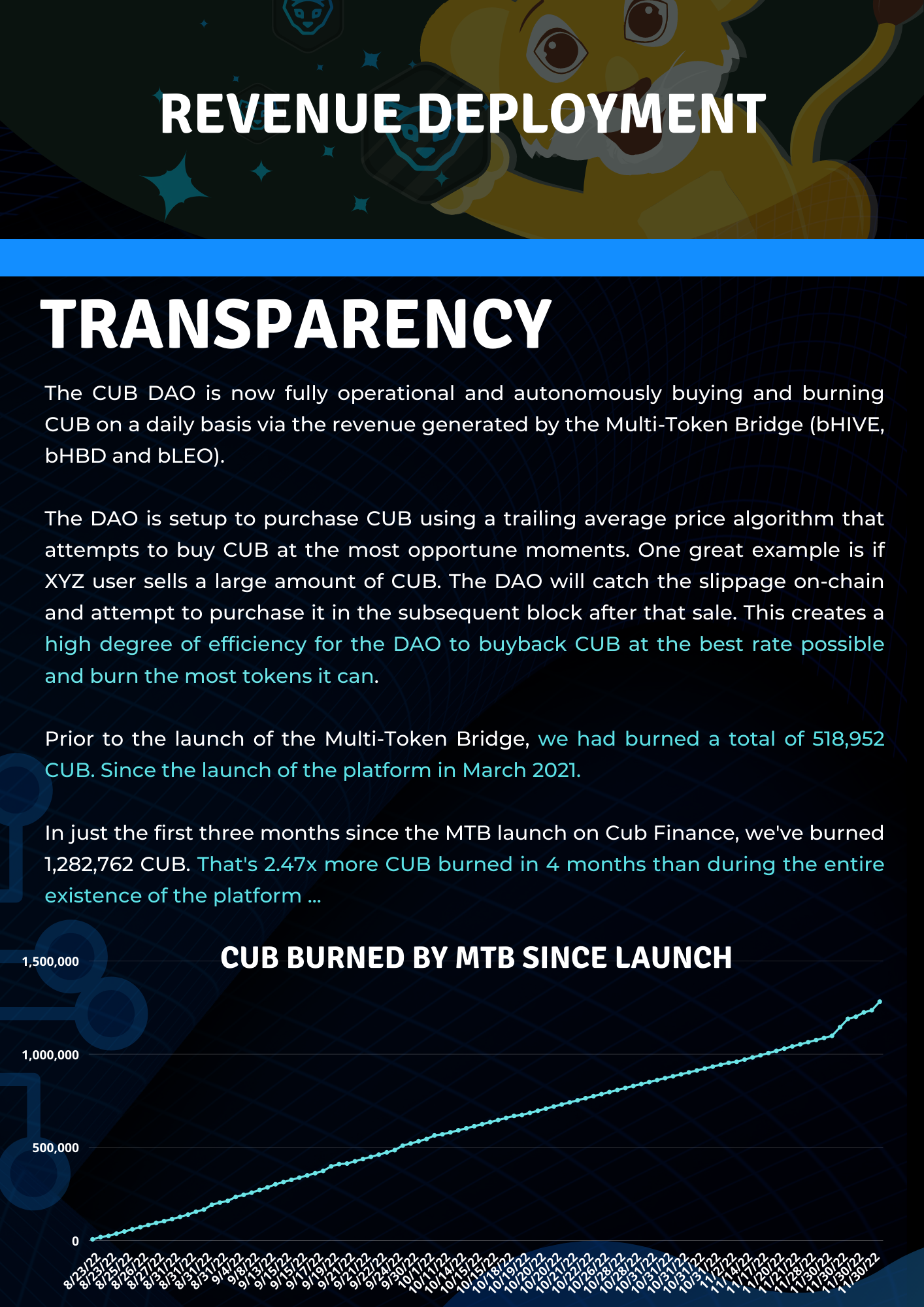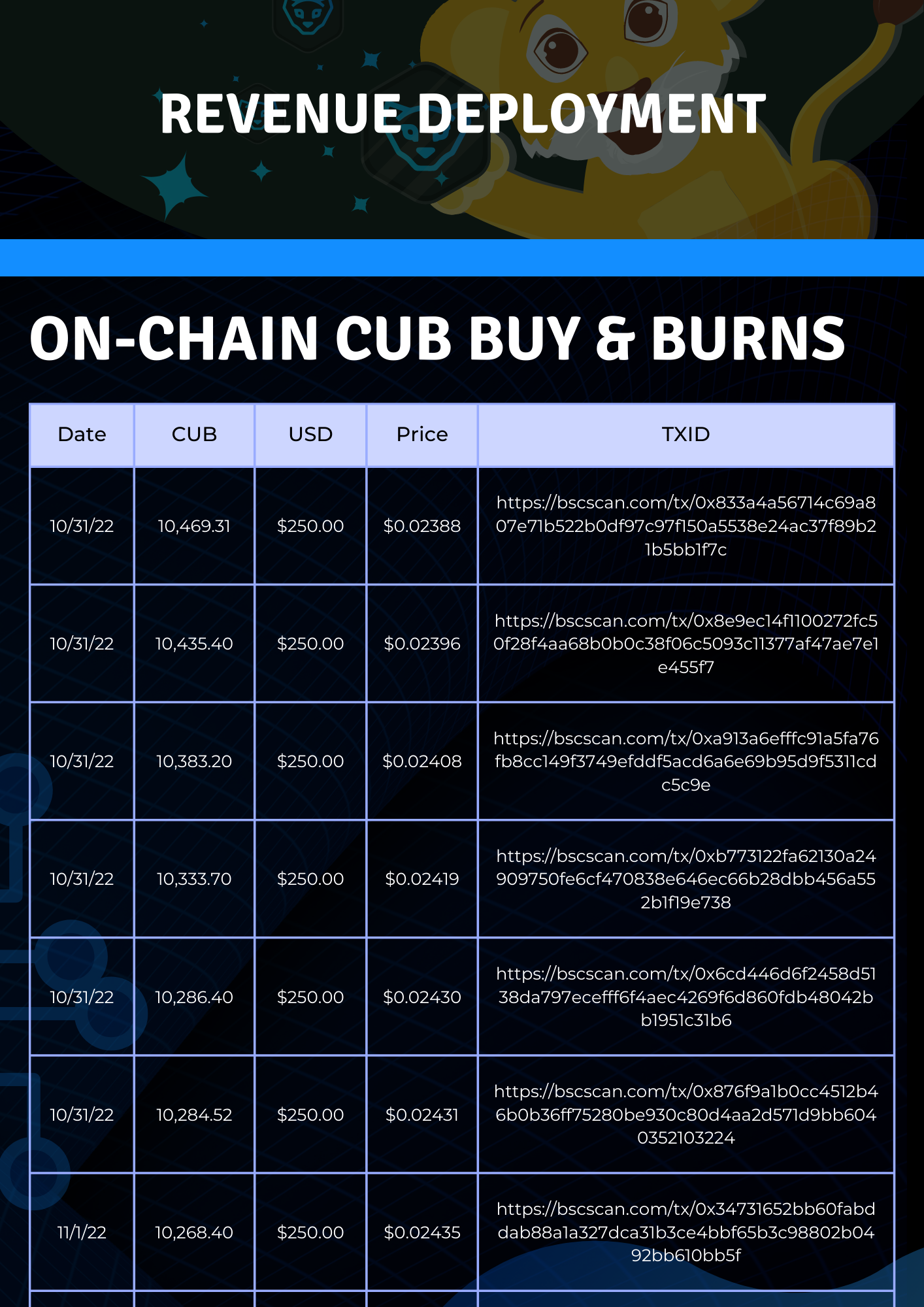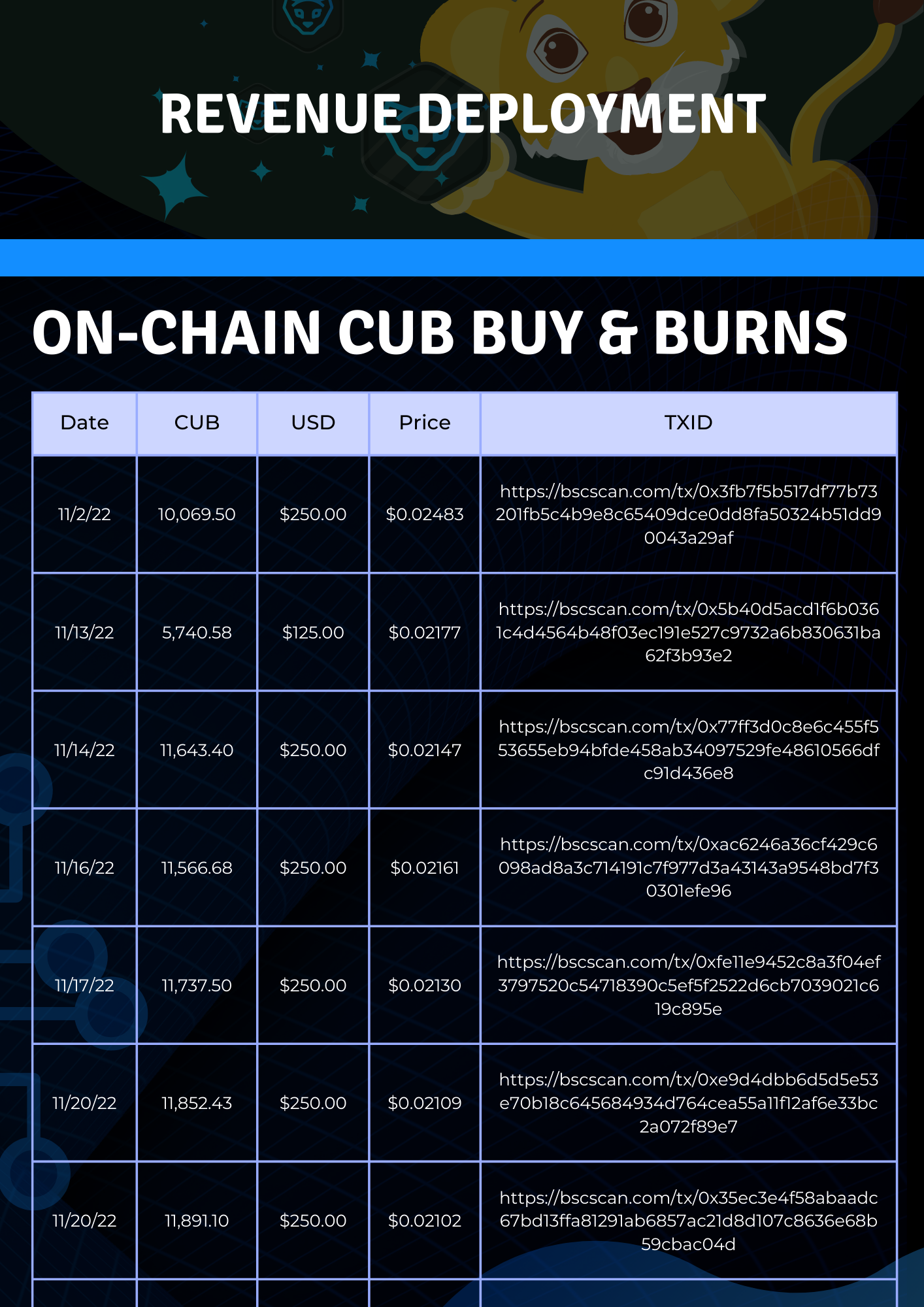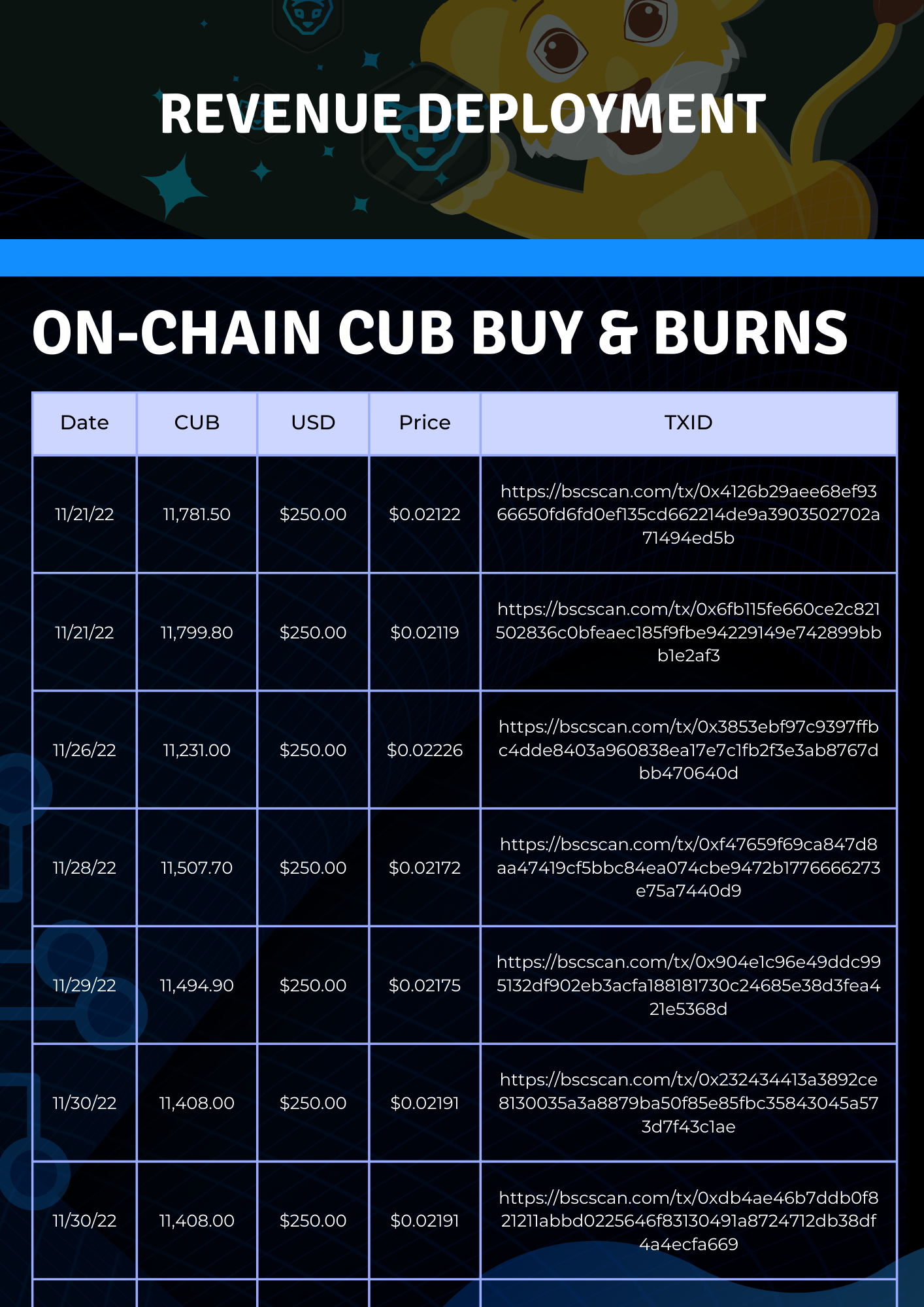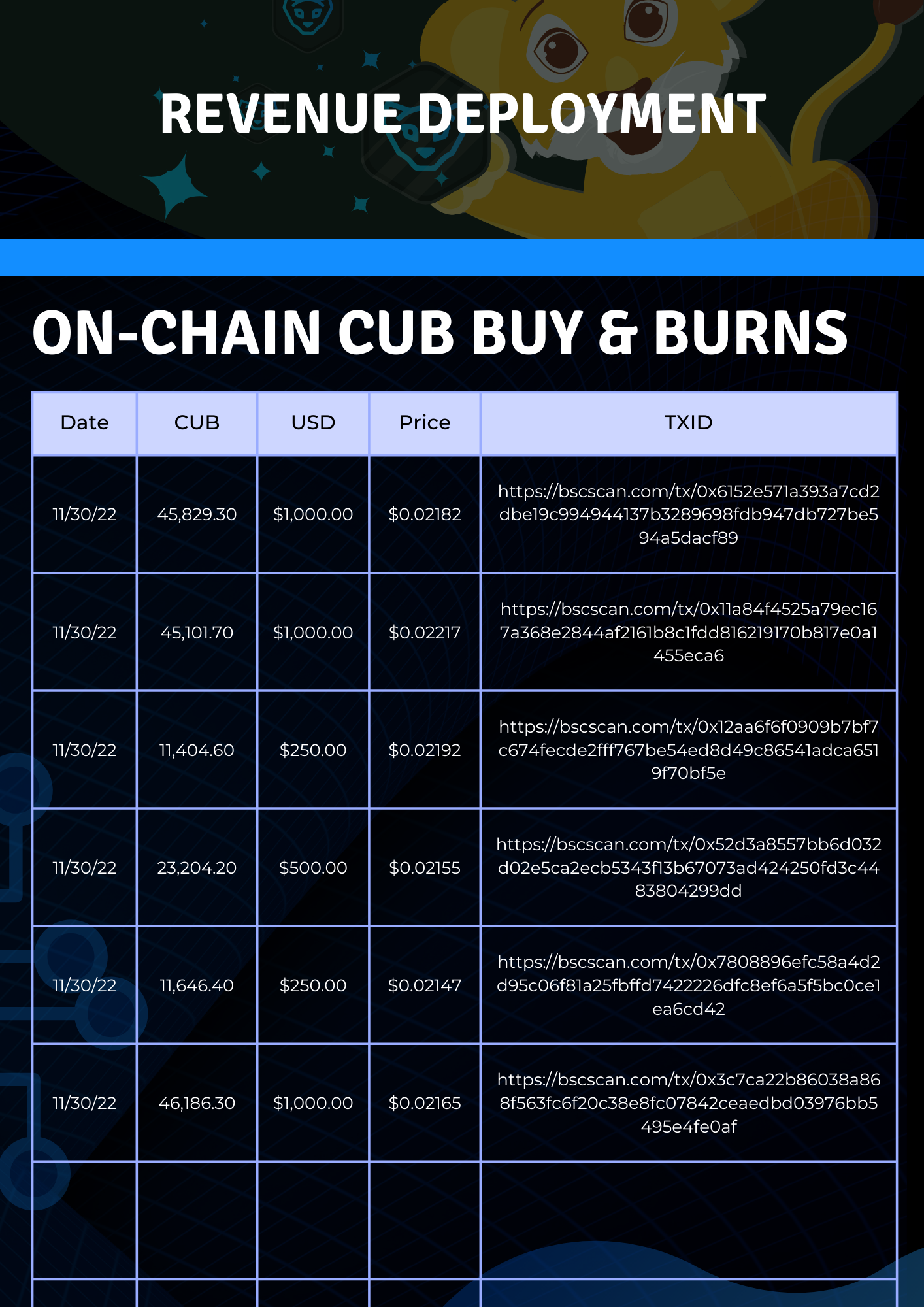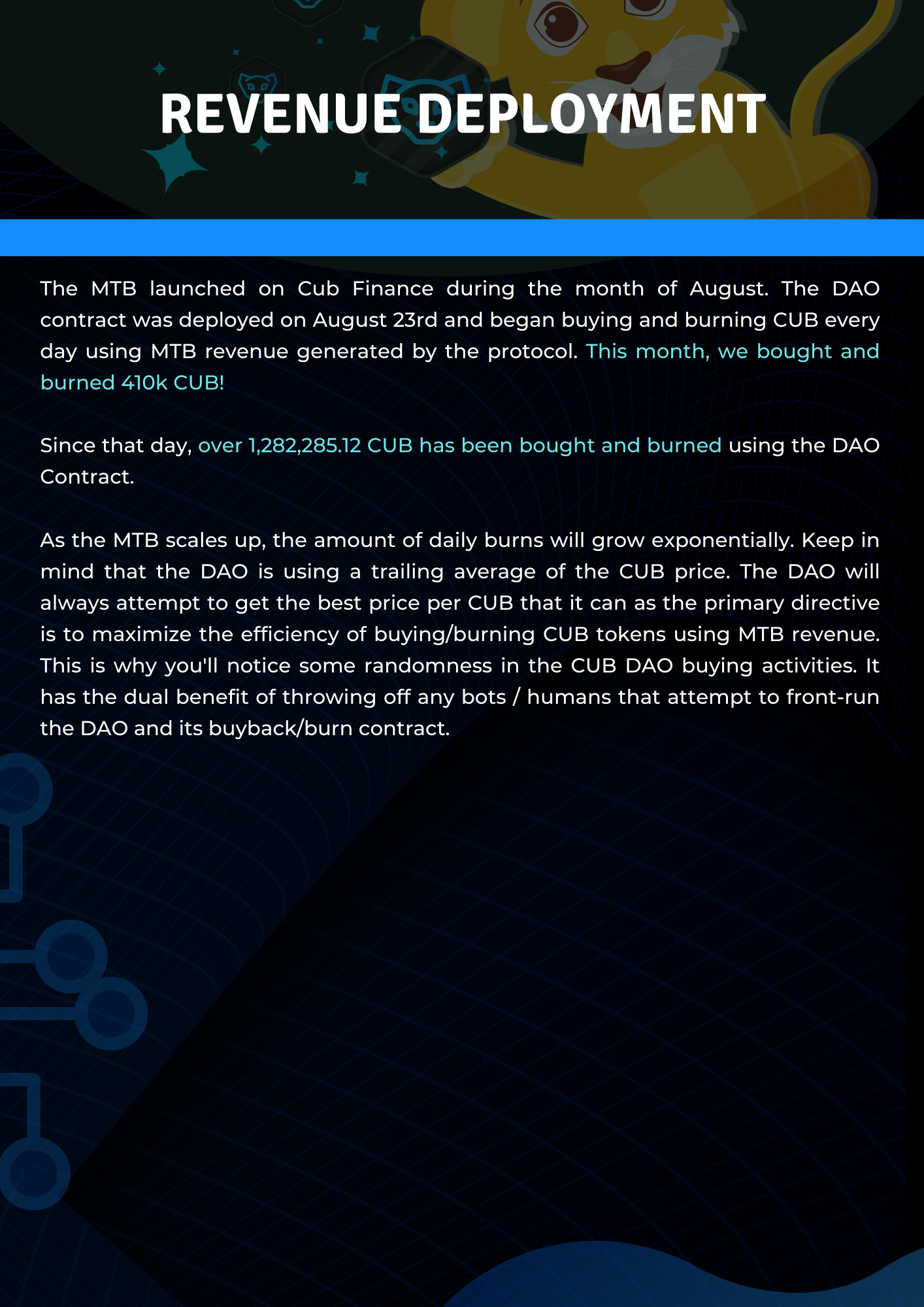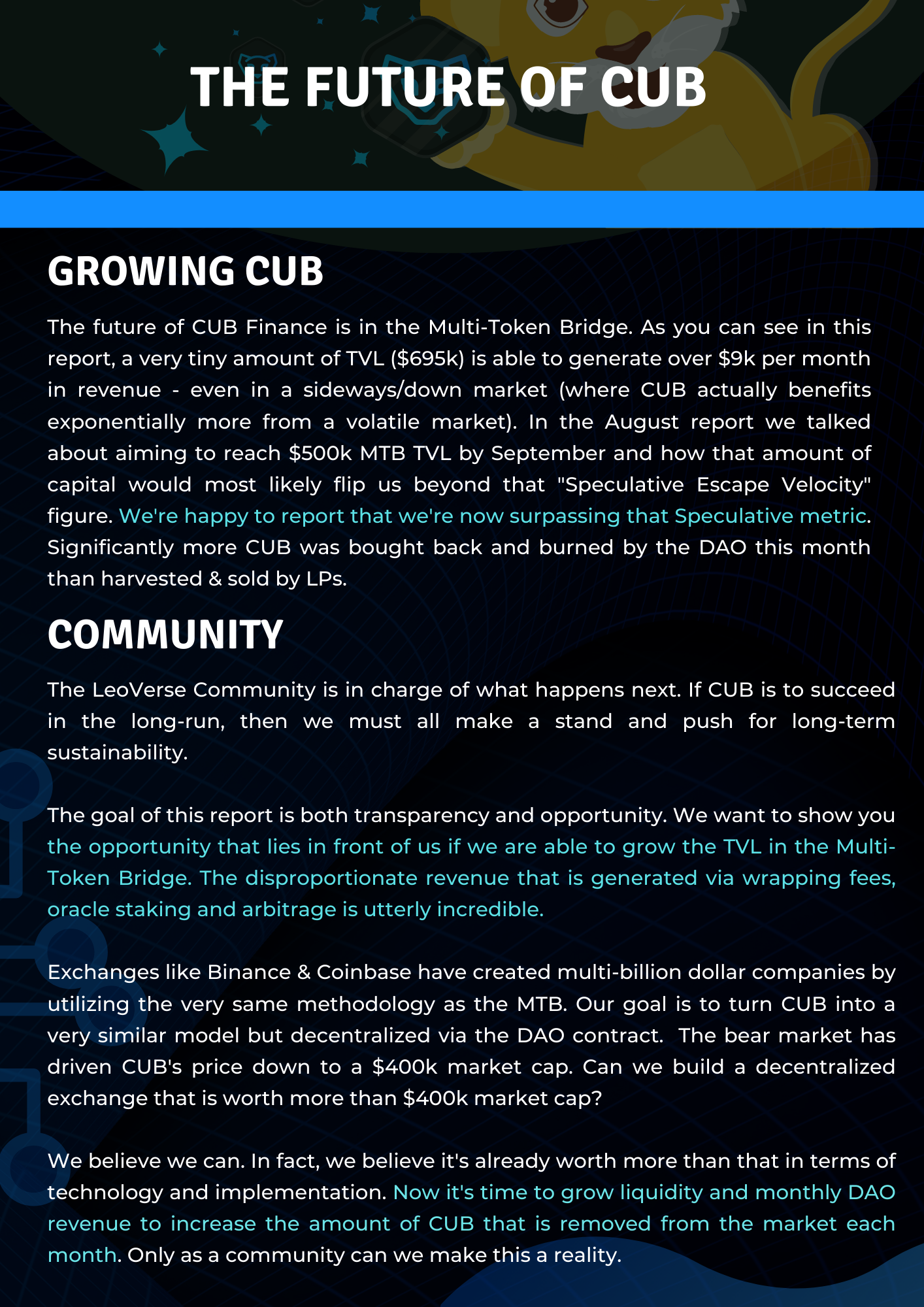 Sometimes images get cut off on Hive. View the PDF to see the full report in all its glory ;)

About LeoFinance
LeoFinance is a blockchain-based Web3 community that builds innovative applications on the Hive, BSC, ETH and Polygon blockchains. Our flagship application: LeoFinance.io allows users and creators to engage and share content on the blockchain while earning cryptocurrency rewards.
Our mission is to democratize financial knowledge and access with Web3.
Twitter: https://twitter.com/FinanceLeo
Discord: https://discord.gg/E4jePHe
Whitepaper: https://whitepaper.leofinance.io
Our Hive Applications
Join Web3: https://leofinance.io/
Microblog on Hive: https://leofinance.io/threads
LeoMobile (IOS): https://testflight.apple.com/join/cskYPK1a
LeoMobile (Android): https://play.google.com/store/apps/details?id=io.leofi.mobile
Delegate HIVE POWER: Earn 16% APR, Paid Daily. Currently @ 2.8M HP
Hivestats: https://hivestats.io
LeoDex: https://leodex.io
LeoFi: https://leofi.io
BSC HBD (bHBD): https://wleo.io/hbd-bsc/
BSC HIVE (bHIVE): https://wleo.io/hive-bsc/
Earn 50%+ APR on HIVE/HBD: https://cubdefi.com/farms
Web3 & DeFi
Web3 is about more than social media. It encompasses a personal revolution in financial awareness and data ownership. We've merged the two with our Social Apps and our DeFi Apps:
CubFinance (BSC): https://cubdefi.com
PolyCUB (Polygon): https://polycub.com
Multi-Token Bridge (Bridge HIVE, HBD, LEO): https://wleo.io
Posted Using LeoFinance Beta
---
---