LeoFinance Community Pages Rollout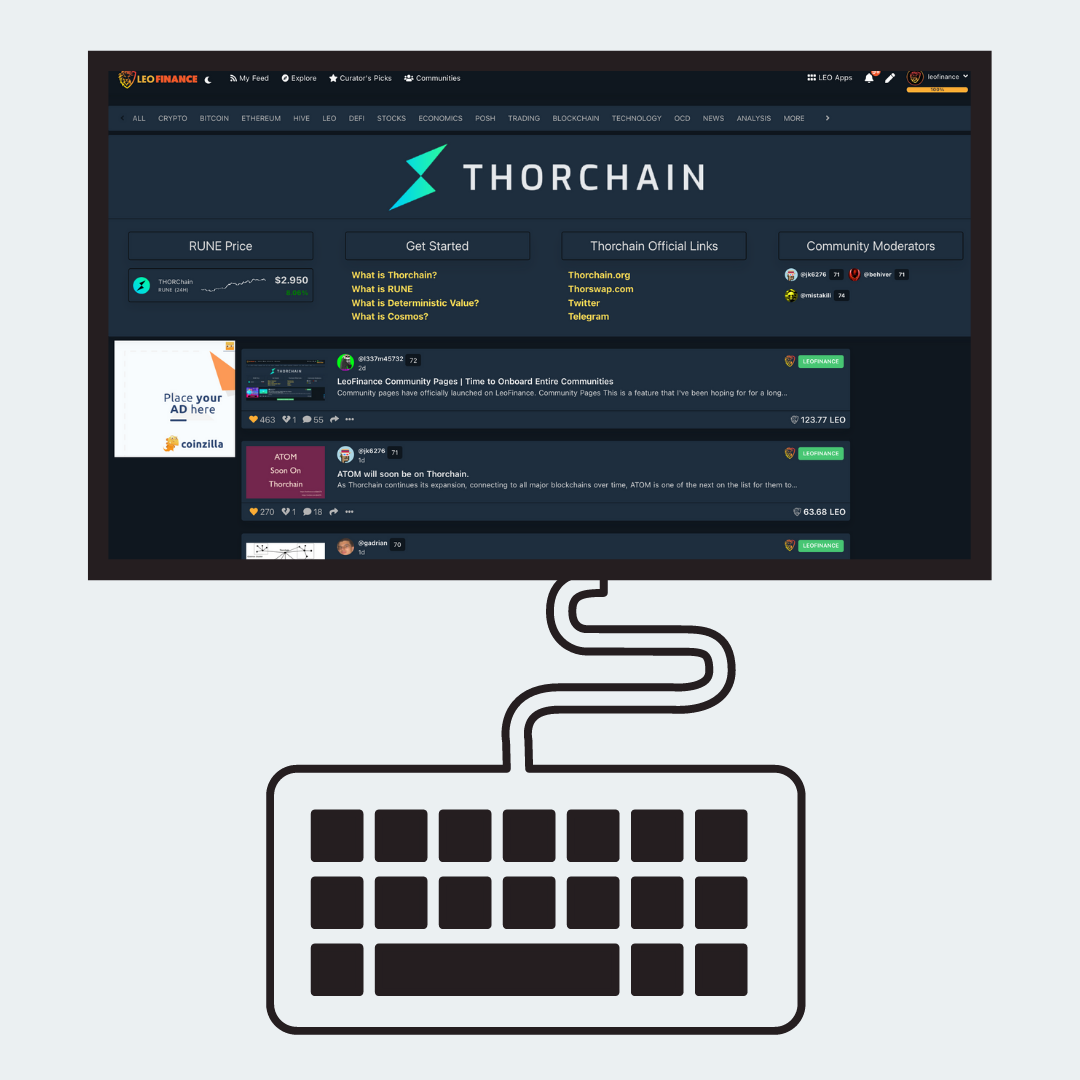 We've had an idea sitting on our roadmap for a long time - that idea is called Community Pages. In a nutshell, Community Pages are dedicated "subreddit-style" sections of the LeoFinance UI.
A Community Page allows us to create a dedicated page for all content related to a particular subject. We've also integrated Leo's Lightning Database into the Community Pages which allows us to create dedicated feeds.
Dedicated Feeds have designated curators who can decide what content is shown and how high it should rank. It uses a very similar algorithm to the Curator's Picks section of LeoFinance.
Community Pages Rollout
We've been testing Community Pages on our LeoFinance Alpha server for the past few weeks. We ironed out all of the bugs specific to the Community Pages feature and had everything working smoothly.
We decided to do a soft launch of Community Pages on Thursday of last week. Once releasing Community Pages onto the production server, we crashed tons of processes that are used to handle all sorts of operations.
As you may have noticed, there have been quite a few issues:
Certain feeds went offline
Some pages struggled to load
"Lightning Comments" started to feel less... lightning
On-site notifications stopped loading
....
These issues are all Lightning Related.
The Real Update for Community Pages: Lightning
Community pages - at first glance - might just look like a fancy new page on the LeoFinance UI. In fact, on the backend, they are far more complex.
Since Community Pages use an entirely new type of algorithm for reading, storing, retrieving and categorizing content, we had to develop a whole new version of Lightning.
This new LeoFinance Lightning DB release has several issues that we are currently sorting through. They weren't a problem in the Alpha testnet, but they are a problem in production.
One of the biggest challenges we're facing right now is scalability. The Lightning Caching DB has been failing to keep up with all of the data. This is something we're actively developing and fixing. We've got about 5 ideas for implementations that could potentially fix this issue and allow us to scale Lightning.
Issues like these are found when we release products into Production but are often hidden from us in the Testing Environment - since Testing is done in a small bubble and scaling issues, etc. are found when you battle-test it in a real-world environment.
Still, live beta is how we love to do things. Yes, it can cause outages and some headaches for users but it also allows for rapid iteration and progress in our technology. We appreciate everyone's patience while we continue to test, iron out bugs and release new updates.
A special thank you to anyone who has opened Discord Bug Reports to tell us what isn't working for them, providing screenshots and any other helpful details. All of these reports are vital in our process of triaging issues and prioritizing bug patch releases to fix them.
Why Community Pages?
One of the longest-standing issues on Hive has been the curation and display of content. If you go back far enough in the history of Hive, there have been countless debates about the "Trending" page - which displays content simply by how high the post reward is.
Community Pages have their own moderators which means that we can now section off broad topics and then designate moderators who can then manually curate content that should be displayed on that community page.
This is exactly like Subreddits on Reddit -- allowing communities, projects and topics to gather in a singular "Hub" and organize their content and engagement.
The First Community Page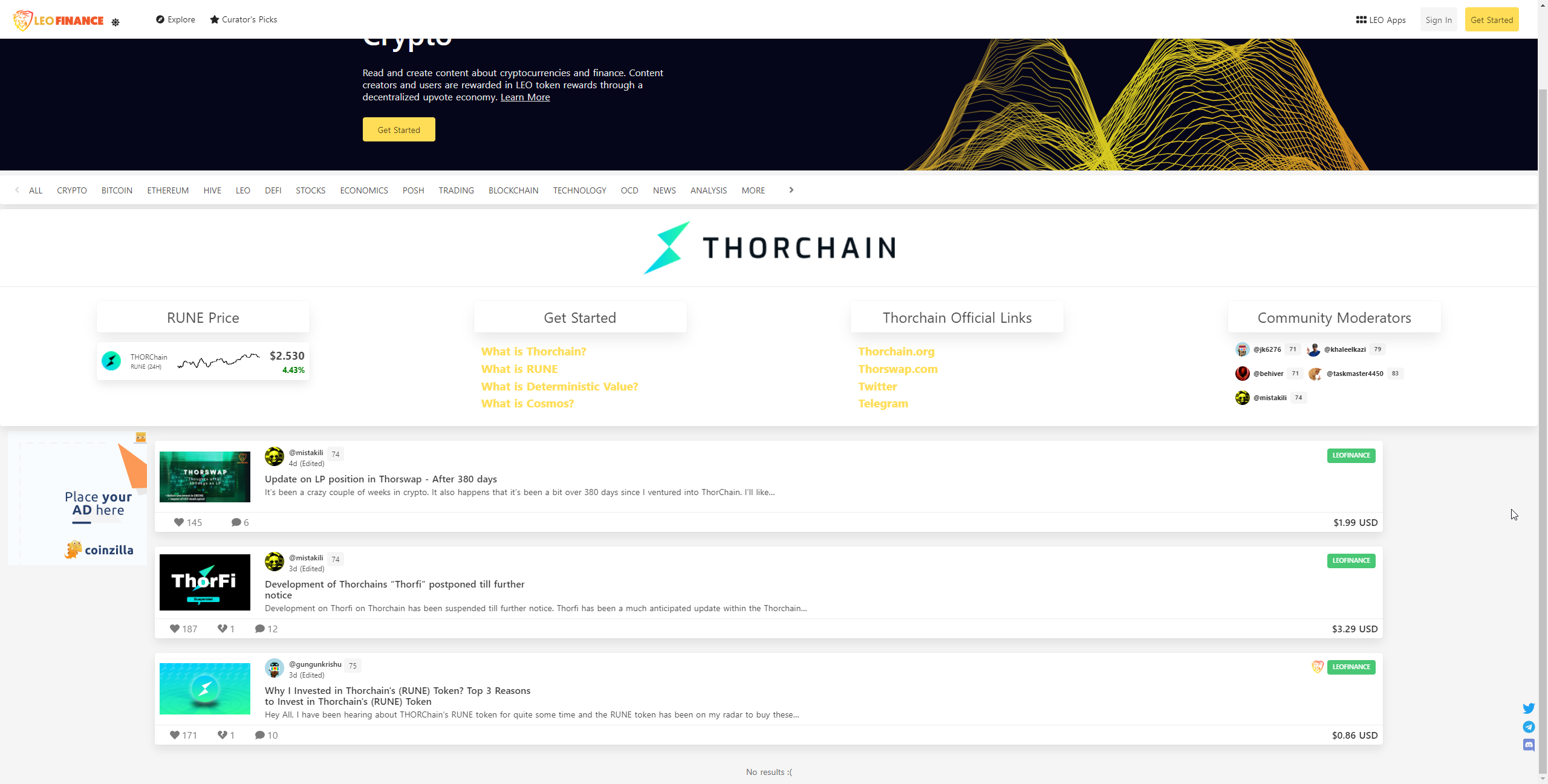 Unsurprisingly, the first Community Page is /Thorchain. We've been Alpha testing the feature and as of a few days ago, it hit public Beta release on LeoFinance.io.
As you can see, we've added some new modules to the UI. This shows you the RUNE price - for Thorchain's page. Other pages might be "/hive" and show you the real-time HIVE price.
Roadmap for Community Pages
The dev team is working around the clock right now on bug patches. We've noticed a lot of issues with Lightning DB with this release - as it was nearly a complete rewrite of a lot of our processes for handling data.
We believe Community Pages will be a killer feature for onboarding new users to LeoFinance. As we discussed on this week's AMA: people are looking for their home base on places like LeoFinance. When you look at Reddit and Twitter and similar Web2 platforms, people gravitate toward "subreddits" - places where people with common interests can share and engage with content.
Community Pages offer that. With designated moderators who control the feed and organization of content, we're going to be able to onboard entire communities to the LeoFinance and Hive ecosystem.
Next steps:
Rollout bug patches for Community Pages + Lightning
Deploy 3-5 more Community Pages
Reach out to platforms and communities about creating a page for them and helping them build their presence on LeoFinance and Hive
@leogrowth has already started some cool initaitves to spread the word about Community Pages and our Head of Growth is building branches and reaching out to Crypto Community managers all over Twitter to tell them why a LeoFinance Community Page could bring a lot of value to their project.
Ultimately, the success of this feature lies in the hands of you - the LeoFinance Community - and our ability to work together to fill these pages with great info about different crypto projects and onboard the community members of those projects to create and engage with content about them.

About LeoFinance
LeoFinance is a blockchain-based Web3 community that builds innovative applications on the Hive, BSC, ETH and Polygon blockchains. Our flagship application: LeoFinance.io allows users and creators to engage and share content on the blockchain while earning cryptocurrency rewards.
Our mission is to put Web3 in the palm of your hands.
Twitter: https://twitter.com/FinanceLeo
Discord: https://discord.gg/E4jePHe
Whitepaper: https://whitepaper.leofinance.io
Our Hive Applications
Join Web3: https://leofinance.io/
LeoMobile (IOS): https://testflight.apple.com/join/cskYPK1a
LeoMobile (Android): https://play.google.com/store/apps/details?id=io.leofi.mobile
Delegate HIVE POWER: Earn 16% APR, Paid Daily. Currently @ 2.8M HP
Hivestats: https://hivestats.io
LeoDex: https://leodex.io
LeoFi: https://leofi.io
Polygon HBD (pHBD): https://wleo.io/hbd
Web3 & DeFi
Web3 is about more than social media. It encompasses a personal revolution in financial awareness and data ownership. We've merged the two with our Social Apps and our DeFi Apps:
CubFinance (BSC): https://cubdefi.com
PolyCUB (Polygon): https://polycub.com
LEO Wrapping Bridge: https://wleo.io
Posted Using LeoFinance Beta
---
---