LeoFinance Weekly Dev Update #6 | Mobile App v0.0.10, Marketing, Major IDO Details and V2 Migration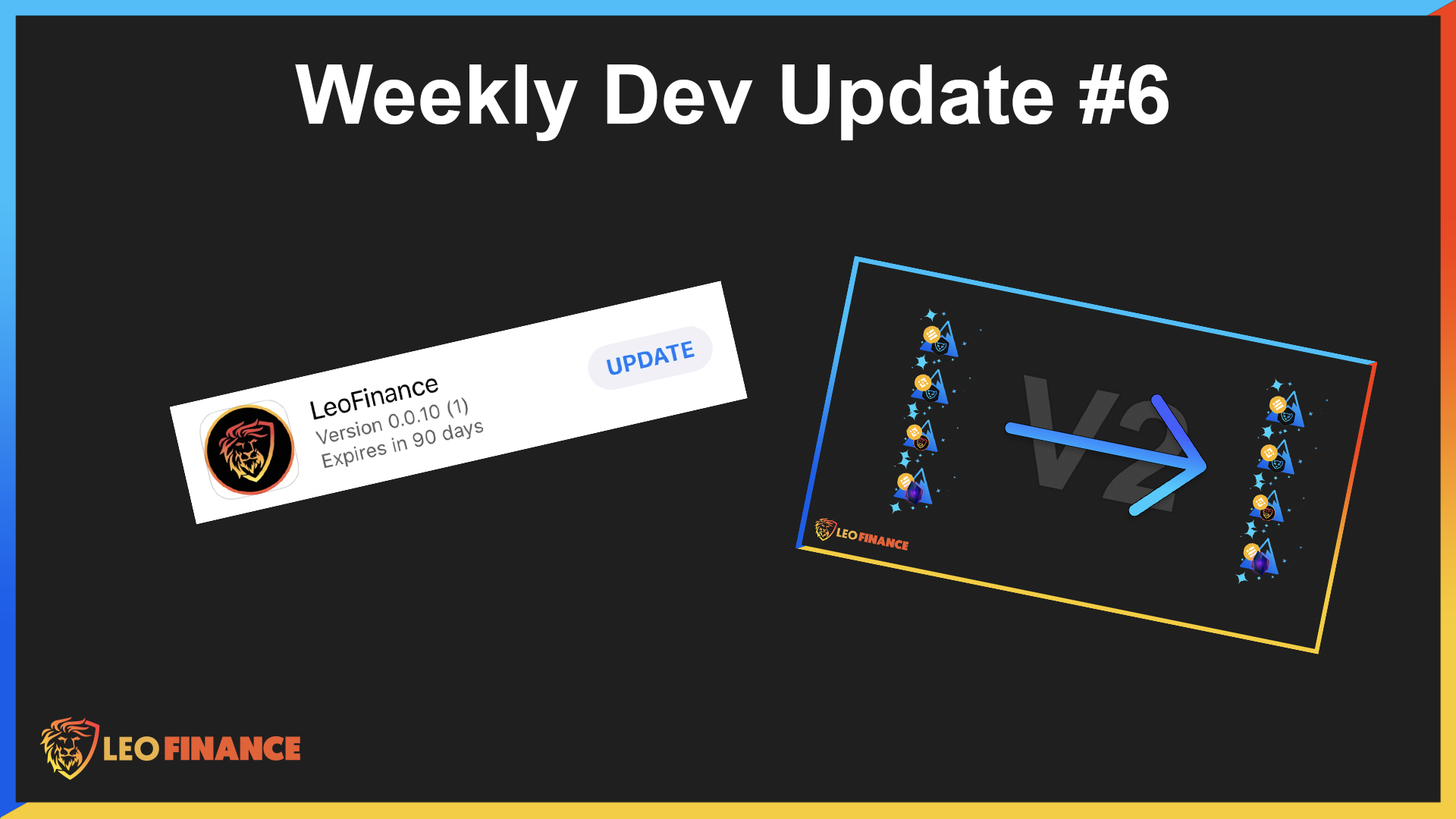 In This Week's Update:
LeoFinance
10 Major LeoFinance Mobile App Iterations (Version 0.0.10)
App On Track for October 1st MVP (Open Beta)
Marketing for the Long-Haul
The LeoFinance Podcast Returns!
CubFinance
IDO #2 & #3 Details Released
New IDO System Designed and Organized
New CUB Pools Nearing Launch
CUB Value Capture Model: An Update
CUB V2 Migration!
General
---
LeoFinance

10 Major LeoFinance Mobile App Iterations (Version 0.0.10)
Exciting news this week for the LeoFinance mobile app development. We've done an incredible job so far of deploying new releases, designing the MVP and staying on track for our October 1st release date.
The mobile app has been a long-time in the making. Moving from early framework negotiations spanning more than 6 months ago and then our actual start of development work and iteration design.
The MVP is going to be an incredibly bullish event for LEO. This truly changes the entire game for LeoFinance.
It puts us square in the middle of where we want to be in this blockchain revolution: leading the Web3 community tokenization charge.
The LEO token is the center to the entire LeoFinance project. It's the backbone to everything we do and it captures value from everything we do: from LeoFi to LeoDex to CubFinance.
Version 0.0.10 was just released which marks our 10th major developer release ahead of the MVP product.
In the MVP you'll see many of the core features that you're accustomed to with LeoFinance.io but in the native mobile form factor.
We're already using and testing the mobile app in closed beta and the fluidity and usability of the app is an absolute game changer. I haven't had this much fun reading, interacting with and voting content since our LeoFinance.io UI was originally released.
App On Track for October 1st MVP (Open Beta)
The app development has been far from smooth but we are making great progress on delivering it and all of the MVP functionalities we've planned for the MVP release on October 1st.
Our goal is to release it on the first of October. Obviously, nothing is guaranteed and we're hoping to see it enter the hands of open beta testers on that day.
The Mobile App is going to radically change the visibility of LeoFinance as we enter a world of referral codes, native app stores and sharing links to real App Store products.
Marketing for the Long-Haul
Our Marketing plans have been coming together lately. There are a lot of different aspects behind turning LeoFinance into more of a media company.
The goal is to release a steady stream of content on all platforms each week with the help of our expanded LeoFinance team and our recent hire of an external marketing team to expand video/audio/text content efforts on social media platforms. YouTube, Podcasting Platforms, Tik Tok and more are all underway!
LeoFinance Podcast Returns!
The LeoFinance podcast is something that we've always thought of as a cornerstone of growing the entire LeoFinance project.
Gaining more users, traction and attention will come from these long-haul forms of content marketing. A wide database of evergreen content for LeoFinance that's all driving value to crypto & finance users.
CubFinance
IDO #2 & #3 Details Released
Earlier this week we released details about IDO #2 & #3. The new IDO system we built uses 100% CUB and the two next IDOs on CUB will utilize this new system.
The Polygon Cub IDO will utilize 100% CUB and burn 100% CUB.
The other IDO is being done by an external team and will utilize a 100% CUB raise model but with a twist:
100% CUB Deposited in the IDO
50% of the CUB burned
The other 50% of CUB is paired with the IDO token
IDO participants receive CUB-IDO LP tokens for their CUB deposit
IDO platform is creating & incentivizing a pool for CUB-IDO token
CubFinance is releasing a CUB-IDO Kingdom for their platform
IDO token is autocompounded back into CUB-IDO LP position + CUB harvestable rewards
This model is an incredible leap forward for CUB and introduces both an instantaneous value prop and a long-term value prop through the Kingdom - which buys and burns CUB autonomously from the IDO token platform rewards.
New CUB Pools Nearing Launch
The above mentioned IDO will release the first in a long series of partner pools that utilize the CUB token. These pools will allow us to create new Kingdoms for CUB and thus, both short-term and long-term autocompounding back into CUB.
This IDO will be the first in a long series of IDOs that have their own farming platforms. Each farming platform will launch with a model like this one. Deposit 100% CUB, 50% of CUB is burned, 50% paired and LP'd, new LP farm released and incentivized.
CUB Value Capture Model: An Update
This marks a major update to CUB's value capture model. We realized shortly after the launch of CubFinance V1 - based on the Goose farming model - that long-term value capture is the path forward to viability and sustainability in the DeFi space.
The important part of this value capture model is to expand both in width and depth - much like the overall thesis of LeoFinance which is to expand the width and depth of the LeoFinance community of users.
Kingdoms create long-term value capture through the autonomous buying and burning of CUB from LP vaults and the management fees they accrue.
IDOs create short-term bursts of value capture as 50% of the CUB raised is burned permanently from the supply in large quantities - as seen in IDO #1 where $125,000 worth of CUB was burned (albeit with some short-term impacts from the CUB-BUSD design of the IDO. Which we decided to change for all future IDOs)
IDOs of new farming platforms will also introduce partner farms as seen with the upcoming IDO - these create short-term AND long-term value capture for CUB through a new farming use case (obvious) and the less obvious form which is the release of a CUB Kingdom that will create autonomous buyback and reinvestments into CUB (since the partner platform token will be used to incentivize the pool, get earned by the Kingdom contract and then autocompounded back into CUB - along with the usual management fees)
V2 Upgrade Incoming!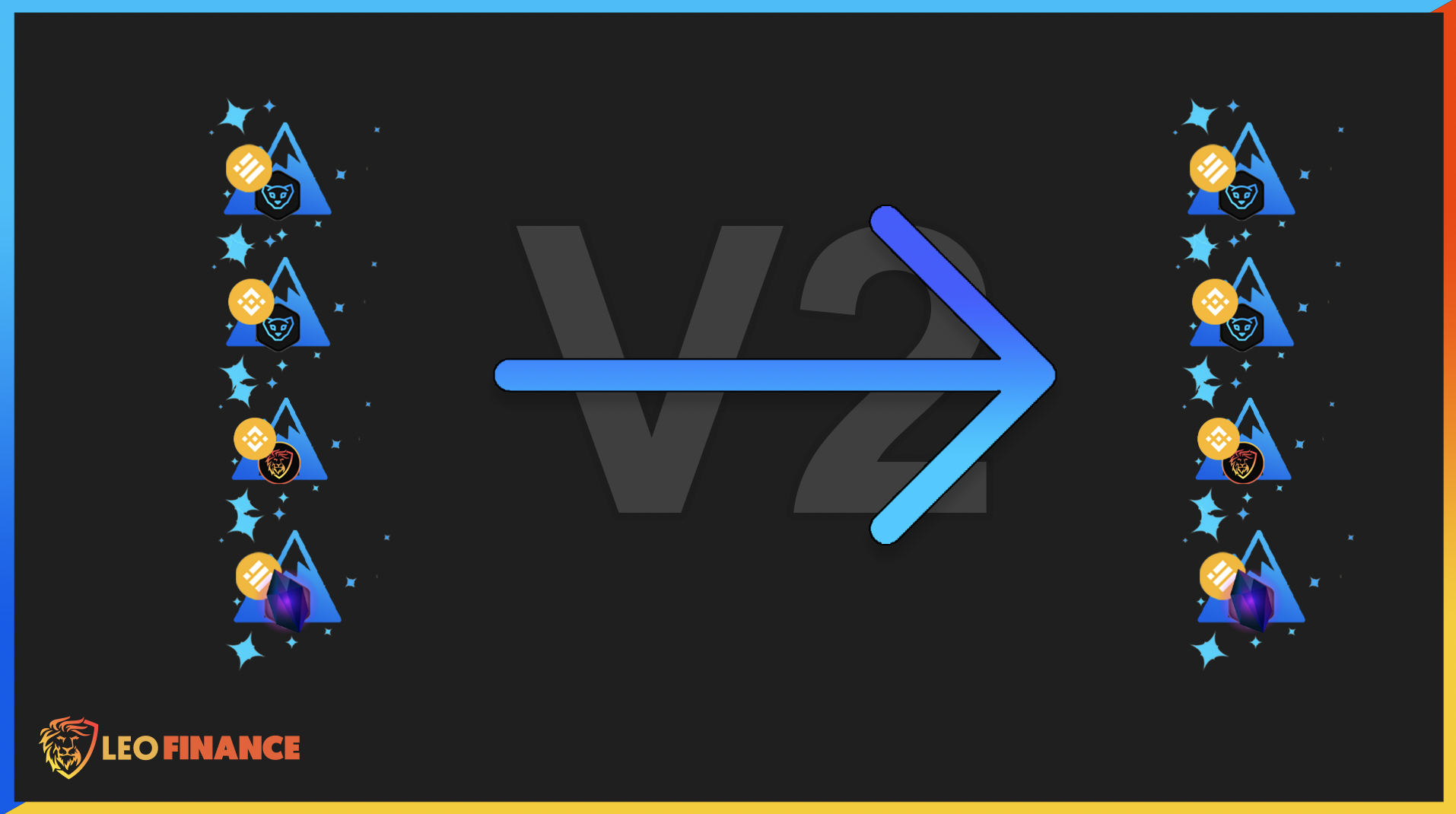 The last @leofinance post dropped a bunch of details about the upcoming change to V2. This migration is important for the future of CUB and many of the long-term mechanisms we're building (such as Kingdoms & IDOs - already built - and vCUB - in progress).
AMA At Noon EST Friday! See you there 🦁
Discord
Twitter
YouTube
Telegram

LeoFinance is a blockchain-based social media community that builds innovative applications on the Hive, BSC and ETH blockchains. Our flagship application: LeoFinance.io allows users and creators to engage and share content on the blockchain while earning cryptocurrency rewards.
Earn a 16% APR on HIVE POWER and Support LeoInfra's Onboarding Efforts by Delegating HP to @leo.voter (Currently at 2M HP). We Use this to Claim Accounts and Delegate RCs to Newly Onboarded Users + Daily LEO Payouts to Delegators
Posted Using LeoFinance Beta
---
---