LeoFinance Weekly Dev Update #8 | Lightning Integration on LeoMobile! Marketing Updates, Kingdoms Explosive TVL Growth Continues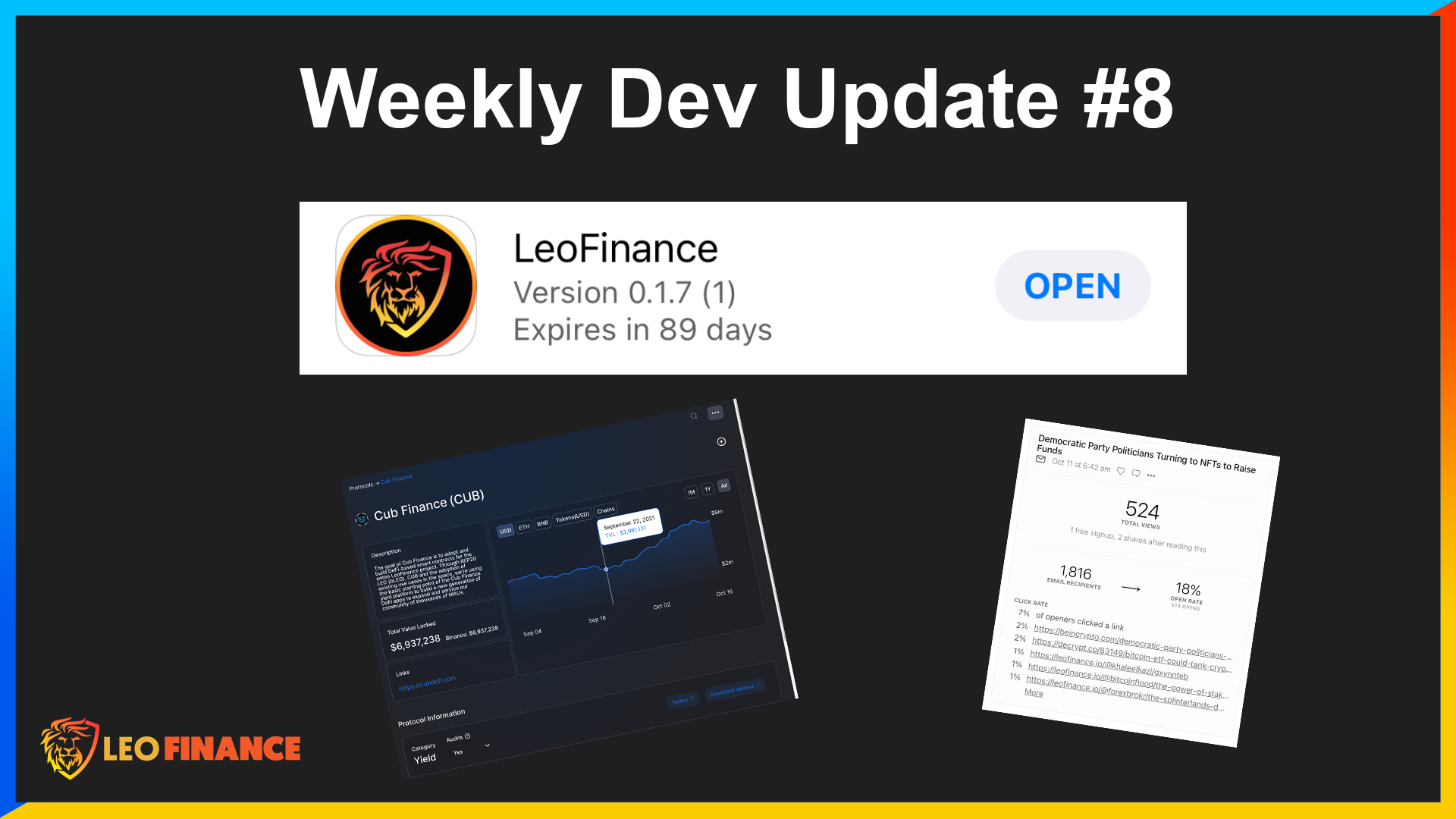 In This Week's Update:
LeoFinance:
LeoMobile - LeoFinance's newest application to bring a mobile app experience to the hive blockchain nears open beta release (Lightning successfully integrated)
LEO Podcast Performance
DailyLeo Newsletter Performance
Key Community Member Spotlight
CubFinance:
Kingdoms TVL continues rapid ascent
Uptober Releases
Polygon Platform Teaser
General:
LeoFinance

LeoFinance Mobile App development has been moving forward at a lightning pace. We were aiming for the first half of October as the release and we are slightly off target but I'm excited to announce that we're nearly ready to release it - from a feature perspective, everything is ready. Now we're in a final stage of debugging and deploying fixes for major issues (i.e. commenting, upvoting, etc. which as of this week are looking stable).
In the past week, Lightning was successfully integrated into the app. ICYMI: the app was developed using a framework we acquired which sped up our initial development (since we were already in the midst of building for Mobile) quite a lot.
This app will have an incredible UI/UX right at the jump. We managed to speed the whole process up by several months in this acquisition and I'm excited to showcase the first iteration of Open Beta.
Once Open Beta begins, you'll notice frequent updates and we'll also call upon the LEO community to help us bug test and develop a plan to continually improve the app.
There will be buttons to provide feedback and we'll explain the feedback process. It will be an awesome rollout before the end of October and I'm excited to see the community breathe life into the app. I've been enjoying the hell out of it so far and it truly changes the experience of being a member of LeoFinance. Commenting, upvoting and engaging has never been more fun for me.
The LeoFinance Podcast! Building a Media Company
With the help of our newest team member - Alex - and our marketing team, we've relaunched the LeoFinance podcast.
Our goal with the podcast is quite similar to our original ambition: build a massive library of valuable crypto content. See where the puck is going and be ahead of it in many regards.
Additionally, find and collaborate with guests who are buidling in the crypto industry. There are now thousands of projects building on blockchain/crypto tech.
The mission of LeoFinance is to expand the width and depth of our community. Width means getting more monthly active users on all LeoFinance applications. Depth means creating more engagement for the existing community and providing more utility for LEO/CUB and all of the apps we build.
By reaching out to all these cool guests, we're engaging an entirely new community. Even if that community has 2 people or 10 people or 1,000 people... it doesn't matter. We're getting incredible exposure for our brand and our community and many of these projects either already have traction or we believe have the ability to gain traction in the long-run.
We're skating in front of the puck in many respects. Having podcast episodes and clips with guests who have the potential to grow is - in a selfish way - one of the best methods to grow LeoFinance's reach in the long-term.
We've recorded 4 podcast episodes so far with many more guests lined up each week. The first two episodes went great! I highly encourage you to check them out, share them and if you're up for the challenge: engage with their brand accounts on Twitter and tell them how much you enjoyed their podcast episode with LeoFinance. This does wonders for our own engagement and our collaborative strength with these external crypto communities.
DailyLEO Newsletter
The Daily LEO Newsletter is yet another incredible engagement tool for our brand and community. @taskmaster4450 took up the reins of writing for the newsletter every Monday and Friday.
Since he took it over and brought consistency to the release of new articles straight to the inbox of 1800+ newsletter subscribers, we've seen some explosive growth.
Every day there are new users signing up to the DailyLEO. 99-100% of these signups come directly from LeoFinance.io (through the little newsletter popup window we have in the bottom left when new visitors land on the UI).
The first DailyLEO Newsletter Taskmaster did: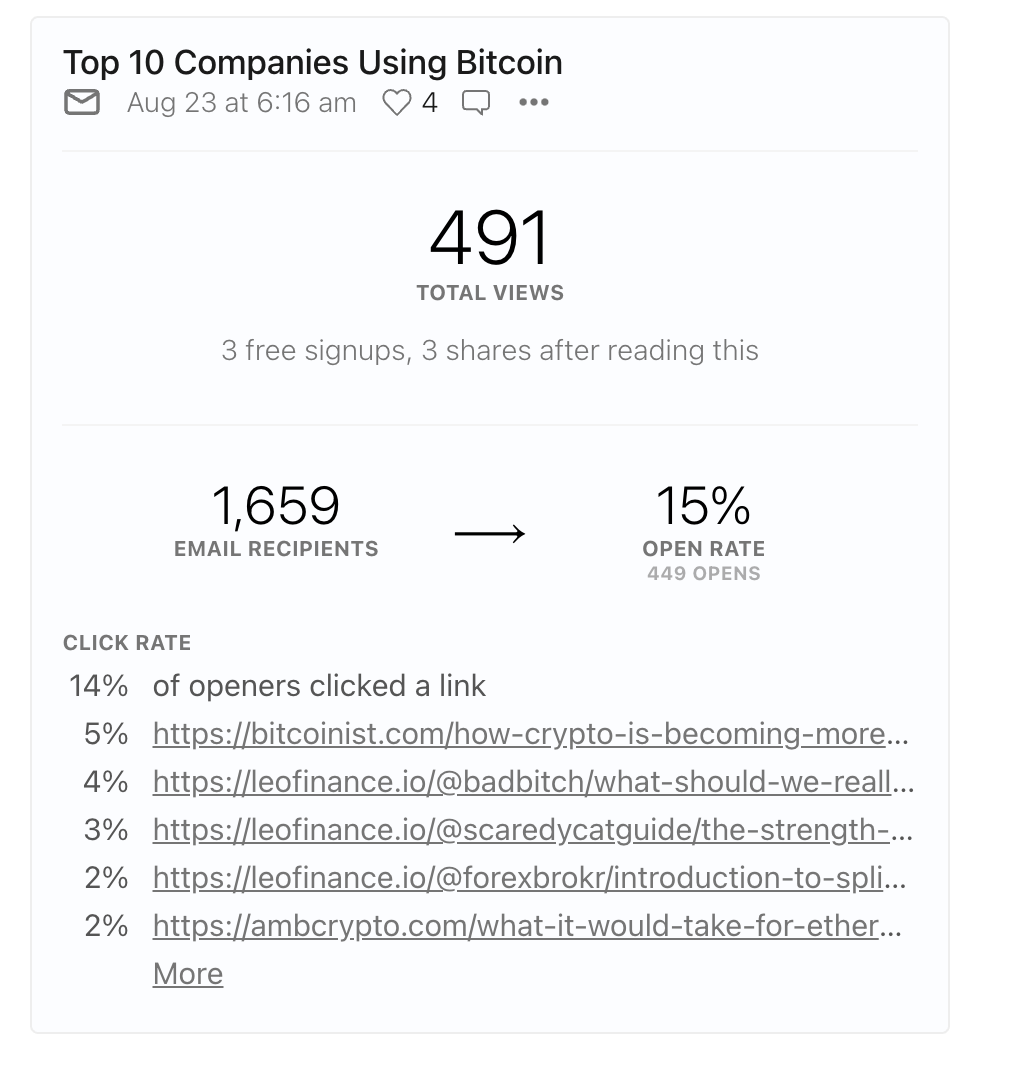 The most recent newsletter on Monday of this week: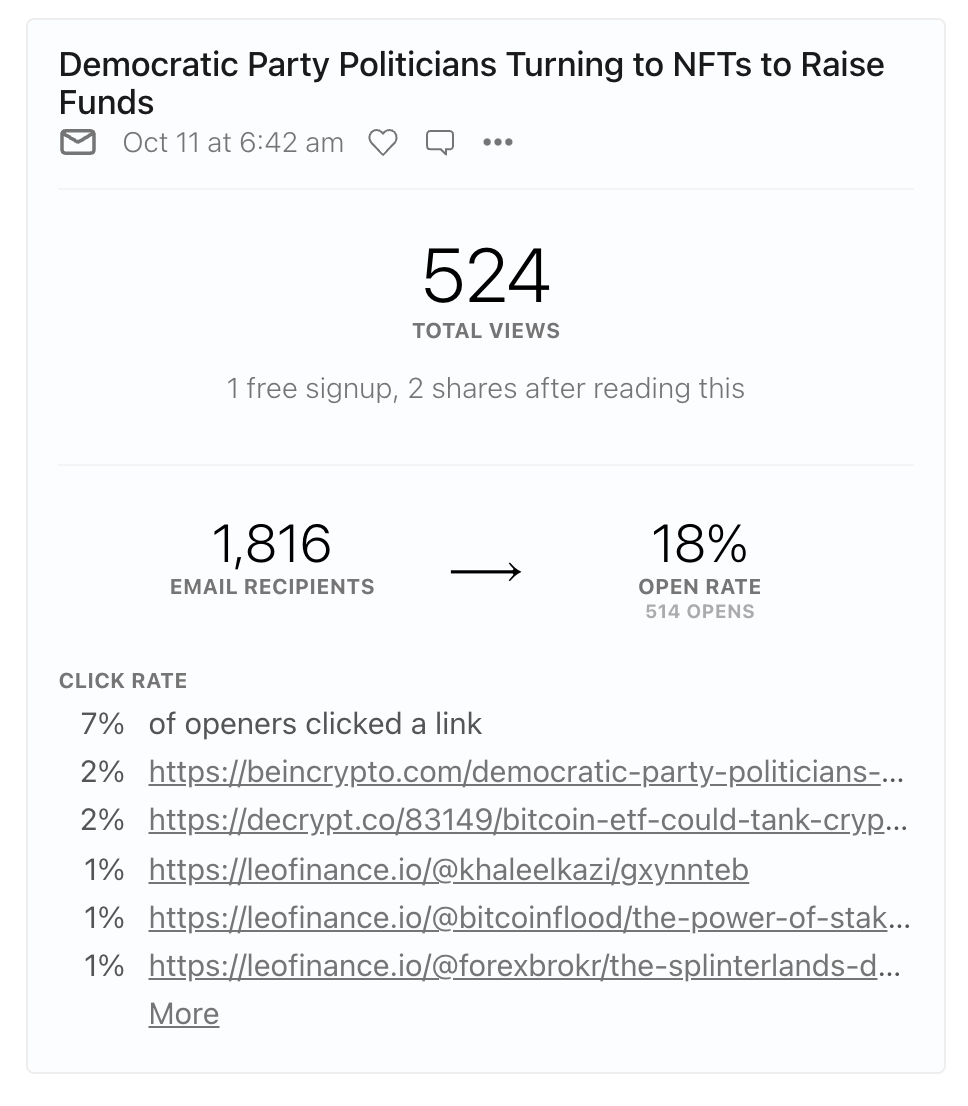 It's awesome to see the newsletter grow and while the numbers may seem small, they are actually quite large relative to the size of LeoFinance. We're continually growing in these key metrics, and growth is what we're after.
Key Community Member Spotlight of the Week
This is a nice path into spotlighting two community members who have been doing amazing work for the community. Support them in any way you can and let them know that you appreciate their hard work:
@notak who is leading a new charge on getting CUB listed on every single Binance Smart Chain tracking app. He's doing an amazing job and I believe much of the recent surge in CUB - TVL growing over 50%, site traffic, etc. - is directly related to the work he's doing
@taskmaster4450 who, as mentioned above, has taken the reins on the DailyLEO. He's also the #1 engagement leader on LeoFinance - not just in his own personal engagement but in taking on initiatives to increase other LeoFinance community members to get engaged (i.e. @leomarkettalk)
There are so many amazing community members here on LeoFinance. In these weekly dev updates, we'll start tracking the activities and spotlighting a few community members who are doing the LEO's work 🦁
CubFinance
CUB is heating up for a massive run at the end of October. We're in the final stages of releasing Polygon CUB. This project on the Polygon network has a number of massive overhauls we made to it over the past 1-4 weeks.
These changes will drastically change the tokenomics and overall success of Polygon CUB on its own and we believe they'll have a massively positive effect on CUB.
To drive many of these changes, we drew some inspiration from other projects who have seen recent success. Among them are OHM and their olympus DAO model, SPS (Splinterlands), Curve and a few others.
The release of this new platform will change CUB forever.
Kingdoms TVL on a Rocket Trajectory:
The TVL on Kingdoms has been skyrocketing over the past week. As mentioned above, we believe this has a lot to do with the work that @notak has been doing for CubFinance. Getting us listed on all sorts of tracking apps and major platforms like:
@notak has recently released a post talking about the dapp.com listing and how YOU can get involved and generate more external awareness for CubFinance:
https://leofinance.io/@notak/thank-you-leo-finance-community
LeoFinance AMA Starts in 1 Hour! (Noon EST on Friday)

LeoFinance is a blockchain-based social media community that builds innovative applications on the Hive, BSC and ETH blockchains. Our flagship application: LeoFinance.io allows users and creators to engage and share content on the blockchain while earning cryptocurrency rewards.
Earn a 16% APR on HIVE POWER and Support LeoInfra's Onboarding Efforts by Delegating HP to @leo.voter (Currently at 2M HP). We Use this to Claim Accounts and Delegate RCs to Newly Onboarded Users + Daily LEO Payouts to Delegators
Posted Using LeoFinance Beta
---
---