LeoFinance.io Analytics Return! | 11x Growth in Monthly Page Views 🤯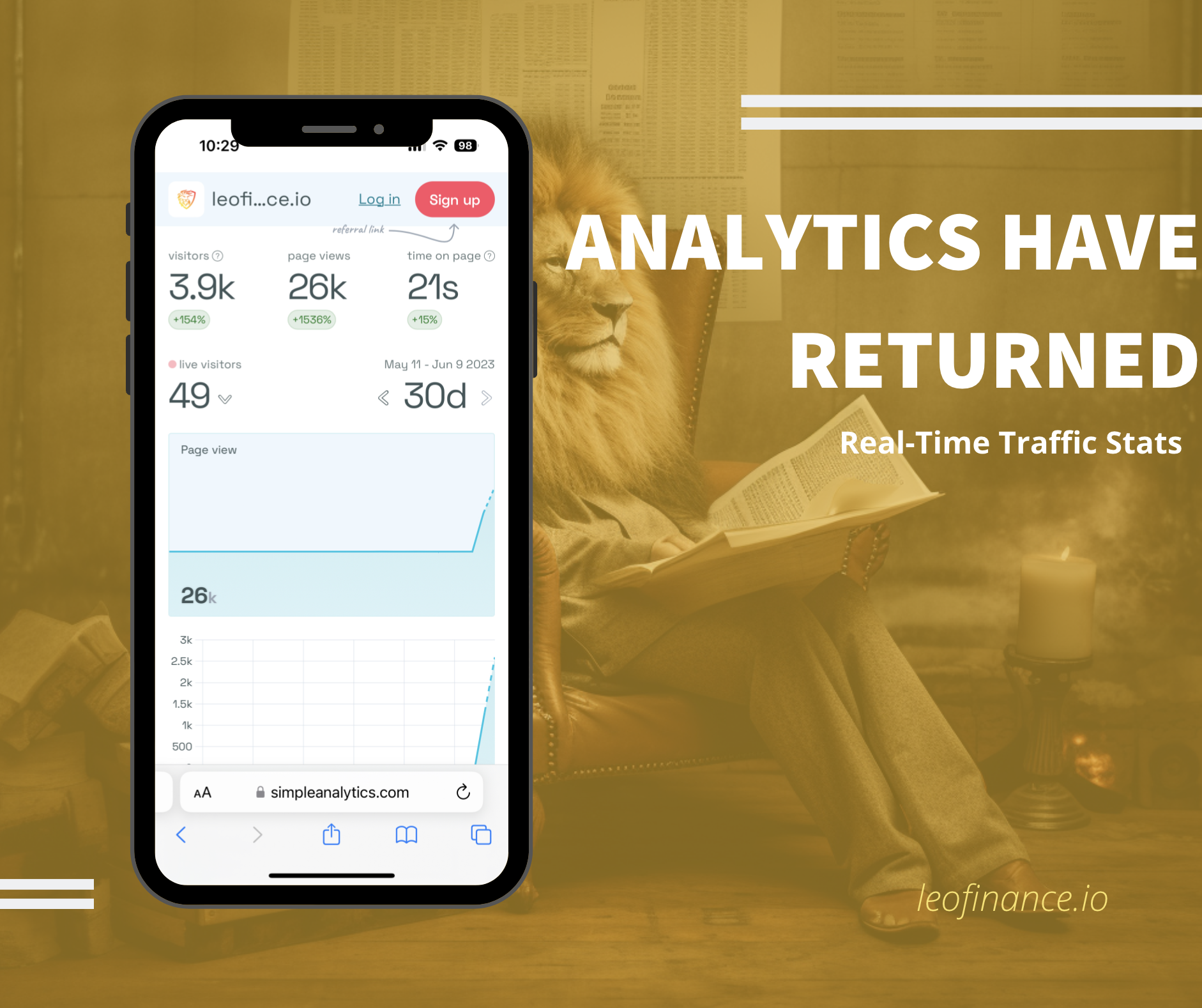 Welcome back to the Lion's Den, frens! A long awaited journey has finally brought Simple Analytics back to life.
ICYMI: we used to have a great analytics partnership that allowed anyone in the community to head to a specific URL and view the real-time and historical traffic analytics for LeoFinance.io.
About 7 months ago, the analytics tracking code broke on our site. We tried to fix the APIs a few times but it didn't work.
Eventually, we got close enough to the new UI being released (the one you're on now) that we simply decided to focus on building the new UI and then coding in the analytics later. Priorities shift and we wanted to put all of our focus on delivering Project Blank.
As of ~24 hours ago, the Analytics has successful been re-integrated into LeoFinance.io.
The results so far are astonishing. Yes, it hasn't even been 24 hours - but wait until you get a load of this.
From now on, if you are ever curious about the traffic on LeoFinance.io, there are dozens of ways to use this site to track our analytics - including tracking your own blog posts to see how they perform on social media and google searches.
Bookmark this page and maybe take some screenshots here and there and then share your thoughts over on Threads 🦁
11x Growth in Monthly Page Views 🤯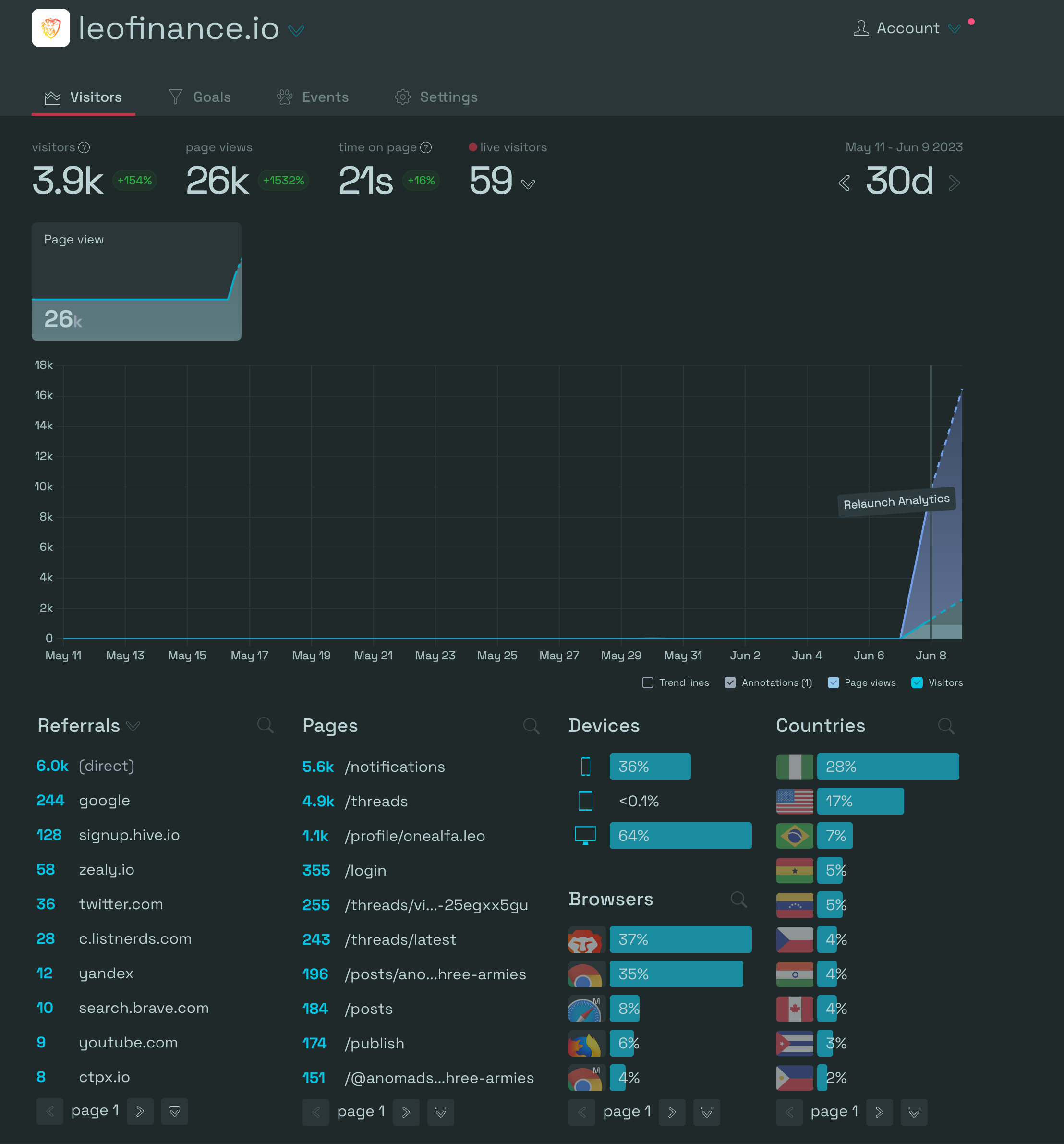 Like I said, we're less than 24 hours in and page views are already 26k with 3.9k visitors and roughly 40-60 people live on the site at any given time using Threads and Long-Form Articles.
We can see a lot of other data here including where these referrals are coming from, what pages they're landing on and where they spend the majority of their time.
We can also see various demographic data.
As the data fills in through the month, you'll also see a lot of social media traffic data. For example, if people are sharing links on twitter, where are those links at and who is clicking on them? Do they stick around and click through other pages on the site?
This helps us optimize the site in a lot of ways. One that we've already noticed is a few gaps in our Google "Crawlability" on the new site. We're going to make some updates here and you'll see some real-time growth in the Google referrals tab.
Past to Present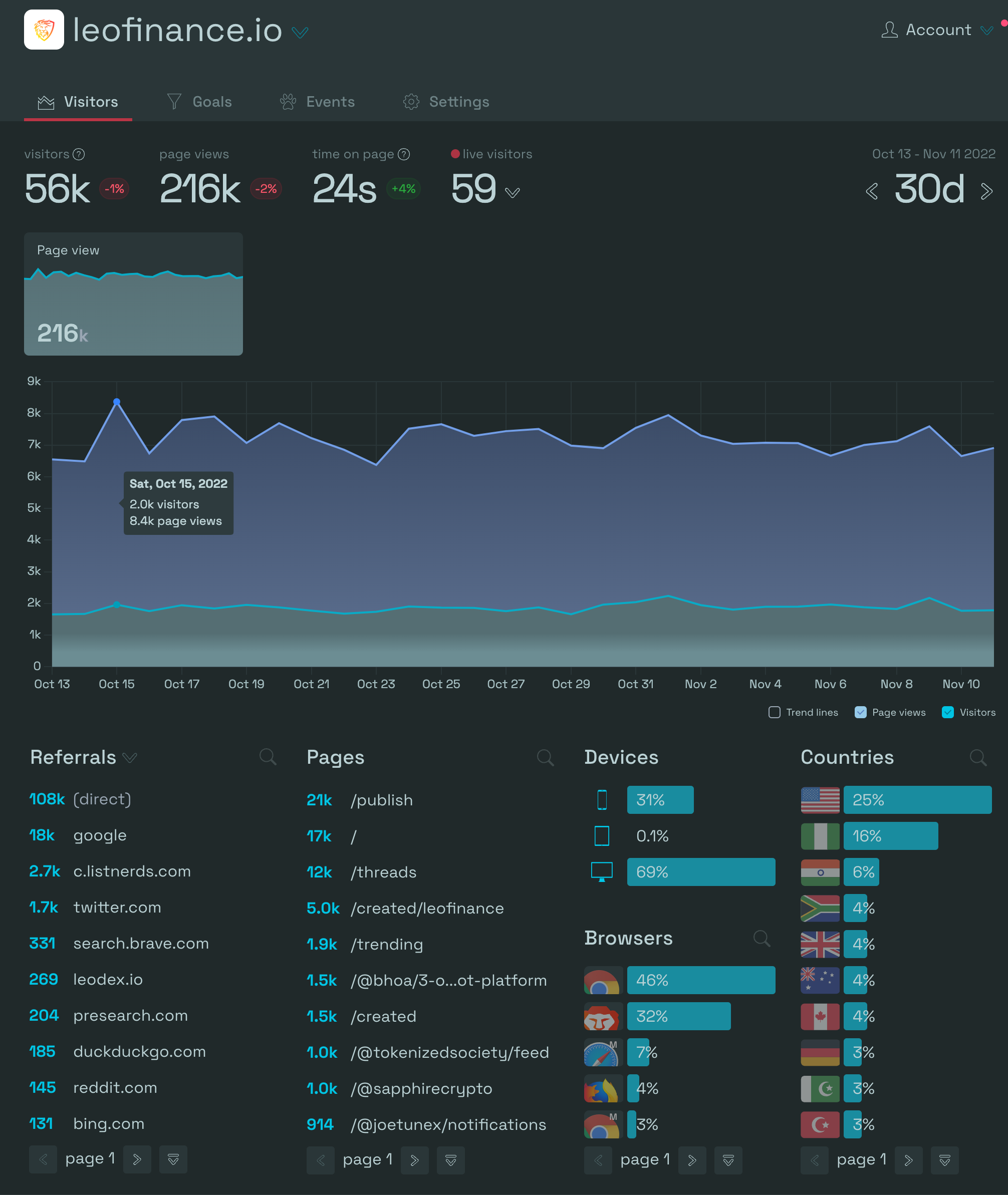 In the past, you can see that we had about 50-60k average visitors per month with 216k page views.
In less than 24 hours since the analytics have been re-integrated on the new UI, we're already over 26k page views.
Extrapolating this out for the rest of the month shows us that we can strive to it hit 11x more page views and potentially something similar for visitors as well.
Bookmark https://simpleanalytics.com/leofinance.io and keep up with our efforts to continue optimizing for traffic and ad revneue!
wen leoads?
VeryVerySoon

About LeoFinance
LeoFinance is a blockchain-based Web3 community that builds innovative applications on the Hive, BSC, ETH and Polygon blockchains. Our flagship application: LeoFinance.io allows users and creators to engage & share micro and long-form content on the blockchain while earning cryptocurrency rewards.
Our mission is to democratize financial knowledge and access with Web3.
Twitter: https://twitter.com/FinanceLeo
Discord: https://discord.gg/E4jePHe
Whitepaper: https://whitepaper.leofinance.io
Our Hive Applications
Join Web3: https://leofinance.io/
Microblog on Hive: https://leofinance.io/threads
Delegate HIVE POWER: Earn 16% APR, Paid Daily. Currently @ 2.8M HP
Hivestats: https://hivestats.io
LeoDex: https://leodex.io
LeoFi: https://leofi.io
BSC HBD (bHBD): https://wleo.io/hbd-bsc/
BSC HIVE (bHIVE): https://wleo.io/hive-bsc/
Earn 50%+ APR on HIVE/HBD: https://cubdefi.com/farms
Web3 & DeFi
Web3 is about more than social media. It encompasses a personal revolution in financial awareness and data ownership. We've merged the two with our Social Apps and our DeFi Apps:
CubFinance (BSC): https://cubdefi.com
PolyCUB (Polygon): https://polycub.com
Multi-Token Bridge (Bridge HIVE, HBD, LEO): https://wleo.io
Posted Using LeoFinance Alpha
---
---