New Hive Onboarding Flow for LeoInfra Hive Lite Accounts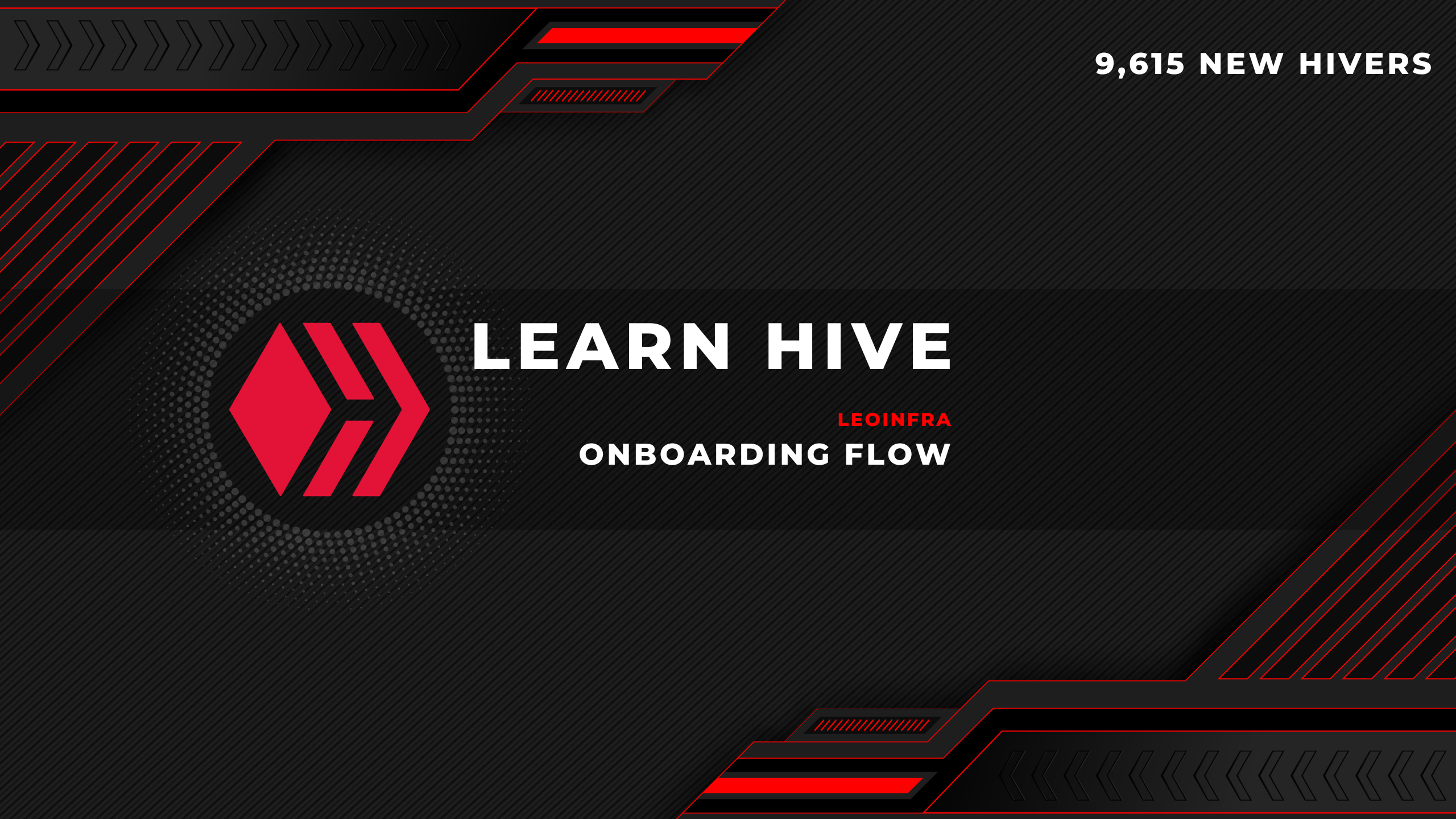 It's no secret by now that LeoFinance has launched our first-ever DHF proposal on the Hive blockchain. Our proposal is aimed at onboarding over 9,000 new Hive Monthly Active Users (MAUs) to the Hive ecosystem.
There are some noteworthy terms in there:
New Hive MAUs
Hive Ecosystem
We're not aiming to just get 9,615 new accounts created who will make a post and leave. We're aiming at getting 9,615 MONTHLY ACTIVE USERS. That is, people who regularly post at least 1 post, comment, thread, upvote, etc. on a recurring monthly basis. This distinction is huge.
It's easy to sign up a bunch of users and not retain them. The hard part is signing them up and then retaining them on a monthly basis. LEO has a number of ways we plan to do this ranging from financial incentives using the LEO & HIVE tokens to social incentives to engagement contests.
The second distinction is Hive Ecosystem. We have gotten resounding support for our DHF proposal which is already 64% of the way to being voted into the current funding round after being live for just a few days, but there has been a few questions regarding the proposal.
The main pushback we've seen is "why should the DHF pay to advertise 1 dApp and not the whole Hive ecosystem?"
In the terminology we use, we in fact are focused on onboarding users to the Hive ecosystem. Let's talk about this broader vision and then talk about the actual, on-the-ground methods of achieving it.
Onboarding to Hive. Not Just LEO
The onboarding process to the Hive ecosystem is far from simple.
The major value proposition of Hive is that it is so diverse and you can do so much.
The major hurdle to onboarding new users is that Hive is so diverse and you can do so much.
Most users who get onboarded have no clue where to start. They have no onboarding flow. They are thrust into a world of complex dApps that are interconnected at the base layer but often don't resemble each other very much in terms of sign up standards, usability, etc.
It's like learning a whole new game every single day. Many of us Hivers who've been at this a while are very comfortable with the fact that we have 5 different private keys, 3 different sign-in applications and dozens of dApps that we may use on a daily or weekly basis.
This is not comfortable for newly onboarded users.
We have stated that we aim to grow the entire Hive Ecosystem. That is beneficial to us as much as it is to any other dApp on Hive. We believe a rising tide raises all boats.
So how do we achieve this? Through a unified and simplified onboarding experience.
A Unified and Simplified Onboarding Experience
The #1 pushback we've seen to our proposal is that it seems like it will just benefit LEO and keep users on LeoFinance.io and never push them to other dApps. To us, this couldn't be further from the truth. We aim to grow the entire ecosystem but as I just stated above, that requires a unified and simplified onboarding approach.
The Hive blockchain has tried broad-based marketing for itself in the past. It hasn't worked all that well in terms of actually onboarding Monthly Active Users.
We believe we can solve this. We've done it already and we're simply looking for the DHF to help us scale our marketing & onboarding operation up.
Our userbase has 3x'd in the past year - despite the bear market. We have done this both by getting more Hivers using our UI but mainly by getting non-hivers onboarded. We've onboarded thousands of accounts and out of those thousands, retained a few hundred MAUs.
Our DHF proposal gives us the funding to scale that up in a big way. To onboard tens of thousands of accounts and retain 9,615+. That is the math we've worked out using our models and onboarding flow.
The Key - again - is to create a unified and simplified onboarding flow for new users. We want to give them a super familiar experience in the beginning and then slowly deepen their activities on the Hive ecosystem.
If You Were Training to be a Doctor...
... they wouldn't just throw you into the Operating Room and have you start doing complex neurosurgery.
No. You go through years of study. You start at the very basics of human biology. Slowly, they give you more and more complex concepts and practices to study.
They piecemeal it to you. They don't overwhelm you with the end product on day #1.
Why is onboarding to Hive any different?
We are going to onboard the next 9,615 Hive MAUs by giving them simple tasks to start. They will start by creating a Hive Lite account using LeoInfra.
This is live on the https://leofinance.io UI right now and we're working on creating easy-to-implement APIs so that any other Hive UI can have them.
a standardized onboarding protocol. Build by LEO. We're hoping to make this a standard across Hive for onboarding new accounts.
We have other posts diving into the details of how this works but basically, a LeoInfra Lite Account is a full Hive account on the backend but to the user, they simply logged in using their Web2 social credentials.
The user creates a username and then authorizes LeoFinance's Twitter & Google API connection to connect to their Twitter/Google account and tie it to the new Hive Account we create for them on the backend.
They then can do anything a Hiver can do (almost - except use other dApps until the API standard is implemented on other UIs).
Once their wallet starts getting any amount of $$ value in it, our UI prompts them to download their keys.
This prompt will get more and more intense the longer that time passes and the higher the $$ value in their wallet grows.
We believe in not your keys, not your crypto. But we also believe the beginning stage of onboarding needs to be simple.
That's why new LeoInfra Lite Account users don't get private keys. Their web2 social ID logs them in. Once they get $$ in their Hive account, we prompt them to both change and download their keys simultaneously so that they are the sole holder of their private keys.
Educating Them About Hive
Our Onboarding Flow will also educate them about Hive. The prompt to self-custody their Hive account will start once they get $10+ in their account. The prompts get more intense as their account gets more $$ In it and they still haven't self-custodied.
The flow we've built is actually an educational course about not only LeoFinance but the entire Hive Ecosystem.
The flow focuses primarily on Hive and very little on LEO.
If you are familiar with Coinbase Earn, then you will understand what we've built. It's basically a mini-course on private keys, the Hive ecosystem and other dApps they can use once they self-custody.
We pay them a small amount of crypto (LEO & HIVE) to take the course. This is an incentive to get them to actually take the course, learn about Hive and then self-custody their account.
From this course, they will learn about Hive Keychain, Hive Authentication Service, Hivesigner as their potential login methods for both LeoFinance and all other Hive dApps.
They'll learn about play-to-earn dApps like Splinterlands. They'll also learn about other social UIs like PeakD & Ecency. They'll learn about video creation through 3Speak.
They'll also learn about move-to-earn with Actifit. They'll learn about Hive Communities and where/how they thrive.
Essentially, a ~10-15 minute course teaches them about the next evolution in their journey.
The 1st evolution is to simply onboard them using LeoInfra
The 2nd evolution is to get them to do simple interactions on LeoFinance.io to start earning (Threads, Posts, Comments, Upvotes)
The 3rd evolution is the UI prompts them to take a 10 minute course to learn about Hive and self-custody for their Hive account that they've been using in the first 2 evolutions. This course will offer them a few bucks in crypto (like Coinbase Earn) for completion
At the end of the 10 minute course, they automatically get a few $$ worth of LEO & HIVE in their account. The last step of the course prompts them to change their Hive Private Keys and download the new keys.
This last step is vital. It changes the keys from what LeoInfra has encrypted in its database to a new set of keys that only the user holds.
We teach them about self-custody and how the posting, active, master, memo, owner keys work and what they are all used for. Then, they are officially a Hiver.
We congratulate them and they are sent to a page on LeoFinance that links out to all the other Hive dApps that they've just learned about.
They get an easy link to:
Download / Use Hive Keychain, HAS, Hivesigner
Discover and Login to Other Hive dApps Like 3Speak, Splinterlands, Actifit, PeakD, Ecency, Hive-Engine Second-Layer
---
Help Us 2x The Userbase of Hive from 11k to 20k+
Vote for our proposal on peakd
Vote for our proposal on ecency
Vote for our proposal with HiveSigner
---
Posted Using LeoFinance Alpha
---
---