Helium Hotspot Arrival Imminent - Time to Mine Some HNT

Finally! After months of waiting, my RAK Wireless Helium Hotspot is shipping! All the HNT (that I'm entitled to) will be mine! I can hardly wait any longer.
You see, I first ordered the unit back in late December, and it was already on back order. I was new to crypto and eager to find a project to sink my teeth into. I don't remember when I first heard about Helium, but I was struck by its decidedly meat-space use case and focus on hardware, as well as the heady idea that I, too, could be a crypto miner, and not burn my house down trying.
And that's one of the big draws of Helium, styled as "The People's Network," the idea that its core technologies should be accessible and affordable. Granted, we're past the days when Helium were considering allowing open source hotspots on the network, but my Hotspot is still just a fine-tuned Raspberry Pi with a radio antenna strapped to it. Simple as can be, and far cheaper than a GPU!
The Token
But let's look at the Helium Network Token real quick. I mean, that's the reason we're here. What do the People get in return for providing a Network?
Hotspot owners currently earn HNT when their hotspots:
demonstrate or witness Proof of Coverage
process data over the People's Network
participate as a random consensus validator
Recently, after network users began realizing that the validation load might be too much for hotspots to handle, the Helium community decided to pursue a Proof of Stake Validator system, which is currently in testing. This was a huge change, but one that will benefit all stakeholders, as it opens the doors for even more simple and cost effective hotspot design.
Proof of Coverage is relatively simple. Can your hotspot see other hotspots and therefore relay data? This system incentivizes hotspot ownership even if there is no data being transferred, and will become less of a percentage of mining reward as true data transfer picks up.
Data transfer is the true use case. The People's Network provides cheap, robust networking for any number of smart censors and Internet of Things devices, and the number of businesses utilizing the network is only growing larger. These include:
Airly, world network of air quality sensors
Lime, geotracking for rentable electric scooters
Salesforce, a more resilient network provider for employee swipe badges
NOWi, water sensors for preventing waste or damage
Careband, wearable health monitoring for seniors
FreedomFi, adding 5G service to the Helium network
That last one is a doozy, but the community is anything but disheartened by challenges.
Tokenomics Interlude
Initially designed as a Mint/Burn system, HNT is minted by hotspots providing network functions, and burned by users to create the Data Credits necessary to use the network. There was no max supply, as the supply would fluctuate up and down with usage and mining variation.
The community has since decided upon a reward halving schedule and a maximum token supply, in part because of questions from other crypto folks about there NOT being a max supply. And to mitigate the effects of burning something with a finite supply, mining rewards in later years will factor in the amount of HNT burnt recently and mint slightly more to compensate. Crypto recycling if you will.
Okay, I'm salivating...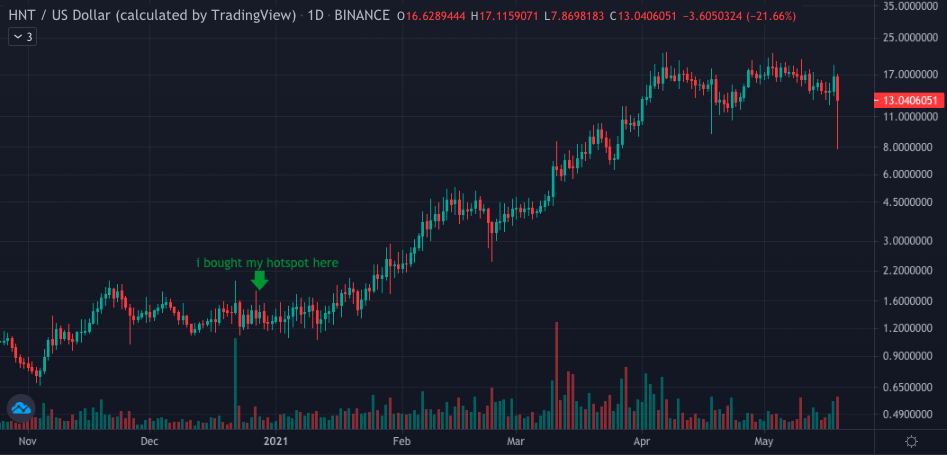 When I first ordered my hotspot, HNT was trading around $1.30 and we're a solid 10x from there. My first napkin math on ROI did not foresee what the market would become, but HNT's growth isn't just bull market overflow. Helium is building real hardware and actively looking to shake things up.
There are now five different partnered manufacturers making hotspots, with more on the way, so go buy one.
HNT is traded on both flavors of Binance, so go buy it.
Thanks for sticking with me through this obvious shilling, I'm just terribly excited and the HNT is....so....close!
I'm sure I'll see you soon. Check your comments!
Lead image from Helium's Press Kit.
Posted Using LeoFinance Beta
---
---