(ESP//ENG) Reseña: Libro de Maquillaje de Cindy Crawford - Tu segunda Piel // Review: Cindy Crawford's Makeup Book - Your Second Skin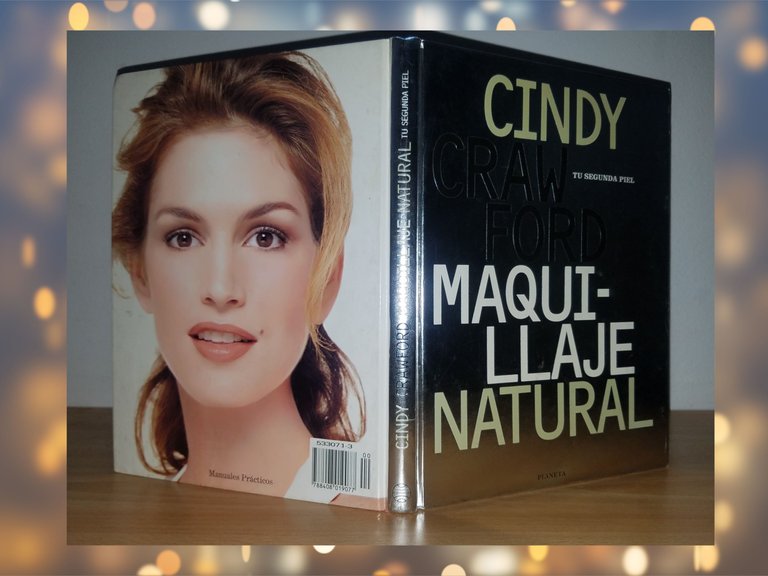 Foto tomada con mi Samsung S7 y editada con Canva
Aunque muchos no lo recuerden, o no lo vivieron, hubo una época en la que no existían el internet, ni las redes sociales donde hoy en día podemos encontrar innumerables tutoriales de casi cualquier cosa, como por ejemplo: maquillaje. Así que, la mayoría de esas cosas las aprendíamos en los artículos de las revistas de moda o, en algo donde la información podía ser más específica y extensa aunque menos común de encontrar sobre temas como el maquillaje... ¡Exacto!, ¡Los Libros!
Although many do not remember it, or did not live it, there was a time when there was no internet, or social networks where today we can find countless tutorials on almost anything, such as makeup. So, most of those things we learned in fashion magazine articles or, in something where the information could be more specific and extensive although less common to find about topics like makeup.... That's right, books!
---
Para que tengamos una idea, el internet como lo conocemos hoy, llego a nuestra vidas en el año 1993, con solo 100 sites en la World Wide Web y aumentando a 200.000 para el año 1997. Remontando los inicios de las redes sociales para el año 2002 aproximadamente.
fuente
To give you an idea, the internet as we know it today, came into our lives in 1993, with only 100 sites on the World Wide Web and growing to 200,000 by 1997. The beginnings of social networks were around the year 2002.

source
El libro que les presento en este post fue editado en el año 1997 y para mi fue un gran descubrimiento cuando visitaba por casualidad una librería. Me encontraba en plena adolescencia y como la mayoría de las chicas de mi edad, sentía esa presión social de usar maquillaje en algunas ocasiones. Así que, a pesar de que nunca he sido una apasionada del maquillaje, este libro me ayudó en su momento a lograr un acabado bastante natural y agradable, sin excesos. Y es que yo era y soy partidaria de que, si no sabes maquillarte y utilizar el sin fin de artilugios que existen (como es mi caso), es mejor limitarse a lo básico antes de parecer un cuadro abstracto y exagerado.
The book I present in this post was published in 1997 and for me it was a great discovery when I happened to visit a bookstore. I was in my teens and like most girls my age, I felt that social pressure to wear makeup on some occasions. So, even though I have never been passionate about makeup, this book helped me at the time to achieve a fairly natural and nice finish, without excesses. And the fact is that I was and I am an advocate that, if you don't know how to apply makeup and use the endless gadgets that exist (as is my case), it is better to limit yourself to the basics before looking like an abstract and exaggerated painting.
Y esto es más o menos lo que plantea este libro escrito por Cindy Crawford, supermodelo de los años 90, quien apareció en múltiples campañas publicitarias en diversos medios y pasarelas a nivel mundial.
And this is more or less what this book written by Cindy Crawford, supermodel of the 90s, who appeared in multiple advertising campaigns in various media and catwalks worldwide.
En las primeras páginas, habla un poco de sus inicios en el mundo del modelaje y de cómo su padre no la dejaba utilizar maquillaje, lo cual le trajo algunos inconvenientes en sus primeros trabajos donde se vio en la necesidad de aprender a hacerlo por ella misma y con el apoyo de algunas compañeras.
In the first pages, she talks a bit about her beginnings in the modeling world and how her father did not let her use makeup, which brought her some inconveniences in her first jobs where she had to learn to do it by herself and with the support of some colleagues.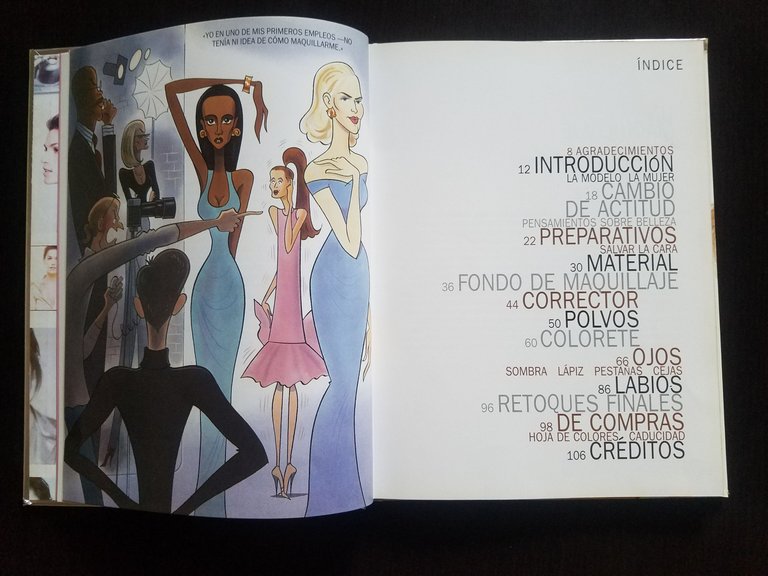 A lo largo de las 106 páginas que contiene el libro, va aportando consejos muy alentadores y positivos mientras va dando tips para lograr un maquillaje que te de confianza y la actitud que toda mujer lleva dentro.
Throughout the 106 pages of the book, she provides very encouraging and positive advice while giving tips to achieve a makeup that gives you confidence and the attitude that every woman carries inside.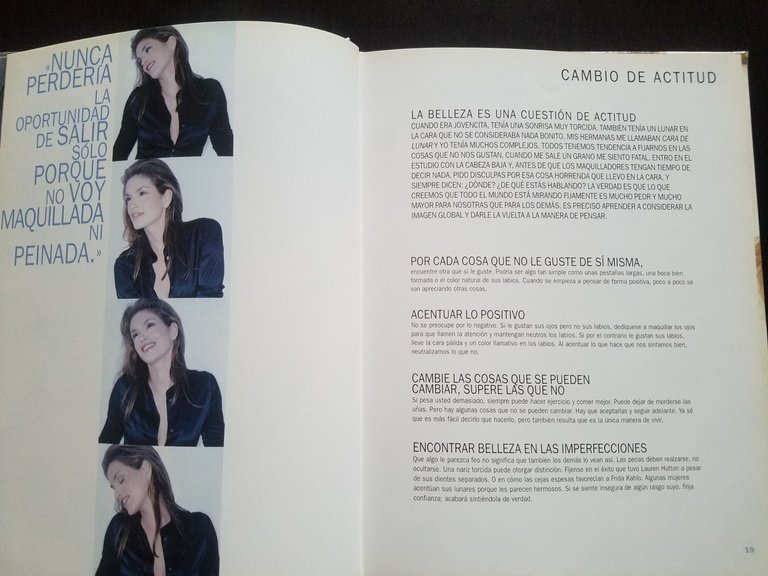 Nos muestra la variedad de polvos, labiales, sombras y bases que existían para la época, porque sin dura que la gama de productos se ha ampliado muchísimo en las últimas décadas. Y por supuesto, enseña la mejor manera para usarlos y escoger los indicados según tu tipo de piel.
She shows us the variety of powders, lipsticks, shadows and foundations that existed at the time, because the range of products has expanded a lot in recent decades. And of course, she shows the best way to use them and how to choose the right ones for your skin type.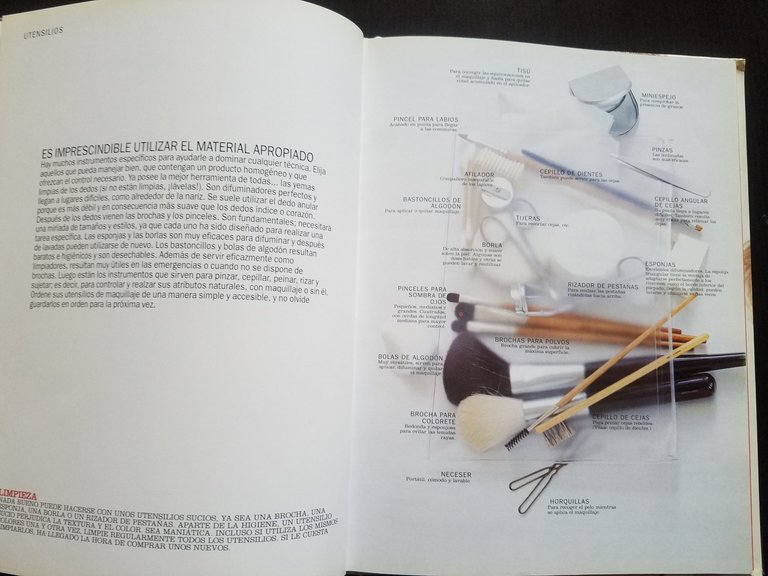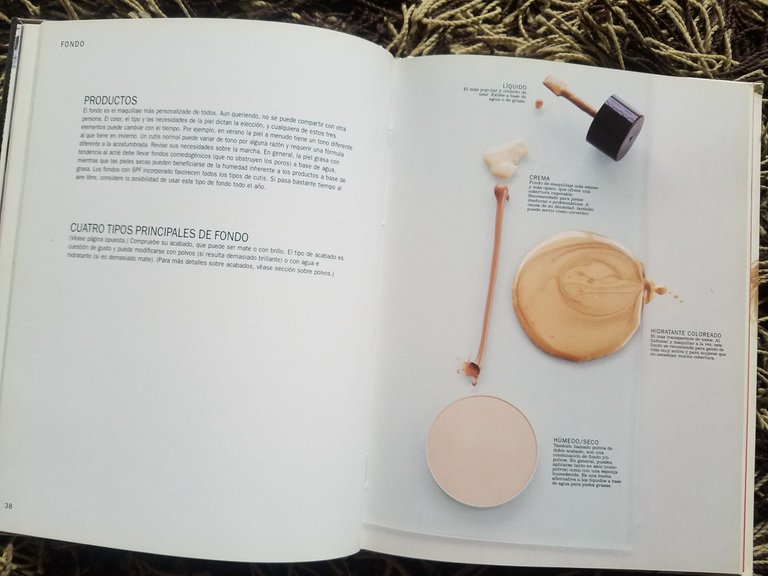 Siempre me cautivo la naturalidad, espontaneidad y actitud de Cindy (Crawford) y en estas páginas refleja todo eso y más. El libro es perfectamente complementado con fotos de la modelo, super fresca e impecable. Incluso, un par de páginas con caricaturas que la representan en situaciones con las que muchas personas se podrían identificar.
I have always been captivated by Cindy's (Crawford) naturalness, spontaneity and attitude and in these pages she reflects all that and more. The book is perfectly complemented with photos of the model, super fresh and impeccable. There are even a couple of pages with caricatures depicting her in situations that many people could identify with.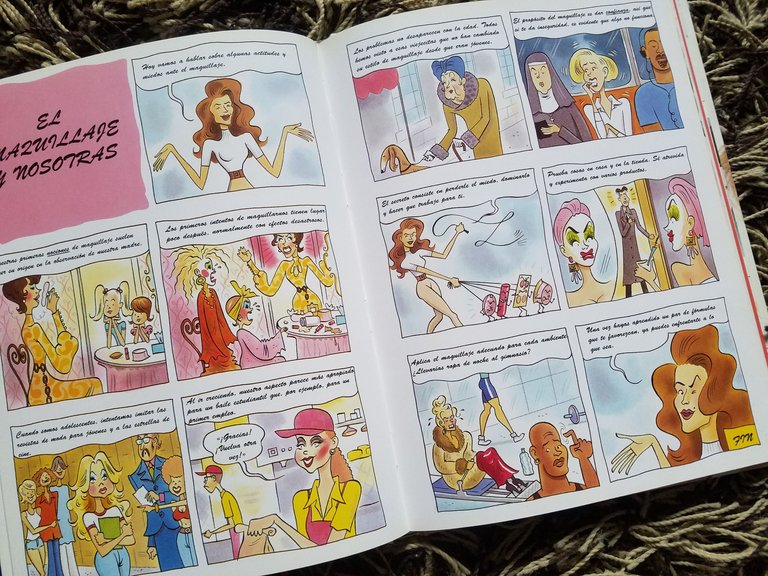 Hoy en día el maquillaje ha evolucionado, volviéndose mucho más complejo pero también maravilloso, incluso ha derribado las barreras del género. Pero, deberíamos intentar no volvernos adictos al maquillaje, y recordar de vez en cuando, la belleza de lo básico y la esencia de lo natural. Y, como dice Cindy Crawford: "Si falla todo lo demás, SONRÍA."
Nowadays makeup has evolved, becoming much more complex but also wonderful, even breaking down gender barriers. But, we should try not to become addicted to makeup, and remember from time to time, the beauty of the basics and the essence of the natural. And, as Cindy Crawford says, "If all else fails, SMILE."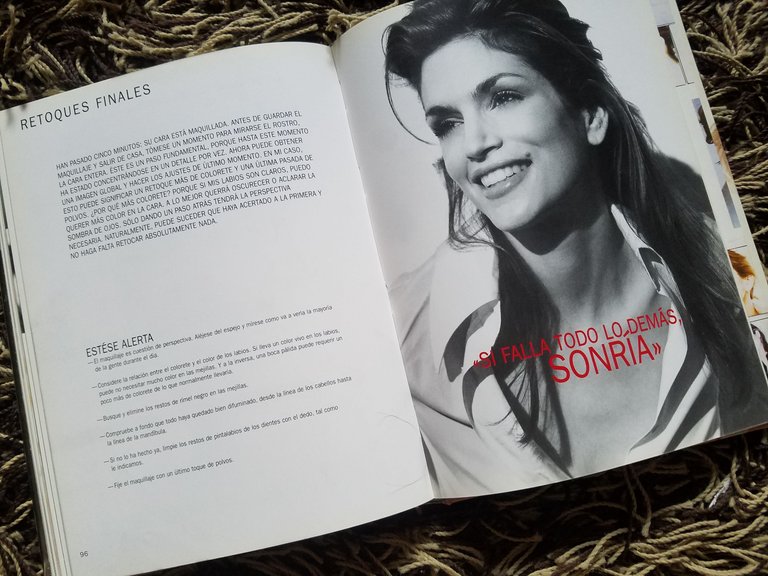 Muchas Gracias por acompañarme en esta reseña. Espero ansiosa sus comentarios.
Thank you very much for joining me in this review. I look forward to your comments.
---
Las fotos fueron realizadas por mi con mi celular Samsung Galaxy S7.
The photos were taken by me with my Samsung Galaxy S7.

---
---