(ES/EN) Cómo conocimos a Gregory, cocinero de RS - How we met Gregory, cook from RS - Sorteo / Giveaway (R216)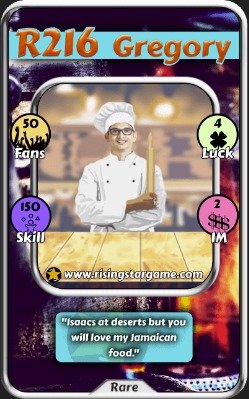 Hola chicos, ¿¿¿qué tal estáis??? Pues resulta que Gregory, uno de los cocineros de RS ha visto mi receta de las arepas ¿os acordáis? y le han encantado, ha dicho que nunca las había probado, se la mostró a sus amigos cocineros y como cualquier cocinero, en busca del mejor plato del mundo, se puso a experimentar.
En su camino a Buskeria, se pasó por Madrid a conocernos y a pasar un día con nosotros, para compartir que hizo unas arepas al estilo jamaicano, su preferido, las hizo con curry y con relleno de carne de cabra; otro de sus experimentos fue echarle achiote a la masa para darle un color rojizo y por dentro aguacate aplastado con pimienta negra... aquí le detuve... Gregory, todo lo que me cuentas me está encantando, y seguro que algún día las probaré... pero déjame enseñarte cómo mi familia y yo nos comemos las arepas, fácil, sano y rico!!!! Y comenzamos a preparar la cena juntos.
Le di los siguientes ingredientes para el primer relleno:
Legumbres o Frijoles negros (Caraotas negras)
Pavo (pollo) en tiras (esmechao)
Aguacate
Cebolla
Pimientos
Sal
Ajo en polvo
Condimento Conca Mediterráneo (lo más cercano al Adobo la Comadre)
Mayonesa Natural
Un chorrito de Aceite (de Oliva)
1 Huevo
Sal
Pavo (Pollo) con verduras: Pusimos las pechugas de pavo en la olla a presión, hirvieron con sal y aceite (de oliva), luego a fuego lento durante más o menos 2 horas, para que quedaran muy suaves. Luego, con aceite (de oliva), en una sartén, con cebolla y pimientos en cuadros (usamos congelados), sofreímos, pusimos el pavo en tiras, pusimos la sal al gusto, el ajo en polvo con ganas y el condimento estrella, Conca Mediterráneo o Adobo la Comadre. Removimos hasta que quedó sequito.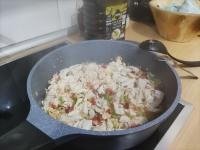 Caraotas (Legumbres o Frijoles negros): usamos pimientos, pero en este caso en tiras, también congelados (también puedes hacerlos con los frescos) y un poco de cebolla en cuadros,
con todo dentro de la olla a presión, un poco de sal y un poco de aceite (de oliva), lo pusimos a hervir, después lo pusimos a fuego lento durante aproximadamente una hora y listas.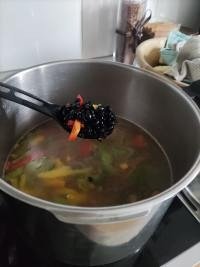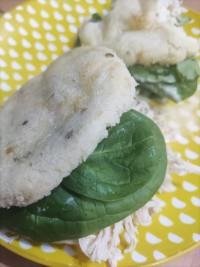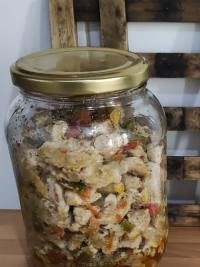 Mayonesa natural: la que hago es con aceite de oliva, un huevo y un poco de sal. En un recipiente cilíndrico largo muy seco, utilizando un triturador, muy limpio sin una gota de agua, pusimos el aceite primero, un dedo acostado es la medida, luego el huevo, la sal y luego usamos el triturador al fondo del recipiente, lo encendimos y no paramos hasta que se convirtió en mayonesa, unos 30 segundos.
Cuando todo esto estuvo listo, lo pusimos dentro de la arepa y nos comimos unas delicias, sanas, super nutritivas y aunque no lo parezca, es muy fácil de hacer, le agregaron espinaca cruda y un poco de cayena para darle más sabor.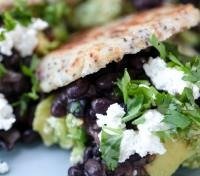 Gregory se volvió loco!!!!! le echó demasiada cayena.... a este chico cocinero le gustan los sabores fuertes...como a Dirolls... disfrutamos mucho de la cena y además nos hizo el postre como era de esperar ya que los postres son su especialidad... fue un día especial!
Al otro día, le enseñé a Gregory un relleno fusión España-Venezuela para desayunar:
Saqué los siguientes ingredientes:
Huevos (revueltos o fritos)
Jamón Serrano
Aguacate
Sal
Estos ingredientes los metí en una arepa y se la comió en medio segundo.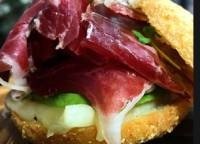 Gregory me dijo, ¡Gracias Diane! te mereces una tarjeta de cocinera del RS, pero como eso no es posible (jajajaja), te voy a regalar la mía... y yo le dije: Gregory, ¿y que te parece si la sorteamos a nuestra comunidad?
¡A Gregory le encantó la idea!
Así que los Requisitos para el Sorteo de la carta de Gregory son:
👫Seguir a Les Pipirisnais en Twitch https://www.twitch.tv/lespipirisnais
💑Seguir a Les pipirisnais en Peakd https://peakd.com/@lespipirisnais
✍️Comentar en el post el nombre de la cuenta de RS y de twitch
😍Votar y reblog el post
Se verificarán todos los pasos, así que es muy importante que los sigas todos.
El premio se entregará el día domingo 14 de agosto de 2022 a través de una ruleta en nuestro stream con nuestra comunidad como testigos. No hace falta que estés, te contactaremos si no estás.
Les Pipirisnais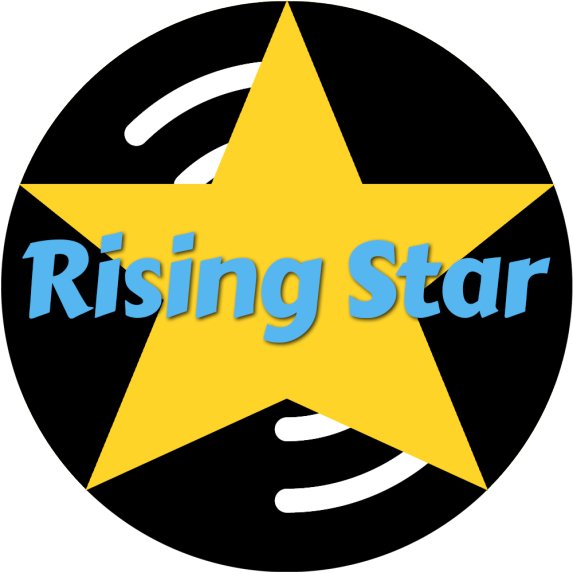 (EN)
Hi guys, how are you??? Well, it turns out that Gregory, one of the RS cooks, has seen my arepas recipe, do you remember? and they have enchanted them, he has said that he had never tried them, he showed it to his cook friends and like any cook, in search of the best dish in the world, he began to experiment.
On his way to Buskeria, he stopped by Madrid to meet us and spend a day with us, to share that he made some Jamaican-style arepas, his favorite style, he made them with curry and stuffed with goat meat; another of his experiments was to add achiote to the dough to give it a reddish color and inside crushed avocado with black pepper... here I stopped him... Gregory, I love everything you tell me, and I'm sure one day I'll try them ... but let me show you how my family and I eat arepas, easy, healthy and delicious!!!! And we started preparing dinner together.
I gave him the following ingredients for the first filling:
Black beans
Turkey (chicken) in strips
Avocado
Onion
Peppers
Salt
garlic powder
Mediterranean Conca seasoning
Home-made Mayonnaise
A splash of Oil (Olive)
1 egg
Salt
Turkey (Chicken) with vegetables: We put the turkey breasts in the pressure cooker, boiled with salt and (olive) oil, then simmered for about 2 hours, to make them very soft. Then, with (olive) oil, in a frying pan, with diced onion and peppers (we use frozen), we fry, put the turkey in strips, add the salt to taste, the garlic powder with desire and the star seasoning, Conca Mediterranean or Adobo la Comadre. We stirred until it was dry.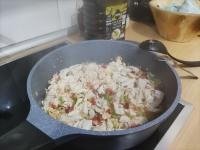 Black Beans: we use peppers, but in this case in strips, also frozen (you can also make them with fresh ones) and a little diced onion, with everything inside the pressure cooker, a little salt and a little (olive) oil, we put it to boil, then we put it on a slow fire for about an hour and ready.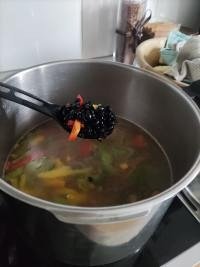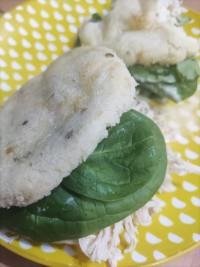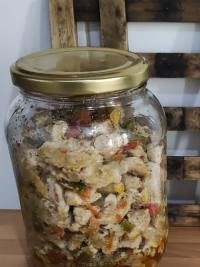 Home-made mayonnaise: the one I make is with olive oil, an egg and a little salt. In a very dry long cylindrical container, using a grinder, very clean without a drop of water, we put the oil first, a finger lying down is the measure, then the egg, the salt and then we use the grinder at the bottom of the container, we turned it on and we didn't stop until it turned into mayonnaise, about 30 seconds.
When all this was ready, we put it inside the arepa and ate some delicious, healthy, super nutritious and although it may not seem like it, it is very easy to make, they added raw spinach and a little cayenne to give it more flavor.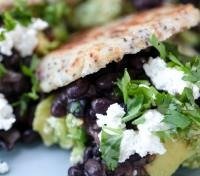 Gregory went crazy!!!!! he added too much cayenne....this cook boy likes strong flavors...like Dirolls...we really enjoyed dinner and he also made us dessert as expected since desserts are his specialty.. . It was a special day!
The next day, I showed Gregory a Spanish-Venezuelan fusion stuffing for breakfast:
I took out the following ingredients:
Eggs (scrambled or fried)
Serrano ham
Avocado
Salt
I put these ingredients in an arepa and he ate it in half a second.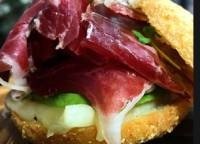 Gregory told me, Thank you Diane! you deserve an RS cook card, but since that's not possible (hahahaha), I'm going to give you mine... and I said: Gregory, what do you think if we give it away to our community?
Gregory loved the idea!
So the Requirements for the Gregory Card giveaway are:
👫Follow Les Pipirisnais on Twitch https://www.twitch.tv/lespipirisnais
💑Follow Les pipirisnais on Peakd https://peakd.com/@lespipirisnais
✍️Comment on the post the name of the RS and twitch account
😍 Vote and reblog the post
We will verify all the steps, so it is very important that you follow all of them.
The prize will be awarded on Sunday, August 14, 2022 through a roulette on our stream with our community as witnesses. You do not need to be here, we will contact you if you are not.
Les Pipirisnais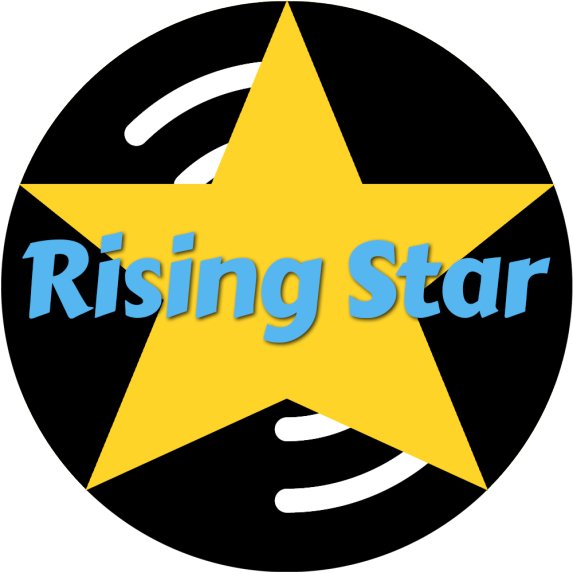 ---
---