Which comes first? Pictures or Text
So are you the type who picks up her camera or phone to take some shots that illustrate what's written? Or vise versa, you are the type who firstly takes photographs and then writes down words and sentences to back the visual story up?
Or you are of that rare creative type when those two go hand in hand, in a perfect balance? Wait, is that even possible? :)
I am sure it's easy for you to answer that question to yourself.
---
Let me share with you my point of view, my present answer to it. And my personal story, when it comes to Photography.
My journey in Photography started almost four decades ago when my father brought me a present from one of his many business trips abroad. It was a small, entry-level film camera.
We were not rich back then. That small camera was fully manual, nothing electrical or electronical inside it. From these ones where I had to rewind the film with my thumb. Color films were way too expensive for me so I could only afford to buy Black & White films. Not to mention the prices of the films development and later copying the best frames on paper.
The learning curve was very expensive and all this made me pay a lot of attention and be very careful with the shutter button!
Modern photography is quite the opposite though. While I am writing this, millions of snaps are taken and uploaded online. The best part of this progress is that now everyone could be a photographer. But let's get back to my story now :)
---
After shooting for about four years with that small film camera, I was forced to abandon that hobby. My country was going from one crisis to another, photography became unaffordable for me. At the same time, at school, I got unlimited access to computers and I quickly walked the path from gaming to programming.
Quickly rewinding two decades and here I was, managing for a few years a small-to-medium team of software developers for a huge international company. Great salary and colleagues, but I was calling that all a "golden prison cage".
---
Then in 2012, I was given as a present, a full offline photography school course. I bought my first DSLR camera, finished the course and got my certificate. I found some new friends, started to travel a lot and all that made me feel happier and free.
It didn't take long and I was off that IT job, now fully devoted to Photography.
Some good years, some not-so-good passed. If you ask me what my best photo is, or what my best achievement is, I cannot tell.
Here today I am sharing with you three collages of some of my favorite photographs...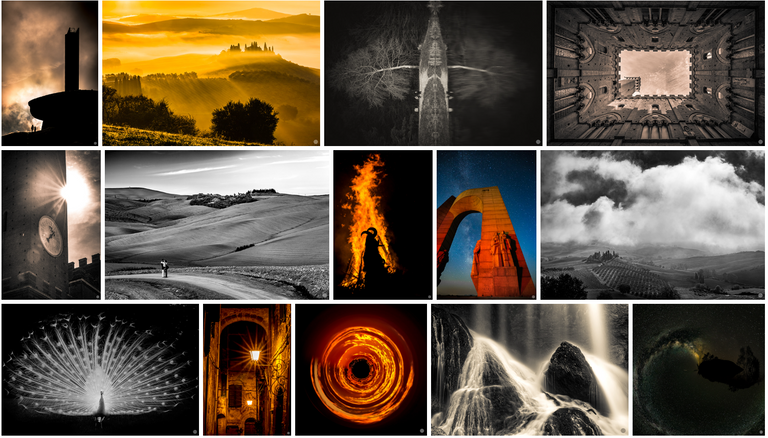 During those years, I have traveled to amazing places, documented some stunning festivals and apart from the services I provided, I sold some photos along.
It is awesome to know I have customers in countries, that I will probably never visit.
I am not the type who writes down all his achievements and frames his diplomas and certificates on the wall. Perhaps that's one of my weaknesses but hey, that is what family, school and life have taught me.
For instance, I don't have a list of all the photo exhibitions I have participated in. I have placed two solo-exhibitions and tens of shared ones. I don't keep track of the contests I've won either :)
By the way, when I was a teenager, I won the 2nd place in a regional literature contest, with a "tuple" entry of a poem and a short Sci-Fi story, I was competing against more that two hundred other children from the county. Can you guess what the prize was? A camera, LOL. Back then, I couldn't read the signs that Universe was giving me :)
Did I developed my own photo-style? Well, while some of my friends claim they can recognize my photos, I am not so sure about that. I don't want to focus only on "travel" or "portrait", or "stock", because I get bored too easily. Off the tracks is much more interesting, isn't it :)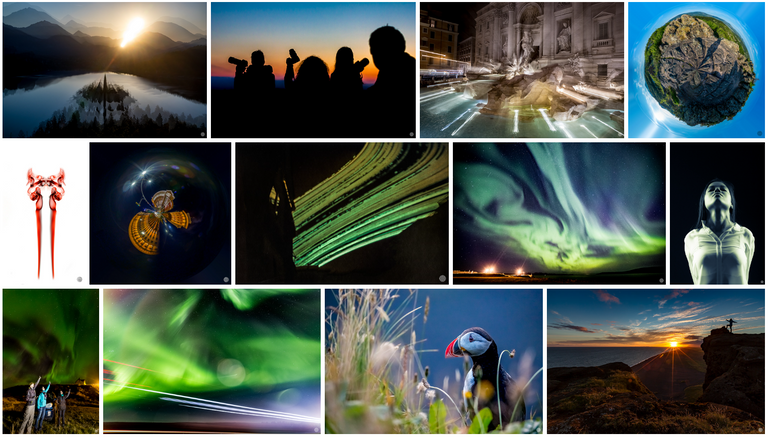 Take for instance that "Lonely Planet" photo from the top, right-hand side of the collage above. This is an ancient occult Thracian place, called Harman Kaya, a composite 360 degree panorama that I created by combining a dozen of photos. Can you believe it was printed and showed at a photo-exhibition to more than 200,000 people on one of the Glastonbury Wilderness festivals?
The third photo on the second row is a solargraphy. The exposure time is approximately nine months. Can you imagine? Those green lines are the Sun trajectories ;) The other green photos around, you know what this is, right? :)
---
During those photo-years, I also invested a lot of time into Stock photography.
I was also working for a few NGOs, supporting social and ecological initiatives.
I even placed a couple of charity auctions for people in need, by selling prints of my photos.
I have been a photo-travel guide a few times, abroad.
I have been a member of teams, who organized "offline" photo contests, exhibitions and other miscellaneous events, related to Photography too.
I have been sharing and giving away my knowledge and experience to everyone who asked. I love to do that.
Let me sum it all. Today, with a hand on my heart, I can say that for me, pictures come first. Call me the visual type.
---
Now I hope you understand why I created the "Photographic Society" community :)
---
If my story somehow touched you, you are welcome to join!
If you consider yourself "the visual type" as well, the "Photographic Society" community is just for you! :)
I know everyone is very busy and this post became way too long to read, so with the time, I will also be sending personal invitations to people, who I think could feel at home here, respected and useful...
Sincerely yours,
LightCaptured
For licensing my photos, please contact me!
Have a great day, stay safe, stay strong and let your muse be always on your shoulder!
---
---