A clique of friends.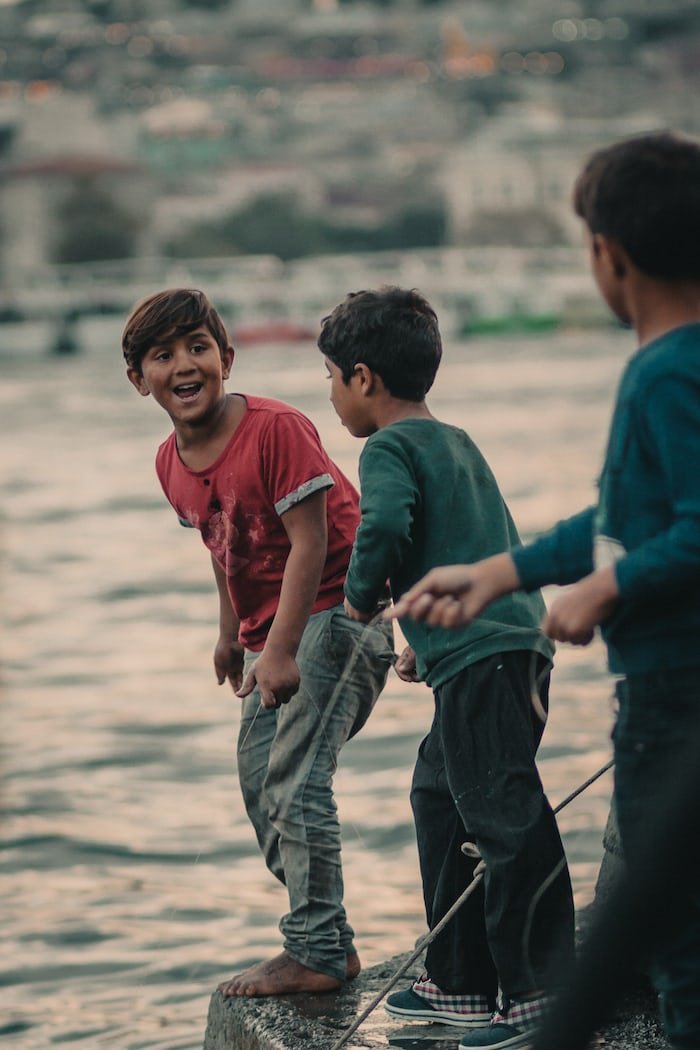 Source
My childhood was filled with many memorable events made possible by friends.
When I saw this prompt, it took me some minutes to think about how best to approach the topic.
For my primary and highschool education, I had them in three different States and in each State, I met some friends that our relationship still lingers in my memory till present. However, I would like to talk about a clique of friends I had while I was in primary school. Joseph, Alaba and I happened to be neighbors while growing up.
Joseph's parents and that of Alaba were staying in the same compound while my parent's house was next to theirs. We were enrolled in the same primary school and we always trekked to the school together when the school was situated a few meters away from our house and about two years later, we joined the school bus when the school relocated to a relatively far permanent site. People that knew us were envious of the level of our mutual understanding despite being very young.
I remember how we used to combine our lunch money, buy food and eat together. What helped our relationship was that each of us learned how to say sorry when confronted with wrongdoing. For all these, our parents were proud of us.
There was a particular Christmas that we decided to buy ourselves some Christmas presents. We sat and deliberated how we could fund such a plan and we came up with a template.
It was in the month of September and we agreed to be saving equal tokens from our lunch money daily so that when the money is enough to buy what we agreed upon, we would do so.
We agreed to buy ourselves wristwatches.
Our daily lunch money was 3 naira each and we decided to be saving 1 naira each. By the end of September, we had enough money to buy a wristwatch. At first, we thought of giving it to one of us at that stage but I suggested that the wristwatch should be kept so that the recipient won't be tempted to use it before Christmas. We all agreed and the wristwatch was given to me from proper preservation. The second month of October, we bought the second wristwatch and in November, we purchased the third.
Two weeks later, the school closed for the Christmas holiday. On the eve of Christmas, we shared the identical wristwatches and all were set for Christmas outings the following day. I was seven years old then while Joseph and Alaba were 6.
We dressed up the following day, adorned in our wristwatches and visited our relatives in the spirit of Christmas. Christmas was superb for us.
There was a particular year that crops were affected by some diseases and there were poor yields. This affected our parents who were all farmers. Things became difficult financially for our parents. Joseph and Alaba were taken to another school due to sudden increments in our school fees. My father struggled to make sure I remained in the school against all odds. But our friendship continued.
Some months later, Joseph's parents relocated to another town far away and I was left with Alaba. We missed him so much and wished we could follow him or make him stay back so that whichever way, we could remain together.
The lunch money that was being given to us before wasn't forthcoming because the economy of our parents has changed. Alaba brought up the idea that we should learn shoe cobbling. He had seen his uncle do it several times and he got some ideas.

Source
We bought thread and needle and decided to practice how to mend shoes. We started the practice with our condemned shoes. After a little time of practice, we mastered it to some extent and we decided to commercialize it.
When we returned from school daily, we would take our tools under a cashew tree in front of our house and people would bring their shoes for mending.
The unexpected happened when one cobbler who used to move around in search of customers came to us and seized our tools because according to him, we didn't belong to the association of cobblers. He left with our tools while both of us were crying profusely. Our parents weren't back from the farm.
Our crying drew the attention of some elders around. They asked us what the problem was and we explained ourselves. After a vivid description of the cobbler that seized our tools, the elders persuaded us to stop crying and they promised to intervene.
They intervened and got our tools for us the following day. The cobbler was scolded for intimidating children - that are trying to help themselves - with membership of an association not recognized by law.
We continued our shoe cobbling and it helped us a great deal. We didn't disturb our parents for lunch money again. It got to a time that we were even saving to do other things.
About three years later, I left the town to another town in another State. That was how we lost touch with each other. By my next visit to the town, Alaba had relocated with his parents.
Ever since then, I haven't met friends that are as trustworthy as Joseph and Alaba. When I reflect on those days, I conclude that both of them would have been a perfect business partner today. If we had remained in touch for another two decades, I am certain that we would have taken our partnership to another level, achieving great things.
We lost touch when there were no mobile phones and years later, after the advent of mobile phones in this part of the world, I am still in search of their numbers to reach out to them one day.
If I connect with any or both of them, that day would be one of my greatest days.
---
---