In need of love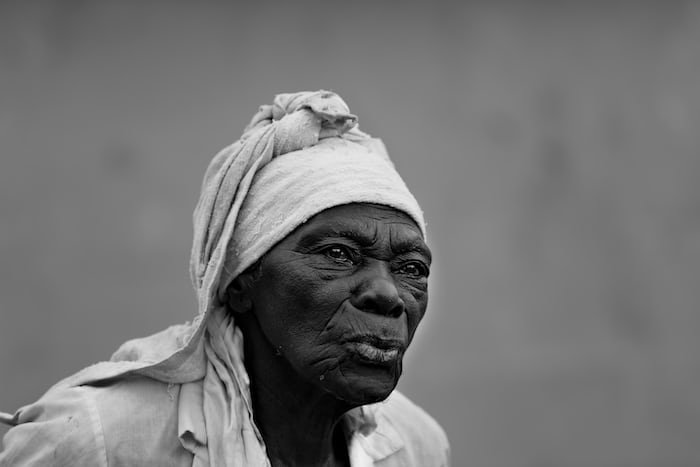 Source
Asuku was home for Christmas and in his usual manner, went around to say hi to people living in the neighborhood.
---
The village of Okehi is a small one containing about five clans that are interrelated. It is in the culture of those living in the city to check around and greet extended uncles and aunties whenever they visit. Asuku never visited the village without honouring this norm.
---
It was on this mission that he visited Onotu, one of the oldest men in the village. As he approached the house, from the overgrown grasses surrounding the one time highly populated house to the delapitated nature of a part of the house, one would have taught that no one was living there.
Are you sure someone is living here?
Asuku asked his cousin, Omuya who was home based.
Baba, as Onotu was fondly called, is still there. No one is staying with him.
---
It was at this stage that Baba noticed the presence of some people at his house's entrance and he asked who they are. It's been long someone visited him.
Good afternoon Baba, it's me Asuku, the son of Umoru from Eire clan.
This introduction was enough for Baba to identify him and he opened his arms for a hug.
Welcome my son. You are too far from us in this village. I never knew someone could remember me and check on me. How is your wife and children?
---
In his response, Asuku asked Baba why he was living alone without having people occupying the other rooms in the house as it is used to be, not to talk of having a young grandchild to tend to him.
My son. Since the death of my wife about a year ago, I have been deserted with the accusation that I killed my wife. Adoza came to this house, take a look at the corpse of his mother before burial and left immediately. That was the last time I saw him.
---
As Baba was busy explaining to Asuku and Omuya, Omuya could be seen covering his nose from the stench coming from the unkept room. Asuku sees that as improper and each time Omuya does that, he gave him an eye gesture to stop the disrespect.
I am surprised at this situation. This house that was one of the highly populated houses in this village years ago. Why will Adoza not check on you for a year despite knowing that he is the only child, Asuku asked rhetorically.
---
After being told by Baba that he hadn't eaten anything that morning, the first point of intervention was to get something for him to eat. Asuku left Baba and immediately purchased food and send to him. He then hired the service of some women to help clean the house and tend to Baba properly. Baba was cleaned up and served food.
---
Asuku thereafter consulted about three people separately to get the true state of affairs that brought Baba, who was known to always have people around him, to this state of loneliness.
The problem started when Baba's second child died and a year later, the wife followed suit. The villagers queried why an old man of that age would be alive and his daughter and wife dying within short span. He was accused of being the one responsible for their deaths diabolically. It was that belief by people and even his surviving son that made him to vow never to look back on his father again after he visited the village for his mother's burial.
---
Ever since then, the octogenarian was left on his own by his son, other family members and the entire villagers. His suffering began.
The years spent by Asuku in the city had disabused his mind regarding the archaic unfounded belief of the village. He tried as much as he could to explain to them that such accusations can't be proven.
There is no particular order of people dying. Our time of birth is not directly proportional to our time of death. The first that goes to market is not necessarily the first to return home. We need to understand that birth and death are beyond our power. What constitute murder is stipulated in our laws and the State can charge whomever is accusing this man for killing his daughter and wife for wrong accusations. When our parents are getting old, what they need is love and affections and not hatred and false accusations.
Asuku took his time to educate the villagers.
---
I'll hire a nurse to be looking after Baba. I'll try and get in contact with Adoza to educate him also that how we tend to our senior citizens has a lot to do with the precedence we are setting for our individual old age.
In order to make sure Baba is getting the required care, Asuku was visiting the village every three months.
---
He also continued his advocacy for showing love to senior citizens instead of accusations and victimisation. This changed the perspective of a lot of people and the era of such barbaric treatment faded away.
Many subsequent senior citizens who hitherto would have experienced similar urgly trend were saved from such when the advocacy yielded the expected result.
---
---