Sack farming.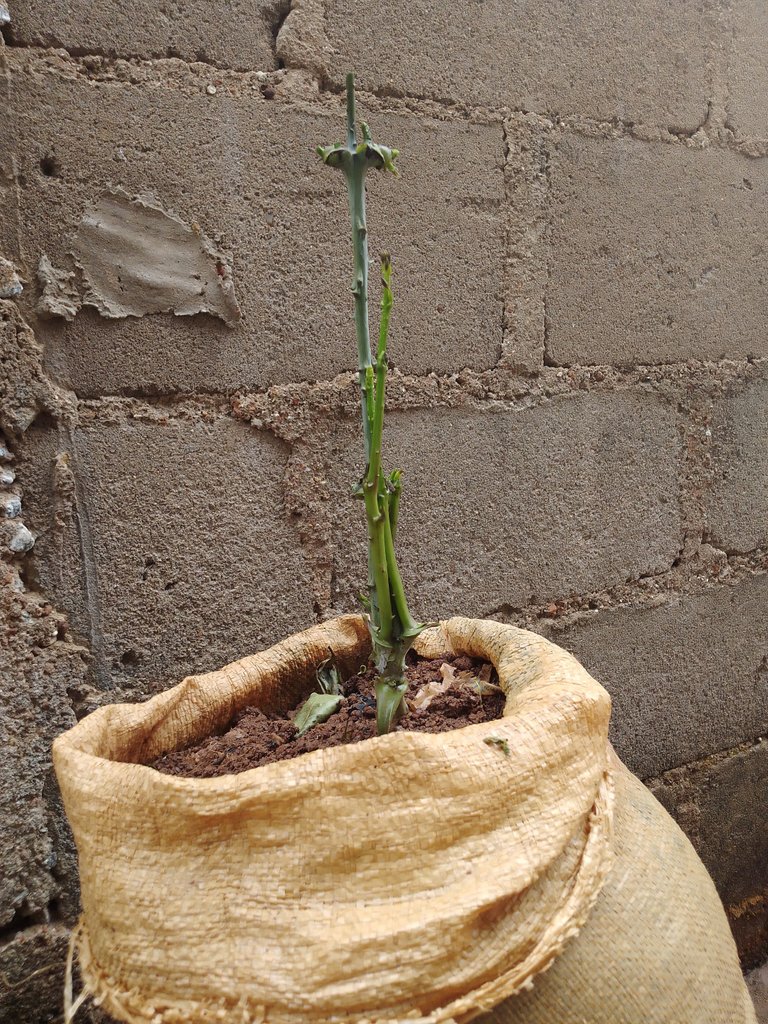 The picture is mine
---
I learned farming from my father while growing up. I later left him to the city for college education.
Ever since then, I always make use of any opportunity I have to try out farming on a small scale.
When I started working a few years ago, I made an attempt to get a piece of land to grow what I eat with my family but all the places where I have access to land are prone to insecurity. I had to backtrack.
Because of my passion for Agriculture, I go to YouTube to watch a lot of videos about farming, especially gardening. In one of such videos, I came across sack farming. The procedure is to pack soil into a sack and any crop of choice is planted inside.
My wife and I decided to try it out. A few weeks ago, I planted a tuber of yam into a sack filled with soil. The advantage of this style of farming is that one can be wetting it appropriately. The addition of organic or inorganic fertilizer are also retained better in the sack than open field farming.
I packed the sand from a nearby land with some organic manures.
After about three weeks, the stem sprouted out of the yam seed. We wanted to test run the process with this one and if the growth is going smoothly, we would increase the numbers.
When the sprout was about a week old, I noticed that the tip had been cut away. I initially didn't know what was responsible but after a careful investigation, I discovered that it was a lizard that cut the stem. After a few days, another tip germinated from the side but lizards came again and cut it - they feed on the soft stem.
I went online to look for any repellant that can drive the lizards away but the suggestions I came across such as garlic didn't work. I am still in search of a solution.
After discovering this, I decided to take the remaining four yam seeds to my place of work to plant. The school where I teach has a farm and I filled four bags with soil. I planted the yams in the bags a few days ago. I pleaded with the security man to help me wet it during the weekends while I do that on the weekdays till the rainy season fully resumes.
It is my plan to continue with more bags at home if I finally get a solution to the rampaging lizards.
My wife has prepared a nursery bed for some vegetables too and we are planning to transplant in the next few days. I hope that I won't encounter insects or lizards that will affect the process.
I decided to write about this picture in order to show a way out in cutting costs in the present harsh economy. Many people have the opportunity to try this but they are not aware of something like this.
My ultimate plan is to grow what my family and I eat. It only takes a very small part of one's time daily. A few minutes or possibly an hour, depending on the number of bags, is required daily to wet the bags and apply fertilizer when necessary. Removing weeds is made easy because not much of it will grow in this kind of setting.
---
---