Jeans Accessories Recycling Contest /Concurso de Reciclaje de Accesorios de tela de Jeans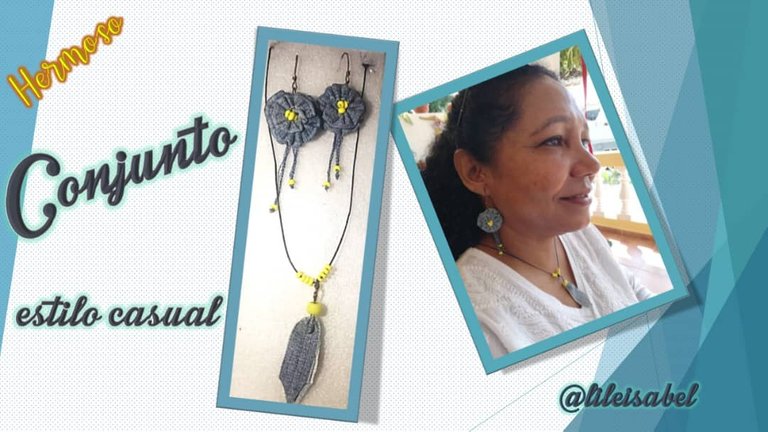 Good friends of this Jewelry community, this is my first post here. I went to the invitation that @jewelry made me, to the Jeans Accessories Recycling Contest, because it unites two things that I really like, the crafts of accessories and recycling. Since I received the invitation I began to think about what to do until an idea formed in my head and here I present to you, this set, which includes flower earrings with yellow beads, with a little cord with the same combination. I hope you like the idea, I explain in detail how I made them and the materials I used.
Buenos amigos de esta comunidad de Joyería, esta es mi primera publicación aquí. Acudí a la invitación que me hizo @jewelry, al Concurso de Reciclaje de Accesorios de Jeans, porque une dos cosas que me gustan mucho, la artesanía de los accesorios y el reciclaje. Desde que recibí la invitación comencé a pensar en qué hacer hasta que se formó una idea en mi cabeza y aquí les presento, este set, que incluye aretes de flores con cuentas amarillas, con un cordoncito con la misma combinación. Espero que les guste la idea, les explico detalladamente como los hice y los materiales que use.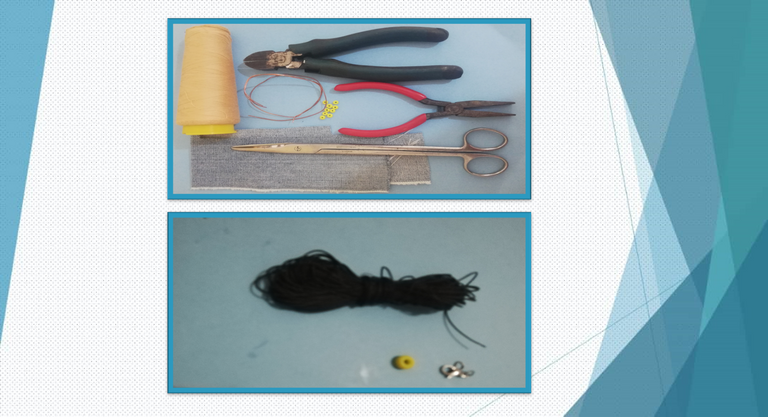 Retazos de tela de Jeans
Hilo
Aguja
Tijeras
Alambre de Cobre
Cuentas amarillas
Un cierre para el cordoncito
Alicate de corte
Pinzas
Scraps of Jeans fabric
thread
Needle
Scissors
Copper wire
yellow beads
A closure for the cord
Cutting pliers
Tweezers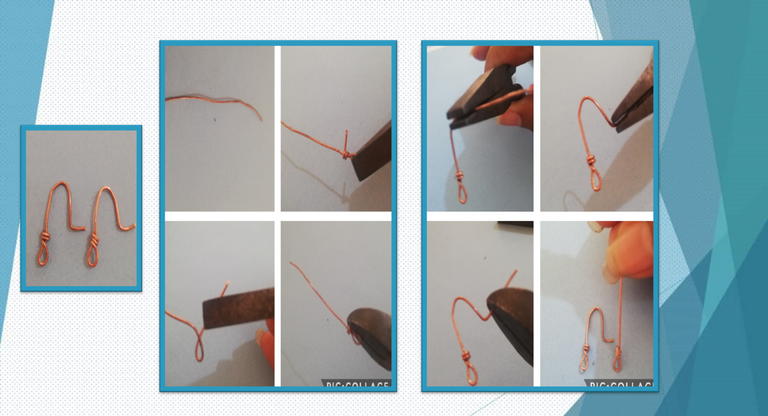 First I made the hooks and some hoops to hang the earrings from. For the hooks, cut an 8cm copper wire with one of the ends, make an oval and bend the wire so that it wraps around the oval, fix it well with the clamp so that it does not hurt when handling when wear the earring, the other end is kept straight, to the extent of 1 cm it is bent in the form of a hook, this being the part that is inserted into the ear, at the end a double is made at the tip so that the earring does not out. Hooking is now complete.
Primero hice los enganches y unos aritos para colgar de ahí los pendientes. Para los enganches se corta un alambre de cobre de 8cm con uno de los extremos se hace un óvalo y se dobla el alambre de forma que se enrolla alrededor del óvalo, se fija bien con la pinza para que no haga daño en la manipulación cuando se use el arete, el otro extremo se mantiene recto, a la medida de 1 cm se dobla en forma de gancho, siendo esta la parte que se introduce en la oreja, al final se hace un dobles en la punta para que el arete no se salga. Ya está concluido el enganche.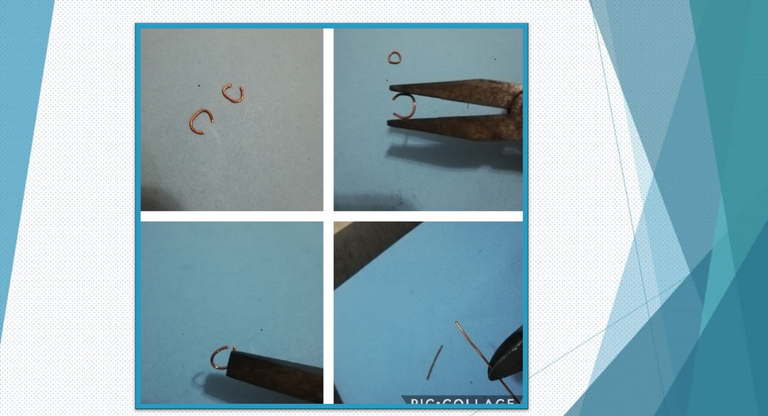 For the ring that joins the art with the hook, only a 1cm piece of wire is used and with the clamp it is bent until it forms a circle but it is left open until it is going to be used.
Para la argolla que une el arte con el enganche solo se utiliza un pedacito de alambre de un 1cm y con la linaza es tuerce hasta hacer un círculo pero abierto hasta que se vaya a utilizar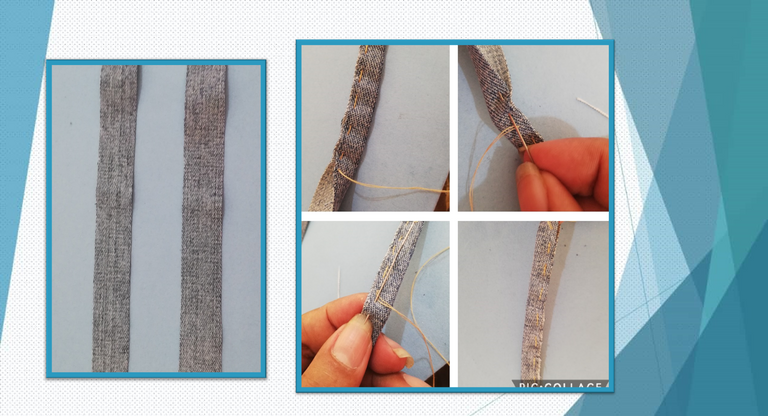 A strip 28 cm long and 1.5 cm wide is cut from the jeans Fabric.It is folded in half and stitched as shown in the photo.
Se recorta de la tela de mezclilla una tira se 28 cm de largo y 1cm y medio de ancho. Se dobla al medio y se hilvana a todo lo largo como se aprecia en la foto.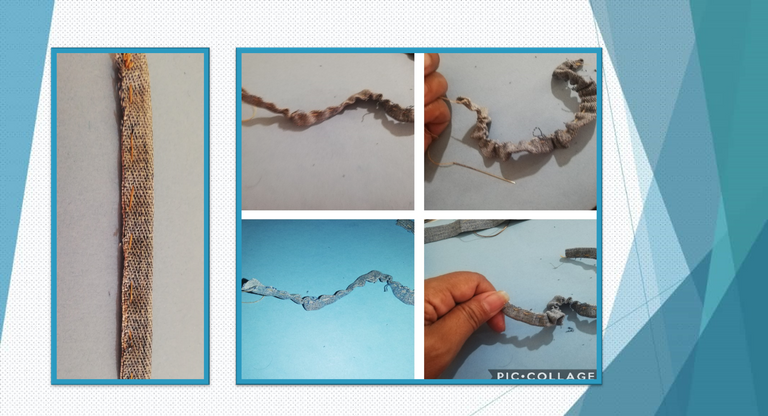 At the end of the basting, the thread stretches and that will crimp the fabric.
Al final del hilvanado, el hilo se estira y eso rizará la tela.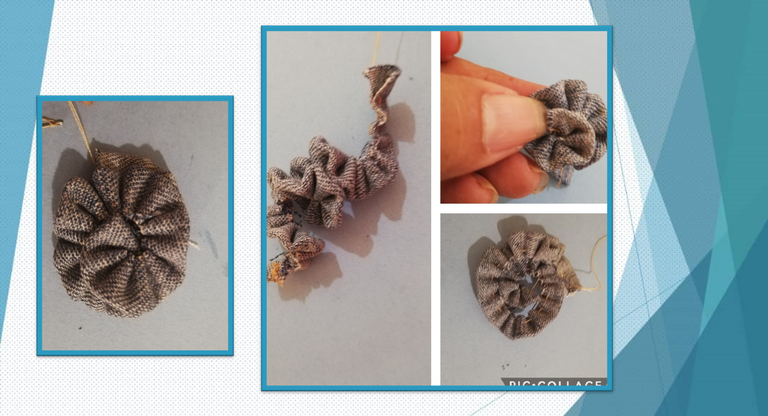 When the fabric is completely curled, a flower begins to form, making a spiral with the fabric and ending with a few stitches at the back so that it does not unravel.
Al final del hilvanado, el hilo se estira y eso rizará la tela.
Cuando la tela está completamente rizada, se empieza a formar una flor, haciendo un espiral con la tela y terminando con unos puntos por detrás para que no se deshaga.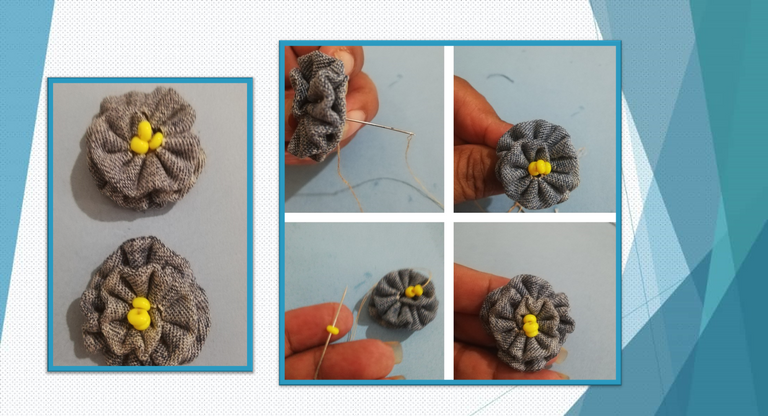 Next, the flower is crossed through the center and 3 yellow beads are threaded and the flower is crossed again but from front to back, leaving the little beads in the center of the flower.
A continuación se atraviesa la flor por el centro y se ensartan 3 cuentas amarillas y se vuelve a atravesar la flor pero de adelante hacia atrás, dejando las cuentas pequeñas en el centro de la flor.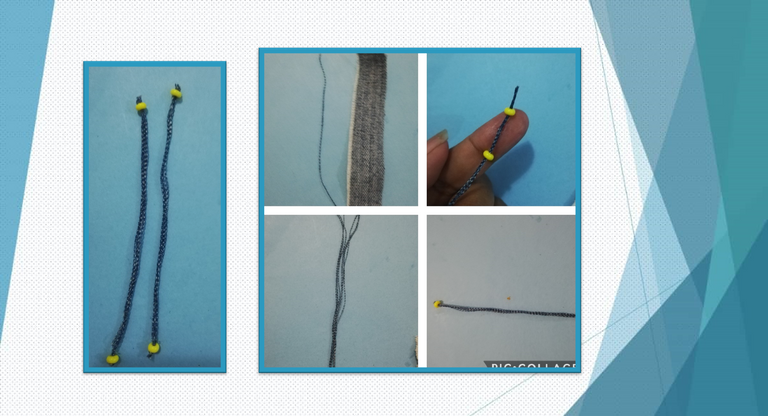 After another cut of denim fabric, 6 threads of 10 cm each are removed, through which two yellow beads are inserted, which are located at each end and a knot is made so that they do not fall out.
Luego de otro corte de tela de mezclilla, se retiran 6 hilos de 10 cm cada uno, por los cuales se insertan dos cuentas amarillas, que se ubican en cada extremo y se hace un nudo para que no se caigan.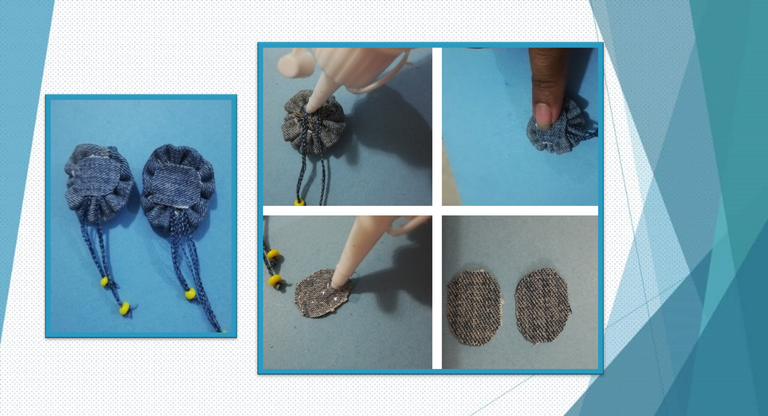 Finished, the dangling threads are glued to the back of the earring and covered with previously cut oval caps.
Terminados, los hilos colgantes se pegan a la parte trasera del pendiente y se cubren con capuchones ovalados previamente cortados.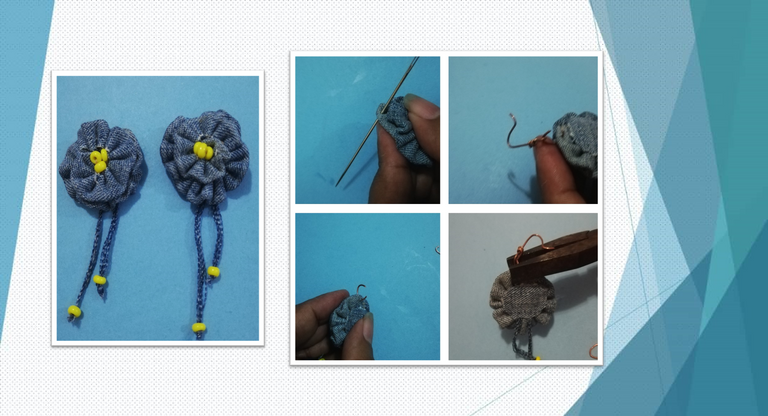 With a thick needle, a small hole is opened in the upper part of the flower and the open ring is inserted through there to place the hook itself. Then the ring is joined with the clamp, remaining united, the denim earring is concluded.
Con una aguja gorda se le abre un hoyito en la parte de arriba de la flor y por ahí se introduce la argolla abierta para en ella misma colocar el enganche. Después se une la argolla con la pinza quedando unido , se concluye el arete de mezclilla.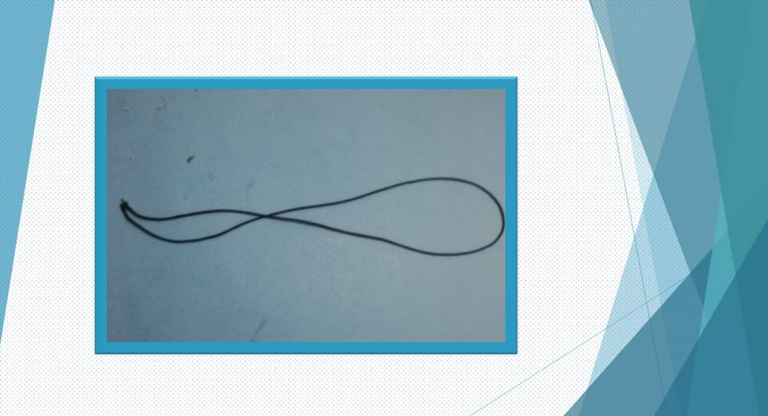 To combine it I made a very simple cord to place around the neck.For which I took a 40 cm thick black waxed thread.
Para combinarlo hice un cordoncito bien sencillo para colocar en el cuello. Para lo cual tomé un hilo negro grueso encerado de 40 cm.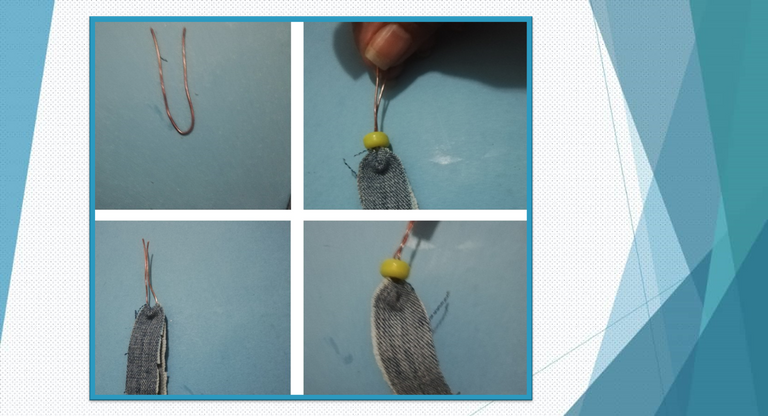 First I took a wire of about 5 cm and bent it in the middle and placed a 20 cm strip of the jeans fabric and folded it in the center.I joined the wire and introduced a larger yellow bead and I was winding the wire with the clamp
Primero tomé un alambre de unos 5 cm lo doble al medio y coloque una tira de la tela de jeans de 20 cm y la doblada al centro. El alambre lo uní e introduce una cuenta más grande amarilla y fui enrollando el alambre con la pinza.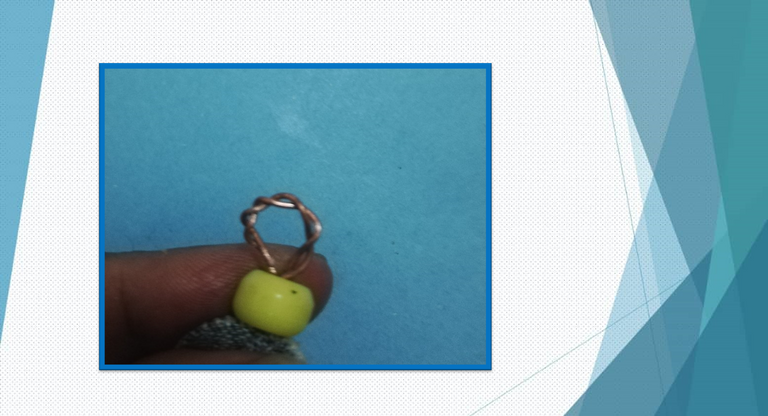 I then folded it into a circle by reinserting the end of the wire into the yellow bead.
Después lo doble en forma de círculo volviendo a introducir el extremo del alambre en la cuenta amarilla.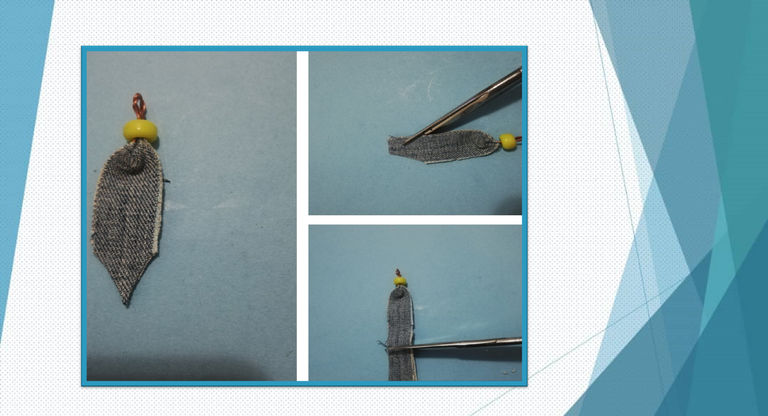 I cut the denim fabric band because it was too long and made some cuts to make it look like this.
Corté la banda de tela de mezclilla porque estaba muy larga y le hice unos cortes quedando así.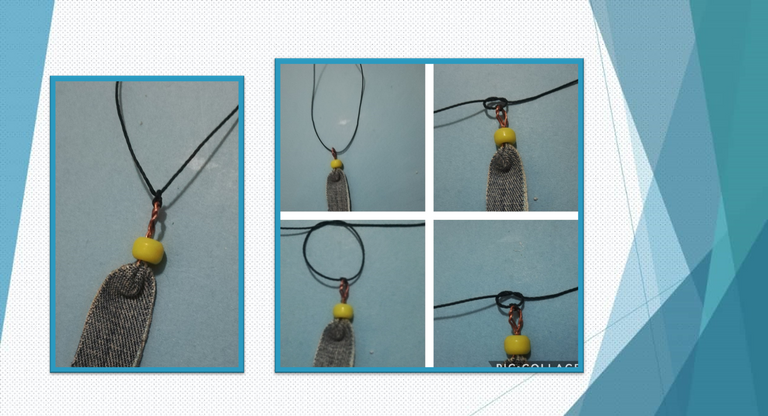 Through the circle I inserted the waxed thread and tied a knot so that it does not run.
Por el círculo introduje el hilo encerado y realice un nudo para que no se corra.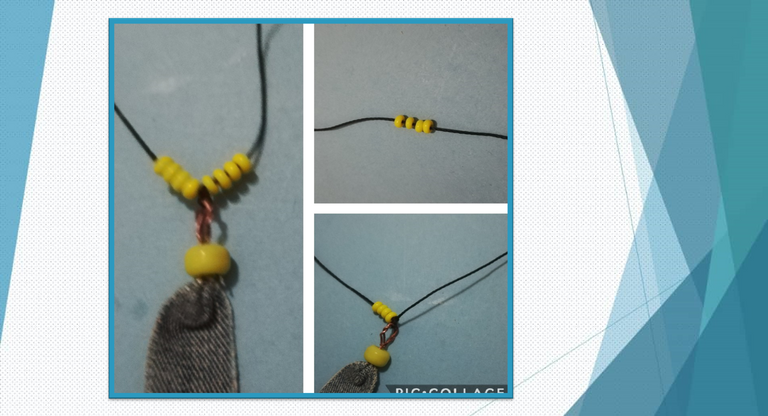 For each end of the thread, 4 yellow beads are inserted, which are left as shown.
Por cada extremo del hilo introduje 4 cuentas amarillas quedando como se observa.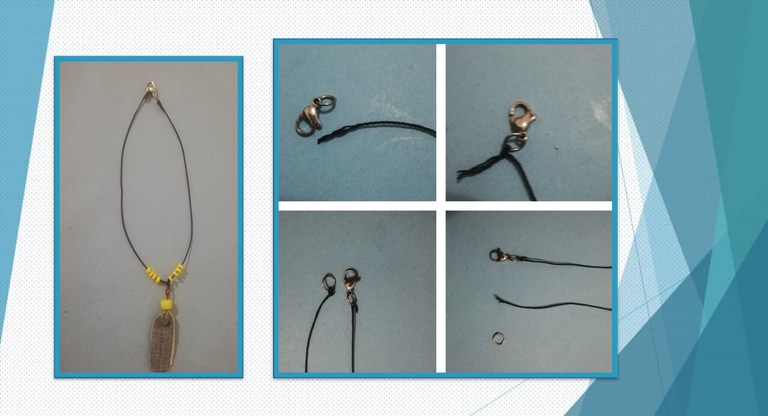 At the ends of the waxed thread the closure was tied with a knot, being concluded.
En los extremos del hilo encerado se amarró el cierre con un nudo, quedando concluido.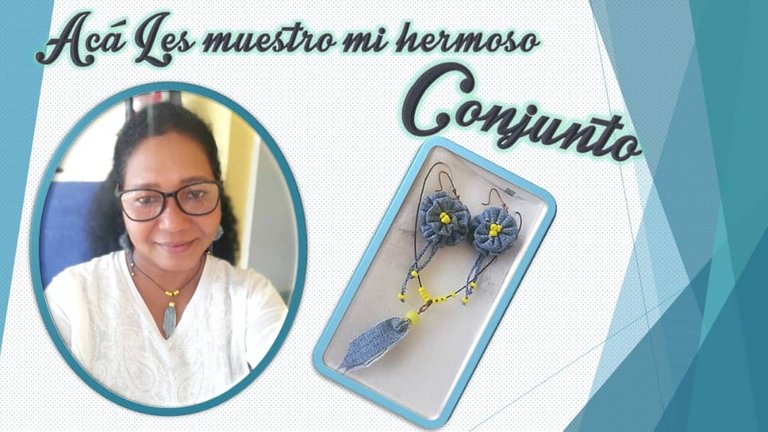 This is how I finished the set, tell me if you liked it. I wish you all a successful week, here I leave my participation in the contest to make jewelry with scraps of jeans fabric. See you.
Así terminé el conjunto, díganme si les gustó. Les deseo a todos una exitosa semana, aquí les dejo mi participación en el concurso para hacer bisutería con retazos de tela de jeans. Nos vemos.

Las fotos fueron tomadas con mi teléfono Huawei P20 lite, unidas con PicCollage y Powerpoint
utilicé el Traductor de google
---
---