National Theater of Cuba [ESP-ENG]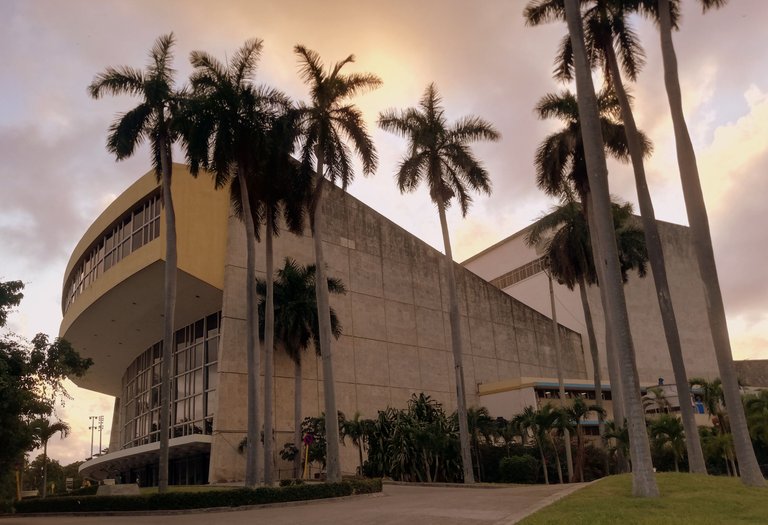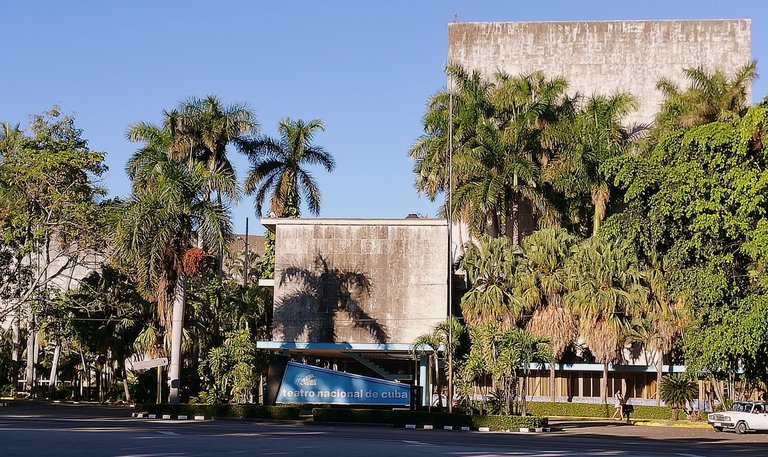 Hello friends of this beautiful community Arquitectura +Diseño, I have been a little busy with some projects and I have been late in posting here, I wanted to share with you the architecture of this important Theater for Cubans, because it is our National Theater.
Last Saturday I went to the Covarrubias Hall of this Theater to see one of the works of the 27th Havana International Ballet Festival, it was a day that lasted from October 20 to November 13. Despite going quickly to make the reservation, I could only get a ticket for that Saturday October 6 and for the secondary room, the main works were exhibited in the Sala Avellaneda, but anyway I wanted to attend this important and beautiful event, where everything is exposed a little about the Ballet.
Hola amigos de esta hermosa comunidad Arquitectura +Diseño, he estado un poco ocupado con algunos proyectos y me he demorado en publicar aquí, quería compartir con ustedes la arquitectura de este importante Teatro para los cubanos, pues es nuestro Teatro Nacional.
El sábado pasado fui a la Sala Covarrubias de este Teatro a ver una de las obras del 27 Festival Internacional de Ballet de La Habana, fue una jornada que duró del 20 de octubre al 13 de noviembre. A pesar de ir rapido a realizar la reservacion, solo pude conseguir una entrada para ese sabado 6 de octubre y para la sala secundaria, las obras principales se exhibían en la Sala Avellaneda, pero de todas formas quise asistir de este importante y hermoso evento, donde se expone de todo un poco referente al Ballet.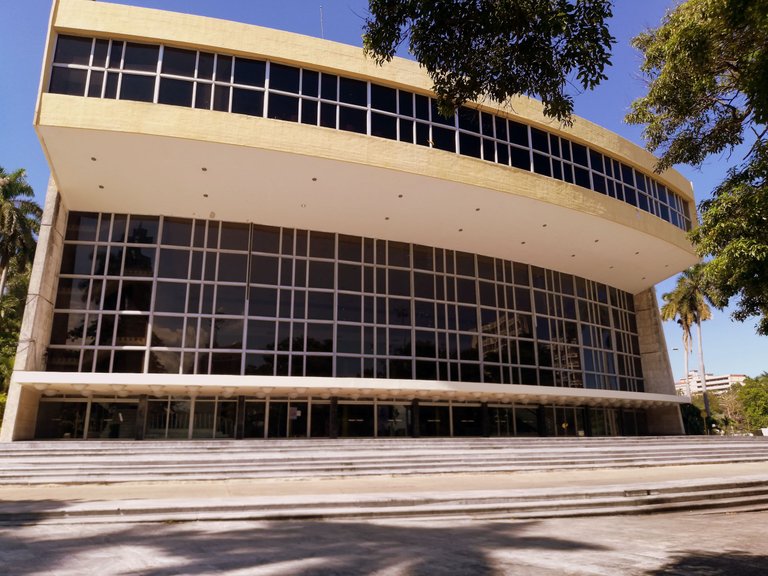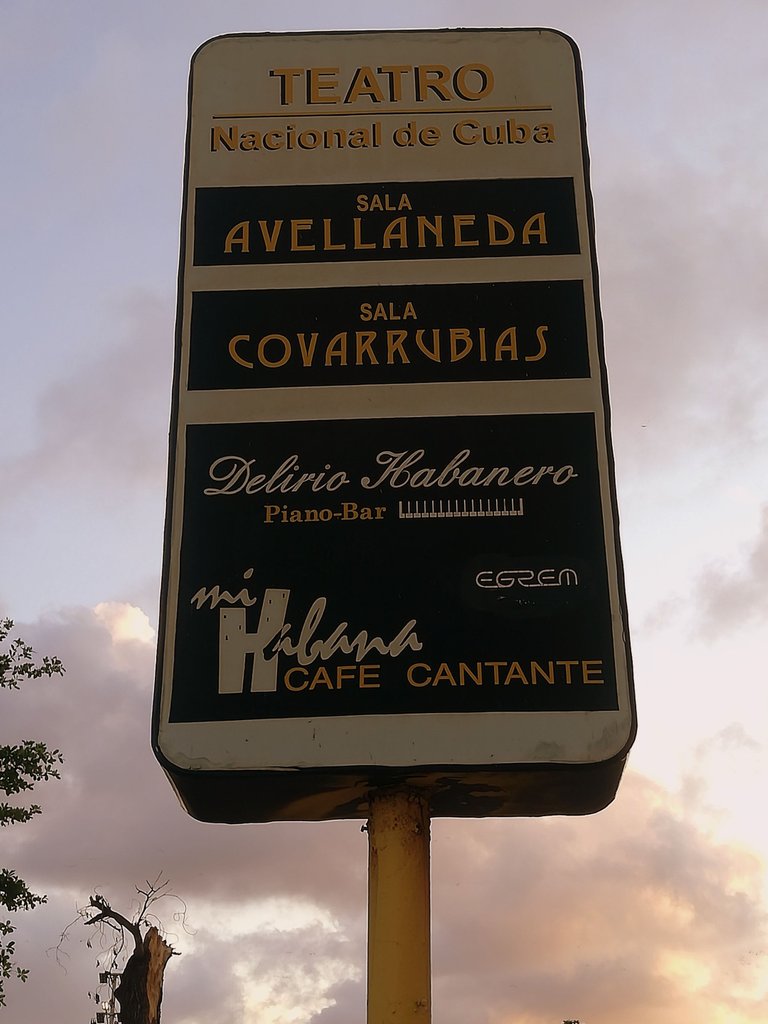 Besides enjoying the exhibition I took the opportunity to take a look at the constructive value of this building. I photographed the exteriors when I went to get the tickets and I could only photograph the inside of the Covarrubias Hall which was the one I visited, but from the outside I took views of the whole place. It is a modern theater, it has a lot of green around, with beautiful plants and tall palm trees everywhere, in some places too much hahaha, it was difficult to see the building because of the excess of them , but the plants are welcome , more when we live in the middle of the city.
This theater is located in front of the Plaza de la Revolución, it is exactly on 39th street and Paseo (very close to my house, a few blocks away). The doors of this cultural institution opened to the public for the first time on September 3, 1979, although its construction was approved in 1951, the first stone was laid in mid 1952, due to the slowness and political and social problems it was not finished until more than 20 years later.At the end of the publication I leave the source
Además de disfrutar de la muestra aproveché para echar un vistazo al valor constructivo de este edificio. Fotografié los exteriores cuando fui a buscar las entradas y sólo pude fotografiar el interior de la Sala Covarrubias que fue la que visité, pero desde el exterior tomé vistas de todo el lugar. Es un teatro moderno, tiene mucho verde alrededor, con hermosas plantas y altas palmeras por todos lados, en algunos lugares demasiado jajaja, era difícil ver el edificio por el exceso de las mismas , pero las plantas son bienvenidas , mas cuando vivimos en medio de la ciudad.
Este Teatro se encuentra frente a la Plaza de la Revolución, está exactamente en la calle 39 y Paseo (muy cerca de mi casa, a unas cuadras). Las puertas de esta institución cultural se abrieron al público por primera vez el 3 de septiembre de 1979, aunque su construcción fue aprobada en 1951, la primera piedra se colocó a mediados de 1952, por la lentitud y los problemas políticos y sociales no se terminó hasta más de 20 años después.Al final de la publicación dejo la fuente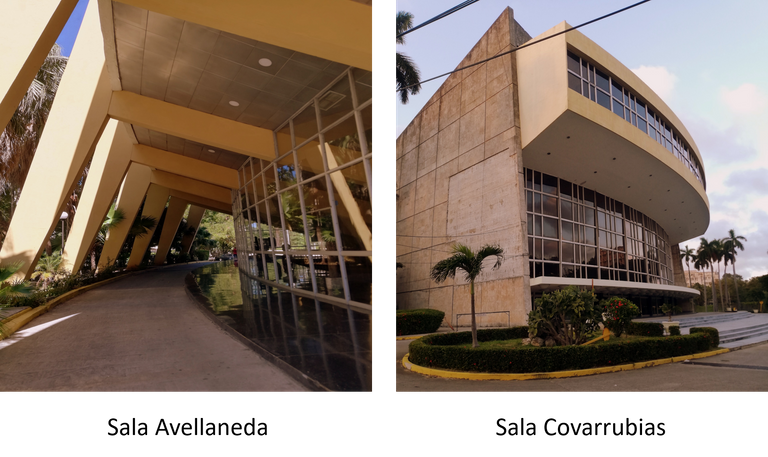 The Theater is a Cultural Complex, where there are two halls, the main one is called Sala Avellaneda, named after the famous Cuban writer Gertrudis Gómez de Avellaneda, with capacity for more than 2000 people and three levels of seats, the other hall is the aforementioned Covarrubias, named after Francisco Covarrubias, playwright and founder of the Cuban Theater. it is the smallest hall, with a capacity of only 850 people.
El Teatro es un Complejo Cultural, donde hay dos salas, la principal se llama Sala Avellaneda, que lleva el nombre de la famosa escritora cubana Gertrudis Gómez de Avellaneda, con capacidad para más de 2000 personas y tres niveles de asientos, la otra sala es la ya mencionada Covarrubias, que lleva el nombre de Francisco Covarrubias, dramaturgo y fundador del Teatro Cubano. es la sala más pequeña, con una capacidad de sólo 850 personas.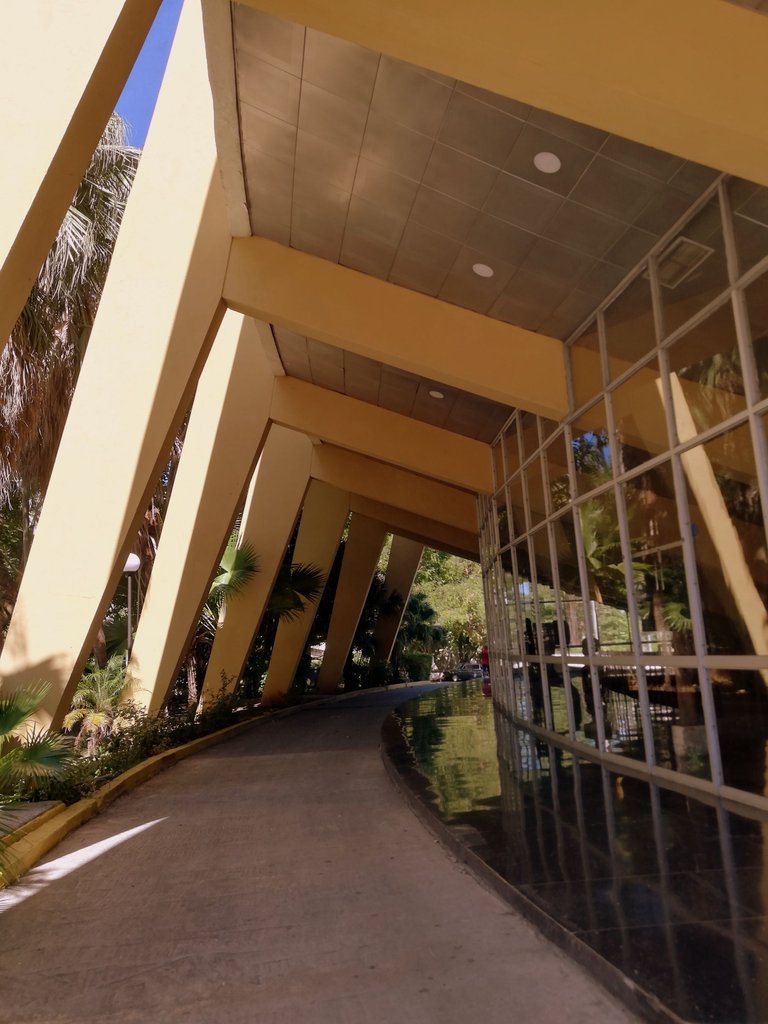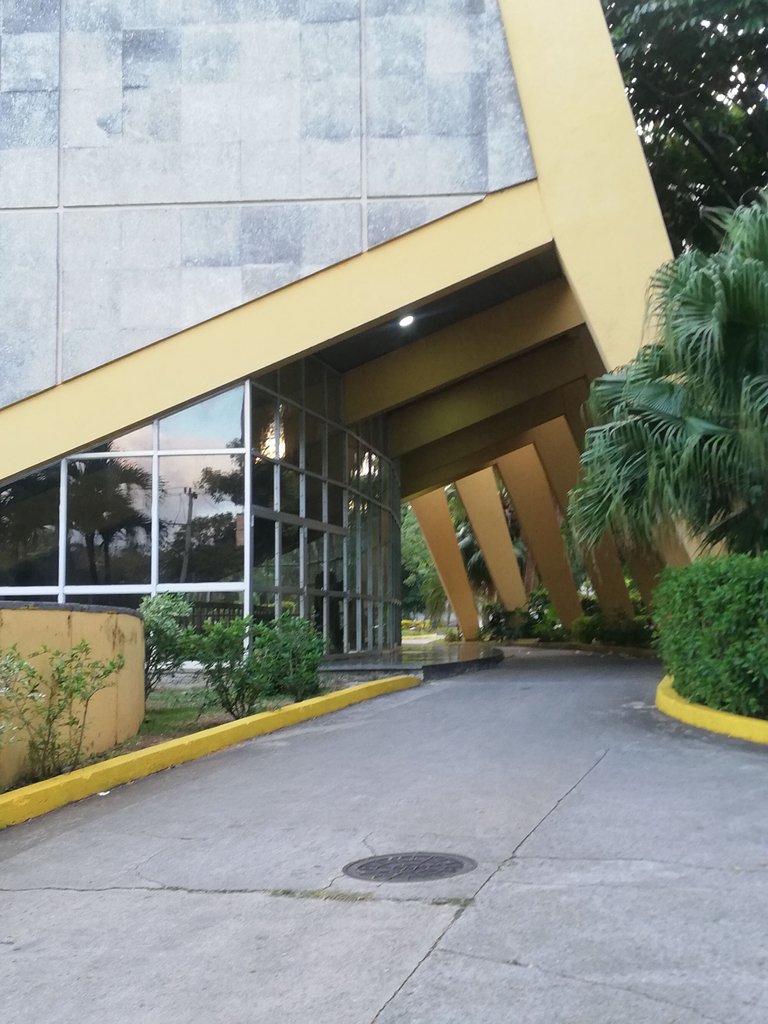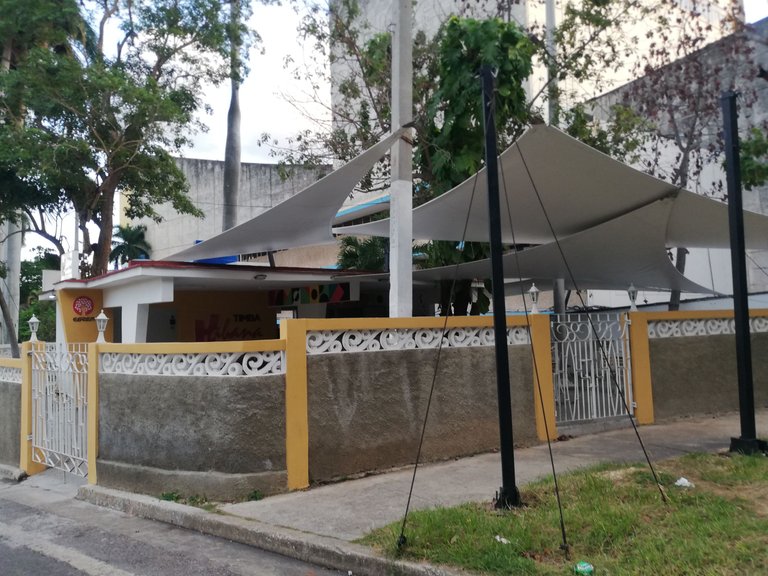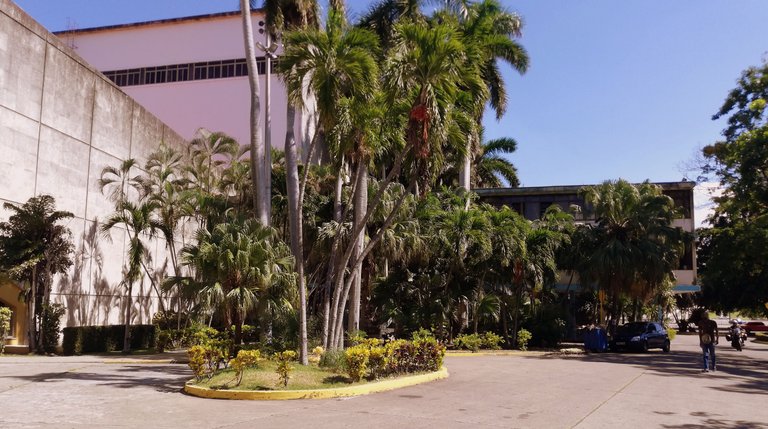 The entrance of this hall has a modern columned structure. The entire facade is covered with long sheets of glass, the polished black marble floors, it gives it a lot of beauty, it has a lot of vegetation around, near the entrance there is a cafeteria with a tensoform roof where those who attend the theater can consume some food. I have visited this hall on several occasions, I have not taken pictures of the interior, it is a pity because it is very beautiful, outside there is a fountain.
.
.
La entrada de esta sala tiene una moderna estructura de columnas. Toda la fachada está cubierta con largas láminas de vidrio, los pisos de mármol negro pulido, le da mucha belleza, tiene mucha vegetación alrededor, cerca de la entrada hay una cafetería con techo de tensoformas donde los que asisten al teatro pueden consumir algún alimento. He visitado esta sala en varias ocasiones, no he tomado fotos del interior, es una pena porque es muy bonito, en el exterior hay una fuente.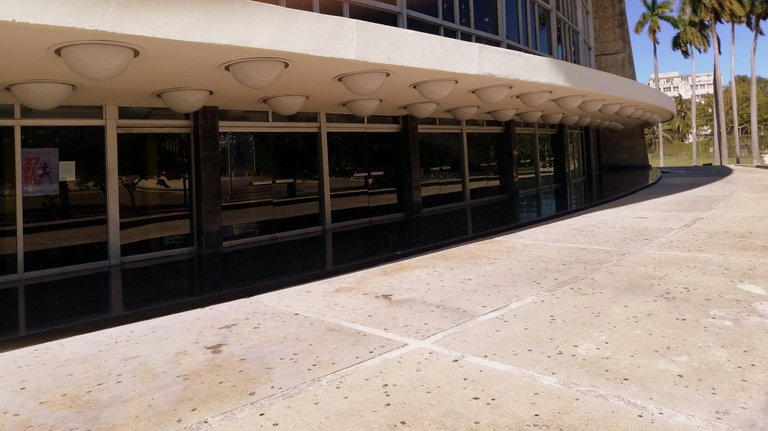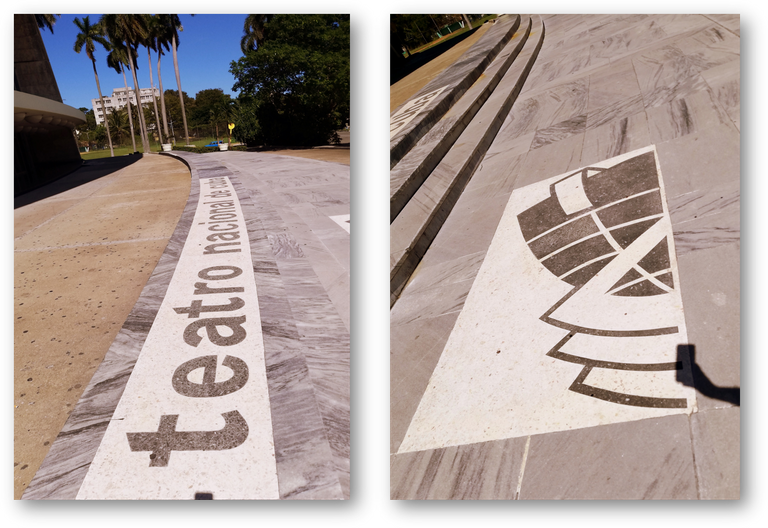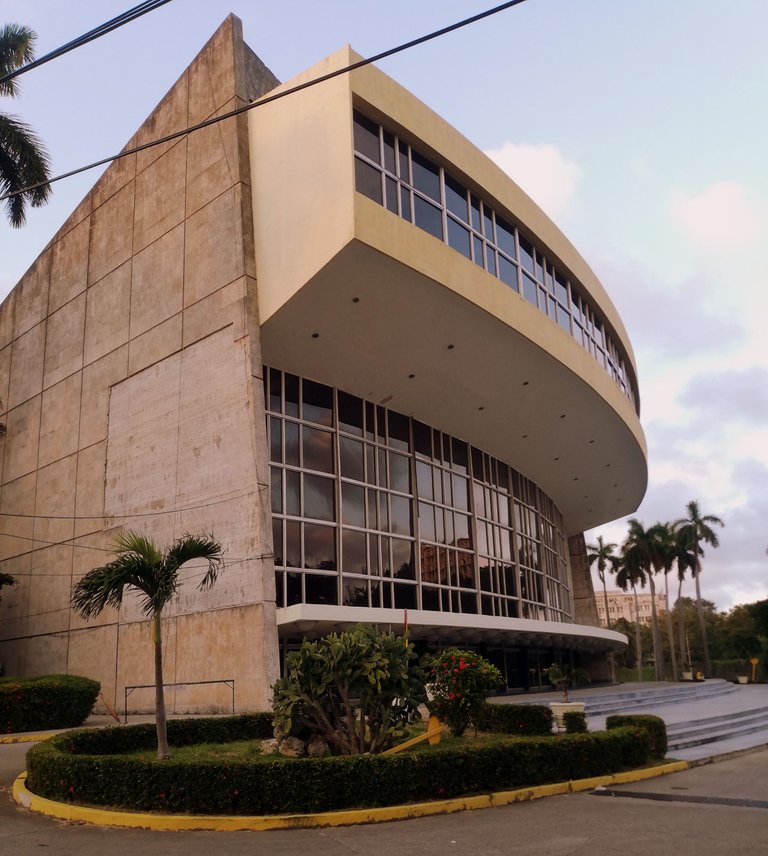 This room is very showy because the vegetation does not cover it and it has many crystals in the facade that is of semicircular form. It has round lamps on the side that embellish the entrance and provide a lot of light.
Esta sala es muy vistosa porque la vegetación no la cubre y tiene muchos cristales en la fachada que es de forma semicircular. Tiene unas lámparas redondas al lado que embellecen la entrada y aportan mucha luminosidad.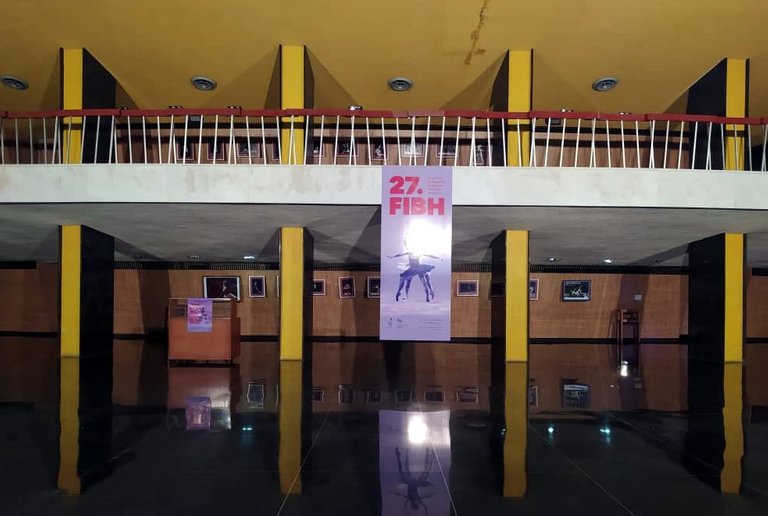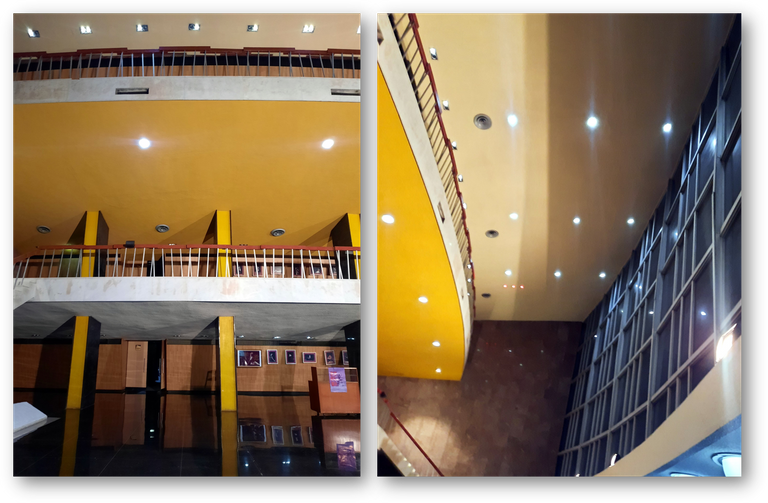 Upon entering the lobby you can see the color combination of the white floor with yellow walls, I like the walls like this, it gives liveliness to this room and everything very bright.Metal and wood railings
Al entrar en el vestíbulo se puede ver la combinación de colores del suelo de marmol negro, las paredes enchapadas en piedra y las columnas y techos amarillos, me gustan mucho el amarillo le da viveza a esta sala y todo muy luminoso.Las barandas de metal y madera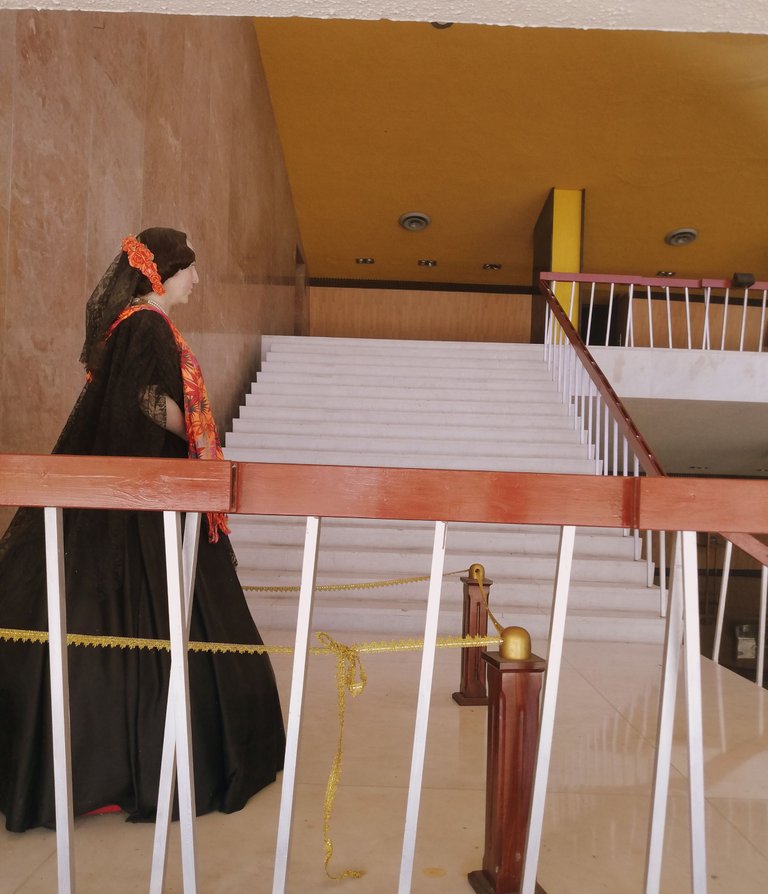 The stairs leading to the box are wide and with iron and wood railings, on the first landing of the stairs there is an allegorical sculpture of Alicia Alonso, in tribute to who was Director of our National Ballet with more than 75 years of artistic life dressed in black.
Las escaleras que llevan al palco son amplias y con barandillas de hierro y madera, en el primer rellano de la escalera hay una escultura alegórica de Alicia Alonso , en homenaje a quien fuera Directora de nuestro Ballet Nacional con mas de 75 años de vida artistica vestida de negro.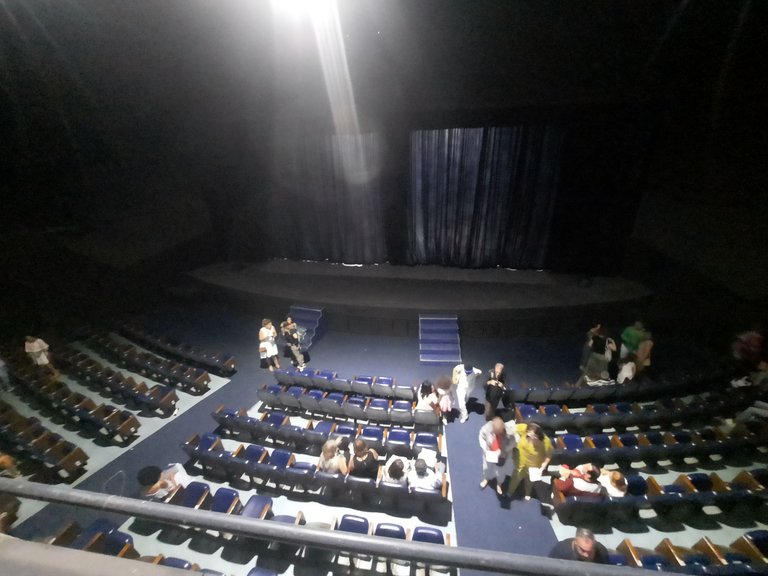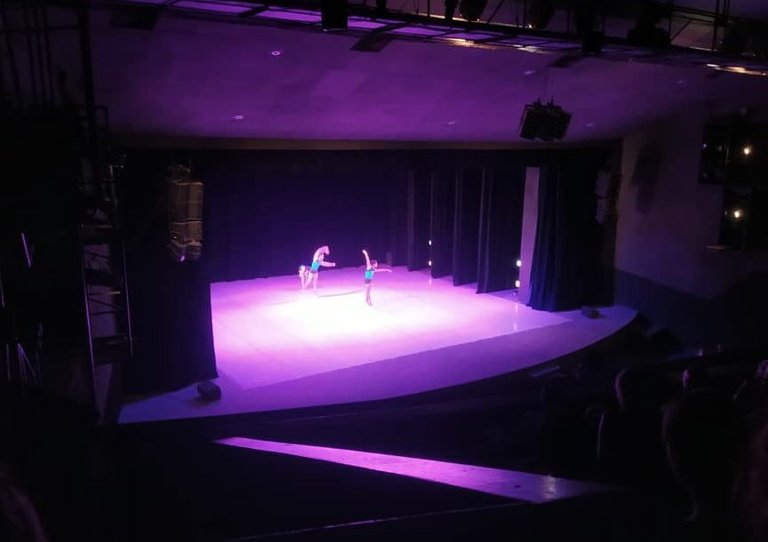 I took few photos of the interior of the Hall because it was dark and the lights directed to the stage distorted the photos, but you can see the two levels of three rows each, in this room. The stage has dark curtains and the staging is very well appreciated because I was located in one of the last rows of the box and it was perfectly observed.
Hice pocas fotos del interior de la Sala porque estaba oscuro y las luces dirigidas al escenario distorsionaban las fotos, pero se pueden ver los dos niveles de tres hileras cada uno, en esta sala. El escenario tiene telones oscuros y la puesta en escena se aprecia muy bien porque yo estaba situado en una de las últimas filas del palco y se observaba perfectamente.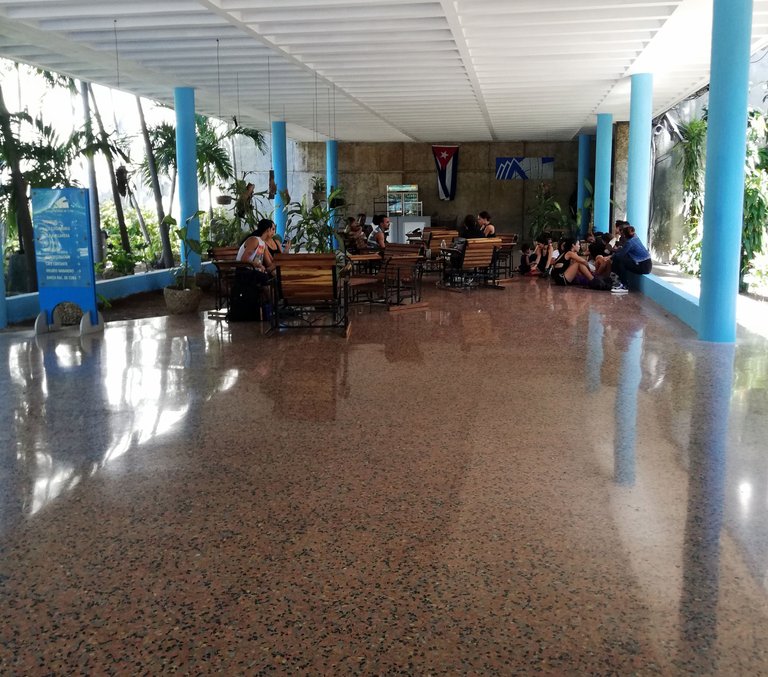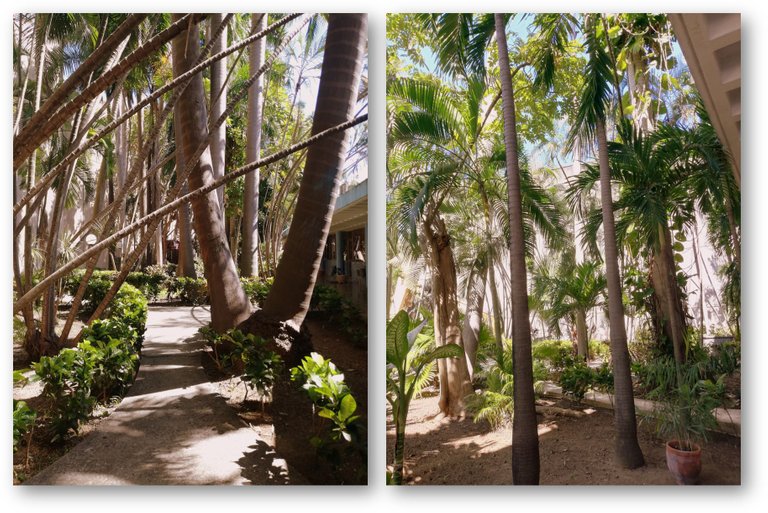 Between the two halls there is a wide hallway surrounded by beautiful gardens and at the back there is a small cafeteria, with chairs and tables in the hallway that serves the dancers and artists who attend the various workshops and courses offered by this center.
Entre las dos salas hay un amplio pasillo rodeado de hermosos jardines y al fondo hay una pequeña cafetería, con sillas y mesas en el pasillo que da servicio a los bailarines y artistas que asisten a los diferentes talleres y cursos que ofrece este centro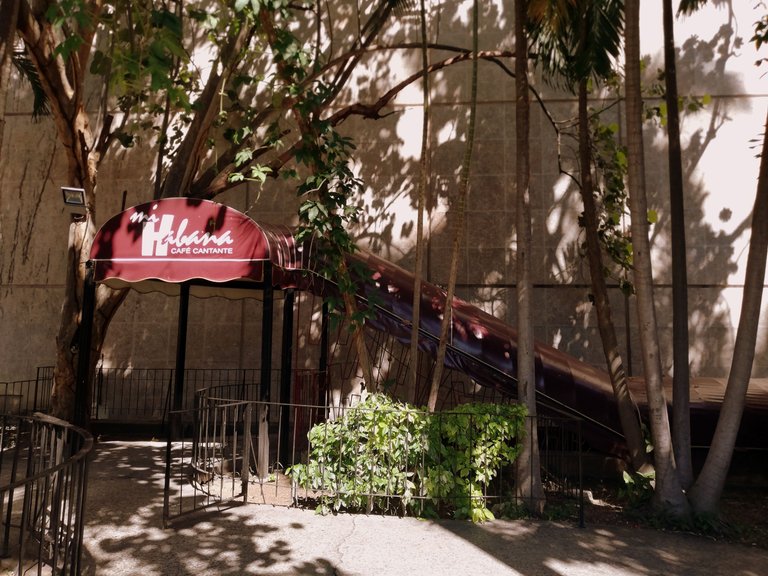 Also on the side right next to the Covarrubias Hall in front of one of its gardens there is a staircase with an awning, which leads to the basement being the entrance of the recreational center, cabaret Café Cantante "Mi Habana", has been the cradle of great orchestras where they spread their music and entertain the public who attends, although it is currently closed.
También en el lateral justo al lado de la Sala Covarrubias frente a uno de sus jardines hay una escalera con un toldo, que conduce al sótano siendo la entrada del centro recreativo, cabaret Café Cantante "Mi Habana", ha sido cuna de grandes orquestas donde difunden su música y entretienen al público que asiste, aunque actualmente está cerrado.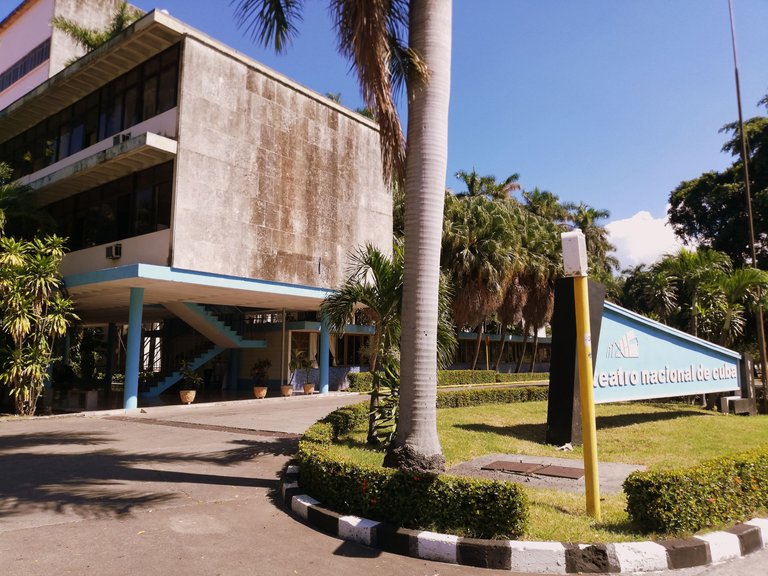 In front of the Cultural Complex, where the name of the facility is displayed, there is a building where the administrative offices are located.
Frente al Complejo Cultural , donde se muestra el nombre de la instalacion, hay un edificio donde se encuentran las oficinas administrativas.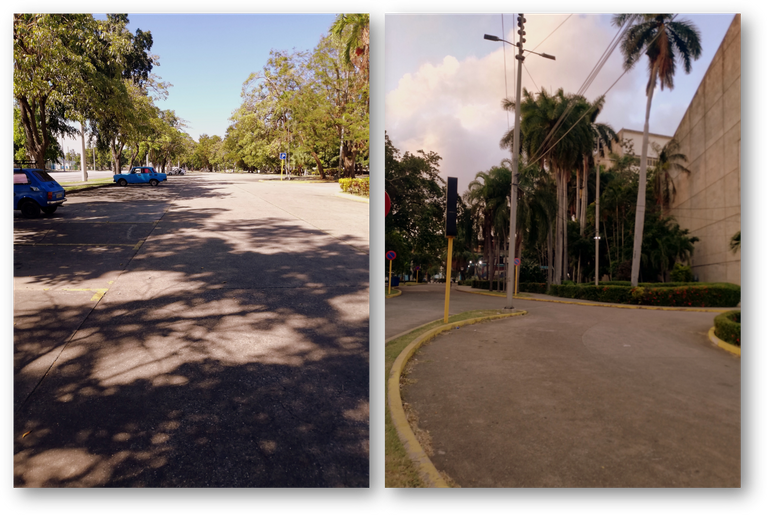 Around the center there is ample parking for vehicles among the foliage.
Alrededor del centro hay un amplio aparcamiento para vehículos entre el follaje.
Well friends I hope you liked the design, the structure, and the cultural value of this great complex that is located in a very central and modern area of Havana, greetings and hope to see you soon friends.
Bueno amigos espero que les haya gustado el diseño, la estructura, y el valor cultural de este gran complejo que se encuentra en una zona muy céntrica y moderna de La Habana, saludos y espero verlos pronto amigos.

Las fotos fueron tomadas con mi teléfono Huawei P20 lite, unidas con Powerpoint
Utilice Traductor DeepL
---
---