Parador: El Peñon del Fraile [ESP-ENG]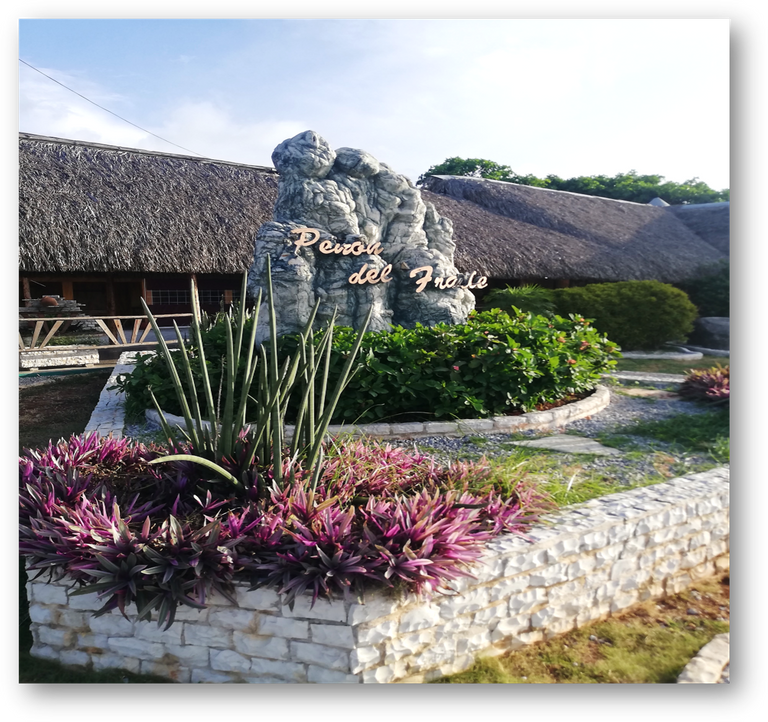 Hello my dear friends from Architecture + Design, first I want to wish you a nice day and share with you a modern construction made in a rustic style, but at the same time very durable.
I was visiting the outskirts of Havana near a town called Santa Cruz del Norte that belongs to the current Mayabeque Province. From this town you begin to advance through a tourism and nature area that borders the entire north coast of this province until you reach Matanzas. On the outskirts of this town there is a roadside Parador, it is like a gastronomic center where travelers stop to have a coffee, a sandwich or go to the bathroom. Its exact location is at Vía Blanca Km 57, Santa Cruz del Norte.
Hola mis queridos amigos de Arquitectura + Diseño, primero quiero desearles un lindo día y compartir con ustedes una construcción moderna realizada con un estilo rústico, pero a la vez muy duradera.
Estaba visitando las afueras de La Habana cerca de un pueblo llamado Santa Cruz del Norte que pertenece a la actual Provincia Mayabeque. Desde esta localidad se comienza a avanzar por una zona de turísmo y naturaleza que bordea toda la costa norte de esta provincia hasta llegar a Matanzas. A las afueras de esta localidad hay un Parador de carretera, es como un centro gastronómico donde los viajeros se detienen a tomar un café, un bocadillo o ir a los sanitarios. Su ubicación exacta es en Vía Blanca Km 57, Santa Cruz del Norte.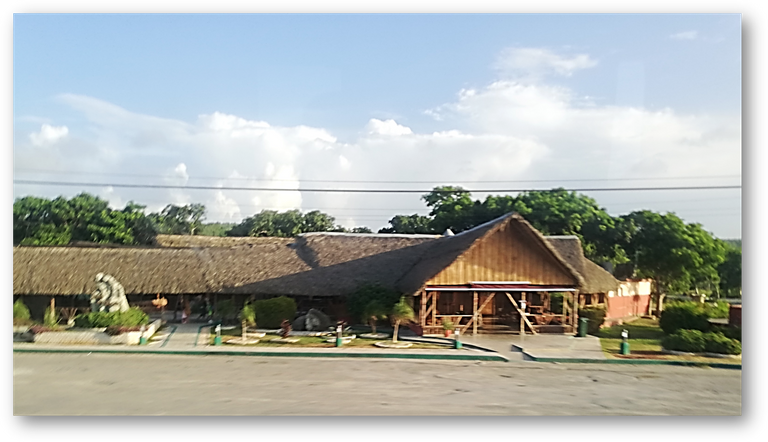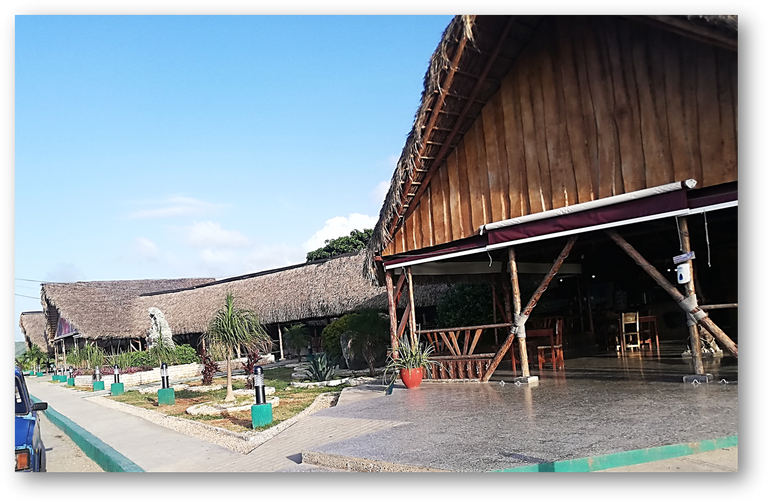 The place is called El Peñón del Fraile, I was consulting with the neighbors and its name is due to a legend that exists in the town. Near the sea there is a large rock that bears that name since due to natural causes it has shapes that resemble a Friar, so in that town there are several tourist establishments that bear this name. At the end of the publication I leave the link in case you are interested in the story is very beautiful.
Well, as I told you at the beginning, what caught my attention is that the entire structure that you see initially and is located in the outdoor area and the roofs are built entirely of wood and guano, just like the old huts that more than 60 years abounded in the fields of Cuba, there are still a few.
El lugar se llama El Peñón del Fraile, estuve consultando con los vecinos y su nombre se debe a una leyenda que existe en el pueblo. Cerca del mar hay una gran roca que lleva ese nombre ya que por causas naturales tiene formas que asemejan a un Fraile, por lo que en ese pueblo existen varios establecimientos turísticos que llevan este nombre. Al final de la publicación les dejo el link por si les interesa la historia es muy hermosa.
Bueno, como les dije al principio, lo que me llamó la atención es que toda la estructura que ven inicialmente y está ubicada en el área exterior y los techos están construidos completamente de madera y guano, al igual que los antiguos bohíos que hace más de 60 años abundaron en los campos de Cuba, todavía quedan unos pocos.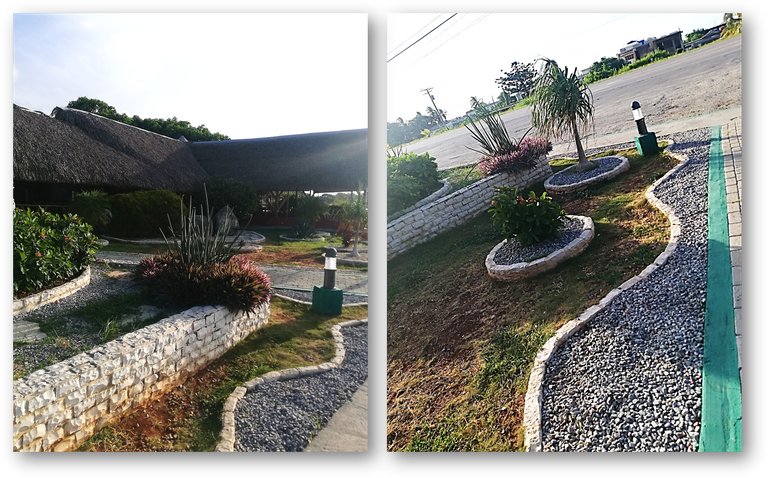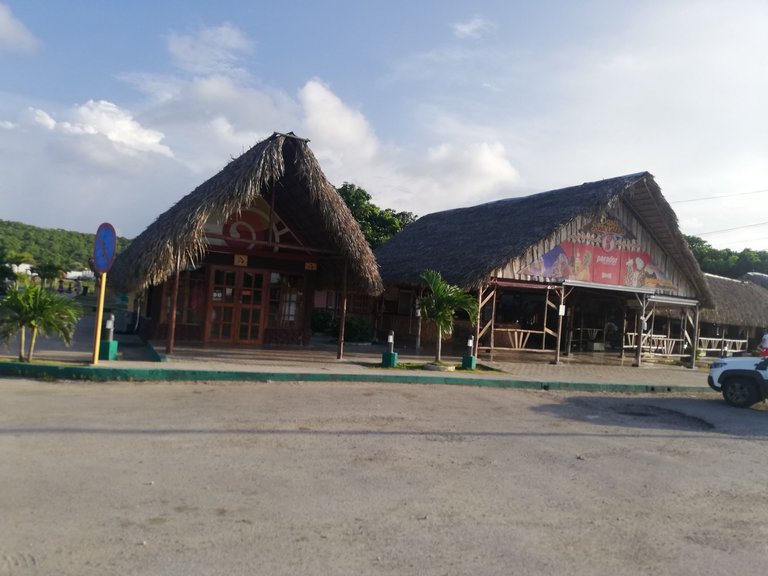 The facility is very beautiful. I especially liked that rustic look that harmonizes with the surroundings of the outskirts of the city. I was able to ask the workers of the place and they explained to me that it is more than 15 years old and I was surprised by the exquisite conservation of all the wood and ceilings.
This Parador is formed by a series of ranchones intertwined with each other, it is a very beautiful composition. The exterior area of ​​the establishment has a design that harmonizes very well with the place, the gardens have flowerbeds, lamps and paths made of small stones, it is adorned with a large stone with a large name placed, it has a large parking lot in the left side and one in front. The place is very quaint and clean.
La instalación es muy hermosa. Me gustó especialmente ese aspecto rústico que armoniza con el entorno de las afueras de la ciudad. Pude preguntar a los trabajadores del lugar y me explicaron que tiene más de 15 años y me sorprendió la conservación exquisita de todas las maderas y techos.
Este Parador está formado por una serie de ranchones entrelazados entre sí, es una composición muy hermosa. El área exterior del establecimiento tiene un diseño que armoniza muy bien con el lugar, los jardines cuentan con canteros, lámparas y caminos hechos de piedras pequeñas, está adornado con una gran piedra con el nombre colocado de gran tamaño, cuenta con un amplio estacionamiento en el lado izquierdo y uno al frente. El lugar es muy pintoresco y limpio.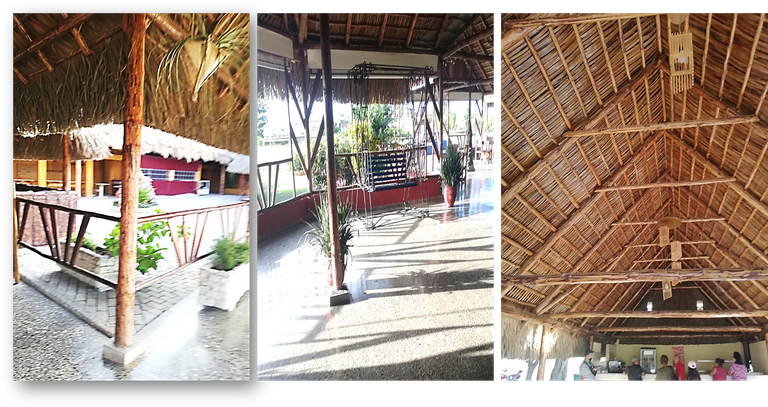 Its structure faithfully obeys this type of construction, it has the horcones that are the largest and strongest trunks to give firmness to the structure, on which the soleras, scissors and the bands that are the thinnest trunks rest, which form the structure. of the ceilings, on which the joists and cujes are fixed, which will support the guanos, which are nothing more than intertwined palm leaves. These roofs should have a slope of between 45 and 60 degrees so that rainwater runs off easily and does not accumulate and filter.
Su estructura obedece fielmente a este tipo de construcción, tiene los horcones que son los troncos más grandes y fuertes para darle firmeza a la estructura, sobre los cuales descansan las soleras, tijeras y los zuncho que son los troncos más delgados, que forman la estructura de los techos, sobre las cuales se fijan las viguetas y cujes, que sostendrán los guanos, que no son más que hojas de palma entrelazadas. Estos techos deben tener una pendiente de entre 45 y 60 grados para que el agua de lluvia escurra fácilmente y no se acumule y filtre.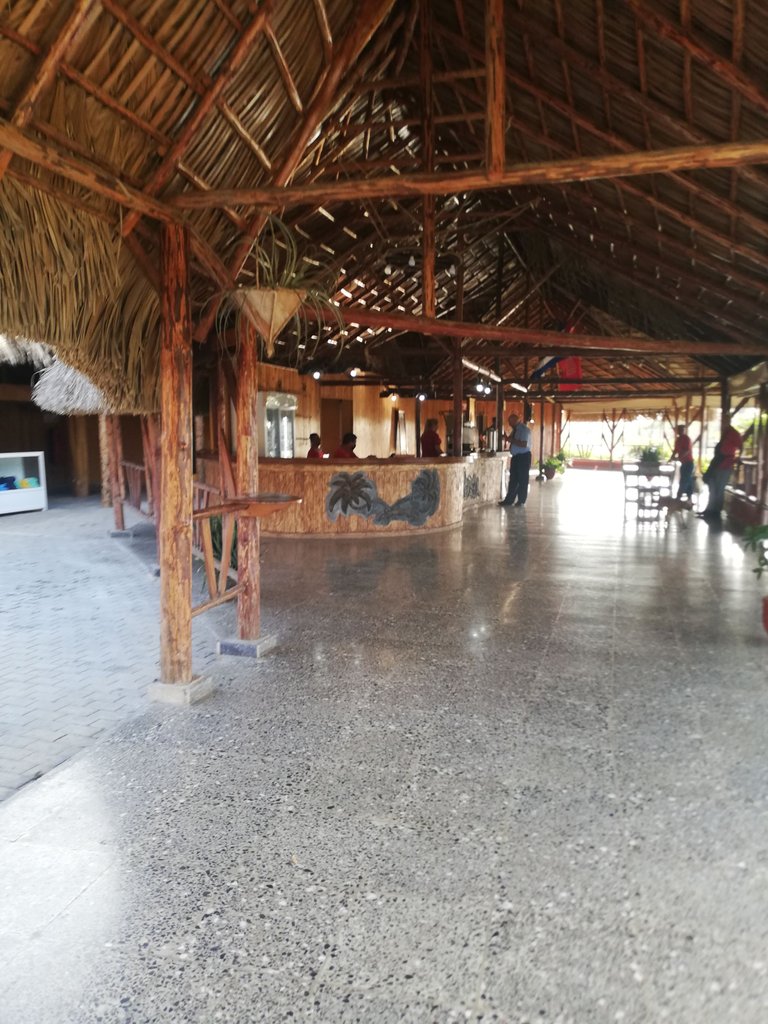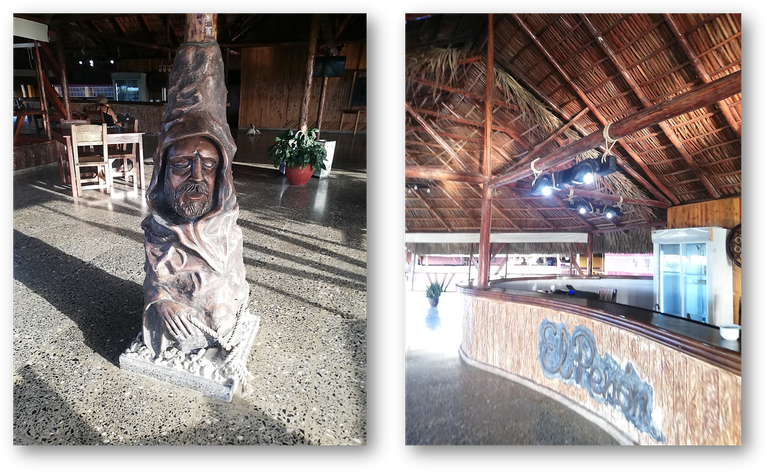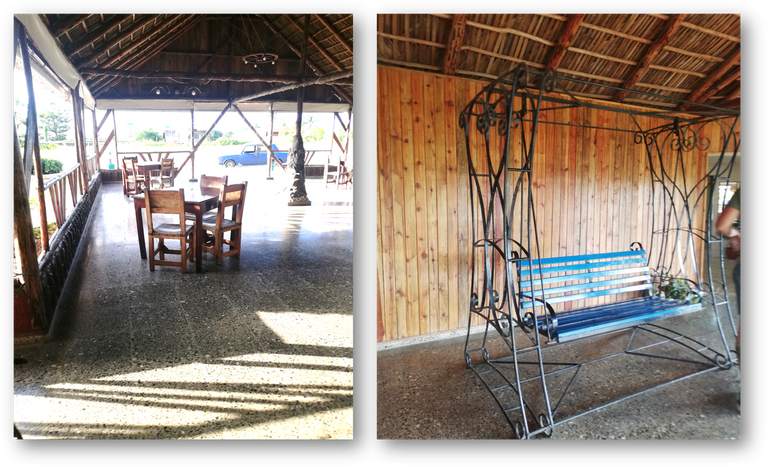 There is a ranchón throughout the entire facility that is the one that connects the ranchones of each area and that is where the clients sit. The floors of these areas are granite and the furniture is wooden tables with stools, like in country houses. In the main ranchón there is a stone carved and painted in a dark copper color in the shape of a Friar, combining with the name of the place. There is also a masonry imitation wood bar adorned with palm trees. The walls are wood veneered. In the background is the kitchen and on the left side the toilets that are made of masonry.
Hay un ranchón a lo largo de toda la instalación que es el que conecta los ranchones de cada área y que es donde se sientan los clientes. Los pisos de estas areas son de granito y los muebles son mesas de madera con taburetes, como en las casas de campo. En el ranchón principal hay una piedra tallada y pintada de color cobre oscuro con la forma de un Fraile, combinando con el nombre del lugar. También hay una barra de mampostería imitando madera adornada con palmeras. Las paredes están enchapadas de madera. Al fondo está la cocina y al lado izquierdo los sanitarios que son de mampostería.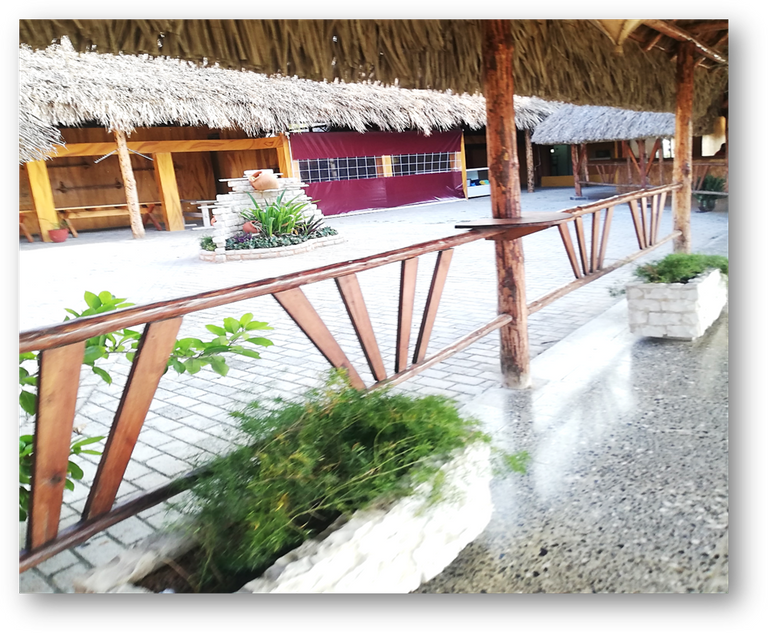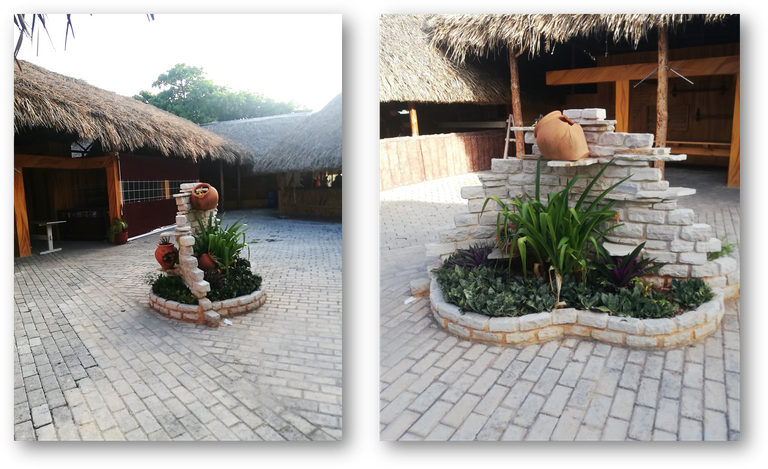 I really liked both the structural and ornamental design. In the center of the installation there is a small sunny patio with a paved adocrete floor, simulating the cobblestones of the colonial era, and there is an irregular structure made of bricks and adorned with plants and some clay pots, all very rustic and beautiful.
Me gustó mucho tanto el diseño estructural como el ornamental. En el centro de la instalación hay un pequeño patio soleado con piso de adocreto empedrado, simulando los adoquines de la época colonial, y hay una estructura irregular hecha de ladrillos y adornada con plantas y algunas tinajas de barro, todo muy rústico y bello.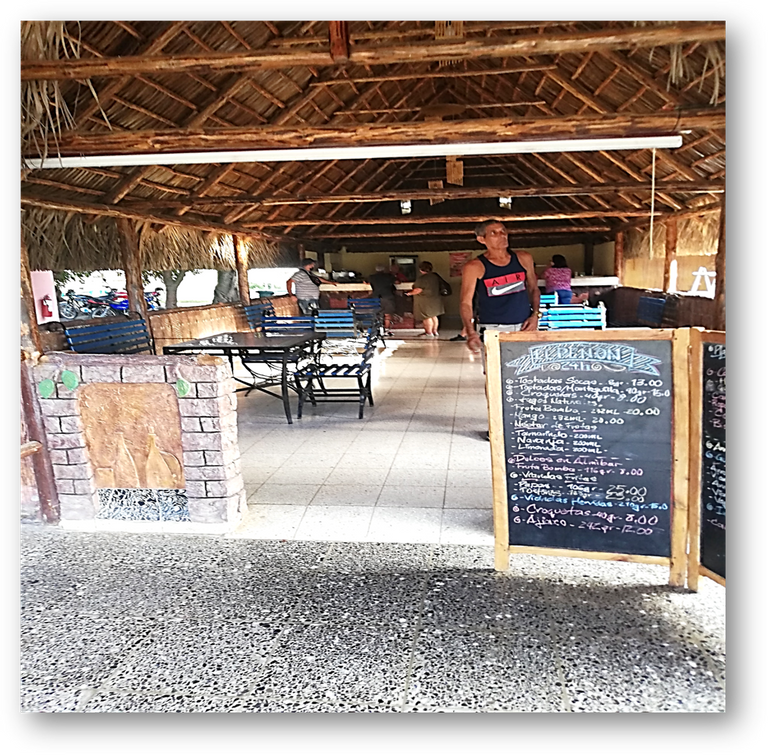 Behind the central patio there is an area where coffee and sandwiches and juices are offered with the same appearance as the rest of the installation, although in that area the seats are also rustic but made of iron and wood.
Tras el patio central hay una zona donde se ofrece café y unos bocadillos y zumos con el mismo aspecto que el resto de la instalación, aunque en esa zona los asientos también son rústicos pero de hierro y madera.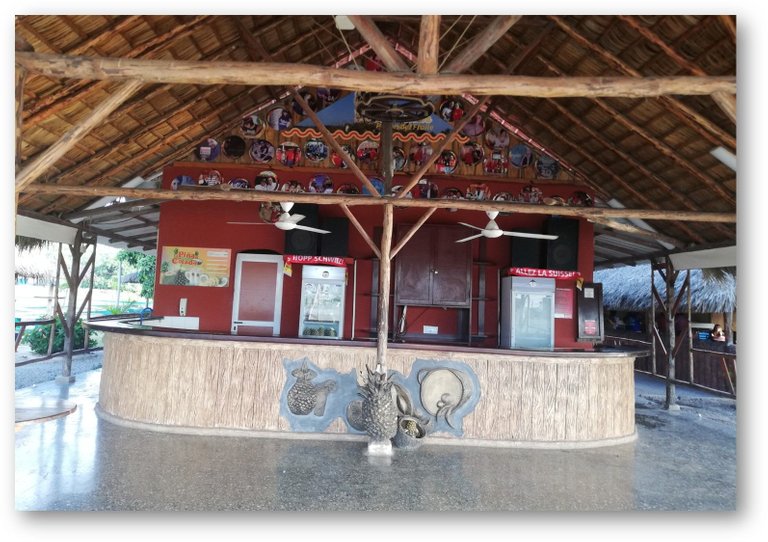 Next door there is another ranch that at that time was closed due to lack of food, it is called Piña Colada, they say they make them very good, this area has one of the most beautiful designs. On the posts where the roof begins there are several circular photos that correspond to local workers and the company that represents them, the bar in this area is made of wood although the wall is made of cement imitating wood and with some fruit inlays.
Al lado hay otro rancho que en ese momento estaba cerrado por falta de comida, se llama Piña Colada, dicen que las hacen muy buenas, esta zona tiene uno de los diseños más bonitos. Sobre los postes donde comienza el techo hay varias fotos circulares que corresponden a trabajadores del lugar y la empresa que los representa, la barra de esta zona es de madera aunque la pared es de cemento imitando madera y con algunas incrustaciones de frutas.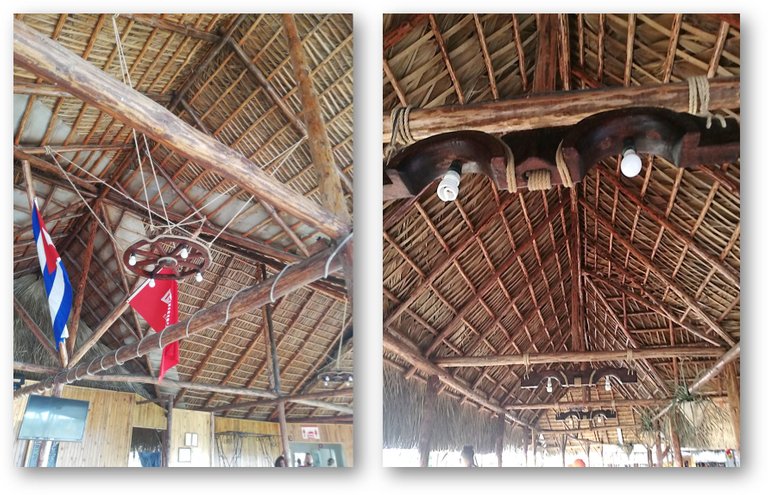 The ceiling lamps are of different shapes but all of them are made of wood, some supported by ropes, which seemed very original to me, I liked them a lot, as well as the potted plants that adorn the place.
Las lámparas de techo son de diferentes formas pero todas de madera, algunas sostenidas por cuerdas, que me parecieron muy originales, me gustaron mucho, al igual que las macetas con plantas que adornan el lugar.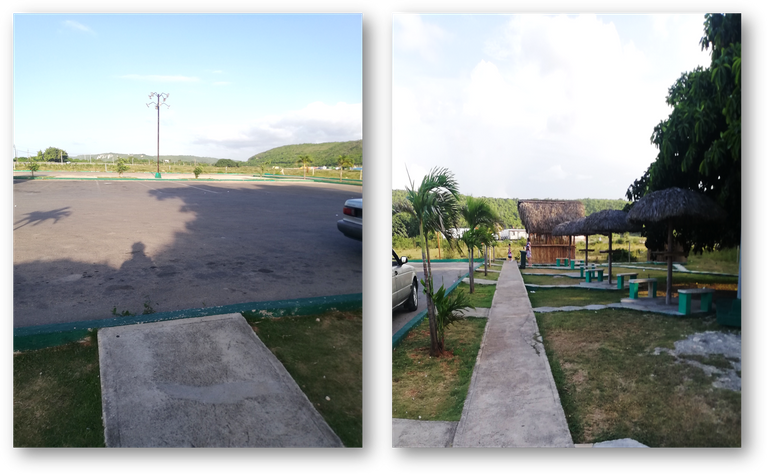 In front of the lateral parking lot there are some guano umbrellas with benches for if someone wants to sit down for a while to contemplate the landscape and get some fresh air, there is also a small ranch in the back where they sold juices.
Frente al estacionamiento lateral hay unas sombrillas de guano con bancas para si alguien quiere sentarse un rato a contemplar el paisaje y tomar un poco de aire fresco, también hay un pequeño rancho en la parte de atrás donde venden jugos.
Well friends, I really liked this place and I wanted to share it with you, I hope you all like it, a cordial greeting and we will continue to see each other to share new experiences, see you.
Bueno amigos me gustó mucho este lugar y quise compartilo con ustedes, espero que sea del agrado de todos , un cordial saludo y nos seguiremos viendo para compartir nuevas experiencias, nos vemos.

Las fotos fueron tomadas con mi teléfono Huawei P20 lite, unidas con PicCollage
utilicé el Traductor de google
For some technical details, please refer to the following page / Para consultar algunos detalles tecnicos
Fuente
---
---