Visit to the National Sanctuary of San Lazaro in Havana. [ESP-ENG]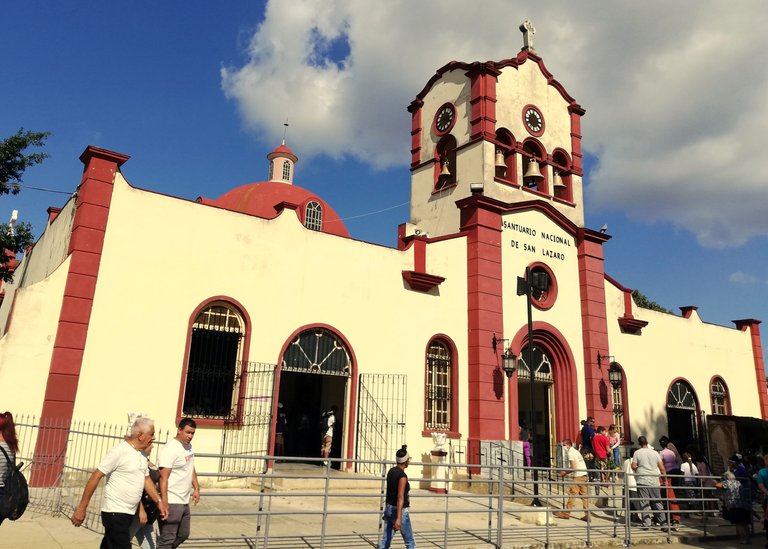 Greetings friends of this beautiful community Arquitectura+Diseño, on Saturday I went with my mom and my uncle to the Sanctuary of San Lazaro which is located 4km from Santiago de las Vegas, in a small town called Rincon, in Havana, it is quite far from the center of the city.
In this Sanctuary every year on December 17 there is a large pilgrimage of thousands of Cubans, it begins 2 or 3 days before so we went in advance because in those days it is very difficult to reach the place, so we went on the 10th, that is, 7 days before and despite taking that precaution we found a large crowd in the place, there we were explained that during the month of December always remains so. It is historically the biggest religious manifestation of the Cuban people.
Saludos amigos de esta hermosa comunidad Arquitectura+Diseño, el sábado fui con mi mamá y mi tío al Santuario de San Lázaro que se encuentra a 4km de Santiago de las Vegas, en un pueblito llamado Rincón, en La Habana, está bastante alejado del centro de la ciudad.
En este Santuario todos los años el 17 de diciembre se realiza una gran peregrinación de miles de cubanos, comienza 2 o 3 días antes por lo que fuimos con anticipación ya que en esos días es muy difícil llegar al lugar, así que fuimos el día 10, es decir, 7 días antes y a pesar de tomar esa precaución nos encontramos con una gran multitud en el lugar, allí nos explicaron que durante el mes de diciembre siempre se mantiene así. Es históricamente la mayor manifestación religiosa del pueblo cubano.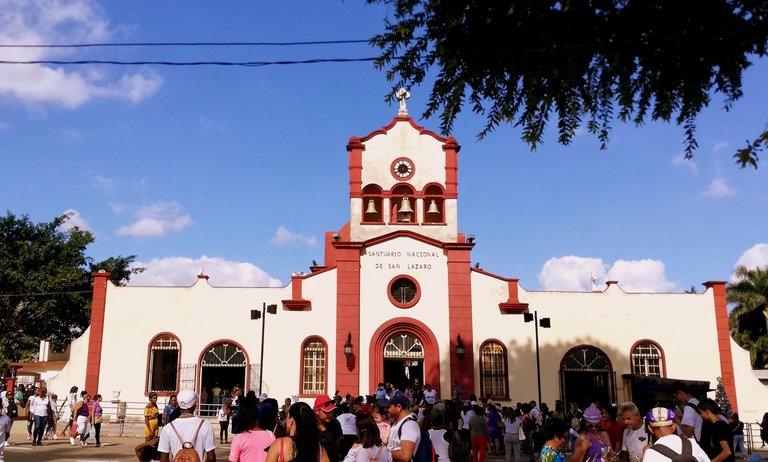 As always, I took pictures to show you this sanctuary that represents so much for the Cuban people, because independently of its historical-religious value, it also has a great architectural value.
Como siempre, tomé fotos para mostrarles este santuario que tanto representa para el pueblo cubano, porque independientemente de su valor histórico-religioso, también tiene un gran valor arquitectónico.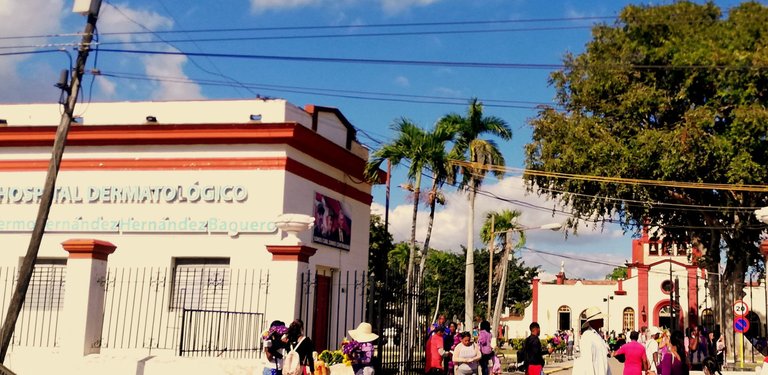 At the main entrance, on the left, are the offices of the Dermatological Hospital, the hospital is located at the back of the Sanctuary, which was the purpose of creating this space, since it was necessary to have a place to treat skin ailments, previously it was called Hospital de los Leprosos (Leper's Hospital). In that place a church was built for the sick to pray and give tranquility to their spirit, it was never thought that his fame would reach all parts of the country attributing miraculous powers to San Lazaro, hence anyone who has any ailment or condition mainly of the skin or bones come to pray to him and invoke his miracles.
En la entrada principal, a la izquierda, se encuentran las oficinas del Hospital Dermatológico, el hospital se encuentra en la parte posterior del Santuario, que fue el propósito de crear este espacio, ya que era necesario contar con un lugar para tratar padecimientos de la piel, anteriormente se llamaba Hospital de los Leprosos. En ese lugar se construyó una iglesia para que los enfermos rezaran y dieran tranquilidad a su espíritu , nunca se pensó que su fama llegaría a todas partes del país atribuyéndole poderes milagrosos a San Lázaro, de ahí que todo aquel que tiene alguna dolencia o afección principalmente de la piel o huesos acude a rezarle e invocar sus milagros.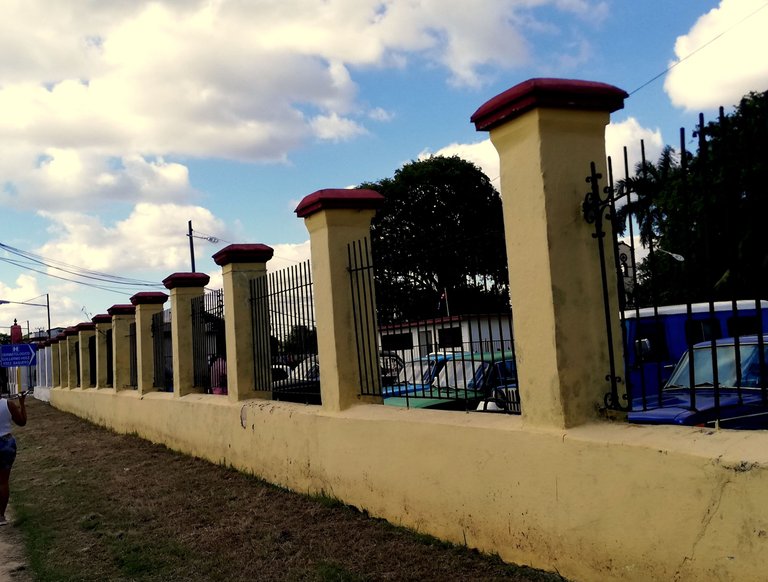 Well, the entire sanctuary is surrounded by a wall with bars.
Pues bien, todo el santuario está rodeado por un muro con rejas.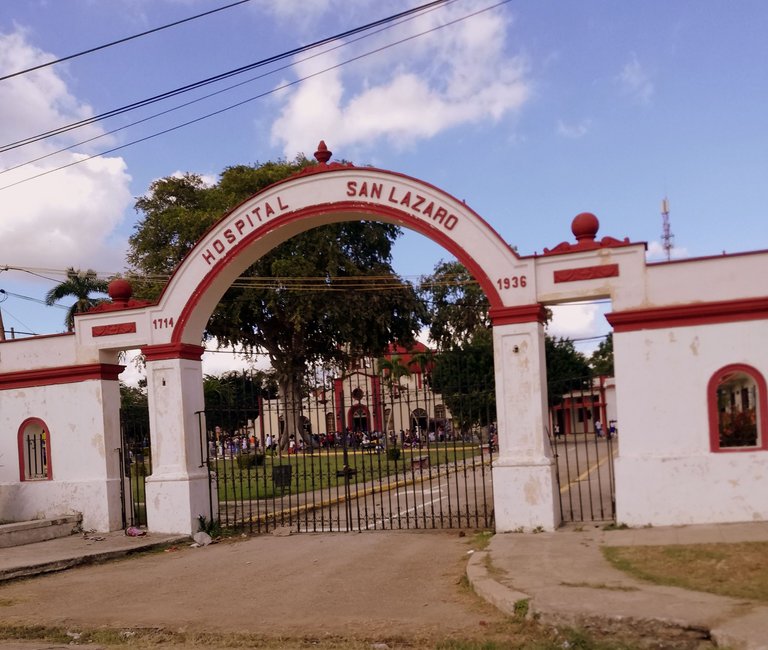 One of the entrances has an arch where Hospital San Lazaro is reflected, this entrance remains closed. At each end of the central arch there are two years 1714 and 1936 which were the years it took to consolidate the construction of the hospital and the church.
Una de las entradas tiene un arco donde se refleja Hospital San Lázaro, esta entrada permanece cerrada. En cada extremo del arco central hay dos años 1714 y 1936 que fueron los años que tardó en consolidarse la construcción del hospital y la iglesia.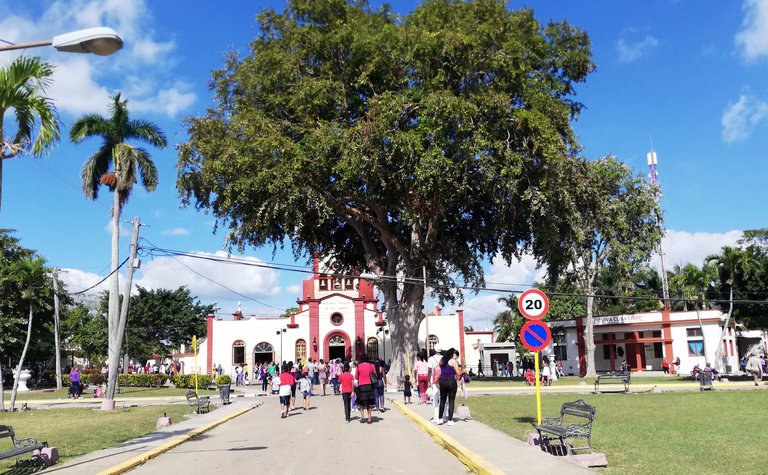 There is a wide path that leads directly to the church. It is a path of about 50 meters, where there is a leafy tree and beautiful gardens.
Hay un camino ancho que lleva directamente a la iglesia. Es un camino de unos 50 metros, donde hay un frondoso árbol y hermosos jardines.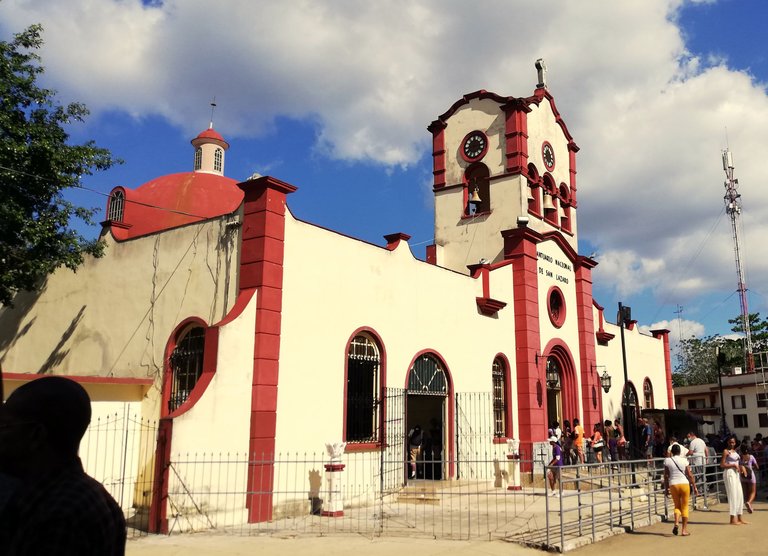 The church had its origin, with a single central nave and was constantly renovated and enlarged until 1990, which is why, according to the bibliography reviewed, the church does not have a defined architectural style, although there are traces of colonial baroque and eclecticism.
La iglesia tuvo su origen, con una sola nave central y fue constantemente renovada y ampliada hasta 1990, es por ello que, según la bibliografía revisada, la iglesia no tiene un estilo arquitectónico definido, aunque hay vestigios del barroco colonial y del eclecticismo.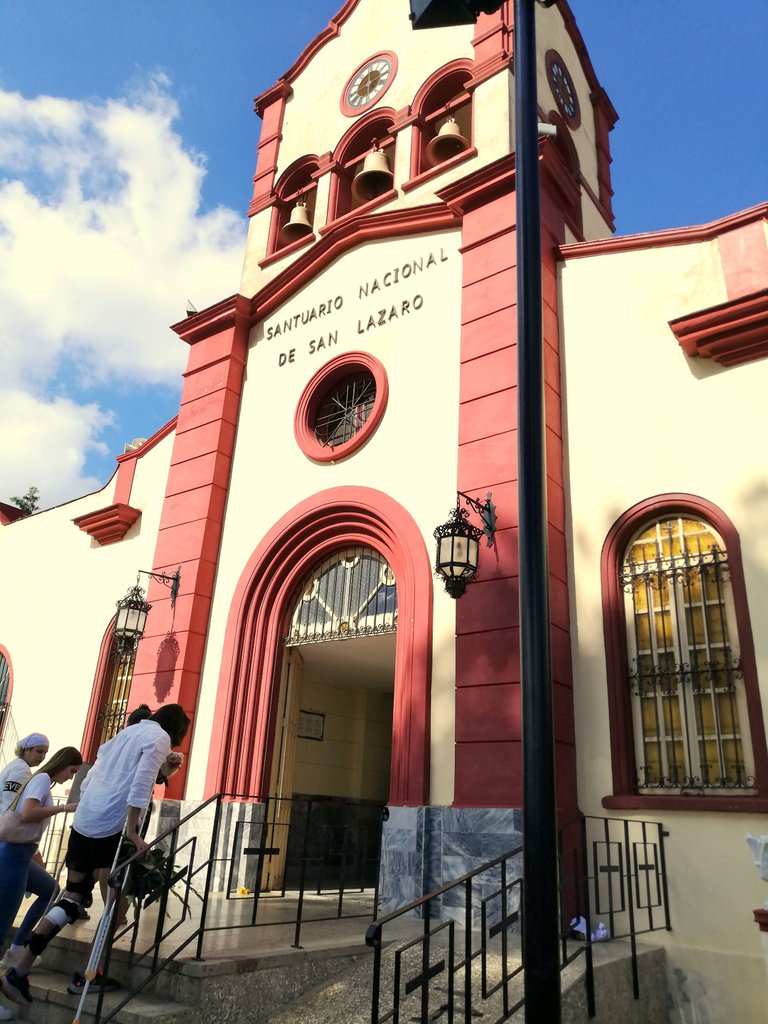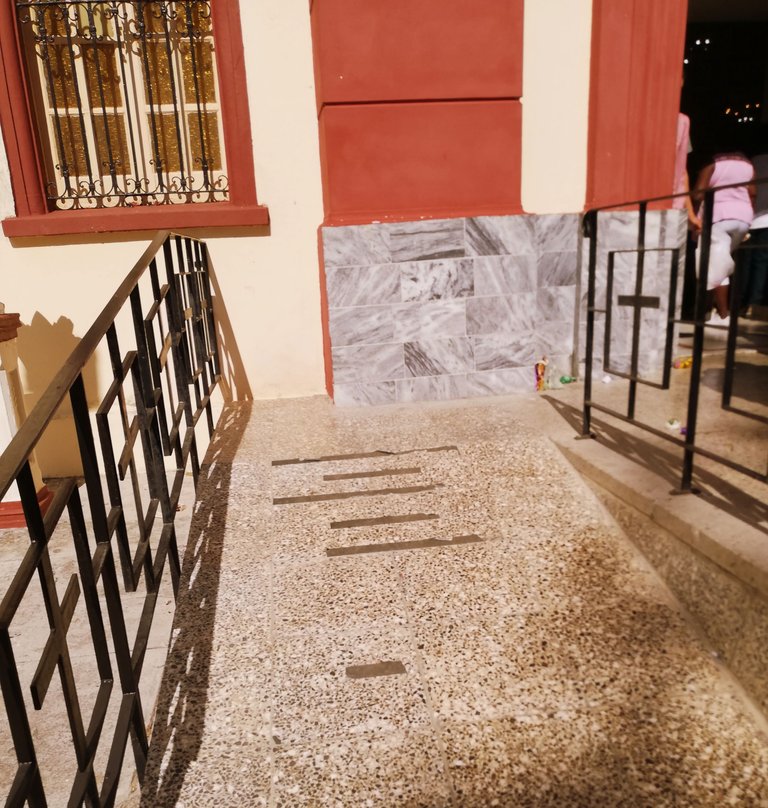 Before reaching the entrance door of the church you have to climb some steps, but as this church is attended by many sick people with wheelchairs and crutches, ramps were made on the sides of the main staircase.
Antes de llegar a la puerta de entrada de la iglesia hay que subir algunos escalones, pero como a esta iglesia acuden muchos enfermos con sillas de ruedas y muletas, se hicieron rampas a los lados de la escalera principal.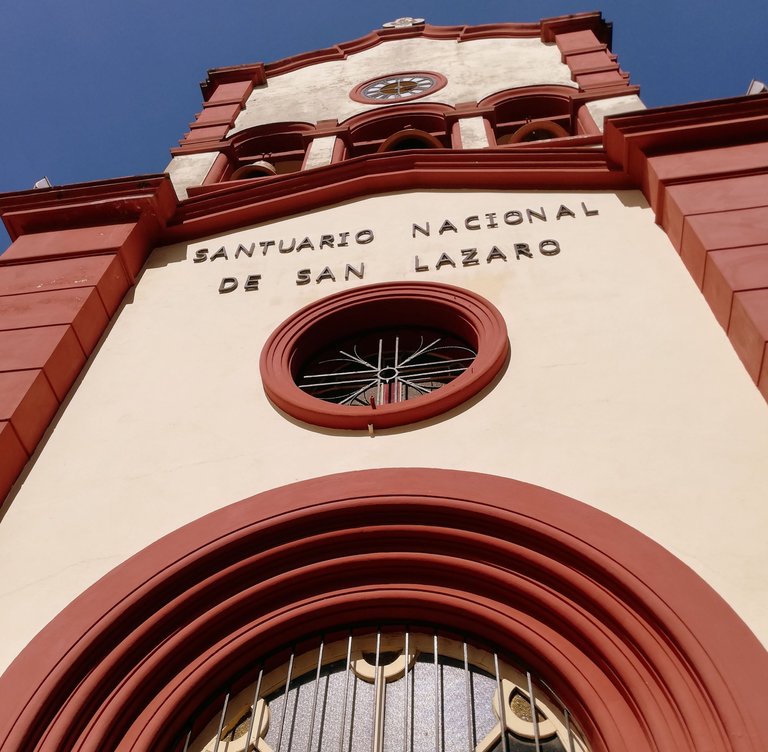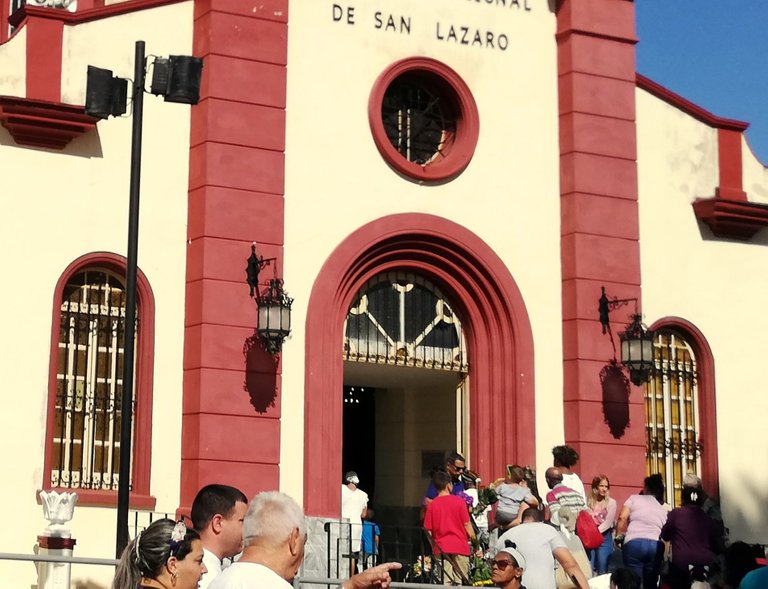 It has a very beautiful and wide arched entrance door, above it there is a roundel that has an iron cross with crystals. The upper semicircle of the arch of the door has crystals and a grille that covers it, on both sides of the main door there are two arched windows and in the two adjacent naves that are also part of the facade on each side there is a door and a window with semicircular arches respecting the original design.
Tiene una puerta de entrada en arco muy hermosa y ancha, sobre ella hay un redondel que tiene una cruz de hierro con cristales. El semicírculo superior del arco de la puerta tiene cristales y una reja que lo cubre, a ambos lados de la puerta principal hay dos ventanas en arco y en las dos naves contiguas que también forman parte de la fachada a cada lado hay una puerta y una ventana con arcos de medio punto respetando el diseño original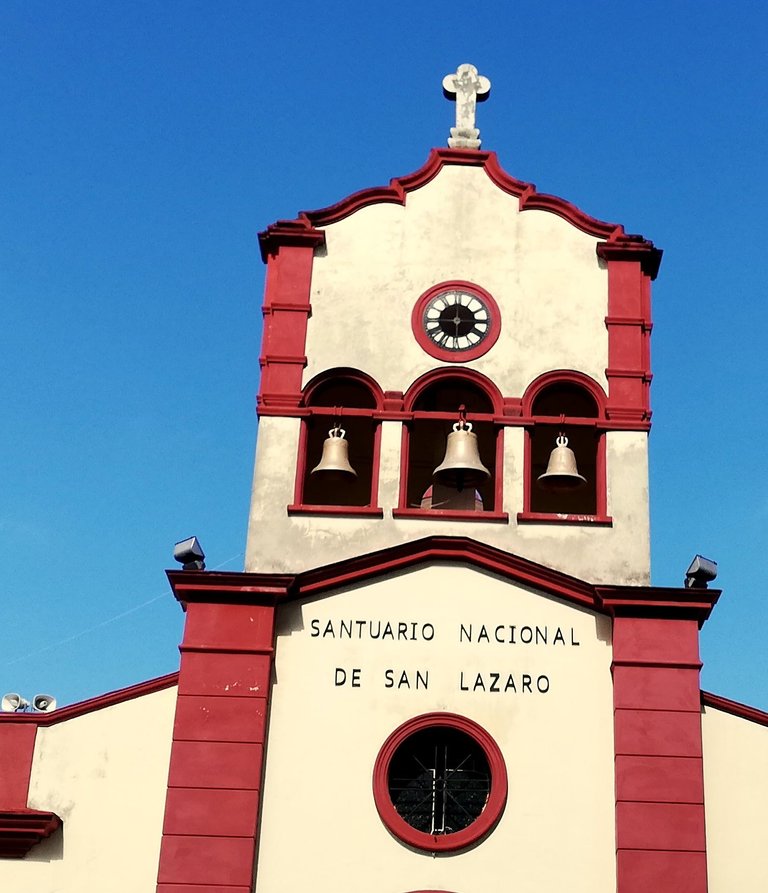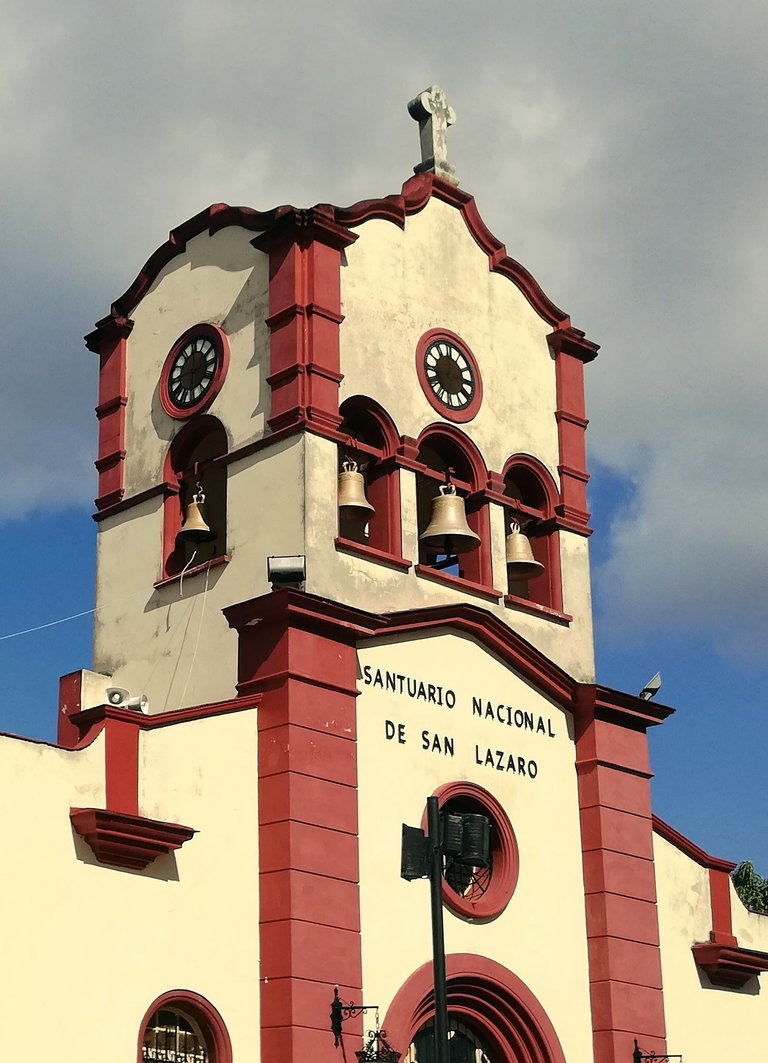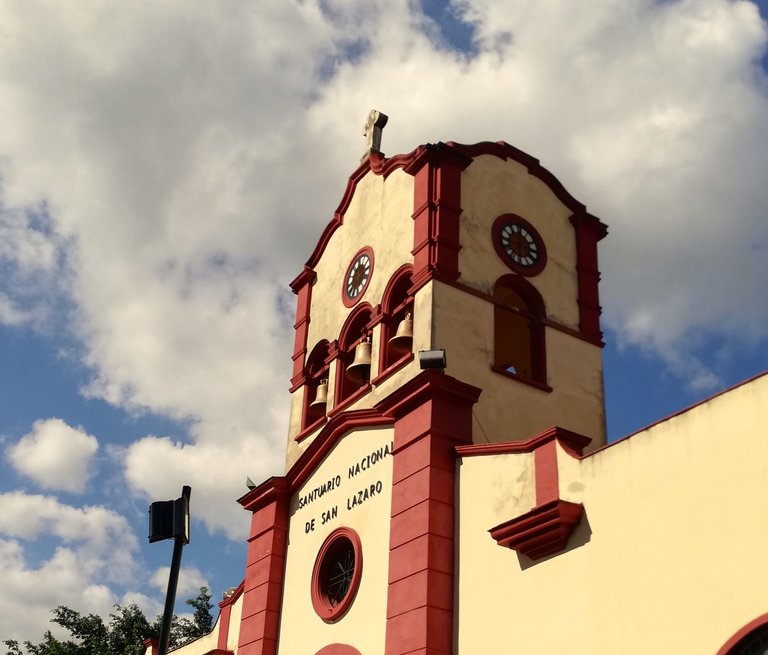 In the upper part of the facade is the belfry with 3 bells in the center hanging from small semicircular arches and above them in the center a clock with Roman numerals and at the top a cross with round points. On both sides of the bell tower there are two arches equal to the front ones, and an equal clock, what in one of those arches the bell is missing.
En la parte superior de la fachada se encuentra el campanario con 3 campanas en el centro que cuelgan de pequeños arcos de medio punto y sobre ellas en el centro un reloj con números romanos y en la parte superior una cruz con puntas redondas. A ambos lados del campanario hay dos arcos iguales a los frontales, y un reloj igual, lo que en uno de esos arcos falta la campana.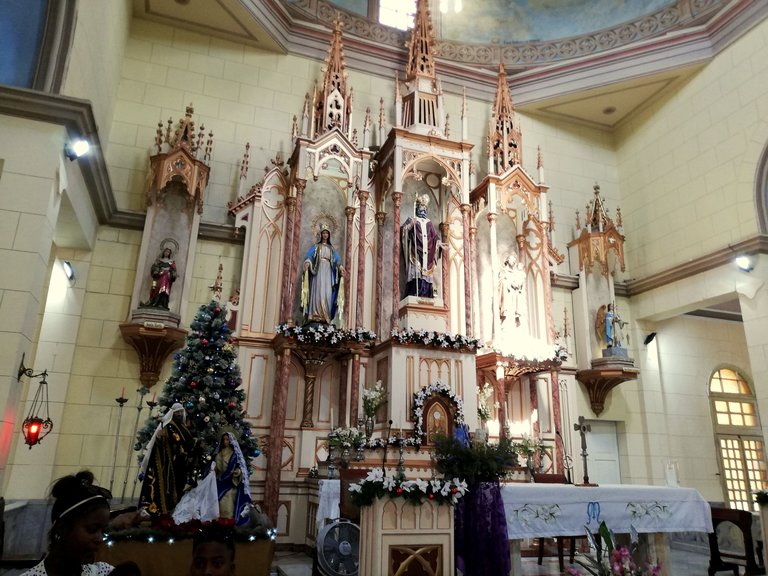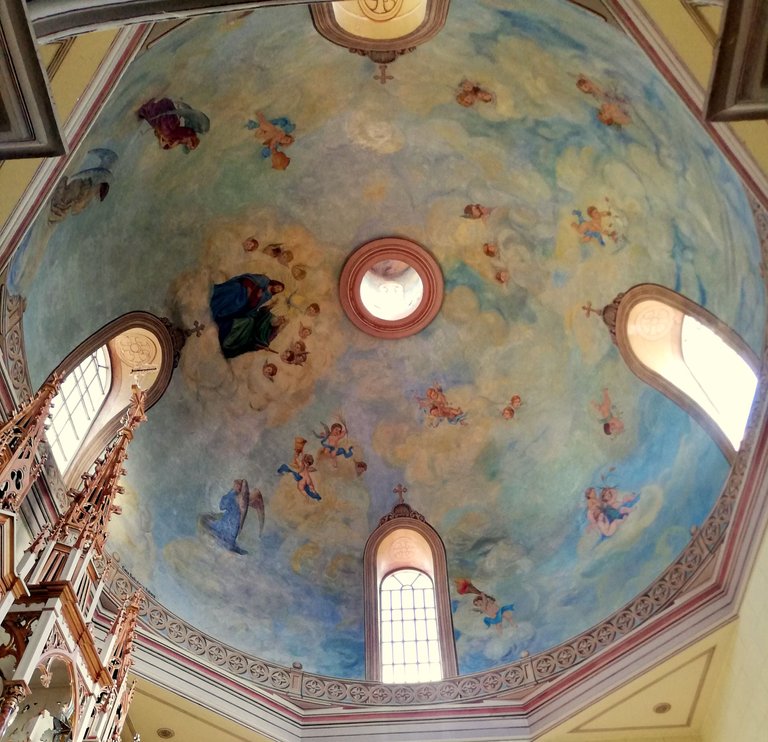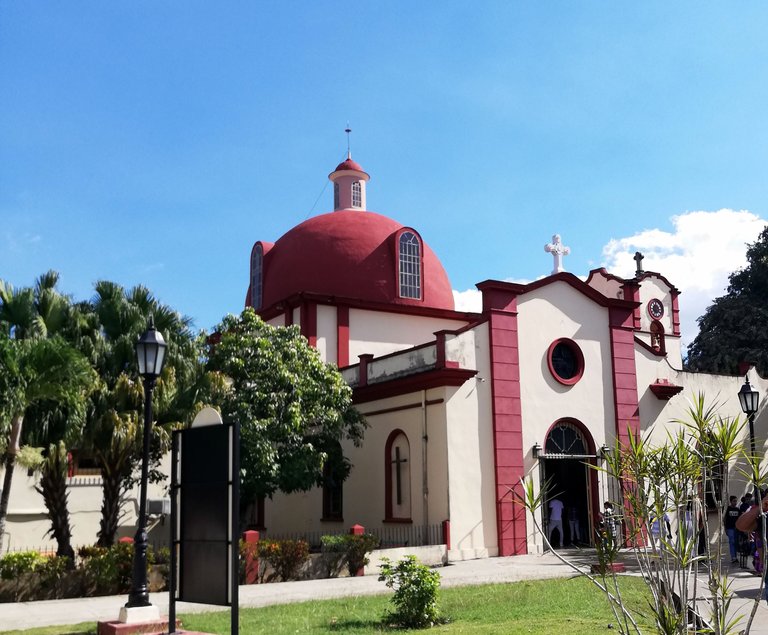 Upon entering just in front of the door we find the main altar of San Lazaro Obispo and above it a large dome painted in blue with angels. This dome was built in the 1950's and has four arched windows. From the outside you can see the dome protruding from the building, which gives a very nice look to the church.
Al entrar justo enfrente de la puerta encontramos el altar mayor de San Lázaro Obispo y sobre él una gran cúpula pintada de azul con ángeles. Esta cúpula fue construida en los años 50 y tiene cuatro ventanas con forma de arcos. Desde el exterior se puede ver la cúpula sobresaliendo del edificio, lo que da un aspecto muy bonito a la iglesia.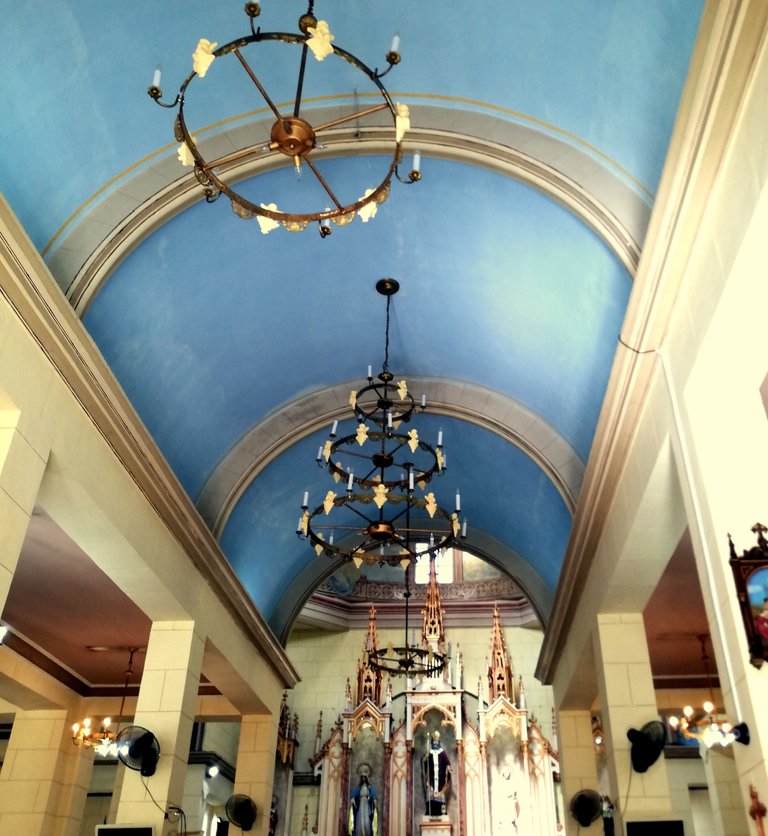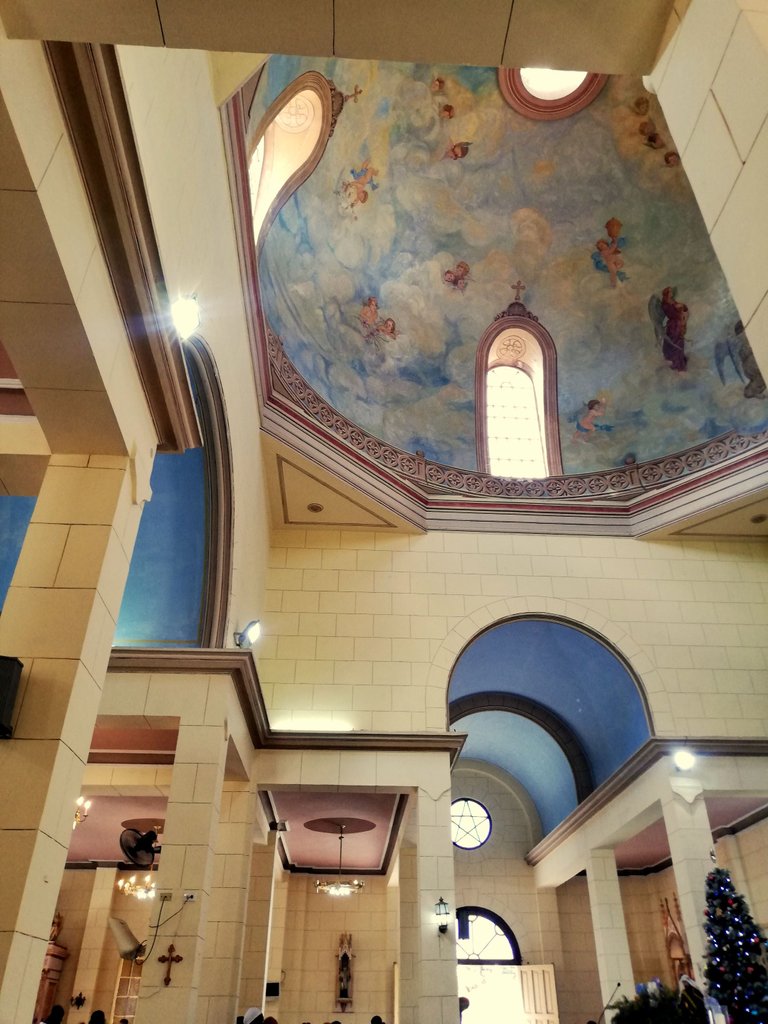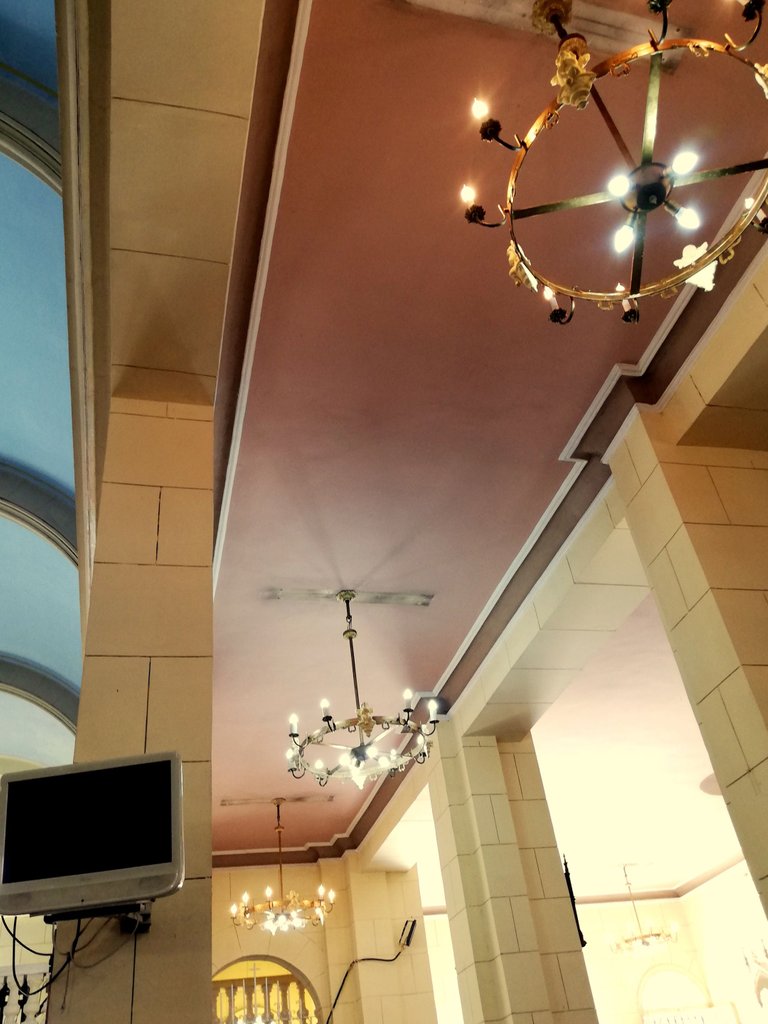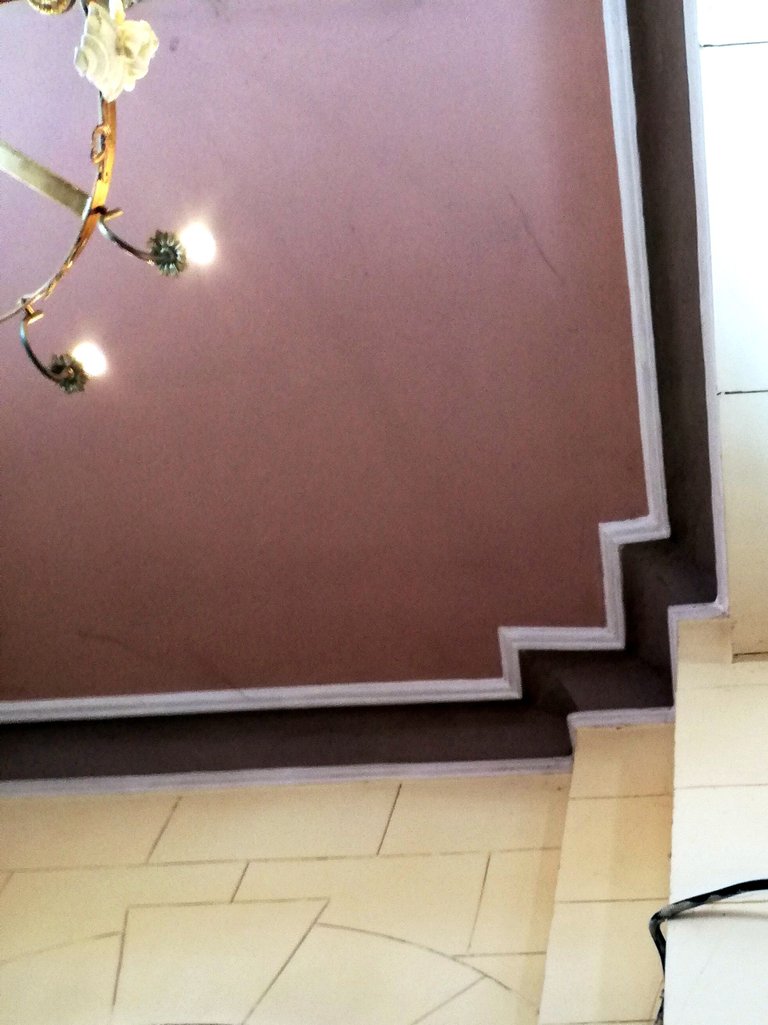 On the ceiling there are three rows of blue arches leading to the large central dome over the main altar and running along the central nave and side aisles. In these arches there are round chandeliers.
The rest of the ceiling is a little lower and is painted in beige and carmelite ending in some very nice decorations in the vicinity of the wall.
The columns are straight stone veneered and are located on both sides of the central pavilion.
En el techo hay tres filas de arcos azules que conducen a la gran cúpula central sobre el altar mayor y recorren la nave central y las laterales. En estos arcos hay lamparas redondos.
El resto del techo es un poco más bajo y está pintado en beige y carmelita terminando en unas decoraciones muy bonitas en las proximidades de la pared.
Las columnas son rectas chapadas en piedra y están situadas a ambos lados del pabellón central.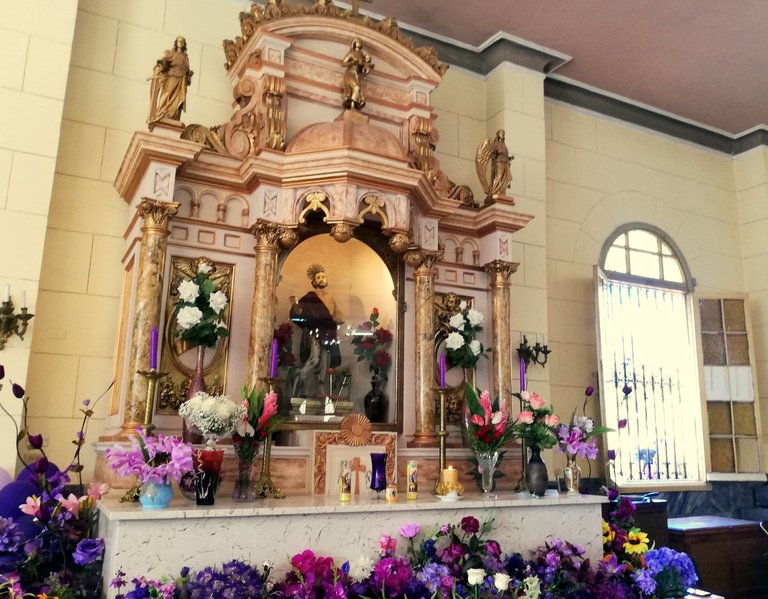 To the left of the main altar is the most visited altar of the church, that of San Lázaro Milagroso, with neoclassical and romantic elements, it was almost a feat to reach it in the crowd.
A la izquierda del altar mayor se encuentra el altar más visitado de la iglesia, el de San Lázaro Milagroso, con elementos neoclásicos y románticos, fue casi una proeza alcanzarlo entre la multitud.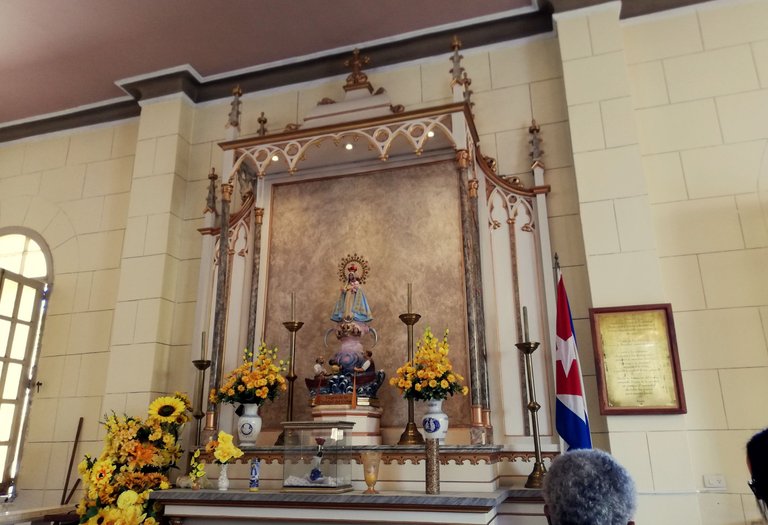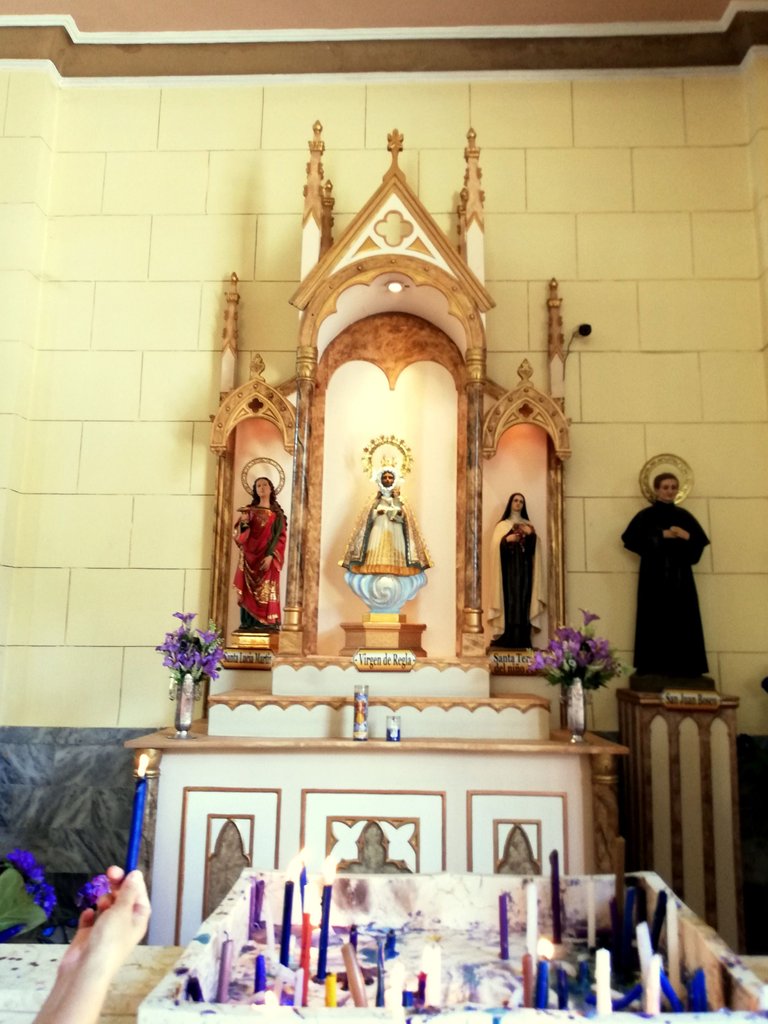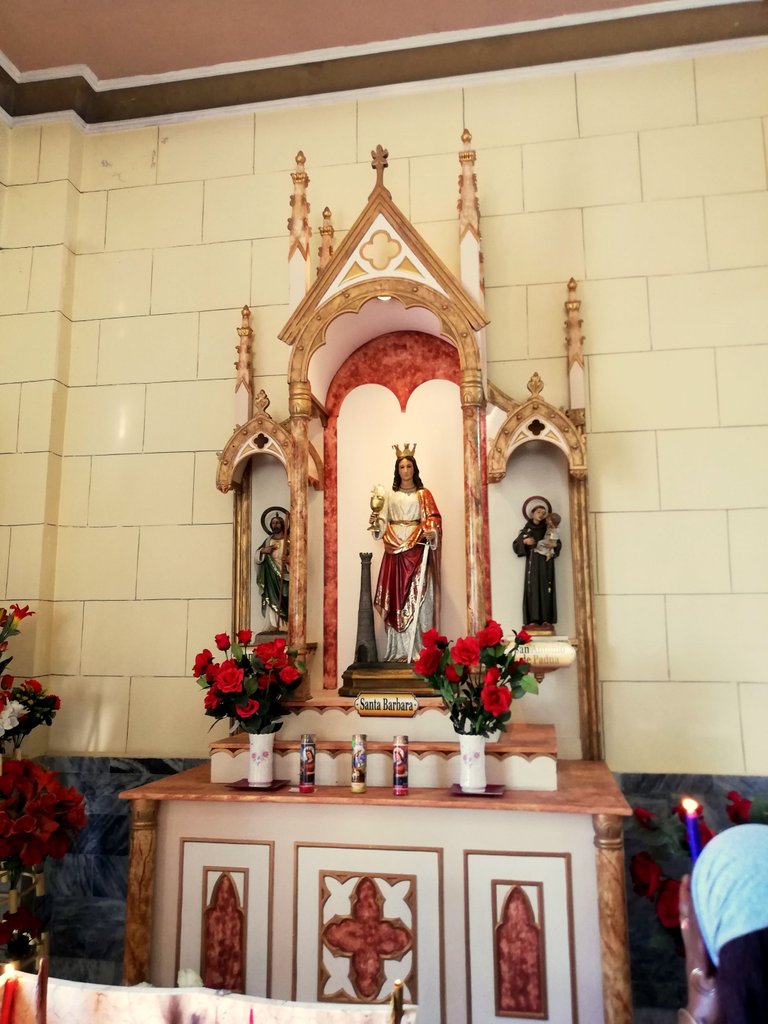 On the right side are the altars of the Virgin of Charity, called the patron saint of Cuba and the Virgin of Regla, the owner of the waters, leaving one of the sides of the church you pass in front of the Virgin of Santa Barbara, all these deities that I mention are the most revered by the people of Cuba, which enhances the importance of this church.
En el lado derecho están los altares de la Virgen de la Caridad, llamada la patrona de Cuba y la Virgen de Regla, la dueña de las aguas, saliendo por uno de los lados de la iglesia se pasa frente a la Virgen de Santa Bárbara, todas estas deidades que menciono son las más veneradas por el pueblo de Cuba, lo que realza la importancia de esta iglesia.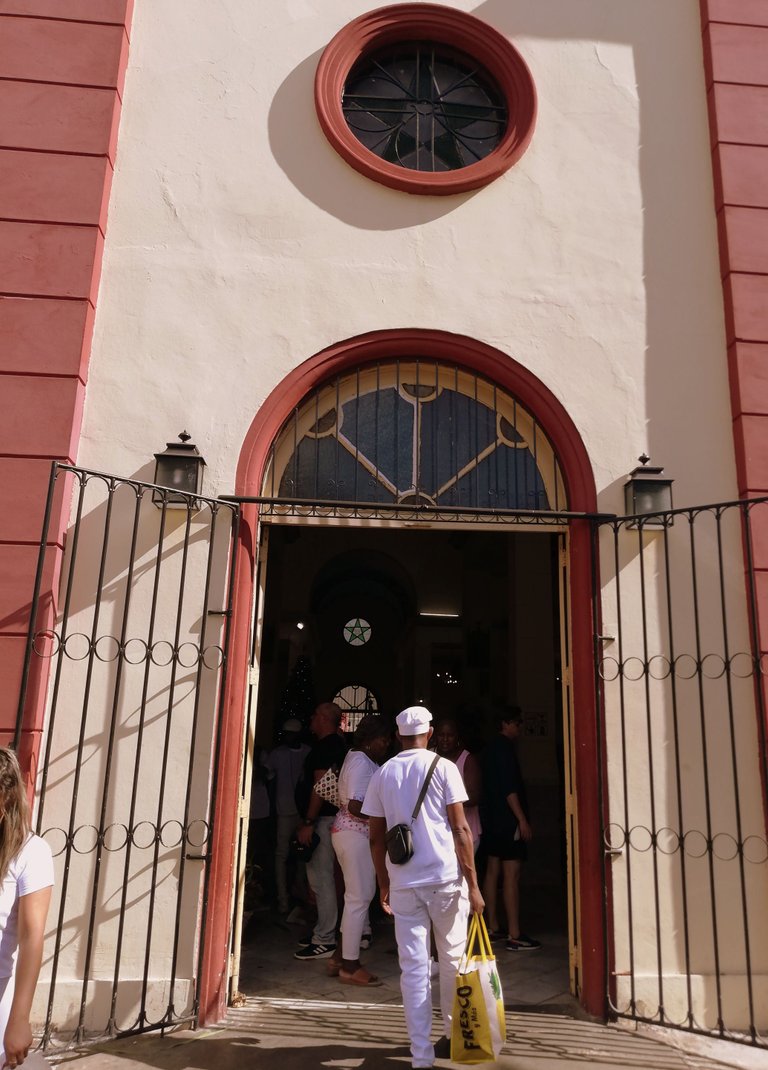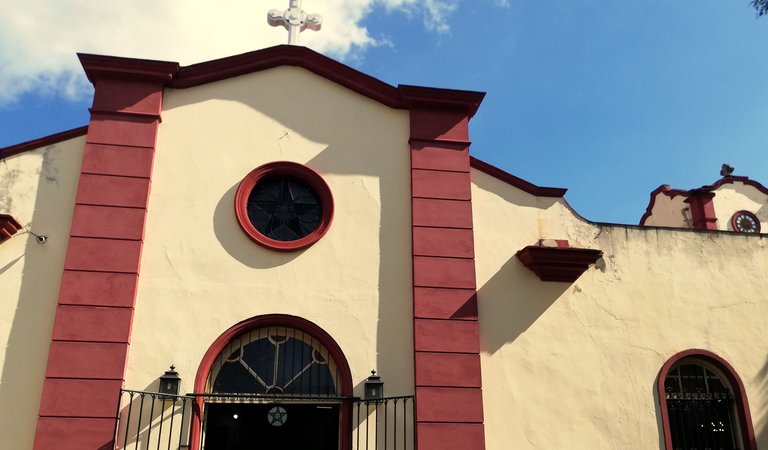 The side exit door has an oval at the top with a 5-pointed star that always means protection in religious language. On the ceiling above that door there is also a cross.
La puerta de salida lateral tiene un óvalo en la parte superior con una estrella de 5 puntas que siempre significa protección en el lenguaje religioso.En el trecho sobre esa puerta tambien hay una cruz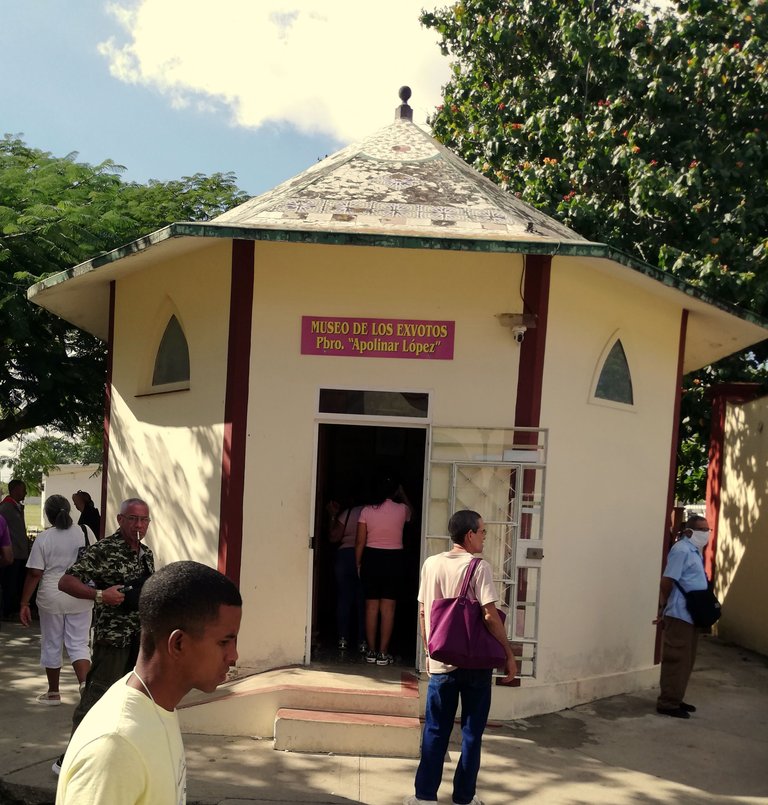 On the outskirts of the church there is a small building of exagonal shape, it is the Museo de los Exvotos Pbro. "Apolimar López. I could not enter this small enclosure because it was very full and it is very closed, it only has the access door, some small triangles with crystals and the pointed roof.
En las afueras de la iglesia hay un pequeño edificio de forma exagonal, es el Museo de los Exvotos Pbro. "Apolimar López. No pude entrar en este pequeño recinto porque estaba muy lleno y está muy cerrado, sólo tiene la puerta de acceso, unos pequeños triángulos con cristales y el tejado puntiagudo.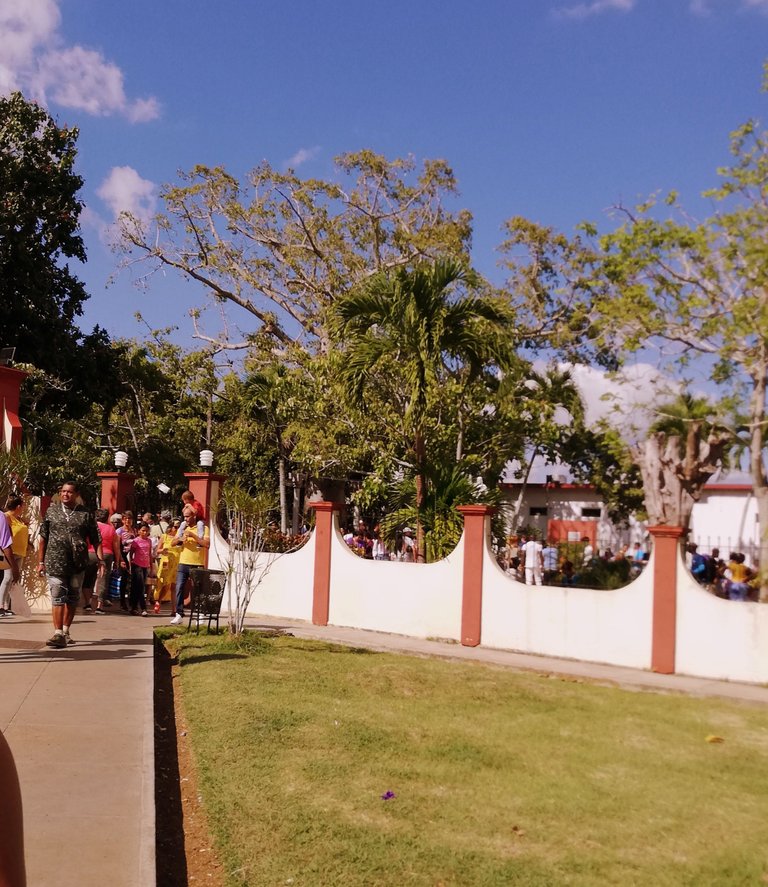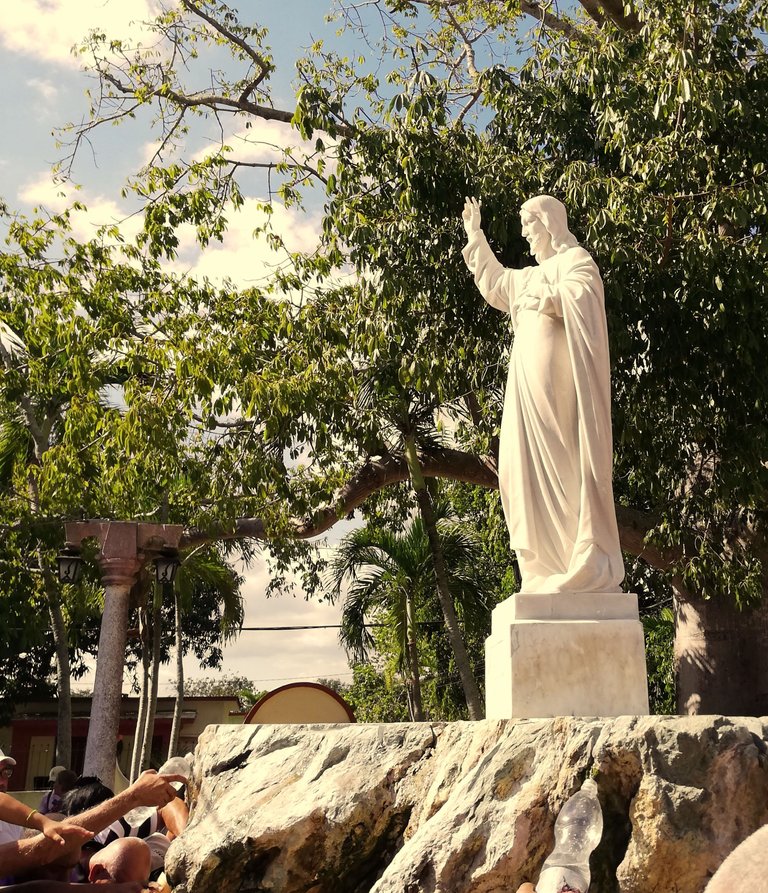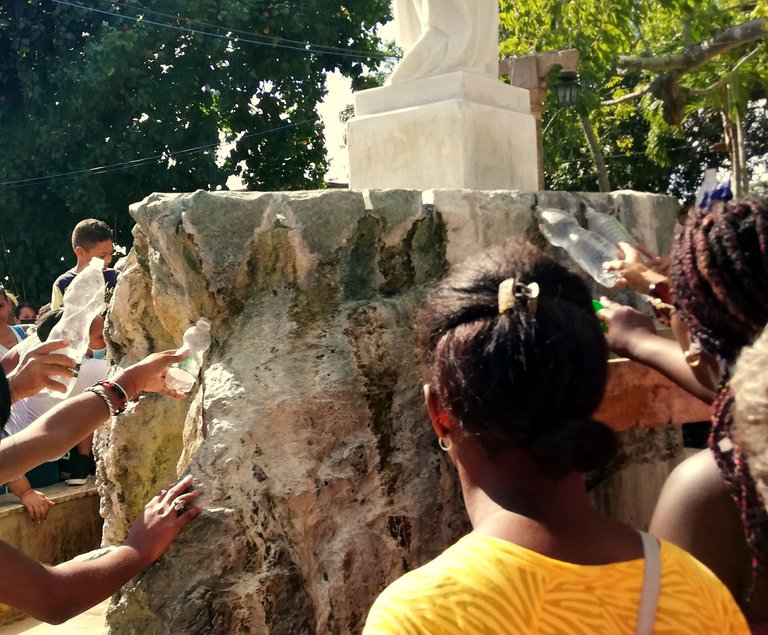 At the end of the church there is a place where everyone goes, with knobs or any container, even without them. It is a large fountain where water gushes constantly, to which they have conferred healing powers, everyone calls it Holy Water. It is a large stone and on it there is a statue of Christ in a blessing posture. I could not photograph it as a whole because there are many people around it.
Al final de la iglesia hay un lugar donde va todo el mundo, con pomos o cualquier recipiente, incluso sin ellos. Es una gran fuente donde brota agua constantemente, a la que le han conferido poderes curativos, todos la llaman Agua Bendita. Es una gran piedra y sobre ella hay una estatua de Cristo en postura de bendición. No pude fotografiarla en su conjunto porque hay muchas personas a su alrededor.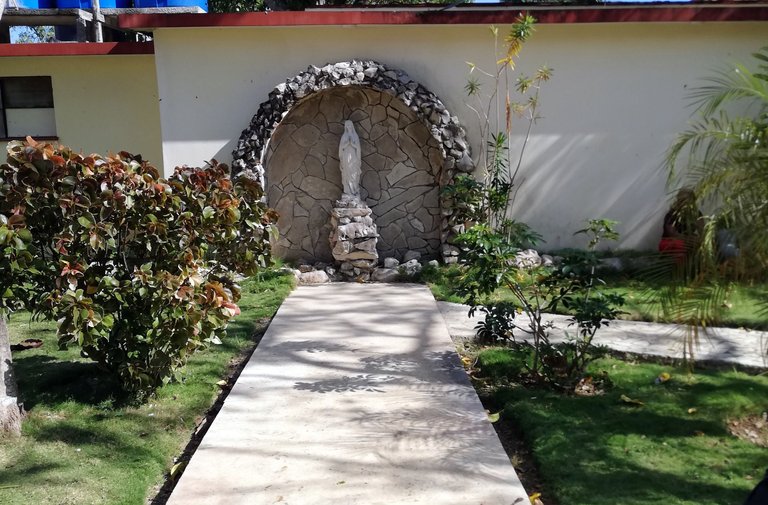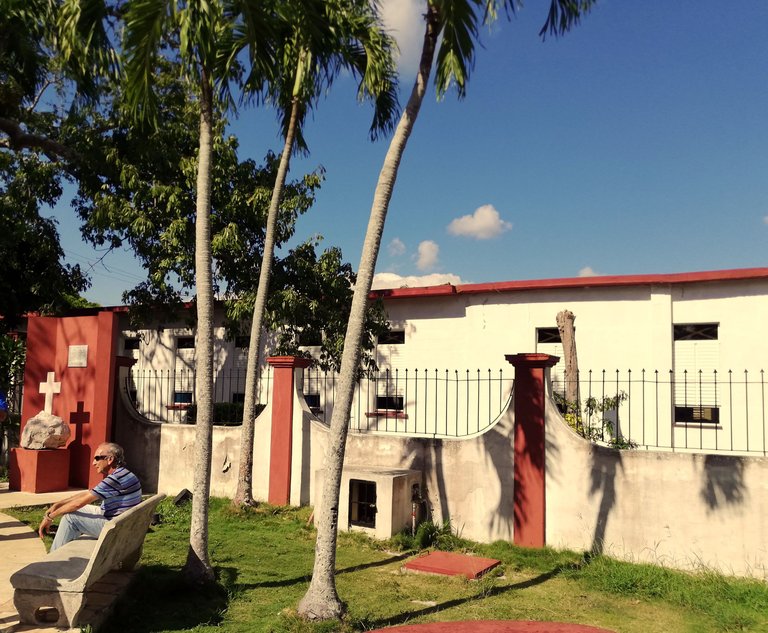 The space where the fountain is located is a very nice small park from where you can see the Dernalogico hospital, recently repaired, formerly it was accessed from there but now its entrance is independent.
El espacio donde se encuentra la fuente es un pequeño parque muy bonito desde donde se puede ver el hospital Dernalógico, recientemente reparado, antiguamente se accedía desde allí pero ahora su entrada es independiente.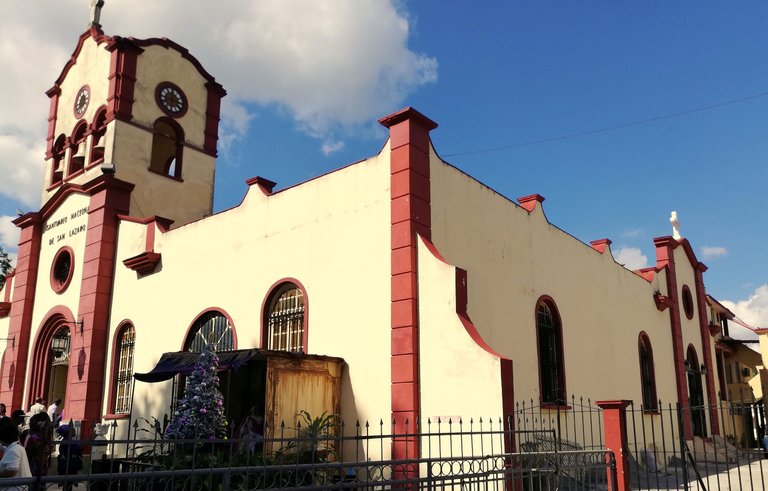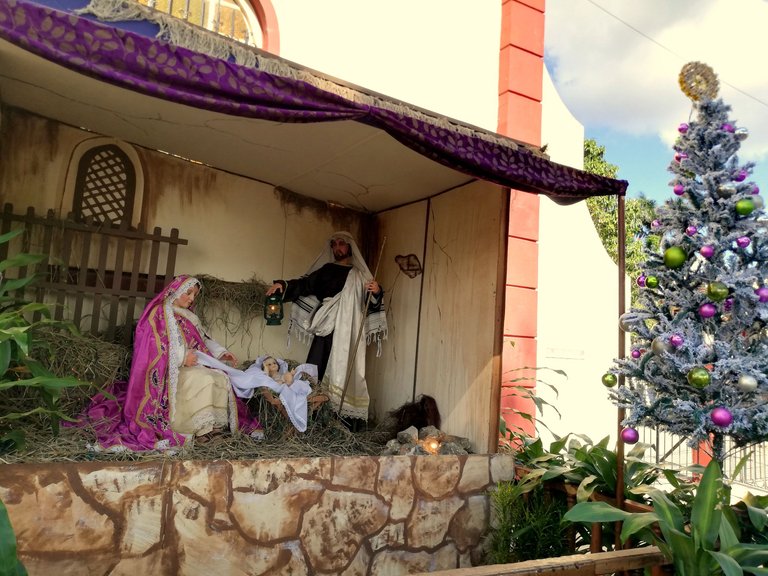 At the entrance of the church you can see a life-size nativity of Jesus.
Greetings friends and enjoy the place, it is quite an adventure to go there. See you soon.
A la entrada de la iglesia se puede ver un nacimiento de Jesús a tamaño natural.
Saludos amigos y disfrutad del lugar, es toda una aventura ir hasta allí. Hasta pronto.

Las fotos fueron tomadas con mi teléfono Huawei P20 lite
Utilice Traductor DeepL
---
---