Three Tunes Tuesday: Smooth/Joyful piano [EN-ES]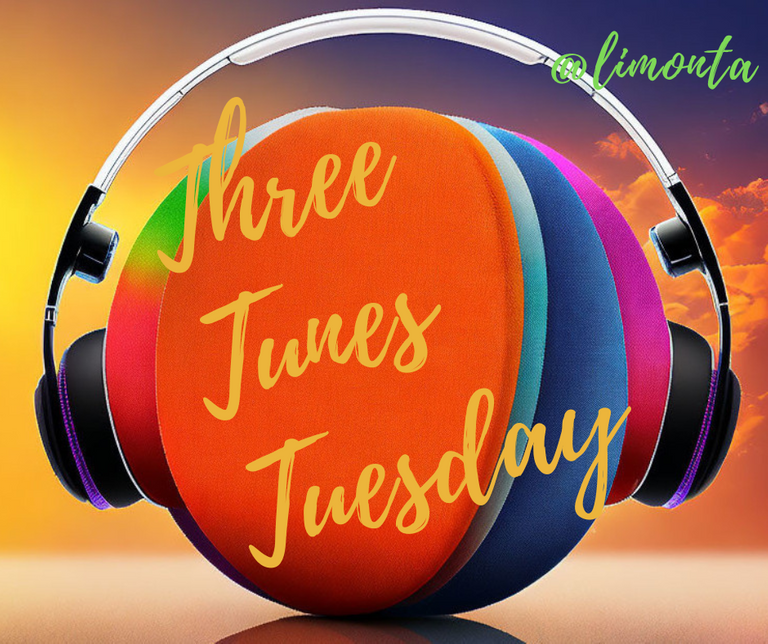 Original source / Fuente original (Edited with / Editada en Canva).
Hello, community. It has been some time since my last participation in this beloved initiative, as I am focused on another project here in the blockchain. But today I took the impulse and made the space to share again in the #TTT. For this occasion, I propose to value the work that has been done for more than ten years by a young Cuban pianist, Alfredo Rodriguez Jr., son of a famous artist here, and musical godson of the great Quincy Jones —who, remember, had an intense musical relationship with the unforgettable Michael Jackson—.

Hola, comunidad. Hace algún tiempo que no participo de esta querida iniciativa, en tanto estoy concentrado en un proyecto que trato de avanzar y establecer acá en la blockchain. Pero hoy tomé impulso e hice el espacio para compartir nuevamente en el #TTT, y para esta ocasión les propongo valorar el trabajo que viene haciendo hace ya más de diez años un joven pianista cubano, Alfredo Rodríguez Jr., hijo de quien fuera un popular artista aquí, y ahijado musical del gran Quincy Jones —quien, recordemos, tuvo una intensa relación musical con el inolvidable Michael Jackson—.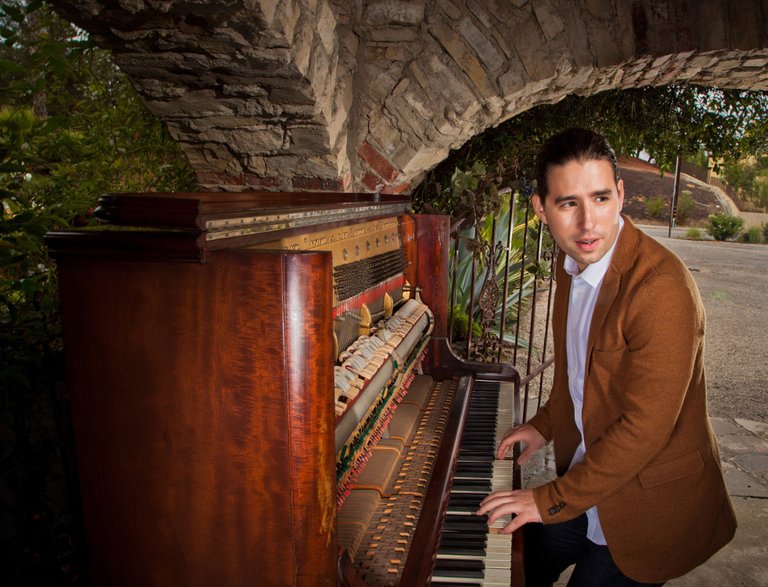 Alfredo Rodríguez Jr. (Source / Fuente)
He is not the best pianist in the world —although he is very talented—, but what impresses me most about him is the enormous sensitivity he has to find and improvise dream melodies. In particular, I have listened to three of his albums, the last ones. "Tocororo", from 2016, a marvel from which I have chosen two tracks presented live for today, "The Little Dream" (2018), which I also loved and from which I have chosen my third proposal, and "Duologue" (2019), in perfect company with the brilliant Cuban percussionist Pedrito Martinez.

No es el mejor pianista del mundo —aunque claro que tiene mucho talento—, pero lo que más me impresiona de él es la enorme sensibilidad que tiene para encontrar e improvisar melodías soñadas. En particular he escuchado tres de sus discos, los últimos. "Tocororo", de 2016, una maravilla de la que he escogido dos temas presentados en vivo para hoy, "The Little Dream" (2018), que también me encantó y de donde he escogido mi tercera propuesta, y "Duologue" (2019), en compañía perfecta con el genial percusionista cubano Pedrito Martínez.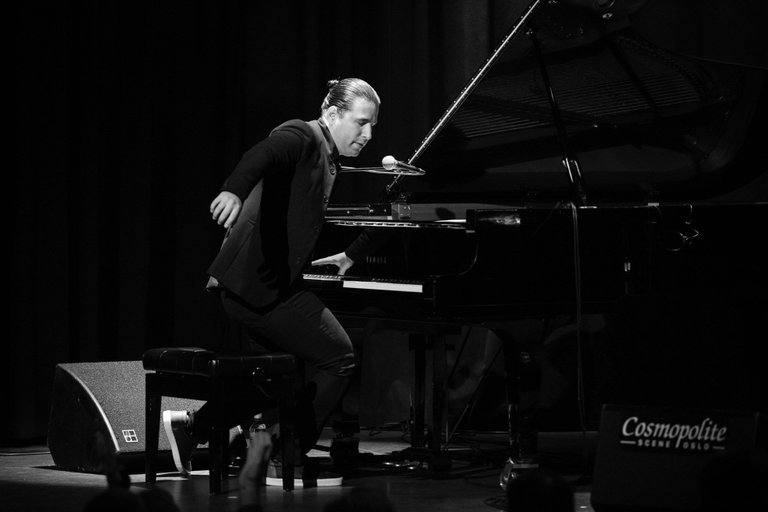 Credit / Crédito: Tore Sætre (via Twitter)
Rodriguez has received very positive reviews, which have come to associate him with historical figures such as Bill Evans or Monk, and he had the joy of sharing with the unforgettable Chick Corea before he left for another dimension to which we, as Cuban musician Juan de Marcos González says, still don't have access. From his musical bet, I also highlight that incessant, revolutionary search for new sonorities, although always anchored in the Cuban roots. From there, he has collaborated with the versatile Cameroonian musician —but above all an exceptional bassist and singer— Richard Bona, or with the beautiful singer of Indian origin Ganavya Doraiswamy.

Rodríguez ha recibido críticas positivísimas, que le han llegado a asociar con históricos como Bill Evans o Monk, y tuvo la dicha de compartir con el inolvidable Chick Corea antes de que este partiera a otra dimensión a la que nosotros, como dice el músico cubano Juan de Marcos González, todavía no tenemos acceso. De su apuesta musical, además, destaco esa búsqueda incesante, revolucionaria, de nuevas sonoridades, aunque siempre anclado en el tronco cubano. De allí han salido colaboraciones mayestáticas como la que tiene con el polivalente músico camerunés —pero sobre todo excepcional bajista y cantante— Richard Bona, o con la hermosa cantante de origen indio Ganavya Doraiswamy.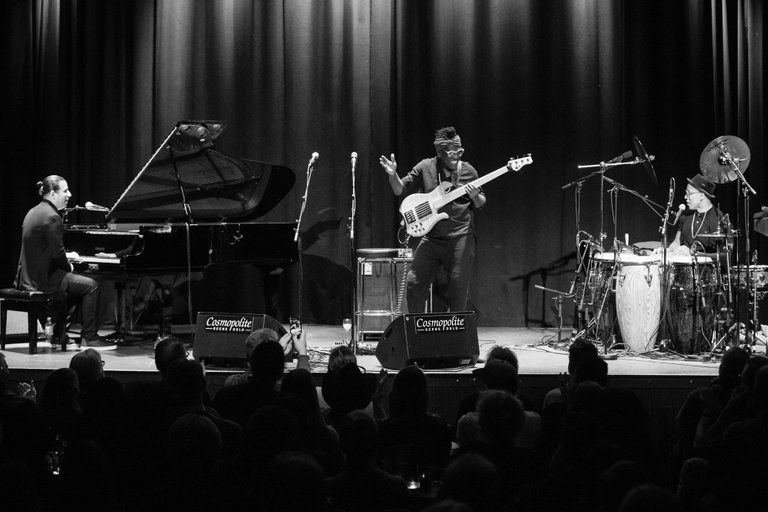 Alfredo Rodríguez, Richard Bona, & Pedrito Martínez (Credit / Crédito: Tore Sætre)
By the way, this approach, this way of understanding music, is present in other contemporary Cuban jazzmen like Omar Sosa or Roberto Fonseca, doing spectacular and innovative things with Malian artists, for example, but also in the incombustible Chucho Valdés, of whom I remember not long ago the call he made to the beautiful Anoushka Shankar, a specialist in the sitar. I don't want to go on too long, so I will immediately present today's proposals.

Por cierto, este enfoque, esta manera de entender la música, está en otros jazzistas cubanos contemporáneos como Omar Sosa o Roberto Fonseca, haciendo cosas espectaculares e innovadoras con artistas malienses, por ejemplo, pero también en el incombustible Chucho Valdés, de quien recuerdo hace no mucho la convocatoria que hiciera a la bellísima Anoushka Shankar, especialista en el sitar. No me quiero extender mucho, así que paso de inmediato a presentarle las propuestas de hoy.

Bésame Mucho
An anthological piece of the Latin songbook, by Mexican composer Consuelo Velázquez, and immortalized by singers such as Andrea Bocelli and Luis Miguel. Rodríguez did an excellent cover of it on his album "The Little Dream", but I guarantee that this live version is much better. Give it a play.

Una pieza antológica del cancionero latino, de la compositora mexicana Consuelo Velázquez, e inmortalizada por cantantes de la talla de Andrea Bocelli o Luis Miguel. Rodríguez le hizo un cover excelso en su disco "The Little Dream", pero les garantizo que esta versión en vivo está mucho mejor. Presionen play.

Gitanerías
This is a classic by Ernesto Lecuona, an outstanding Cuban composer who was born when Cuba was still a colony of Spain in 1895, and who died in Santa Cruz de Tenerife in 1963. Alfredito versioned it in his album "Tocororo" in an excellent way —featuring singer Antonio Lizana—, but here I leave it with Pedrito Martínez, with whom he has made a fantastic duo that has captivated wherever they have performed (this proposal also serves to measure Rodríguez's talent as an instrumentalist beyond his melodic sensitivity).

Este es un clásico de Ernesto Lecuona, un descollante compositor cubano que nació cuando Cuba todavía era colonia de España en 1895, y que precisamente murió en Santa Cruz de Tenerife en 1963. Alfredito lo versionó en su disco "Tocororo" —con participación del cantaor Antonio Lizana—, pero aquí se los dejo junto a Pedrito Martínez, con quien ha hecho una dupla fantástica que ha cautivado bastante donde quiera que se ha presentado (esta propuesta también nos sirve para medir el talento como instrumentista de Rodríguez más allá de su sensibilidad melódica).

Raíces
Probably the theme that I have heard the most historically of this musician. The melody is simply great, with certain segments that I usually repeat in A-B mode until I wear them out, and to top it off, it has the divine intervention of Richard Bona, who still doesn't know what he does better if playing bass or singing. This is the studio version, but here is the live version in an unbeatable setting.

Probablemente el tema que más he escuchado históricamente de este músico. La melodía es simplemente fetén, con determinados segmentos que acostumbro a repetir en modo A-B hasta que los agoto, y que para rematar cuenta con la intervención divina de Richard Bona, de quien todavía no se sabe qué hace mejor, si tocar el bajo o cantar. Esta es la versión de estudio, pero aquí se los dejo en vivo en un escenario inmejorable.

And that's all for today friends of the #ThreeTunesTuesday and in general of our community. Believe me when I tell you that I spent a lot of work choosing these three proposals, and it is up to you if you are interested to go to YouTube and see other presentations of Alfredo Rodriguez, who is also known for doing things as cool as putting in Cuban mode the music of Super Mario Bros or the unbeatable Thriller by Michael Jackson. Thank you for your attentive reading and see you next time. Have a happy Tuesday.

Y esto es todo por hoy amigos y amigas del #ThreeTunesTuesday y en general de nuestra comunidad. Créanme cuando les digo que pasé trabajo para escoger estas tres propuestas, y queda de su parte si les interesa pasar por YouTube y ver otras presentaciones de Alfredo Rodríguez, quien además es reconocido por hacer cosas tan frescas como poner en clave cubana la música de Súper Mario Bros o el insuperable Thriller de Michael Jackson. Gracias por su atenta lectura y hasta la próxima. Que tengan un feliz martes.


The linked videos are not owned by me, I am sharing just the link to the copyright owner's video. No copyright infringement is intended.

Los videos referidos no son de mi propiedad, solo comparto el enlace al video del propietario de los derechos de autor. No se pretende infringir los derechos de autor.

TEXT DIVIDER FROM @eve66 // SEPARADOR CORTESÍA DE @eve66

Edited with Canva.
---
---