Gladius single handedly - Explosive Weaponry - Battle Mage Secrets [ENG-PT]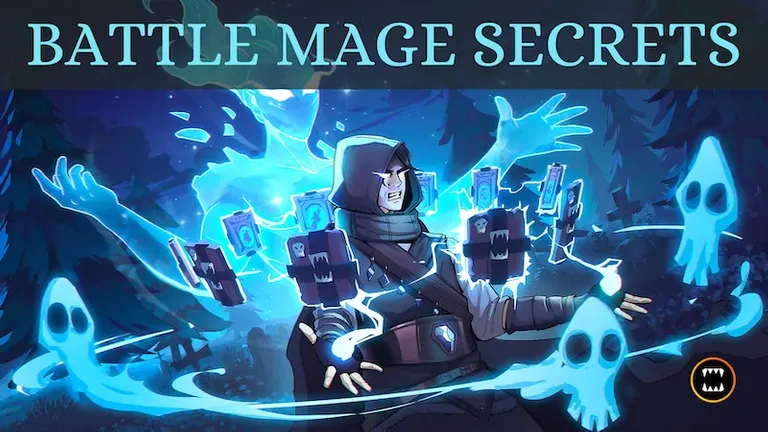 Banner by @Splinterlands
---
Clique aqui para ler o post em português!
---
English
Hello everyone!
This is my second entry in the weekly challenge of Splinterlands.
The battle that I going to show to you, happened June 3, in a tournament promoted by BunsBagsandCaps.
The tournament allowed the use of cards from the Chaos Legion set up to the Silver League, and there were a lot of interesting battles that I learn a lot about the various strategies in the game.


I finished in second place, and I'm going to show you the only battle I won against the champion.


In addition to the weekly challenge rule, which is Explosive Weaponry, there were two more rules:
Healed Out: all healing abilities removed from monsters and summoners.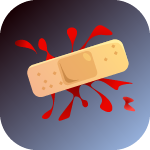 Equal Opportunity: all monsters gain the Opportunity ability.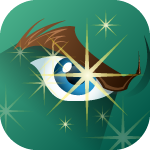 I believed this would be the perfect opportunity to use a Gladiator because, in addition to the mentioned battle rules, the available mana and splinters were low, increasing the chances of the opponent using low cost mana monsters and low health as well.
As the summoner, I chose Eternan Brune, because besides allowing me to use a Gladiator, it removes 2 armor points from all of the opponent monsters, eliminating the possibility of being blocked by the use of abilities or summoners that provide it.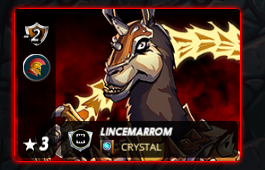 The monster I placed at the front was Chaos Agent. He had the lowest health on my team, so many of attacks would be directed to him .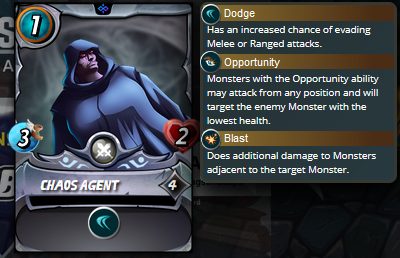 Behind him, I placed Venator Kinjo. His Reflection Shield ability takes any damage from Blast or reflect.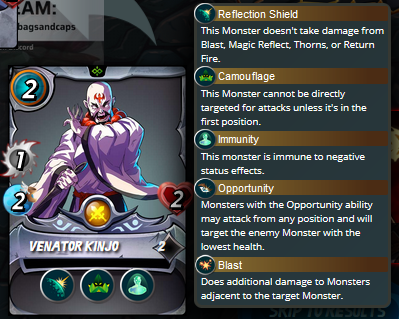 In his left, I put Pyrewatch Devil, to hold some damage and also increase his health with each successful attack.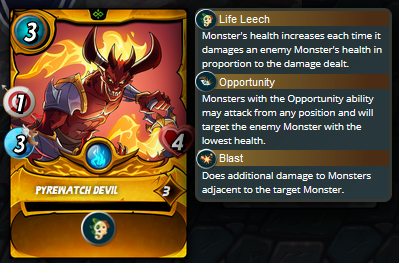 And finally, my trump card Orella Abadon, whose only function was to eliminate all of the opponent's monsters and bring me victory.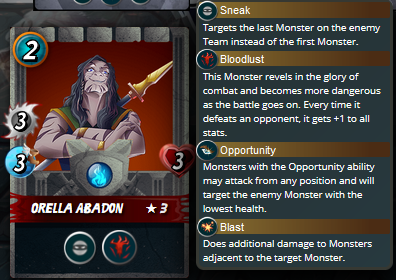 Right from the start, I was in trouble as my two front monsters were eliminated, but I knew with the Bloodlust of my Abadon, I would have some chance of winning.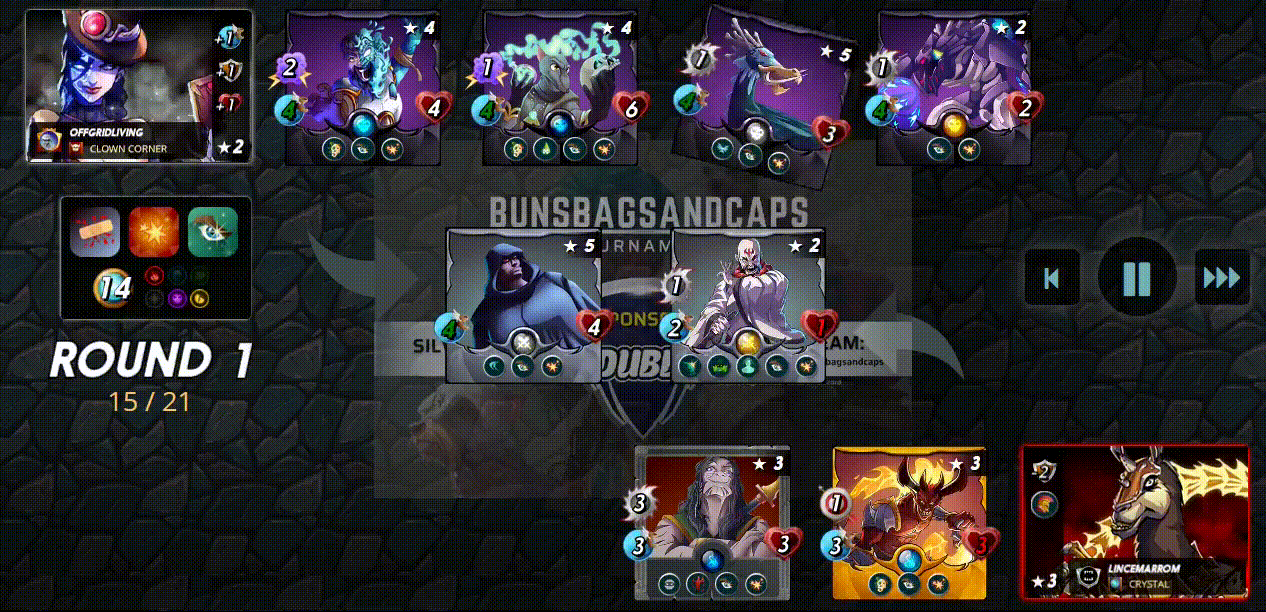 And that's exactly what happened when he made his first attack.

In the next round, only he remained on the field, against 4 opponents.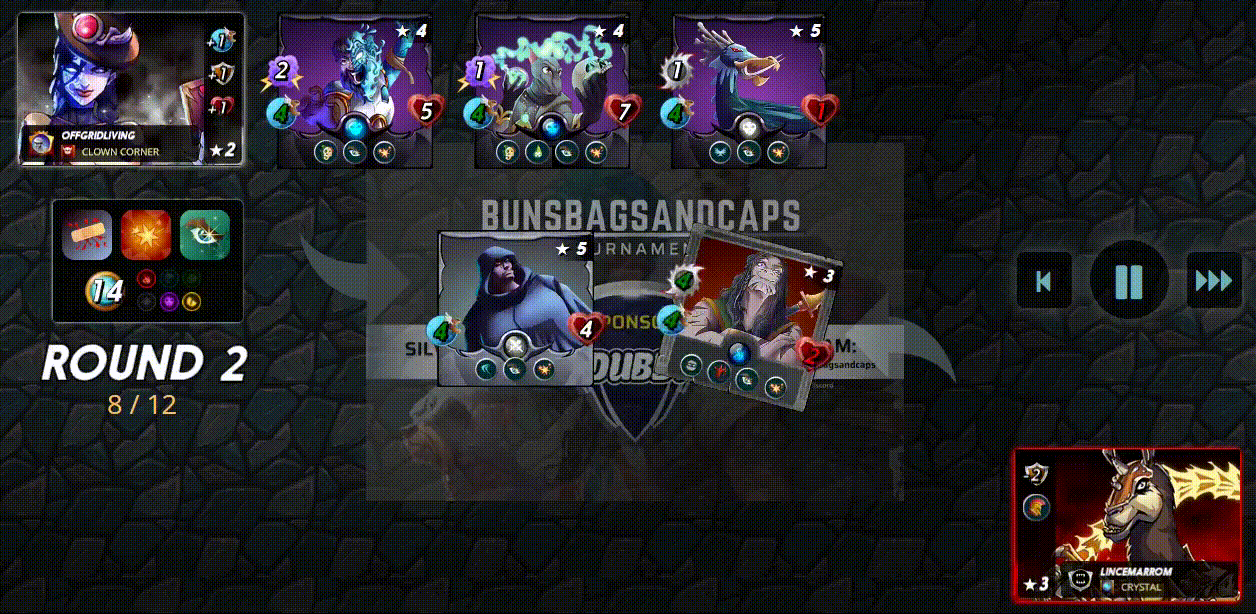 But after another attack, eliminating and activating his Bloodlust once again, my hopes of victory grew up.
And with his increased speed after boosting his attributes, he was the first to launch an attack in the next round, eliminating another monster and leaving another with low health.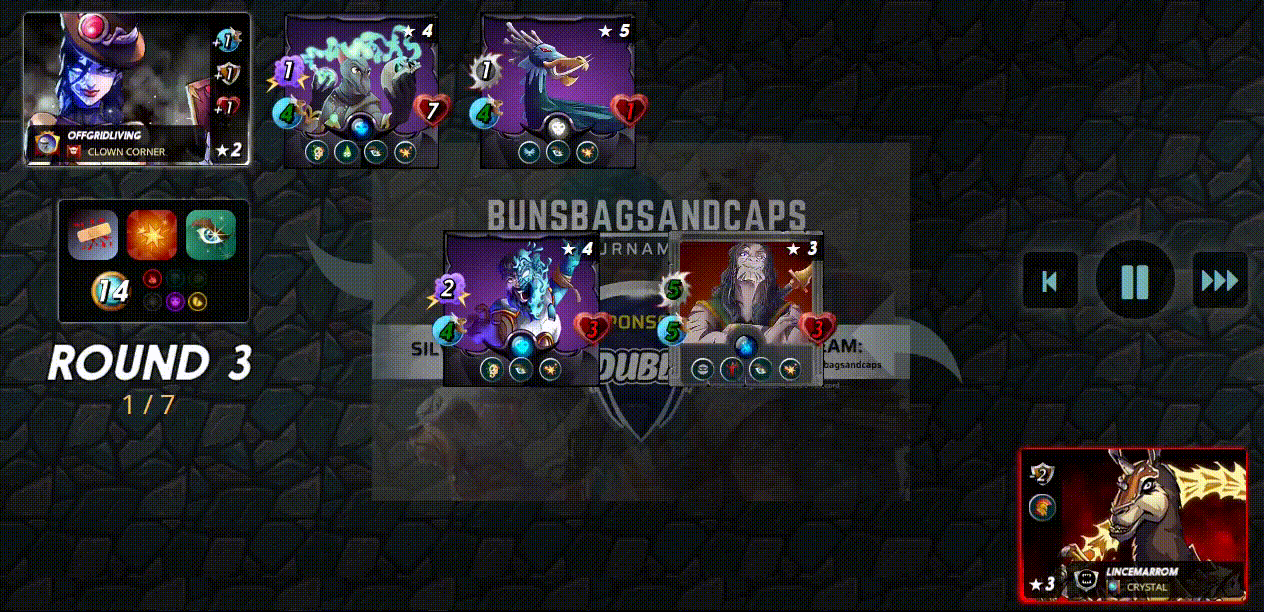 And so, he brought me the victory in this intense battle that made me thrill until the very end!

---
---
Battle considerations:
My strategy worked extremely well, trying to hold off my opponent's attacks as much as possible while my Gladiator took care of eliminating all of them.
I used the same strategy in the event more than once, and I was successful in both cases, which makes me think it's good to use in ranked battles as well.
Its effectiveness relies on the summoner who removes armor from the monsters, while the Gladiator attacks the backlines, catching the opponent off guard.
---
All the images are from @Splinterlands
Divider By: @freeztag
---
---
Are you not playing Splinterlands yet? Click HERE and play with me!
---

Português
Olá a todos!
Essa é a minha segunda participação no desafio semanal do Splinterlands.
A batalha que irei apresentar, ocorreu no dia 3 de Junho, em um torneio promovido pelo BunsBagsandCaps.
O torneio permitia utilizar cartas do set Chaos Legion até a liga Prata, e houveram diversas batalhas interessantes que me fizeram aprender bastante sobre as diversas estratégias do jogo.


Acabei ficando com o segundo lugar, e irei mostrar justamente a única batalha que eu venci contra o campeão.


Além da regra do desafio semanal, que é a Explosive Weaponry, haviam mais duas:
Healed Out: todas as habilidades de cura removidas dos monstros e invocadores.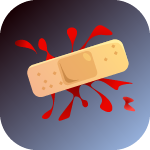 Equal Opportunity: todos os montros recebem a habilidade de Opportunity.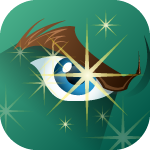 Acreditei que essa seria a oportunidade perfeita para usar um Gladiador, pois além das regras de batalha mencionadas, a quantidade de mana e splinters disponíveis eram baixas, aumentando muito as chances do oponente usar diversos monstros de custo de mana pequeno e consequentemente baixa vida.
Como invocador, escolhi o Eternan Brune, pois além de me permitir o uso de um gladiador, ele remove 2 pontos de armadura de todos os monstros do oponente, eliminando a possibilidade de ser barrado com o uso de alguma habilidade ou invocador que forneça ela.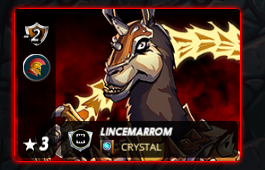 O monstro que coloquei a frente, foi o Chaos Agent. Ele era o com menor vida do meu time, então quase todos os ataques seriam direcionados até ele.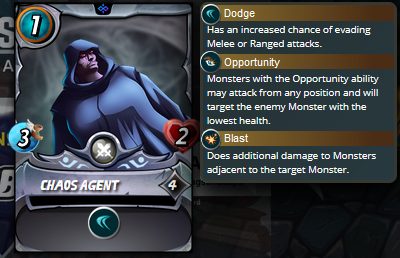 Logo atrás, botei o Venator Kinjo, que com sua habilidade de Reflection Shield, não toma dano algum de Blast ou reflet.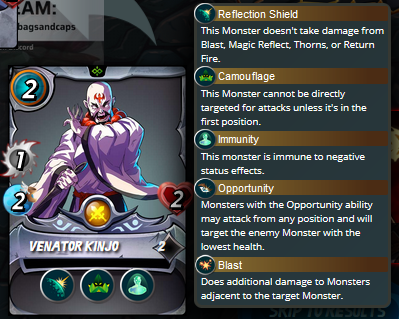 Ao seu lado coloquei o Pyrewatch Devil, que serviria para segurar um pouco mais de dano e também consegue aumentar sua vida a cada ataque bem sucedido.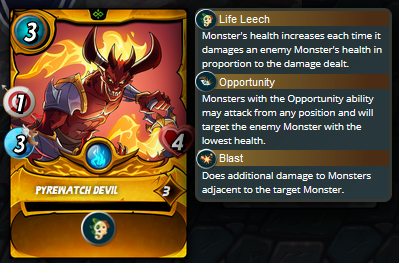 E por fim, o meu trunfo Orella Abadon, a qual sua função era uma só: eliminar todos os monstros do oponente e me trazer a vitória.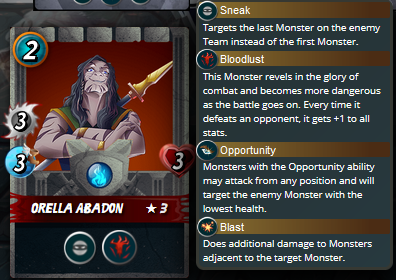 Logo no início fiquei em apuros, pois meus dois monstros da frente foram eliminados, mas eu sabia que com o Bloodlust do meu Abadon, eu teria alguma chance de vencer.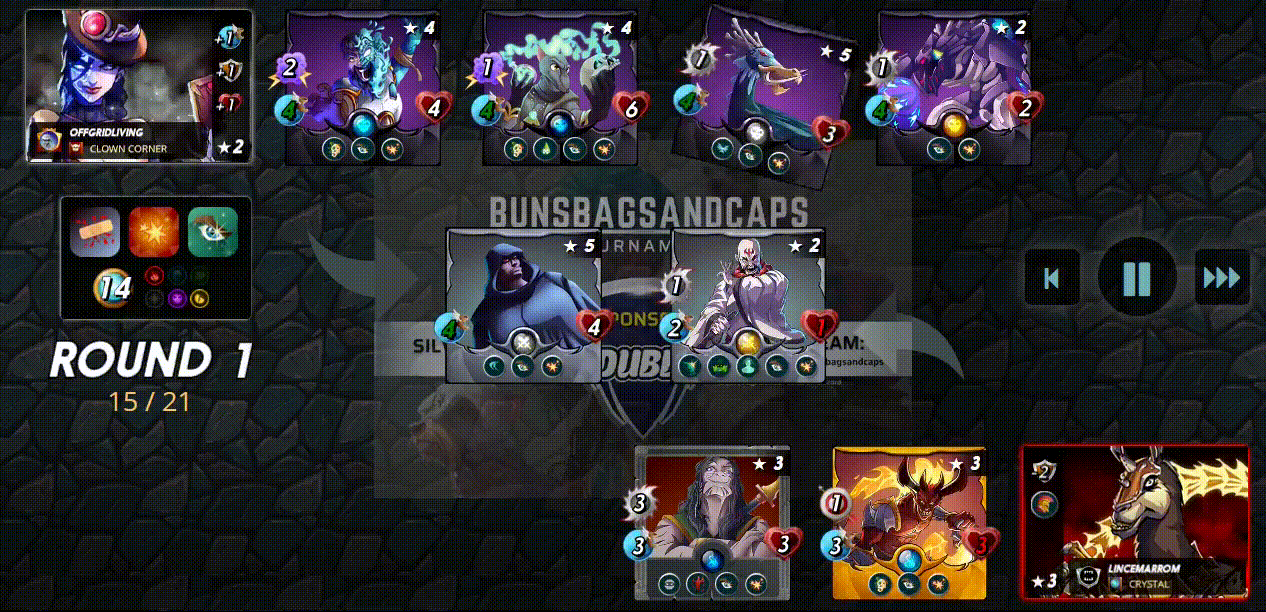 E foi o que aconteceu assim que ele realizou o seu primeiro ataque.

Logo na rodada seguinte, só restou ele em campo, contra 4 oponentes.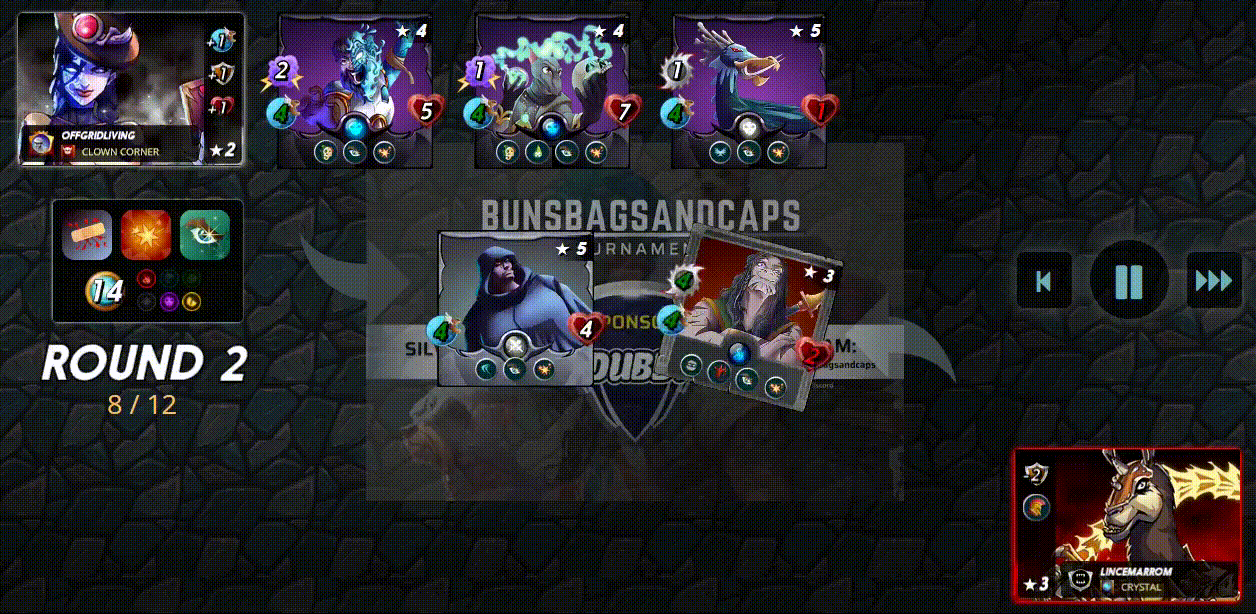 Mas após efetivar mais um ataque, eliminando e ativando seu Bloodlust mais uma vez, as minhas esperanças de vitória cresceram ainda mais.
E como sua velocidade se tornou superior após aumentar seus atributos, ele foi o primeiro a realizar um ataque na rodada seguinte, eliminando mais um monstro e deixando outro com baixa vida.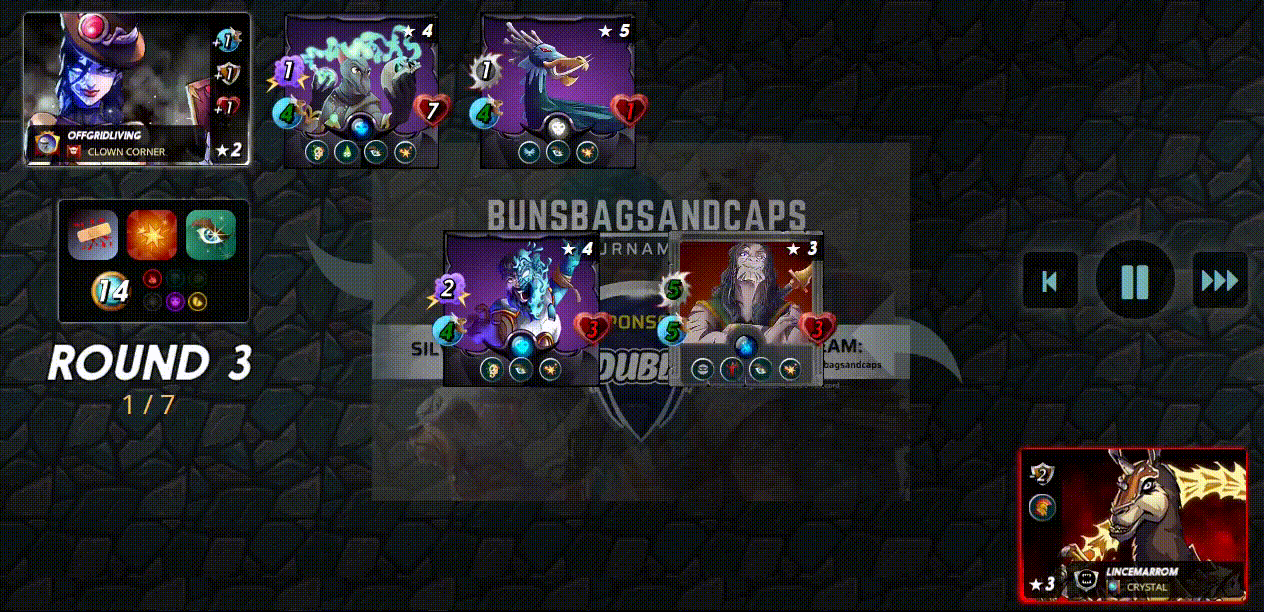 E assim ele me trouxe a vitória nessa intensa batalha, que me fez vibrar até o último momento!

---
---
Considerações sobre a batalha:
A minha estratégia funcionou extremamente bem, tentando segurar ao máximo os ataques do meu oponente enquanto meu Gladiador fazia o serviço de acabar com todos eles.
Usei a mesma estratégia no evento mais de uma vez, e em ambas tive sucesso, o que me faz pensar ser boa para usar em rankeds também.
Sua eficácia é baseada no invocador que remove a armadura dos monstros, enquanto o Gladiador ataca sobre as backlines, pegando o oponente desprevinido.
---
Todas as imagens são do: @Splinterlands
Divisor do: @freeztag
---
---
Não joga Splinterlands ainda? Clique AQUI e venha jogar comigo!
---
---

---
---
---