Y como dice mi madre: "A COMER QUE LLEGÓ HUMBERTO"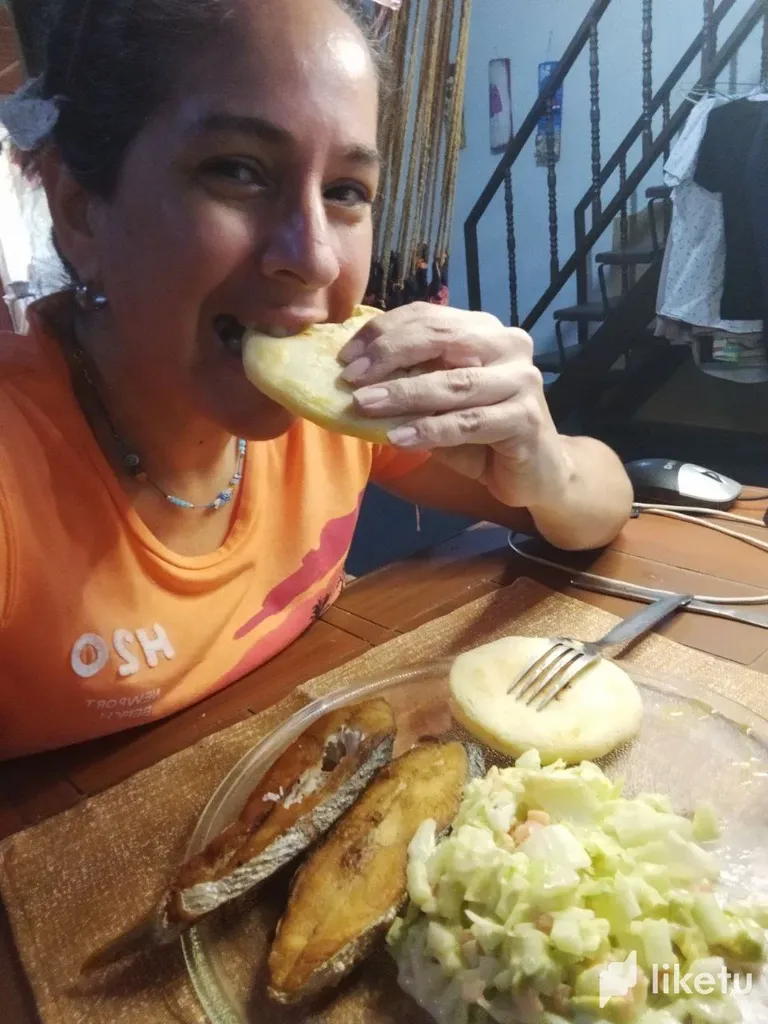 UMMMMMM, ¡QUÉ DELICIA! // UMMMMMM, WHAT A DELIGHT!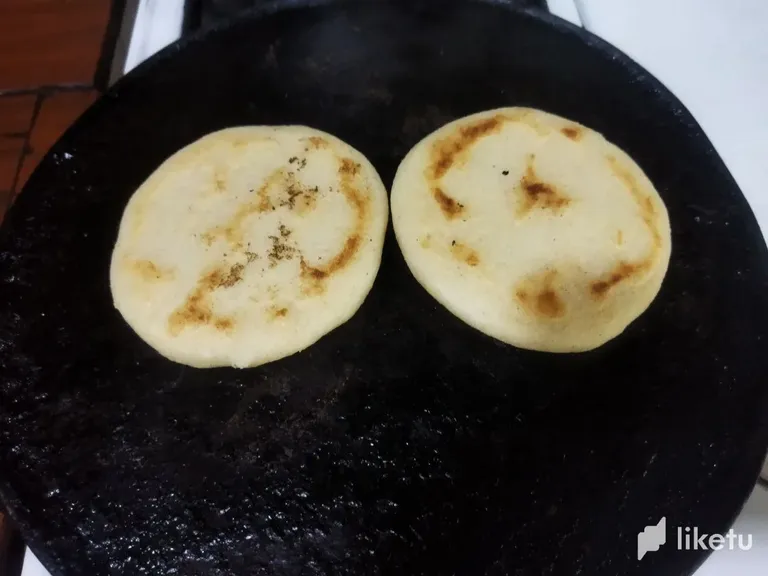 AREPAS ASADAS EN BUDARE // ROASTED AREPAS IN BUDARE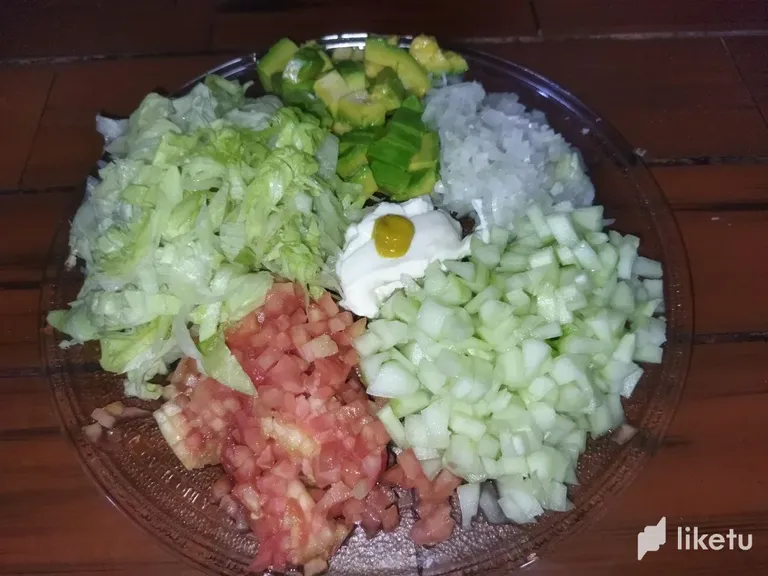 ENSALADA DE TOMATE, CEBOLLA, PEPINO, AGUACATE Y LECHUGA ADEREZADA CON SAL Y MAYONESA // TOMATO, ONION, CUCUMBER, AVOCADO AND LETTUCE SALAD DRESSED WITH SALT AND MAYONNAISE
RUEDAS DE CARITE FRITO SAZONADO CON SAL // WHEELS OF FRIED CARITE SEASONED WITH SALT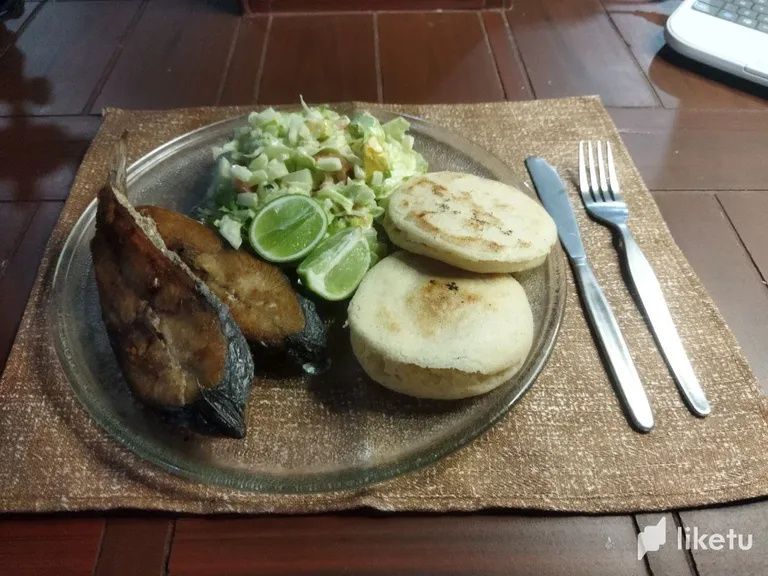 SERVIDO Y ACOMPAÑADO POR EL RODAJAS DE LIMÓN // SERVED AND ACCOMPANIED BY THE LEMON SLICES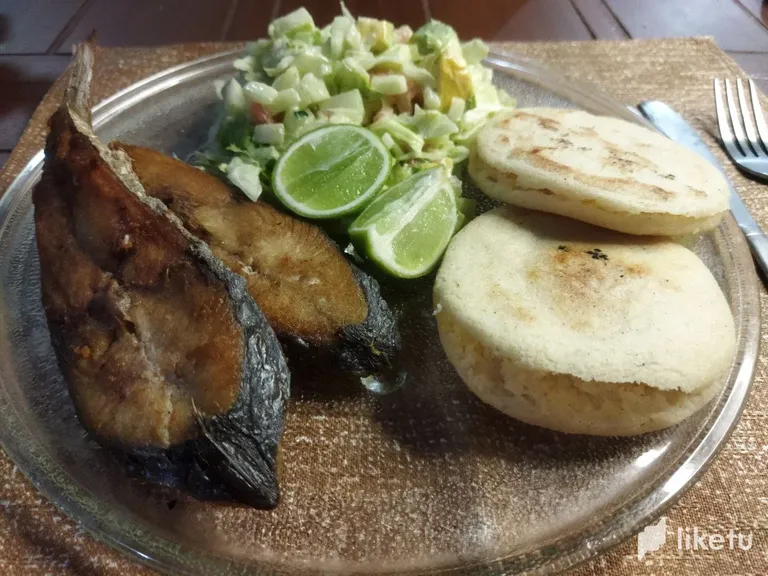 UN ALMUERZO BIEN NUTRITIVO RICO EN FÓSFORO // A WELL NUTRITIOUS LUNCH RICH IN PHOSPHORUS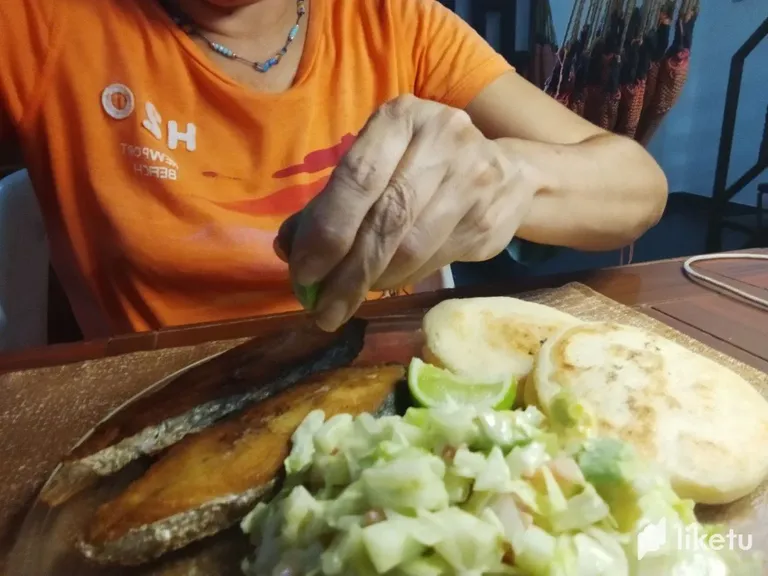 ENRIQUECIENDO EL SABOR CON EL ZUMO DEL LIMÓN // ENRICHING THE TASTE WITH LEMON JUICE
A COMER QUE LLEGÓ HUMBERTO 😂😂😂 // TO EAT THAT HUMBERTO ARRIVED 😂😂😂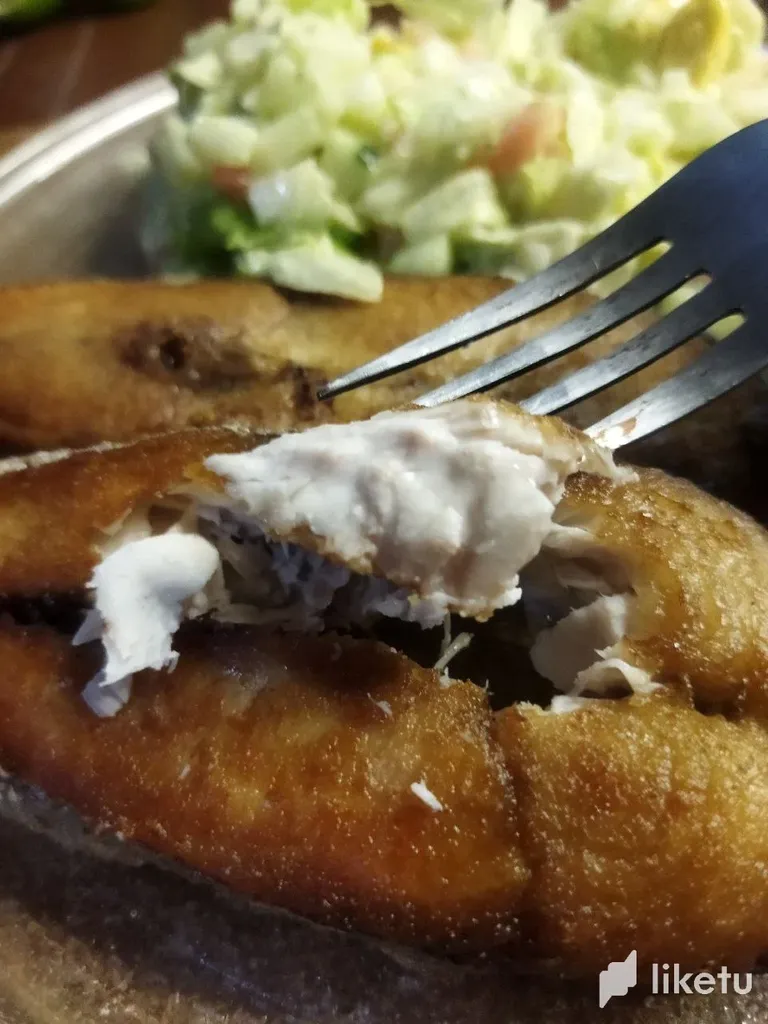 AL PUNTO, DORADO POR FUERA Y BIEN JUGOSO POR DENTRO. EL SECRETO: FREÍRLO EN ABUNDANTE ACEITE // TO THE POINT, GOLDEN ON THE OUTSIDE AND VERY JUICY INSIDE. THE SECRET: FRY IT IN ABUNDANT OIL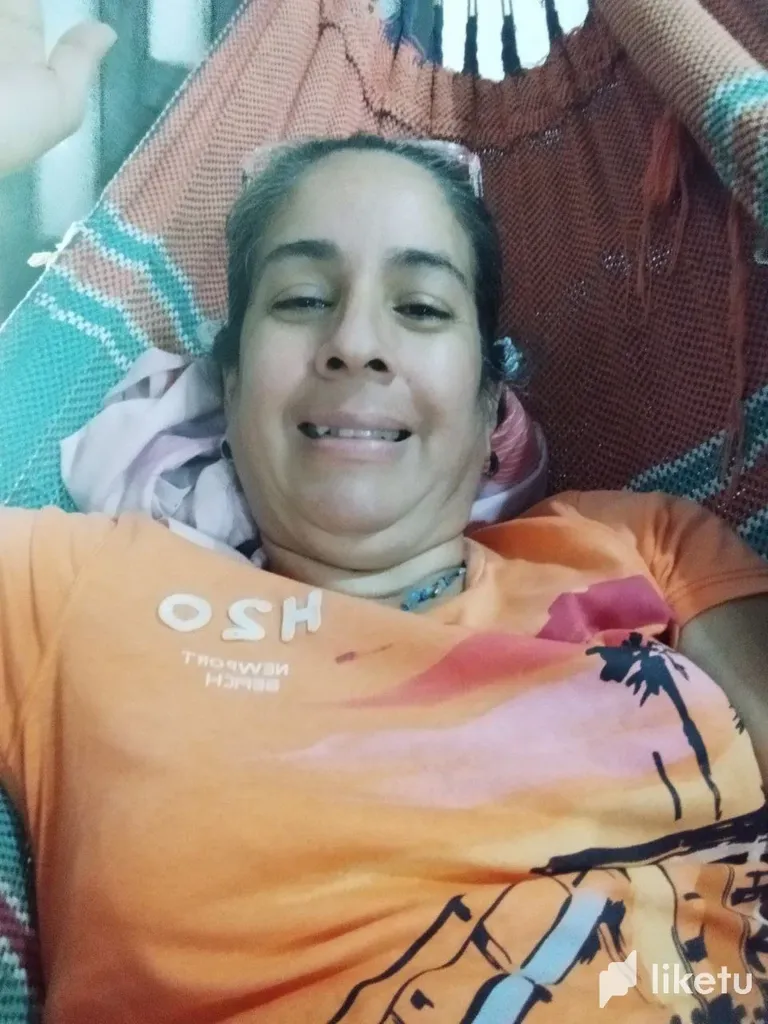 Y YA BIEN SATISFECHA, A HACER LA SIESTA 🤭🤭🤭 // AND ALREADY SATISFIED, TO TAKE A NAP 🤭🤭🤭
ESPAÑOL
Saludos, amigos de Liketu y para todos los amantes de la comida. Es domindo, y por lo tanto cuando no comemos sopa, comemos pescado frito. Desde hace muchos días tengo unas ganas locas de comer Corocoro y es los domingos el mejor día de ir al mercado a comprarlos bien frescos. Pero resultó ser que hoy no había ni un solo Corocoro y como tenía un poco de disponibilidad, me di otro gustazo y compré Carite. Este es un pescado un poco más costoso que el corocoro y aunque te lo hace pasar por Sierra, si no sabes diferenciarlos te lo venden el doble del precio, esa el la diferencia cuando haz tenido un padre amante del pescado y te enseñó algunas cosillas.
Lo malo fue que comi con Soledad. Soledad es la que me acompaña cuando quedó sola en casa y la que hace que la añoranza se haga presente. Aunque creo que hoy amanecí con algo de nostalgia. Ir al mercado a comprar pescado me traen recuerdos muy gratos con mi papá que era un gran amante del pescado, creo que como todos los cumaneses y salir a comprar pescado en su compañía era toda una aventura. Con él aprendi casi todo lo que sé de la selección de buenos productos del mar y sus nombres.
Hoy me sucedió algo muy particular cuando hacía la compra y se lo comenté a mi hermana @creacioneslelys que estaba conmigo, cuando mi papá compraba se saboreaba mientras le atendían, yo siemre lo observaba y veía que tragaga y se le hacía agua la boca y a mi me parecía extraño. Pues, hoy experimenté lo que supongo le sucedóa a él, me dió mucha risa porque comprendí lo que sentía. Desde hace muchos días quería comer pescado y supongo que esa misma ansiedad me produjo la salivación al igual que le sucedía a mi papá.
LLegar a casa y preparar la comida para mi sola, me provocó cierta nostalgia. Quiero que llegue ya septiembre para tener a mi mamá conmigo, si estuviera hoy aqué estaría encantada. También disfruta mucho de un buen pescado frito y mi madre es una mujer de refranes, ella me hace reir mucho con sus cosas.
Me la imagino clarito diciéndome "MUCHACHAAAAAAA, ESTO ES UN BANQUETEEE" ó "A COMER QUE LLEGÓ HUMBERTO". La verdad todavía no sé a qué se refiere cuando dice la última frase. En su próxima visita se lo preguntaré y mientras tanto yo disfrutaré de este rico almuerzo, que aunque esté con Soledad, lo devoraré como me lo imaginaba. Asi que mis queridos. Tengan todos un buen provecho.
---
ENGLISH
Greetings, friends of Liketu and to all food lovers. It's Sunday, and therefore when we don't eat soup, we eat fried fish. For many days I have a crazy desire to eat Corocoro and Sundays are the best day to go to the market to buy them very fresh. But it turned out that today there was not a single Corocoro and since I had a little availability, I gave myself another treat and bought Carite. This is a fish that is a little more expensive than the corocoro and although it passes you off as Sierra, if you don't know how to differentiate between them, they sell it to you for twice the price, that's the difference when you've had a fish-loving father and he taught you a few things.
The bad thing was that I ate with Soledad. Soledad is the one who accompanies me when she was left alone at home and the one who makes the longing present. Although I think today I woke up with some nostalgia. Going to the market to buy fish brings back very pleasant memories with my father, who was a great lover of fish. I think that like all Cumaneses, going out to buy fish in his company was quite an adventure. With him I learned almost everything I know about the selection of good seafood and their names.
Today something very particular happened to me when I was shopping and I told my sister @creacioneslelys who was with me, when my dad was shopping he savored while they were serving him, I always watched him and saw him swallow and his mouth watered and my it seemed strange to me. Well, today I experienced what I suppose happened to him, it made me laugh a lot because I understood what he felt. For many days I wanted to eat fish and I guess that same anxiety made me salivate just like it did my dad.
Getting home and preparing food for myself made me feel homesick. I want September to arrive so I can have my mom with me, if she were here today she would be delighted. She also really enjoys a good fried fish and my mother is a woman of proverbs, she makes me laugh a lot with her things.
I clearly imagine her saying to me "GIRLAAAAAA, THIS IS A BANQUETTEEE" or "TO EAT BECAUSE SHE ARRIVED HUMBERTO". The truth is that I still don't know what she is referring to when she says the last sentence. On her next visit I'll ask her and meanwhile I'll enjoy this delicious lunch, which even though I'm with Soledad, I'll devour it as I imagined. So my dears. Have a good appetite everyone.
---
For the best experience view this post on Liketu
---
---