A pest is destroying my crops and the addition of two more settlers to our colony / Review / (ENG/ESP)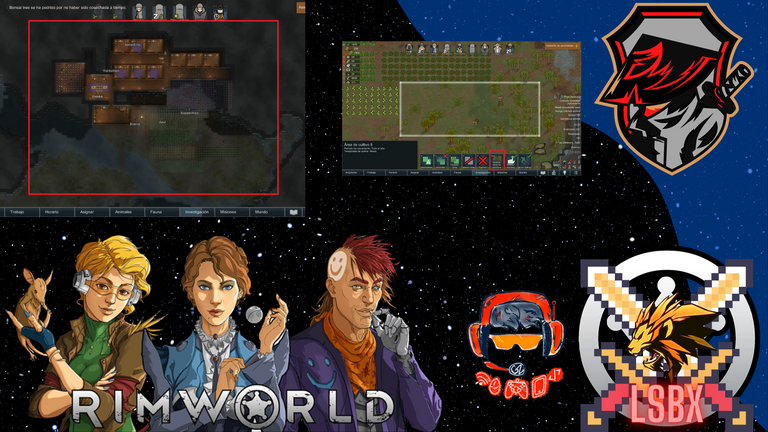 Mis pequeños colonos indígenas están cada vez más contentos y van avanzando poco a poco tecnológicamente, en el capítulo de hoy aun mis colonos no han descubierto todavía la electricidad, por lo que les está costando un poco porque requiere de muchos puntos, y como hasta los momentos no tengo un colono que tenga un nivel intelectual elevado, los puntos se adquieren de manera un poco lenta.
Pero veamos que increíbles aventuras nos tienen estos colonos el día de hoy, algunos colonos nuevos se unirán a nuestra colonia, también un grupo de animales caza humanos perseguirán a un buen inventor, veremos como nuestra guarida está expandiéndose cada vez más, también intentaré domesticar algunos jabalís salvajes para reproducirlos y usarlos de comida para más adelante, pero también descubriremos una nueva enfermedad capas de tumbar a la cama a nuestros colonos.
My little indigenous colonists are getting happier and are advancing little by little technologically, in today's chapter even my colonists have not yet discovered electricity, so it is costing them a little because it requires a lot of points, and as so far I do not have a colonist who has a high intellectual level, the points are acquired a little slowly.



But let's see what incredible adventures these colonists have for us today, some new colonists will join our colony, also a group of human hunting animals will chase a good inventor, we will see how our lair is expanding more and more, I will also try to tame some wild boars to reproduce them and use them as food for later, but we will also discover a new disease able to put our colonists to bed.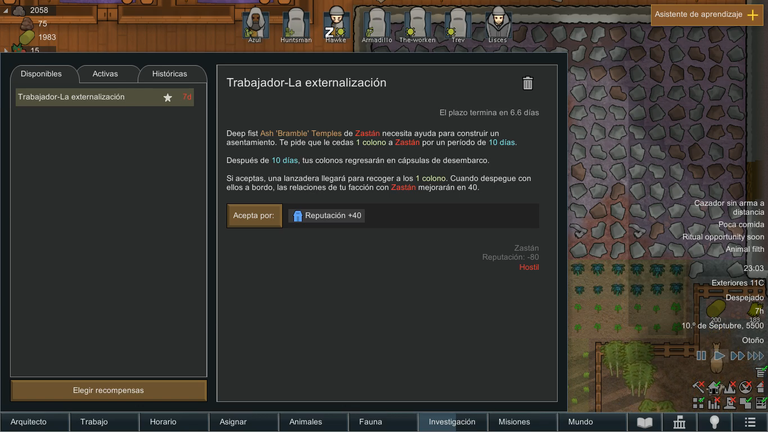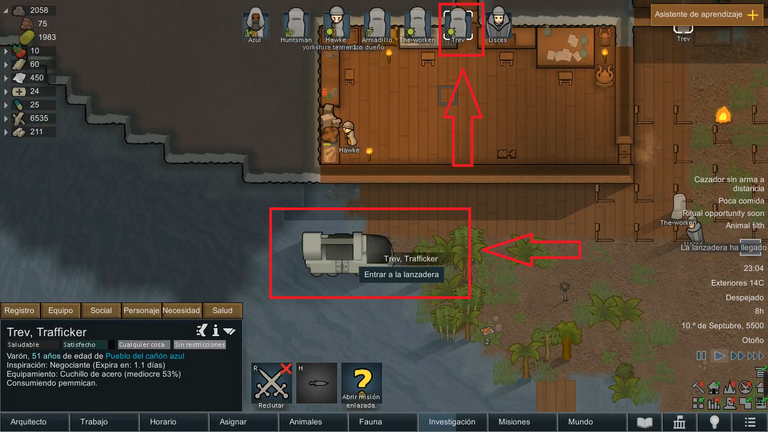 En este capítulo, nada más con comenzar mi aventura en el mundo de Rimworld, note que tenía una misión disponible, el cual consiste en enviar a uno de nuestros colonos a una civilización hostil que tenemos cerca de nosotros, dicha civilización se llama Zastán, por lo que necesita la ayuda de uno de nuestros colonos para construir un asentamiento, hacer estas misiones es bueno, ya que ganaremos reputación para así poder solicitar ayuda de uno de ellos a la hora de una situación crítica, lo malo es que se llevara por mucho tiempo (10 días), por lo que tendríamos un colono menos en nuestra civilización, por lo que acepte para tenerlos de amigos por ahora, ya que están muy cerca de mi asentamiento y no quiero tantos problemas con ellos por ahora.
Para hacer esta misión, decidí llevar a Trev, como es un colono que lo uso para recoger carga y para la siembra, no lo necesitaría mucho en mi colonia, una lanzadera lo paso a buscar, por lo que he tenido que meterlo dentro del mismo para así poder hacer esta misión.
Finalmente, luego de un tiempo, pude tener mi área de charlas de líderes en mi colonia, por lo que lo puse bien decorado para crear bastante humor entre mis colonos, podrán dar los mejores discursos y se pondrán muy contentos gracias a eso.
In this chapter, just starting my adventure in the world of Rimworld, I noticed that I had a mission available, which is to send one of our settlers to a hostile civilization that we have near us, this civilization is called Zastan, so it needs the help of one of our settlers to build a settlement, doing these missions is good, because we will gain reputation to be able to request help from one of them at the time of a critical situation, the bad thing is that it will take a long time (10 days), so we would have one less settler in our civilization, so I accepted to have them as friends for now, because they are very close to my settlement and I don't want so many problems with them for now.



To do this mission, I decided to take Trev, as he is a colonist that I use to collect cargo and for planting, I would not need him much in my colony, a shuttle went to pick him up, so I had to put him inside it to be able to do this mission.
Finally, after a while, I was able to have my leaders talk area in my colony, so I put it well decorated to create quite a lot of humor among my colonists, they will be able to give the best speeches and they will be very happy thanks to that.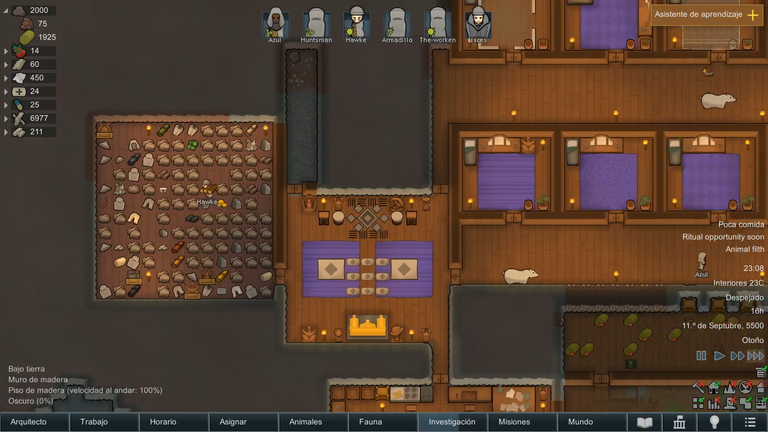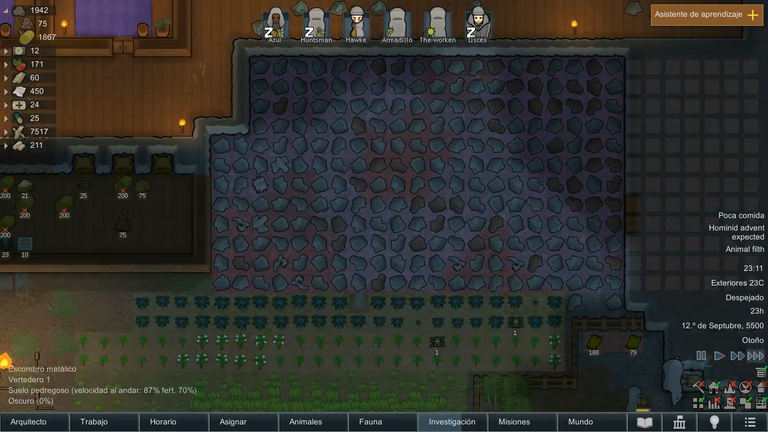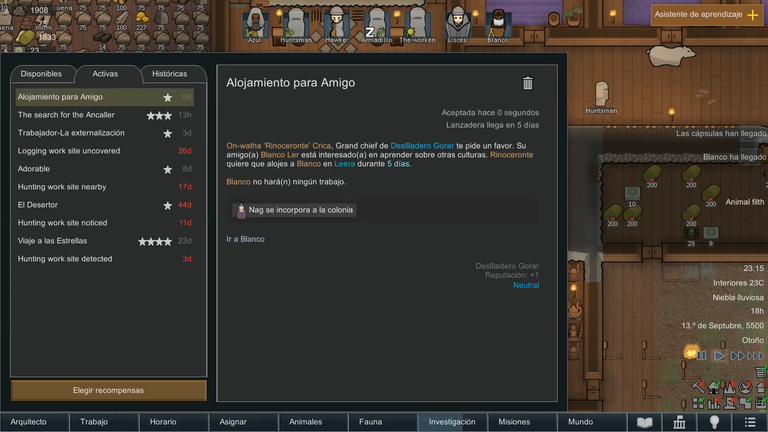 Una de las cosas de las que me había dado de cuenta antes, es que de tanto minar y hacer espacio para mis colonos, el vertedero donde almacenas las cosas más pesadas como la piedra y objetos metálicos inservibles (incluso cadáveres), por lo que he tenido que expandirlo un poco más hasta que tenga conocimientos de cantera para que así mis colonos puedan convertir en bloques las piedras minadas.
Más adelante obtuve otra misión, el cual consiste en tener en nuestra colonia a un sujeto llamado Blanco Ler, ya que tiene curiosidad en saber de nuestra cultura, a cambio de tenerlo unos 5 días, se una a nuestra colonia, una mujer llamada Nag, por lo que acepté esta misión.
Instantáneamente, aparece el señor Blanco a estudiar nuestra cultura, este colono no ara absolutamente nada, estará de ocioso para estudiar nuestra cultura (el cual es primitiva por ahora).
One of the things that I had noticed before, is that from so much mining and making space for my colonists, the landfill where you store the heaviest things like stone and useless metal objects (even corpses), so I had to expand it a little more until I have knowledge of quarrying so that my colonists can turn the mined stones into blocks.



Later I got another mission, which is to have in our colony a guy named Blanco Ler, as he is curious to know about our culture, in exchange for having him for 5 days, a woman named Nag joins our colony, so I accepted this mission.


Instantly, Mr. Blanco appears to study our culture, this colonist will do absolutely nothing, he will be idle to study our culture (which is primitive for now).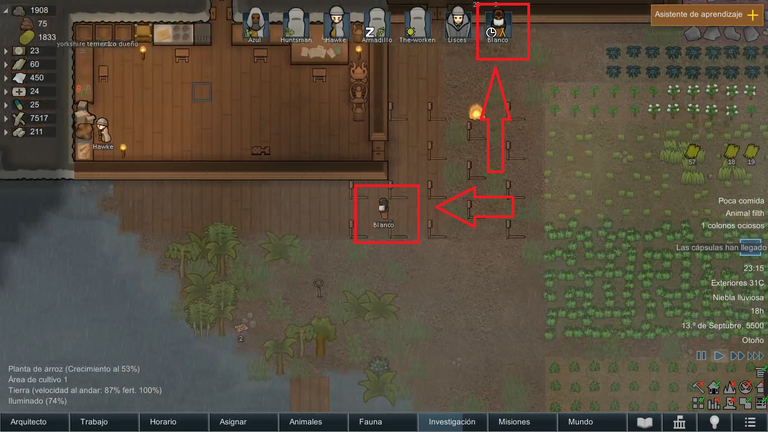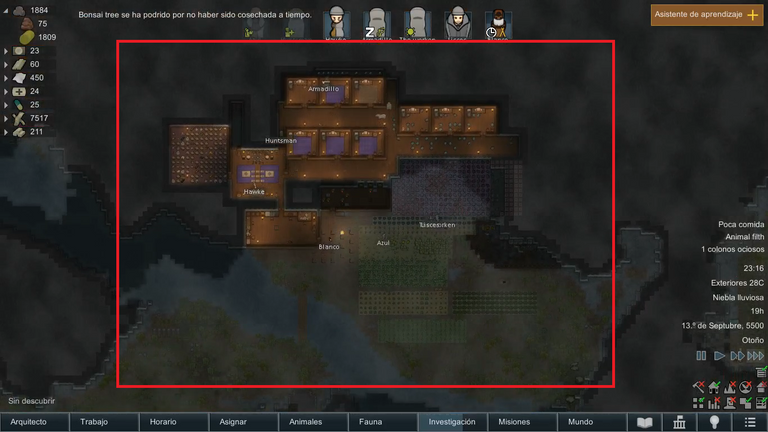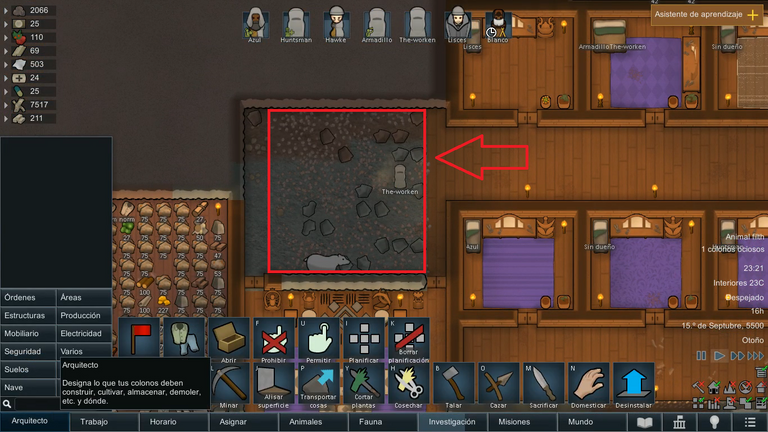 Podremos notar el tamaño en la que va nuestra colonia, muchos colonos se nos están uniendo, lo cual es muy bueno para así facilitar cada tarea, tengo pensado hacer muchas cosas que más adelante lo irán descubriendo.
Una de las cosas es que en el espacio que está arriba del área de rituales, tengo pensado hacer una cocina y un comedor, ya que mis colonos están comiendo de pie y esto genera un punto negativo en el humor de estos, también generara un aumento de producción de comida, ya que en el taller reduce un poco la eficacia y también genera intoxicación en mis colonos producto del polvo.
Algo que no me había dado de cuenta antes, es que Lisces tiene una cultura y creencia muy distinta a la que tienen mis colonos, por lo que esto siempre impactara puntos negativos en el humor de este a la hora de hacer eventos que tenga que ver con la cultura de estos.
Es posible bajar la creencia de este tipo de colonos, los cuales conlleva a que se haga un ritual de conversión, para que funcione perfectamente, el Orador deberá de tener un alto nivel de socialización, para así lograr convencer al Converso.
We can notice the size in which our colony is growing, many colonists are joining us, which is very good to facilitate each task, I plan to do many things that you will discover later.


One of the things is that in the space that is above the ritual area, I plan to make a kitchen and a dining room, since my colonists are eating standing up and this generates a negative point in their mood, it will also generate an increase in food production, since in the workshop it reduces the efficiency a little and also generates intoxication in my colonists due to the dust.
Something that I had not realized before, is that Lisces has a very different culture and belief than my colonists, so this will always impact negative points in the mood of this when making events that have to do with the culture of these.


It is possible to lower the belief of this type of settlers, which leads to a conversion ritual, to work perfectly, the speaker must have a high level of socialization, in order to convince the convert.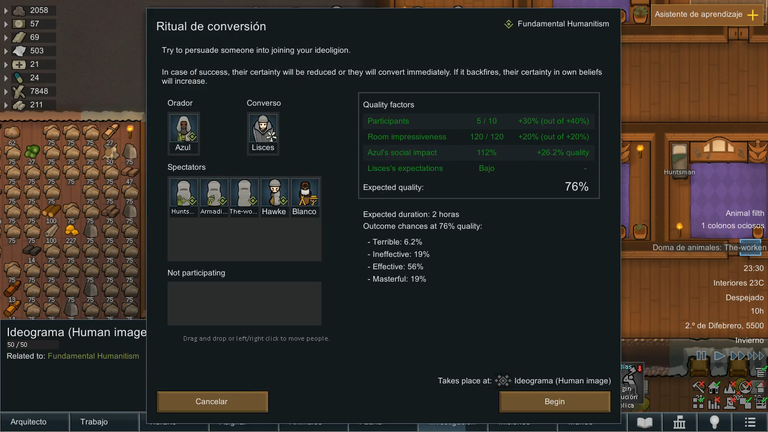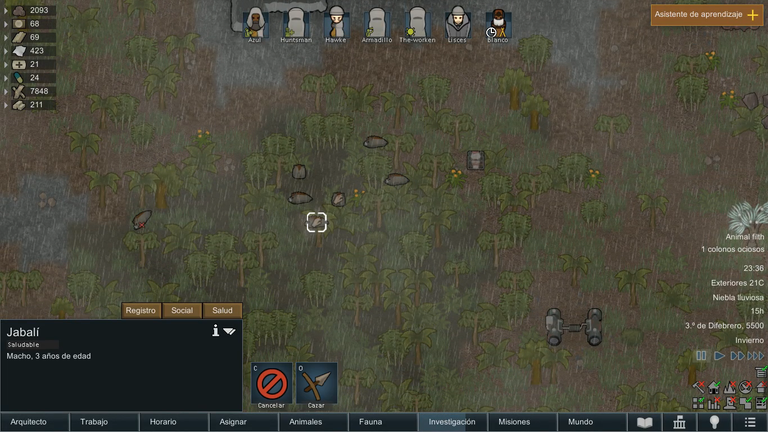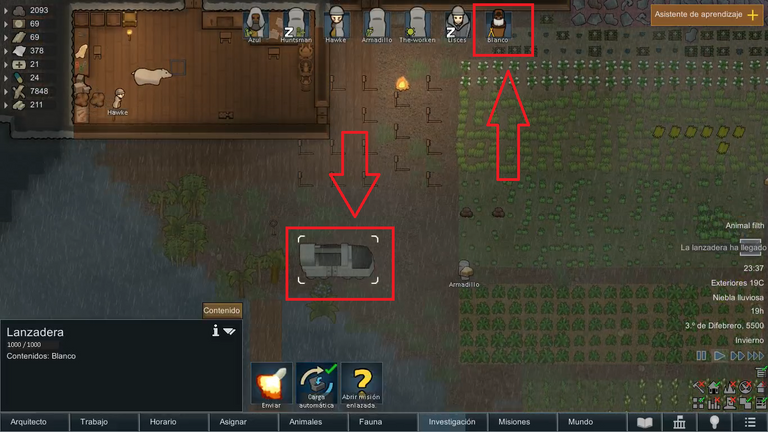 Más adelante comencé a ordenarle a mis colonos que trataran de domesticar a dos Jabalís salvajes, ya que tengo pensado reproducirlos, hacer muchos de ellos para sacrificarlos por comida, lo cual es muy bueno que lo hagamos.
Luego llego el momento de que Blanco volviera a su colonia, por lo que una lanzadera llego a buscarlo, inmediatamente llego a nuestra colonia Nah, una experta en minería también, podemos notar una pequeña llama de fuego del lado derecho de las habilidades, esto quiere decir que puede dominar ese oficio de manera mucho más rápida que de los demás, Nag me puede ser bastante útil a la hora de minar y atender a los enfermos, ya que puede aprender rápido de medicina.
Later on I started to order my colonists to try to tame two wild Boars, as I plan to breed them, make many of them to sacrifice for food, which is very good that we do it.


Then it was time for Blanco to return to his colony, so a shuttle arrived to pick him up, immediately he arrived at our colony Nah, an expert in mining also, we can notice a small flame of fire on the right side of the skills, this means that he can master that trade much faster than the others, Nag can be quite useful when it comes to mining and care for the sick, as he can learn quickly medicine.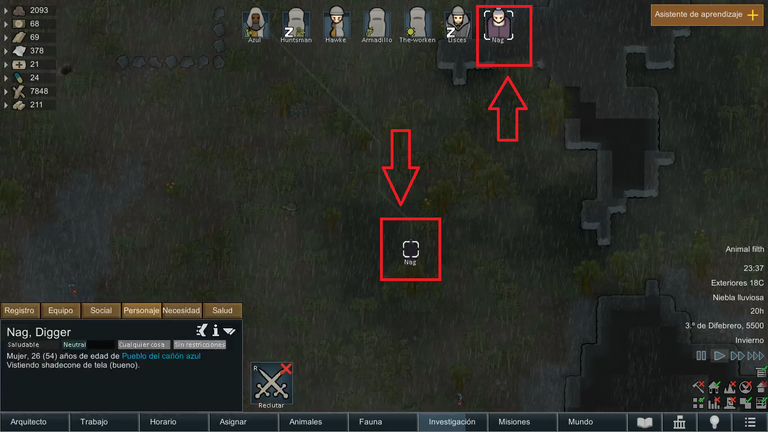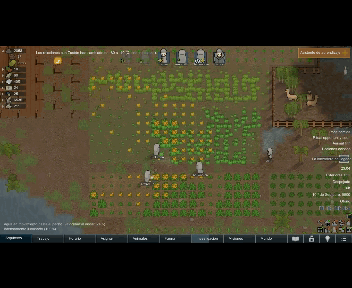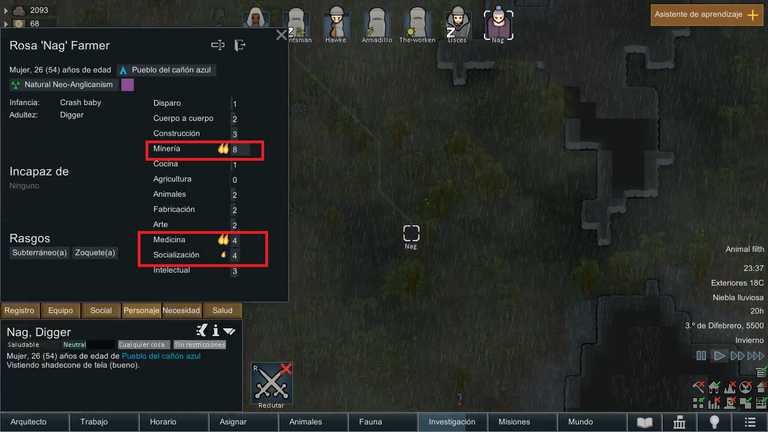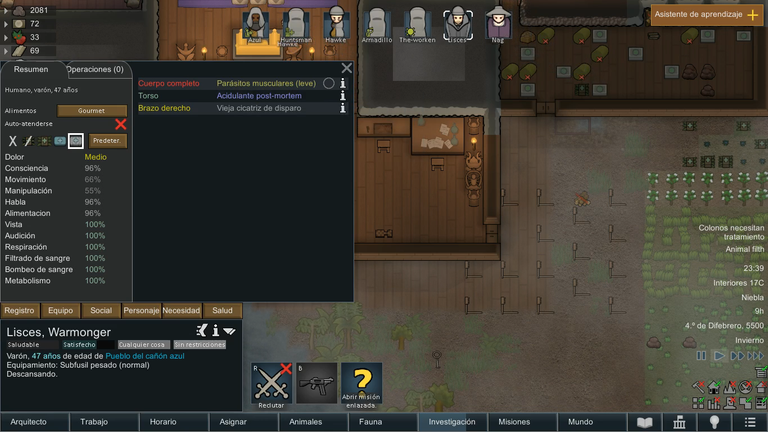 Una de las peores cosas que pueden pasar en nuestras siembras, es que haya una plaga, estas acabaran con todas nuestras plantaciones de manera rápida, por lo que, si queremos que la plaga no se extienda, debemos eliminar las plantas afectadas de manera rápida, de lo contrario nos quedaremos sin cultivos que estén a punto de ser cosechados, peor aún, si recogemos las cosecha nuestros colonos se intoxicarán por comer comida contaminada.
Las cosas no podían complicarse un poco más, por lo que una nueva enfermedad está azotando en mi colonia, la enfermedad se llama parásitos musculares, esta plaga puede generar perdidas de movimiento a nuestros colonos, por lo que estarán tumbados en las camas hasta que se recuperen por un largo tiempo, y esto es un problema, ya que puede afectar a muchos colonos a la vez, si tienen fuerzas podrán levantarse de la cama y cumplir con sus respectivas órdenes.
Luego me llego un mensaje de un sujeto llamado Zeip, es un ingeniero que nos está llamando por radio para salvarle la vida de un grupo de Linces que intentan comérselo, la recompensa por hacer esta misión es que Zeip se una a nuestra colonia, así que acepte esta misión.
El total de Linces que me fueron a atacar es de 4, son muy peligrosos, por lo que lograron herir, pero no gravemente a uno de mis colonos, específicamente a armadillo, el que ataca cuerpo a cuerpo.
One of the worst things that can happen in our crops, is that there is a plague, these will kill all our plantations quickly, so if we want the plague does not spread, we must eliminate the affected plants quickly, otherwise we will be left without crops that are about to be harvested, even worse, if we collect the harvest our settlers will be poisoned by eating contaminated food.




Things could not get a little more complicated, so a new disease is hitting my colony, the disease is called muscle parasites, this plague can generate movement losses to our colonists, so they will be lying in beds until they recover for a long time, and this is a problem because it can affect many colonists at once, if they have strength they can get out of bed and fulfill their respective orders.




Then I got a message from a guy named Zeip, he is an engineer who is calling us by radio to save his life from a group of Lynx that are trying to eat him, the reward for doing this mission is that Zeip joins our colony, so I accepted this mission.
The total number of Lynx that attacked me is 4, they are very dangerous, so they managed to wound, but not seriously, one of my colonists, specifically Armadillo, the one that attacks melee.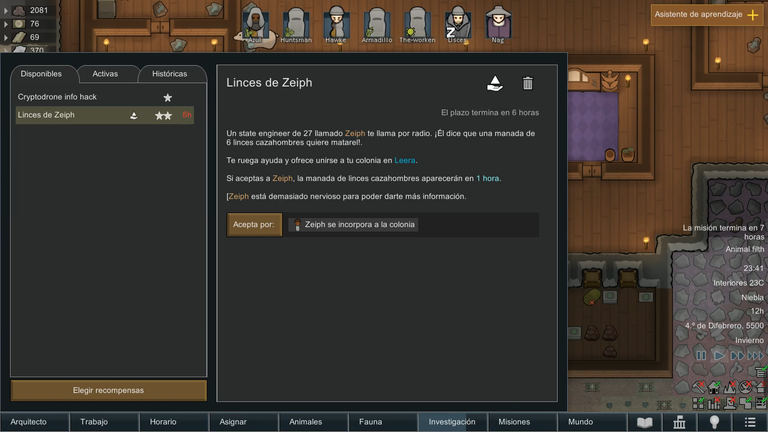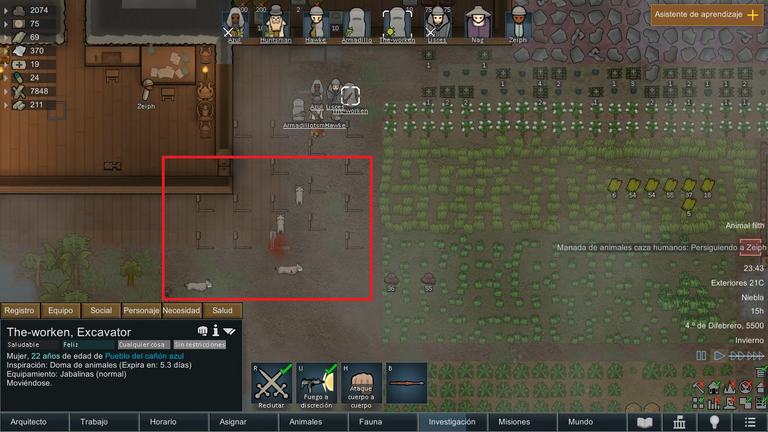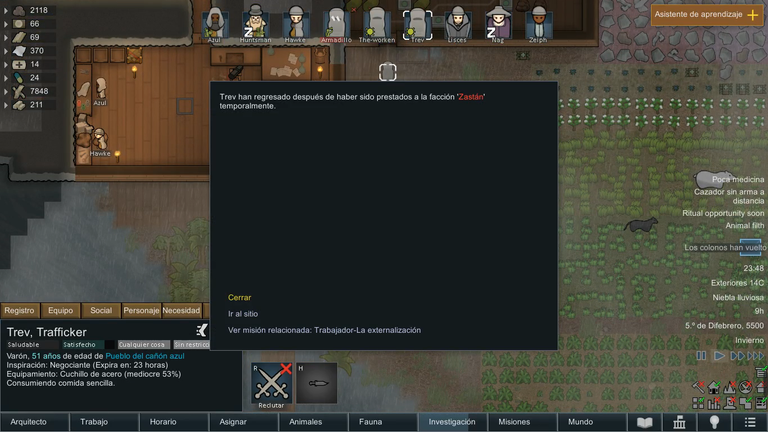 Finalmente, pasaron 10 días y nuestro colono prestado llamado Trev ha vuelto a nuestra colonia.
Al cabo de un tiempo mis colonos finalmente terminaron de trabajar en el área del comedor y la cocina, ahora nuestros colonos se sentirán mucho más cómodos, no generará ningún buen estado de humor, pero ya no tendrán puntos menos por comer de pie.
Ahora tengo pensado en crear un área de diversión para que mis colonos puedan mantenerse contentos, será un poco grande, ya que tengo cosas nuevas para que ellos puedan divertirse, más adelante sabrán que es.
Finally, 10 days passed and our borrowed settler named Trev has returned to our colony.
After a while my colonists finally finished working on the dining and kitchen area, now our colonists will feel much more comfortable, it won't generate any good mood, but they will no longer have points less for eating standing up.


Now I am planning to create a fun area for my colonists to keep them happy, it will be a bit big, as I have new things for them to have fun, you will know what it is later.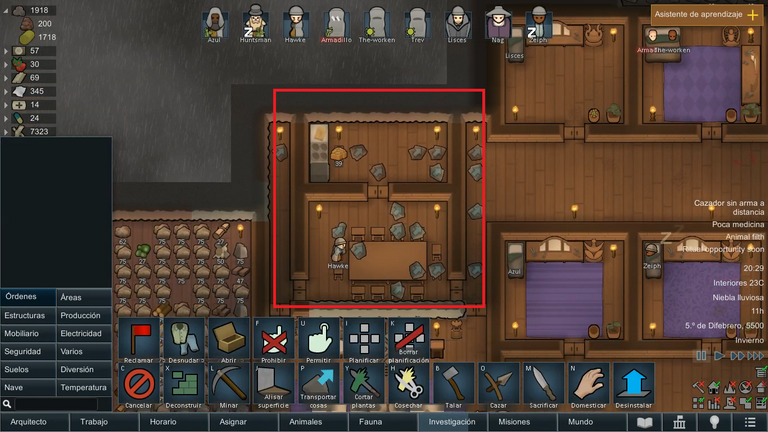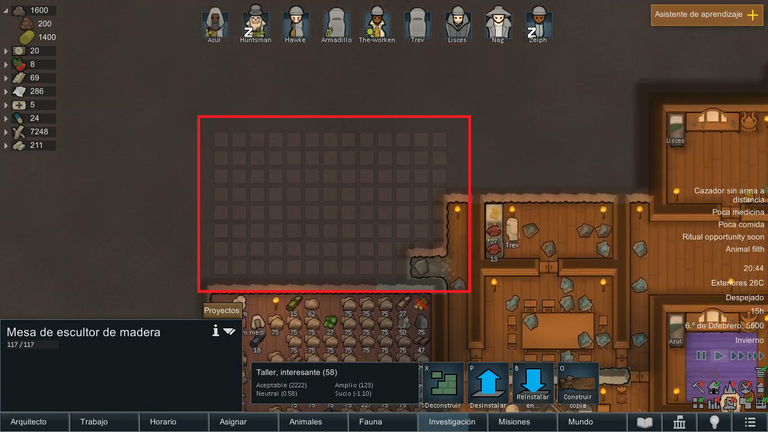 Note que me estaba comenzando a quedar sin madera, por lo que he tenido que crear un área de siembra de árboles de palmera, ya que tardan menos en crecer que otros árboles.
Hay muchos tipos de árboles, pero como la necesidad de madera es crítica, tuve que poder esta, por supuesto hay otros tipos de siembra que se pueden hacer que duran menos tiempo, pero la cantidad es muy mínima, por lo que la de palmera es idea, supongo que tardan unos 10 días en estar cosechables.
Continuará…
De esta forma concluyo la publicación de hoy hermanos y hermanas, espero que te haya gustado, hoy la aventura en Rimworld sí que estuvo interesante, esta nueva enfermedad es un poco molesta, la plaga en la siembra ha sido todo un problema, por suerte tenía Penmican guardado para estos momentos críticos, por lo que mis colonos no sufrieron de hambre.
Nos vemos en otra publicación basada en el maravilloso mundo de los videojuegos, hasta la próxima.
I noticed that I was starting to run out of wood, so I have had to create a planting area of palm trees, as they take less time to grow than other trees.


There are many types of trees, but as the need for wood is critical, I had to be able to this one, of course there are other types of planting that can be done that take less time, but the amount is very minimal, so the palm tree is idea, I guess they take about 10 days to be harvestable.
To be continued...
This way I conclude today's post brothers and sisters, I hope you liked it, today the adventure in Rimworld was interesting, this new disease is a bit annoying, the plague in the planting has been a problem, luckily I had Penmican saved for these critical moments, so my colonists did not suffer from hunger.
See you in another publication based on the wonderful world of video games, see you next time.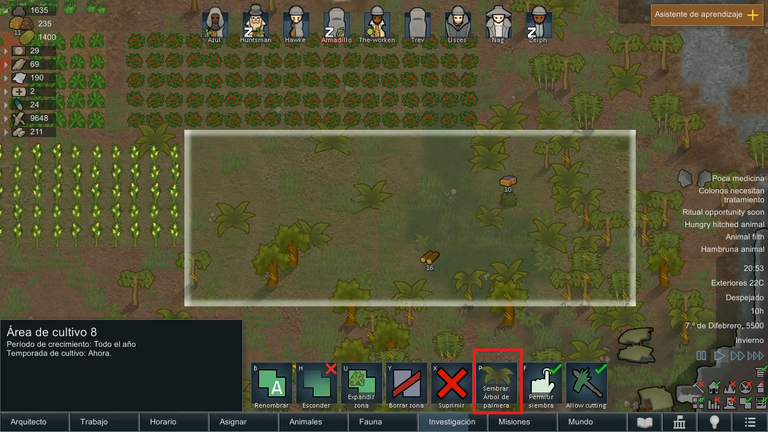 Source / Fuente Castle of Castlevania
Source / Fuente Terra Blade of Terraria
Los separadores son de mi autoría, los captures son realizados desde mi perfil de jugador en mi ordenador, las ediciones del GIF son creados por mí.
The separators are of my authorship, the captures are made from my player profile on my computer, the GIF edits are created by me.
Programas que utilicé para crear mi diseño es este:
This is the program I used to create my design:
Gif y portada cortesía de Canva
Gif and cover courtesy of Canva
Traducido por Deepl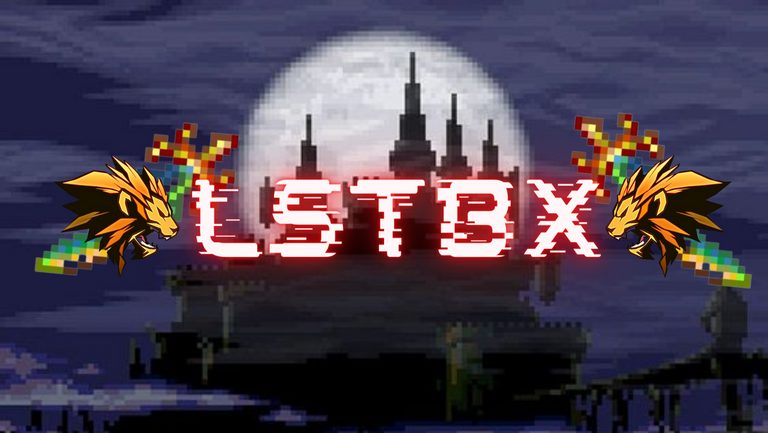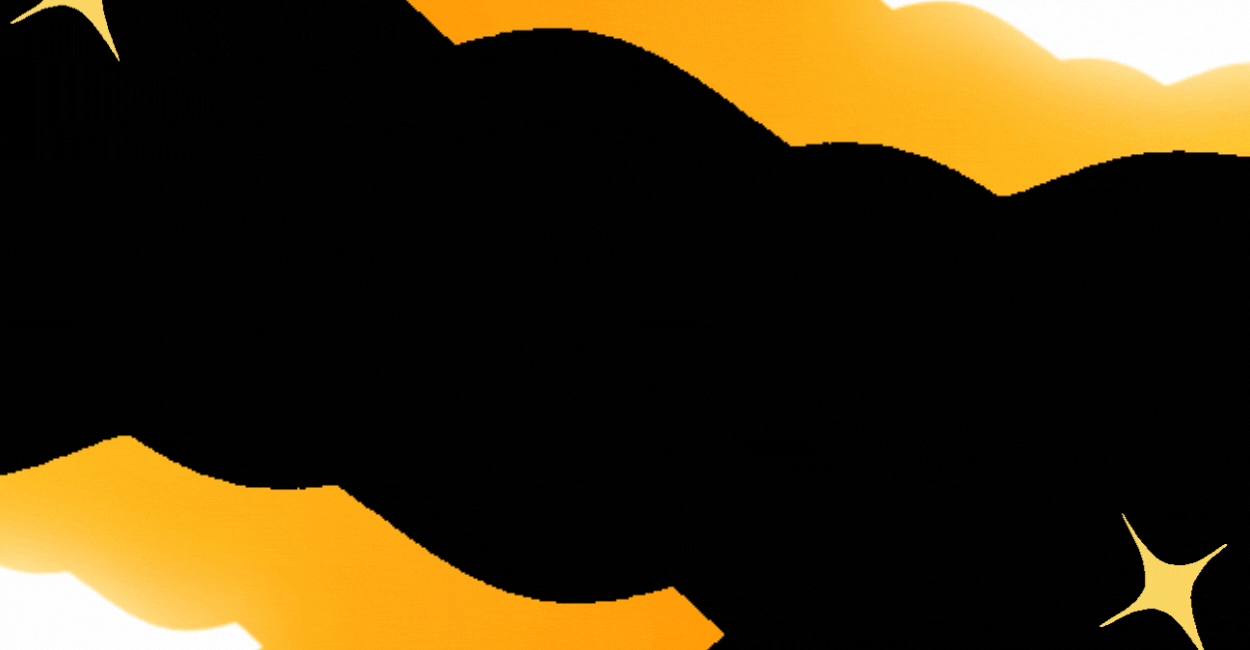 ---
---