What will be my OCD OCD? Obsessive compulsive disorder|Mini contest and a great reflection [ESP-ENG]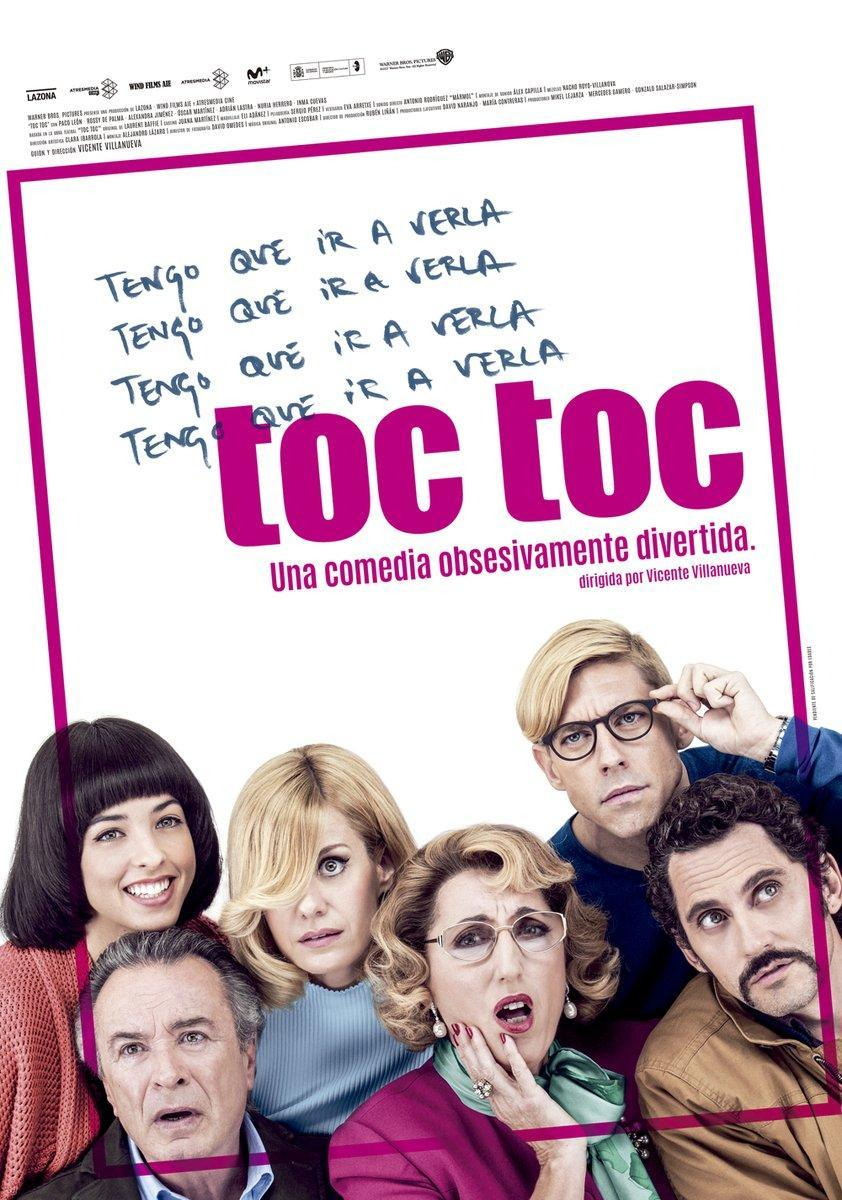 Fuente
¡Hola amigos!
No les voy a mentir, no soy una persona que me desviva por ver películas, pero cuando se me ocurre pasar un rato agradable me inclino por las comedias.
En esta oportunidad me dispuse con todo mi armamento de chucherías a pasar un buen rato en casa viendo una película que recomendaron en uno de esos talleres donde asisto para ver mi nivel de salud mental.
Decidí a compartir por esta comunidad ya que podré contar toda la película completa ja,ja,ja sin prestar atención si hago spoiler, y trataré de que llegue mi experiencia a ustedes mi queridos lectores y puedan convencerse que pasaran un rato muy agradable y también van a poder calibrar su locura, que digo su equilibrio emocional, mental y espiritual viendo esta película desesperadamente loca ja,ja,ja.
Hello friends!
I'm not going to lie to you, I'm not a person who loves watching movies, but when it occurs to me to have a good time I go for comedies.
This time I set out with all my armament of goodies to have a good time at home watching a movie that was recommended in one of those workshops I attend to check my mental health level
I decided to share for this community since I will be able to tell the whole movie ha,ha,ha without paying attention if I make spoilers, and I will try to get my experience to you my dear readers and you can convince yourselves that you will have a very nice time and you will also be able to calibrate your madness, I mean your emotional, mental and spiritual balance watching this desperately crazy movie ha,ha,ha,ha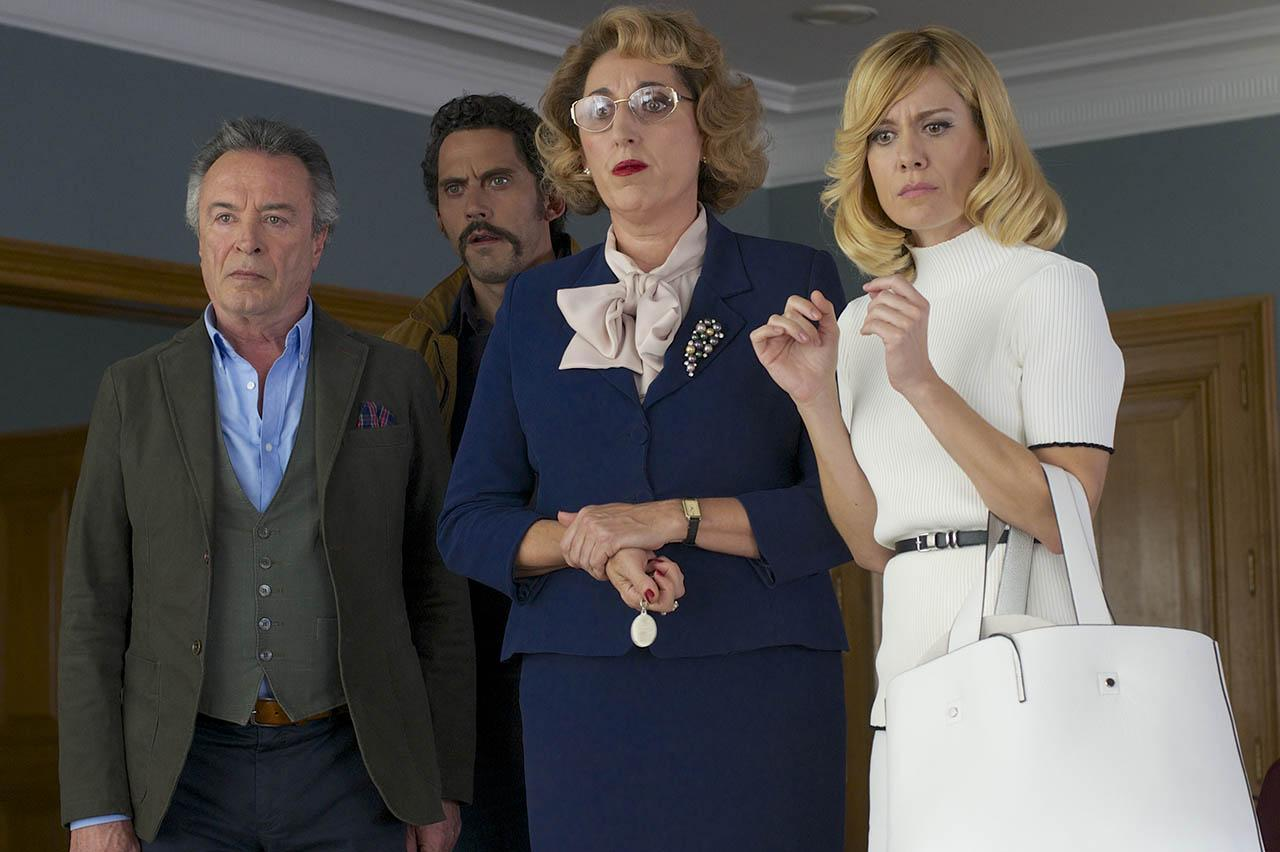 fuente
Podemos decir que es sabroso saber que alguna persona estuvo dormida 27 meses, escuchar sobre personas que tienen obsesiones, manías, personas que escuchan o ven cosas y nunca vamos a entender a fondo lo que siente cada una de ellas. Será cierto que cuando tenemos algún trastorno mental siempre nuestros encuentros terminan diciendo: Vamos a abrir un grupo de WhatsApp y nos reuniremos una vez al mes.
La trama de la película pasa en un consultorio, donde llega un señor algo pintoresco con algunos tic nerviosos, en el consultorio una asistente algo extraña, pero muy parecida a muchas, fuma y tiene un carácter extremadamente muy rudo, para no decir violento. Van llegando uno a uno los pacientes que esperaron casi año y medio para poder ser evaluados psicológicamente. En total eran seis pacientes tres damas y tres caballeros cada uno con sus síntomas y realidades. Había una dama que trabajaba en un laboratorio ella insistía en acabar con su cuerpo, es decir, lavaba compulsivamente sus manos, cabellos, cara, y todo lo que rosara con objetos que para ella podían contagiarla de algo. En cada escena los árboles seguro lloraban por la cantidad de papel higiénico que gastaba al lavarse las manos, sentarse, las toallitas higiénicas las terminaba de un solo jalón. En pocas palabras compulsión por el lavado.
La otra dama un poco mayor era algo, bastante religiosa, ella decidió cambiar todo en su vida, la forma de vestir, peinarse, la forma de mover sus manos para convertirse en una persona que dicho por ella misma, ella siente que salen de ella varias conductas guiada por varias personalidades, al ver la cara de esta señora era muy difícil no poder dejar reír, aunque ella con toda la seriedad insistía que la burla no iba con ella. Su TOC era obsesiones religiosas y dudas...Bueno, tampoco es una cosa del otro mundo ja,ja,ja.
We can say that it is tasty to know that someone was asleep for 27 months, to hear about people who have obsessions, manias, people who hear or see things and we will never understand in depth what each one of them feels. It will be true that when we have some mental disorder always our meetings end up saying: let's open a WhatsApp group and we will meet once a month
The plot of the film takes place in an office, where a somewhat colorful man with some nervous tics arrives, in the office a somewhat strange assistant, but very similar to many, smokes and has an extremely very rough character, not to say violent. One by one, the patients who had waited almost a year and a half to be psychologically evaluated arrived. In total there were six patients, three women and three men, each with their own symptoms and realities. There was a lady who worked in a laboratory, she insisted on finishing with her body, that is to say, she compulsively washed her hands, hair, face, and everything that touched objects that for her could infect her with something. In each scene the trees would surely cry because of the amount of toilet paper she wasted washing her hands, sitting down, the sanitary wipes she would finish them in one go. In short, a compulsion to wash
The other lady a little older was something, quite religious, she decided to change everything in her life, the way she dressed, the way she combed her hair, the way she moved her hands to become a person who said by herself, she felt that she had several behaviors guided by several personalities, seeing the face of this lady it was very difficult not to laugh, although she insisted with all seriousness that the mockery was not with her. Her OCD was religious obsessions and doubts...well, it's not a big deal either ha,ha,ha,ha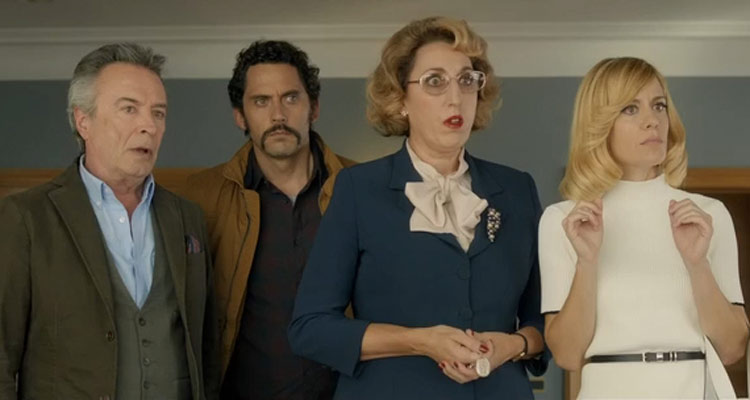 Fuente
Con el siguiente personaje dejo claro que siempre deben ir primero la damas. Está señorita es instructora en una academia de ejercicios, entre bailes y repeticiones de algunas practicas puede llegar a matar a cualquiera. Ella todo lo repite, parece que algo en su mente y sistema nervioso se altero al utilizar demasiado el celular, no es contigo querido usuario, es verdad, no te lo tomes personal, esta chica es algo diferente. Me mantuve lejos de mi celular por varias horas, para darme cuenta de mi obsesión por este aparato. Todavía estoy llevando a cabo mi terapia. No me llamen por favor. Ella sufre de muchos temores y la necesidad de perder ese miedo y sentirse libre es su única meta.
Luego se presentan los chicos de esta comedia, que a pesar de tantas risas en el fondo lo que quieren es reflejar, que con el apoyo entre varios amigos recién conocidos se puede llegar a mejorar, sentirse aceptado; queriendo dar a entender que con un gran problema mental, no quiere decir que estemos locos. Saber que algunos aspectos de nuestra personalidad pueden llevar a situaciones como el divorcio, rechazo, aislamiento social, temores, ansiedad y pare de contar...Con buenos amigos y apoyo todo puede ser diferente.
With the following character I make it clear that ladies should always go first. This lady is an instructor at an exercise academy, between dances and repetitions of some practices can get to kill anyone. She repeats everything, it seems that something in her mind and nervous system was altered by using the cell phone too much, it's not with you dear user, it's true, don't take it personally, this girl is something different. I stayed away from my cell phone for several hours, to realize my obsession with this device. I am still going through my therapy. Please don't call me. She suffers from many fears and the need to lose that fear and feel free is her only goal
Then the guys of this comedy are presented, that despite so many laughs in the background what they want is to reflect, that with the support between several friends recently known can get better, feel accepted; wanting to imply that with a big mental problem, does not mean that we are crazy. Knowing that some aspects of our personality can lead to situations such as divorce, rejection, social isolation, fears, anxiety and stop counting ... With good friends and support everything can be different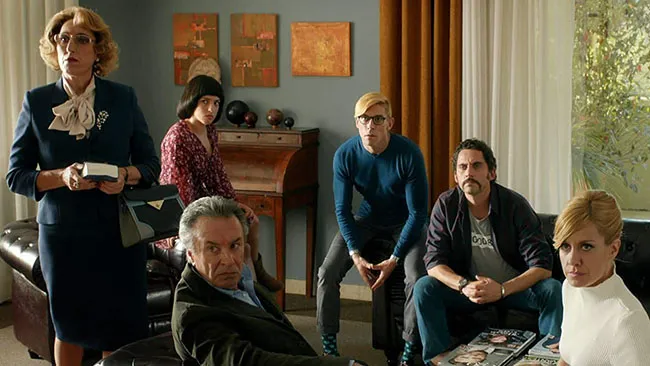 Fuente
Nos conseguimos con un chico obsesivo por los números y esas ganas de coleccionar de todo, al punto que su exesposa que vuelve con un carácter más fuerte para ayudar a su ex que es de nuevo su esposo pueda controlar esos impulsos. Es el más alegre de todos a pesar de esa personalidad tan exacta y precisa para saber cuántos días, horas, minutos y segundos lleva cada uno de los pacientes con su mal y otras cosas, de verdad que es desesperante tanta precisión. Este paciente se llama Emilio, me encantó la franela que le obsequiaron algunos amigo, hace referencia con su nombre y su obsesión: E 1000 lio...Adivinaron el nombre?
Entre los pacientes que se resisten que la terapia sea grupal, por estar todos citados a la misma hora, tenemos a un chico que su última relación amorosa duró solo tres días, vive con su mamá y su obsesión está con la líneas, no quiere pisar ninguna línea esto lo hace caminar de una forma muy extraña. Con mucho esfuerzo sus amigos de momento lo ayudan a tratar de salir de ese temor que lo agobia y no lo deja avanzar.
Por último tenemos al señor mayor de todo un ser que desde los once años lucha con un lenguaje de muchas groserías e impertinencias. Solo es amable cuando está dormido, solo duerme cuatro horas. El único trabajo estable que tuvo fue criando aves y las aves aprendieron tantas groserías que nadie las compraba, los vecinos se quejaban, y en fin, no pudo seguir con ese negocio. Debo decir algo bien interesante que las terapias que aplica este doctor son totalmente gratis, su asistente es una actriz, también el que logre estar en el siguiente grupo de terapias será bien privilegiado, ya que muchos de estos pacientes son muy solidarios, y llegan a decir que solo uno que se cure, es de gran alegría el avance para los demás.
We get a guy obsessed with numbers and the desire to collect everything, to the point that his ex-wife who returns with a stronger character to help her ex, who is again her husband, to control those impulses. He is the most cheerful of all, in spite of his exact and precise personality to know how many days, hours, minutes and seconds each one of the patients has been with his illness and other things, it is really desperate so much precision. This patient's name is Emilio, I loved the flannel that some friends gave him as a gift, it refers to his name and his obsession: E 1000 lio...Did you guess the name?
Among the patients who resists group therapy because they all meet at the same time, we have a guy whose last love relationship lasted only three days, he lives with his mother and his obsession is with the lines, he doesn't want to step on any line, this makes him walk in a very strange way. With a lot of effort his friends at the moment help him to try to get out of this fear that overwhelms him and does not let him move forward
Lastly, we have the oldest man of all, a being that since he was eleven years old has struggled with a language of many rudeness and impertinence. He is only kind when he is asleep, he only sleeps four hours. The only stable job he had was raising birds and the birds learned so many rude words that no one would buy them, the neighbors complained and in the end he could not continue with that business. I must say something very interesting that the therapies that this doctor applies are totally free, his assistant is an actress, also the one who gre be in the next group of therapies will be very privileged because many of these patients are very supportive and come to say that only one who is cured will be of great joy their progress for others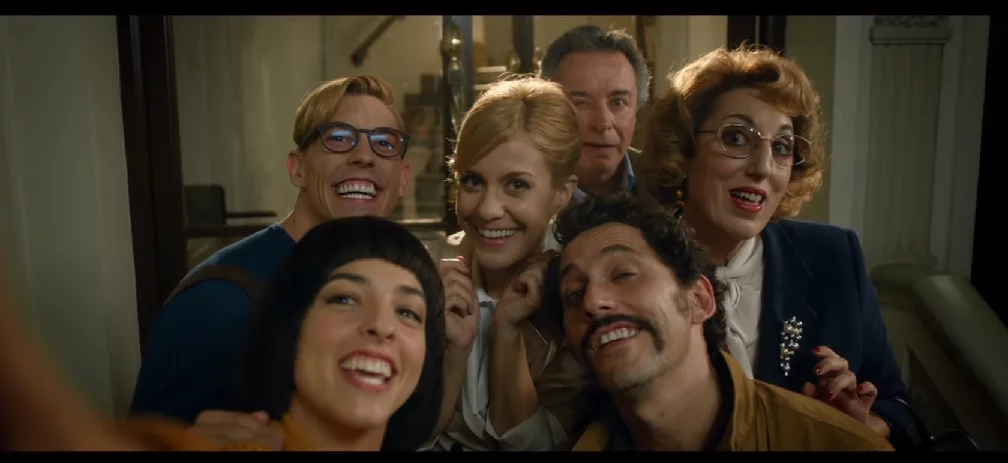 Fuente
Quisiera que dejaran en los comentarios el nombre de uno de los pacientes, al cual sus amigos le regalaron la franela en honor a su nombre, el primero que acierte tendrá un humilde premio. No será una consulta gratis con este médico, es otra cosa que obsequiaré. Quizá 1hive, 2hive, o 3hive. ya veremos. Gracias por todo su apoyo.
I would like you to leave in the comments the name of one of the patients whose friends gave him the flannel in honor of his name, the first one who guesses correctly will have a humble prize. It won't be a free consultation with this doctor, it's something else I will give away. Maybe 1hive, 2hive, or 3hive. we'll see. Thanks for all your support
Todas las imágenes son cortesía de filmaffinity. Mi fima con aplicación Canva. Traductor utilizado DeepL.
All images courtesy of filmaffinity. My fima with Canva application. Translator used DeepL


---
---