BnB CATastrophe
I've had my fair share of calamities ever since starting our AirBnB some seven years ago, something that never fazed me before; I'd stay cool, calm, and collected.
Am I getting too long in the tooth for this job?
You've all heard of double bookings, and this is kind of one of those, my own fault of course!
I have a couple of possible excuses:
my silver hair is starting to take over and bedazzle my brain,
I've become way too complacent with returning guests.
Of course, I'd like to blame it on someone or something else:
the mudslides of April, as the booking was made when we were still reeling from the shock when friends and neighbours suffered massive property damage.
I can think of a ton of other excuses, but it doesn't change the fact that I offered our studio apartment to 2 guests from her group, but forgot to block it out on my online calendar, and now have another guest well-ensconced in there!
As they arrived and I saw the number of guests, I had an awful shocking light-switch moment.
I was already flustered with one of the hottest days this summer, but when I realized my faux pas, I must have turned the colour of a beetroot!
Thank heavens this was not a stranger!
I know I've been complaining about the state of our country as far as service delivery and our greedy leeches leaders are concerned, but really, when it comes to the people of SA, I must say, with my head held high, that most of us are the most adaptable and easy-going people in the entire world.
We have a saying in my mother tongue -
'n Boer maak 'n plan
direct translation - a farmer makes a plan, something we are all very good at, whether we're farmers or not!
It also helps to have a good relationship with your guests, some of who become like family, so my lovely guest was unfazed and asked me to just make up the comfy sleeper couch.
It was kind of a two-way compromise, as she asked me at the last minute if her two children could come, to which I agreed at no extra charge as one of the bedrooms accommodates a family.
As an aside, it may sound awful, but in my opinion, children should pay full price, and adults half price, no guessing why!
However, that's not always the case, as some children are taught to be responsible from a young age, but then those parents obviously are the same, making our job a real breeze!
Back to the double booking, it still doesn't change the fact that I feel like a real old fool, and will in future not allow anyone or anything to distract me!
At least this is the one and only time in seven years, so it's not too bad a track record!
I had a split-second vision of pitching a tent outside and opening up my home to the guests, but that would have been the ultimate sacrifice, and can you imagine us two old fogeys literally crawling out of that tent the next morning?
Whatcha say, any bright ideas on how to tackle a situation like this if the guest is not-as-easy-going?
P.S. Poe, our new grandchild is settling in nicely, and of course, was totally unfazed by my embarrassment!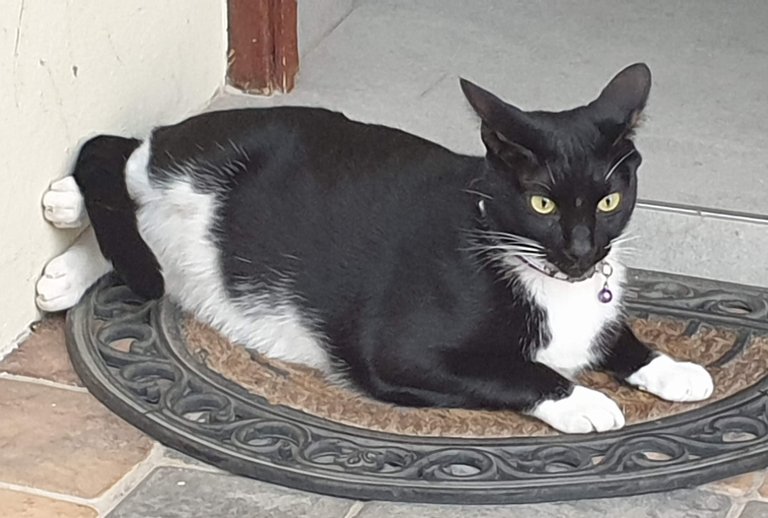 Trying to cool off on the slasto and begging for a tummy rub :).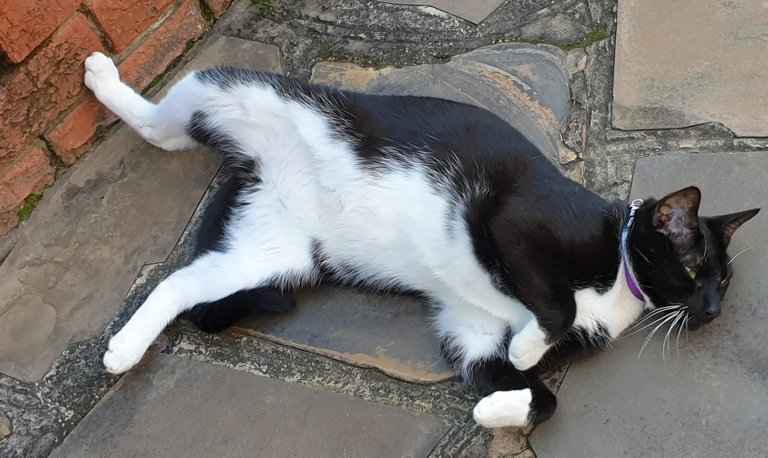 Banner by mondoshawan
---
Original Content by @lizelle
Thank you for stopping by
Copyright @lizelle – All Rights Reserved
JOIN Hive using my referral LINK
---

Artwork by @artywink
---
---