Letter to my Children's children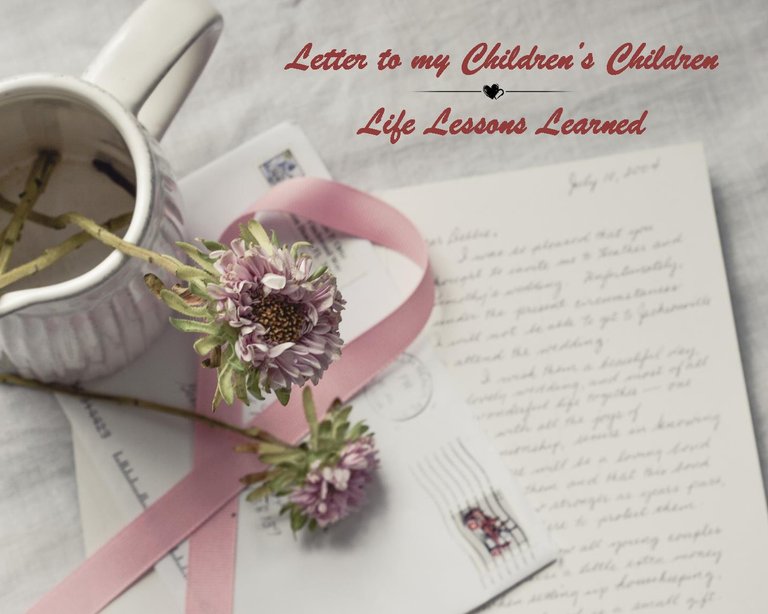 Photo by Debby Hudson on Unsplash

My dear child,
I am writing this letter as part of my legacy and will be sharing lessons from my life.
You of course will learn new lessons as you step through life with its' ups and downs, but the secret is to cherish the good times, learn from the bad experiences, and not carry that baggage for the rest of your life. They belong to the ash heaps of yesterday, always remember that!
Believe in and be Yourself
The most valuable lesson I learned was to believe in myself and to be myself; something your great-grandparents taught me, by example.
My mother and my Ouma (Grandma) could work magic in the kitchen, my favourite playground as you very well know, and I wanted to cook and bake like them. I used to stand on a chair by the table when they were baking and I'd ask for the 'decipe' book even though I could not read, but they indulged me.
The first lesson learned, encourage rather than discourage.
I likely got in the way, but they did not chase me outside, so when I got to my teens, I started experimenting in the kitchen to save Mom from cooking.
My concoctions were really weird, and not tasty at all; my four brothers (your uncles) forced the food down because my Dad told them big sister cooked it, especially for them, and if they finished their food, he would take us all to the local cafe and buy us candy.
My Dad would finish his food in no time, likely to get the torture over quickly, and he would thank me for cooking such a delicious dinner. This encouraged me to cook something even better next time. As you also know, my cooking and baking has been enjoyed by many over the years;)
Another lesson learned - never give up, and you will succeed, no matter how difficult or impossible it seems, and never compare yourself with others, this is one of the most soul-destroying habits.
Hard Work and Ethics
My parents were born during the Great Depression, and never had it broad, but instilled in me that I could achieve anything through sheer hard work and faith, and that I was to maintain a high standard of ethics at all times.
Choices
Be careful with the choices you make, do not be swayed by others and trust your gut feeling! If it doesn't feel right, simply do not go there!
Choose your career path carefully as you will spend most of your life in the workplace, wherever that may be.
Be consistent and push through, especially when the going gets tough.
A very important motto to remember and to teach your children is that for every action, there's a reaction, so remember that the choices you make, will determine your life and the people you will meet.
Talking about people, you will learn all about the phrase:
It takes all kinds to make the world go round.
You will meet kindred spirits along the way, treasure those friendships, and be kind to others.
Some people you meet, will not be very nice, but try to put yourself in their shoes, and believe it or not, you have it in you to bring out the best in most. Of course, you will not always succeed, so just walk away and let those be.
You will encounter more than one bully in your life, but they are the ones who feel inferior, and actually envy you for being the beautiful human being that you are.
Follow your Dream
I learned late in life, to take the plunge, when it was time for retirement, so grabbed the bull by the horns and started our successful little BnB Lily's Cottage, but only after looking at all the pros and cons.
I learned this from your great-Grandma who ran her own little food-vending business offering delicious homemade pies, jaffles, crumpets/flapjacks sandwiched with homemade apricot jam, plus other tasty eats. Your great-Grandpa built a push-cart that was taken to a local textile factory by Mary, great Grandma's loyal employee; everything was sold out each day.
Treat everyone you meet with respect, no matter what their so-called standing in life is; mutual respect and loyalty go hand in hand.
Use all your Talents till you have nothing left!
Great grandpa was a talented musician and used to play in the big bands of the ballroom era.
Both my Mom and Dad used every bit of talent to better the lives not only of ours, but others around them.
Your Great grandpa was super-skilled in DIY jobs and passed on those skills to my four brothers, always inventing useful implements for great Grandma's kitchen and for stuff around the home.
Talent is the one thing you need to use up and not waste, as Erma Bombeck said:
When I stand before God at the end of my life,
I would hope that I would not have a single bit of talent left, and could say,
I used everything you gave me.
Balance and taking Time out
It's vital for your well-being that you keep the balance between work and play; busyness becomes pointless if you're killing yourself chasing money or fame.
Take good care of yourself, or you will not be able to help anyone!
Gifts that build precious memories last forever, whereas expensive gifts are quickly forgotten. Tickets to a special event, an experience, a holiday, or a special picnic out in a park or nature reserve, leave awesome memories and build kinship.
Build that Nest Egg
Learn about Crypto Currencies, and invest as a future nest-egg, but only after doing careful research from trusted sources.
I had to come back here and edit as I forgot to mention one of my biggest life changers, and that is blogging here on the Hive blockchain which is a great learning ground for Crypto.
I've been amazed that doing something I love could actually earn me Crypto, zero investment except time!
I've also met fascinating people from all corners of the globe.
Patience and slow growth is vital when it comes to crypto, and will get you to the winning post.
Always live within your means, and do not be wasteful during a bull run. Rather HODL, a term you may already be aware of, unlike in my younger days when Crypto was unheard of.
Never fall for get-rich-quick schemes, there is no such thing!
You may notice that I've left finances to the very last; it is important, but not the be-all and end-all!
Live a life that has meaning and focus on what really matters.
Thank you for being 'you', for reading this letter, and most of all, remember that I love and cherish you forever after.
Much love,
Your Nana xxx

I hope you've enjoyed reading this letter to my 'grandchild-to-be,' as well as my grandchildren from other mothers.
It's also my ineligible entry for this month's #bom - Silver Bloggers' Blog of the Month - Lessons for my (grand)children from my school of life.

Banner by mondoshawan
---
Original Content by @lizelle
Thank you for stopping by
Copyright @lizelle – All Rights Reserved
JOIN Hive using my referral LINK
---

Artwork by @artywink
---
---