Save the planet, Save pennies - Recycle, Upcycle, Repurpose

Growing up in a family where there was more love and laughter than pennies, I remember my Ouma carefully unpicking Oupa's worn-out pants, cutting a pattern to make smaller pants for my four brothers. The discarded worn-out pieces by the bum were used to apply Nugget and shine up shoes, or used to apply Brasso to the treasured brass or silver ornaments.
My Ouma was recycling out of necessity without even knowing she was actually helping save the planet, like plastic, tin, and glass containers were all kept and re-used for many purposes.
That is how I remember the years of growing up; my Mom and Dad did the same with my Dad inventing all kinds of useful items out of scrap.
I believe there was way more respect for the earth back in those days as one would never dream of simply discarding useful waste into the bin, nor dream of tossing stuff out the car, bus or train windows!
Fast forward to today
Despite the knowledge we have now, we hear of whales starving to death because of consuming plastic and fishing lines which become like a large hard ball inside their stomachs; all because of man discarding refuse on the beaches and from ships as well! This naturally affects marine life in general!
I did not realize just how much stuff I recycle until I opened up my pantry cupboard, and started looking at old photos, some from old Hive posts. Ordinary food cans make quaint loaves of bread perfect for bunny chow, a Durban specialty which is a hollowed-out loaf of bread filled with a spicy curry. It can also be sliced into perfectly round slices while still hot with loads of butter melting into the bread.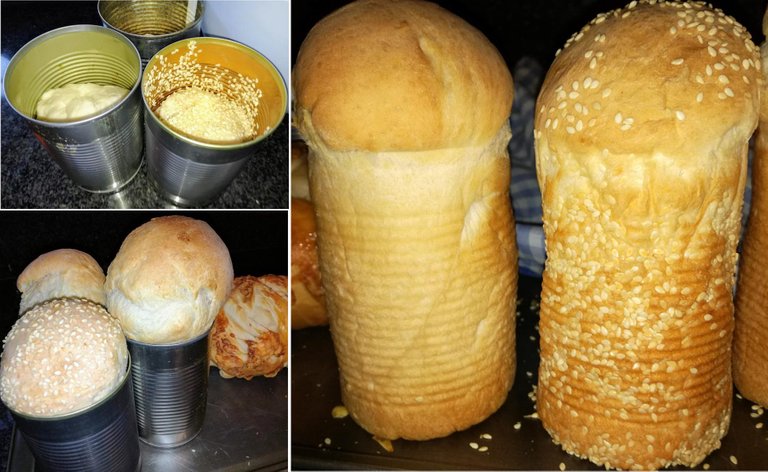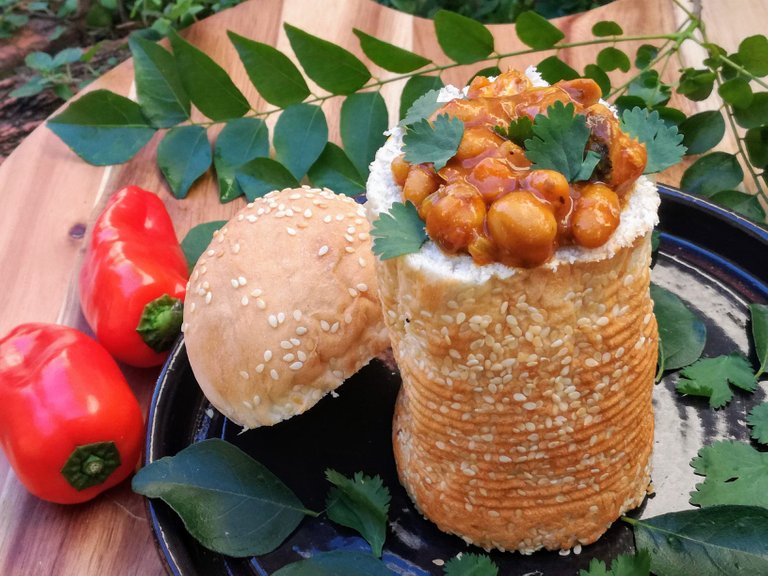 Food cans, as well as beverage cans, are accepted at recycling depots nowadays, with many people selling them to help them buy their daily bread. Aluminum, and steel, can be recycled over and over.
We have a really good refuse dumping site with different areas for garden refuse, glass, paper, plastic, electronic goods, and more, so I collect all of those. I was surprised to see that our domestic worker was collecting the beverage cans that she sells, obviously helping fill the gaps just before payday, or to buy little treats!
As we run a BnB, there are many cans that most guests place in a specially marked bin, but of course, some still toss them into the waste bin!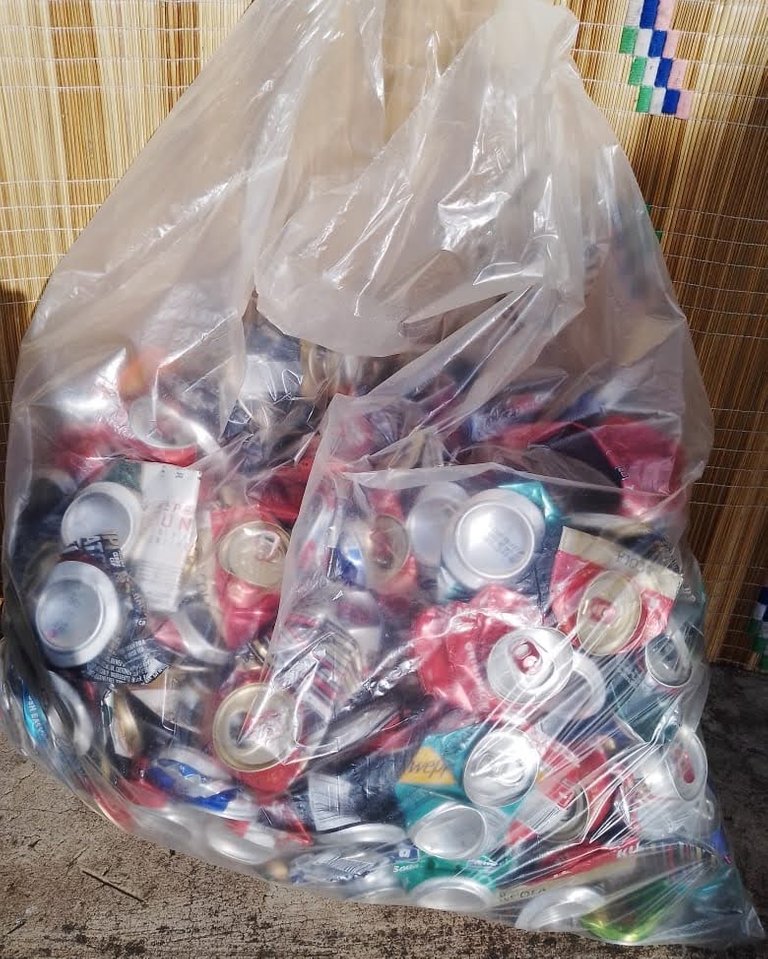 I keep most glass bottles, remove the labels and use them for making marmalade or lemon curd which I often pass on to friends; they're also perfect for making one's own sprouts.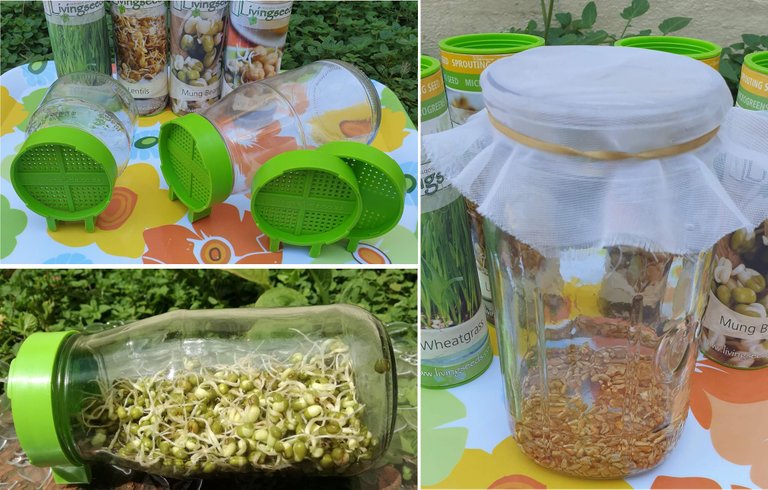 The ones I don't use, are stored in the store room and taken to the refuse dump when the store room is overflowing with recyclable waste.
Plastic bottles are perfect for dry pantry staples.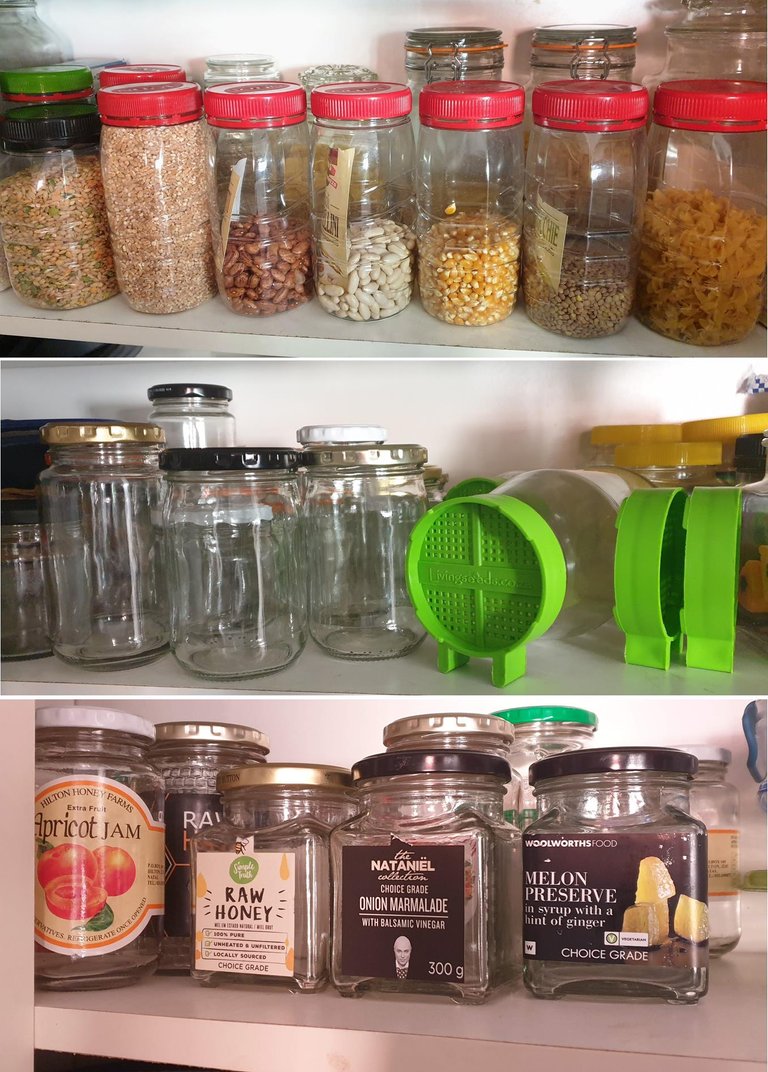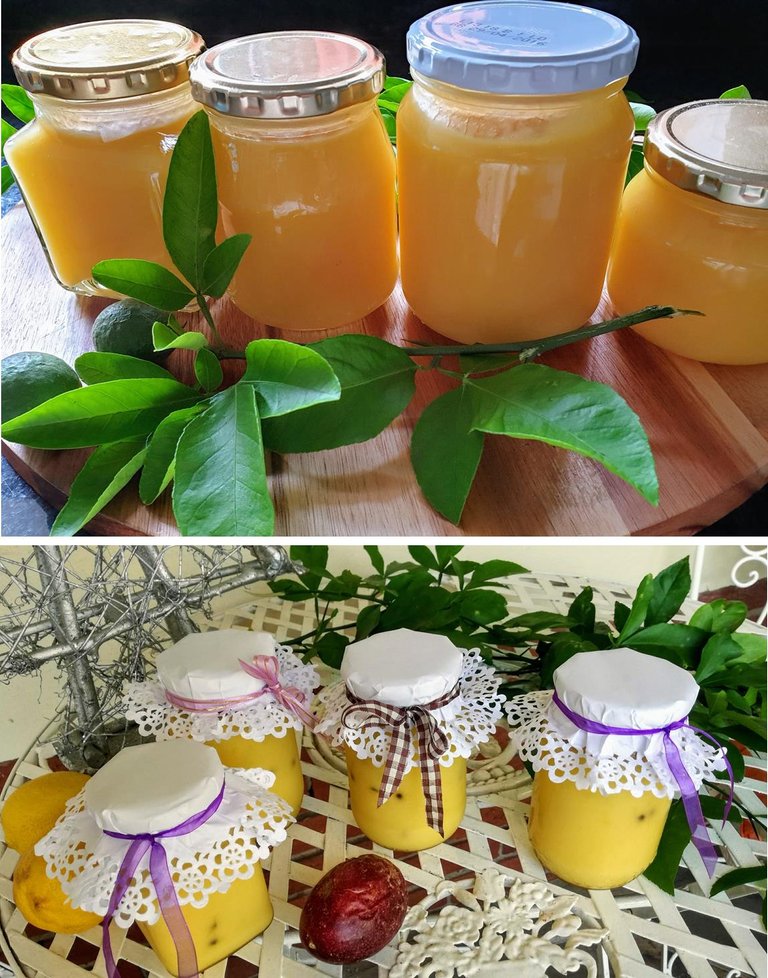 Pretty wine bottles can be re-used to make herbal wines and other concoctions to give away as gifts; you can make your own label and laminate it so the ink doesn't run.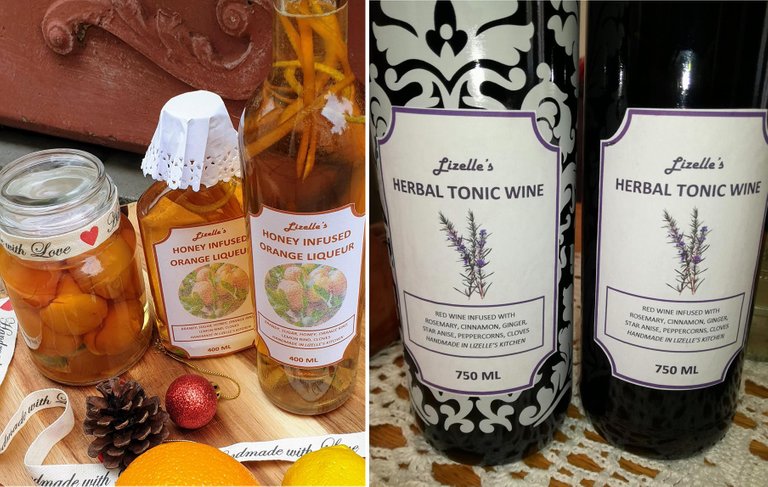 Smaller plastic containers are perfect shakers for whipping eggs for a quick omelette or in this instance, for my crumbed chicken to be dipped before they're coated in crumbs.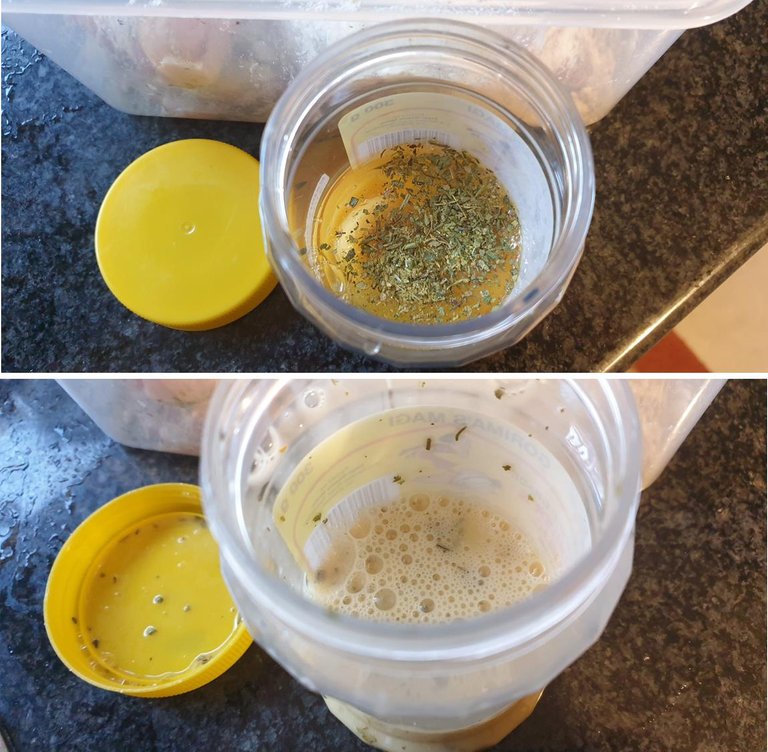 The tops of 5 litre plastic bottles are cut off and the base is ideal for repotting herbs or other plants, one just needs to poke a few holes in the base for drainage; this is thyme and rosemary I'm nurturing for a friend to take home.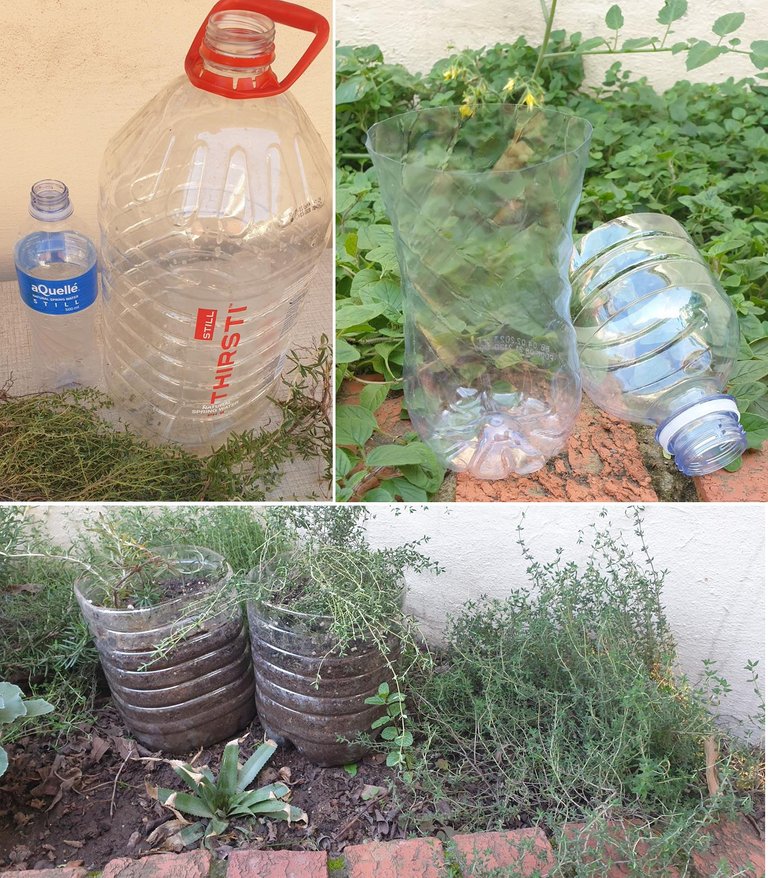 I even have uses for the 500ml plastic beverage bottles, top cut off to make a funnel so I don't mess the strained oil I re-use a couple of times, and the bottom piece makes a cute plastic juice glass, LOL!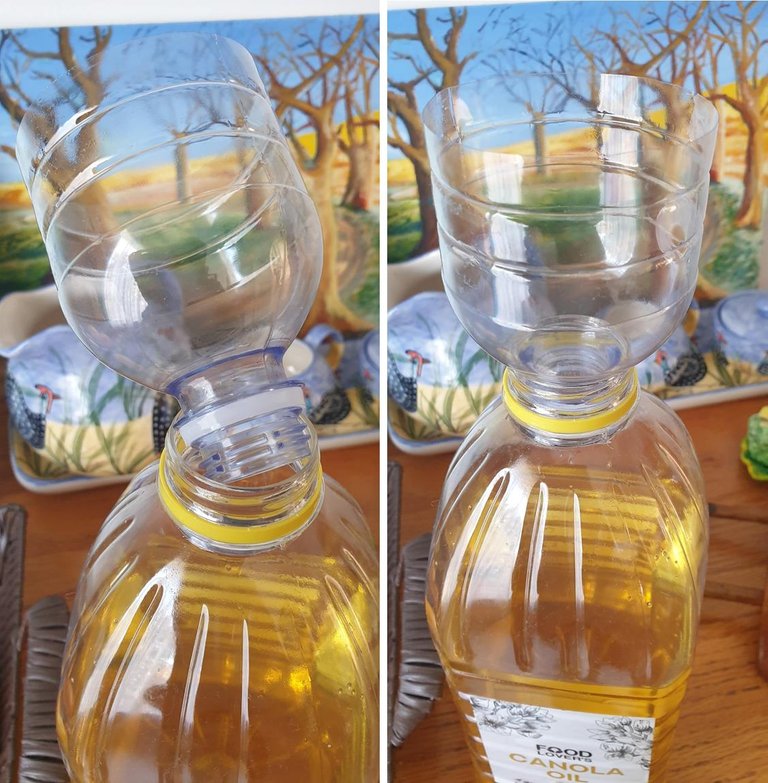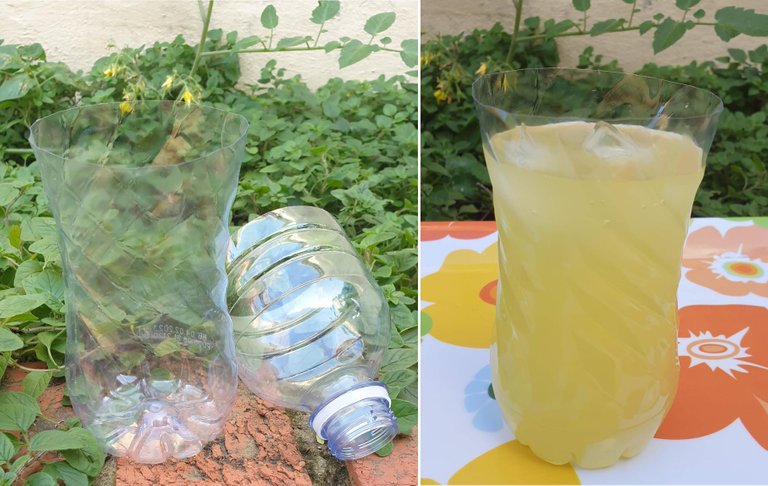 If you have a gym or health fanatic in the home, those large plastic protein shake containers are perfect for rusks and cookies. As you can see here, I only have smaller containers left so it will soon be time to bake. Anyone for tea and cookies, or want to join me and dunk a rusk in a good cup of coffee?
I even keep the small plastic containers that come with takeaway food. These are especially good for storing small quantities of leftover dips, etc. I use them when we take short breakaways for condiments, saves on packaging space.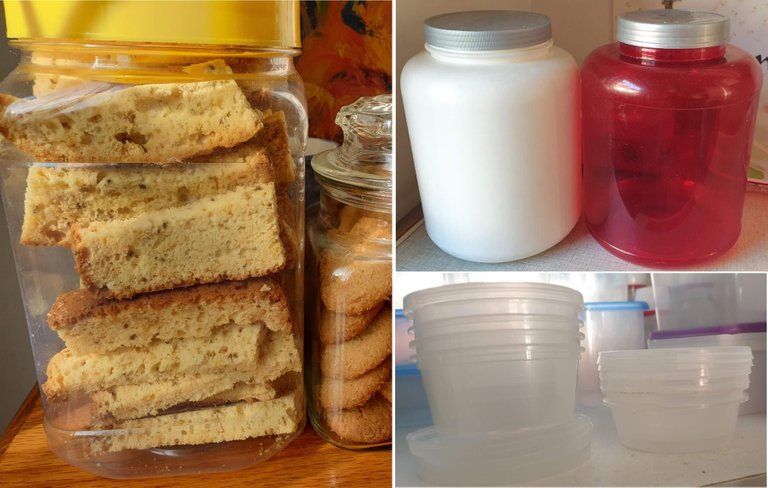 The plastic containers for sweeteners are great for cookies and also for making shields which I did when Covid was at its worst and we had to clean the bnb units. Masks & the plastic shields were part of our covid armour ;)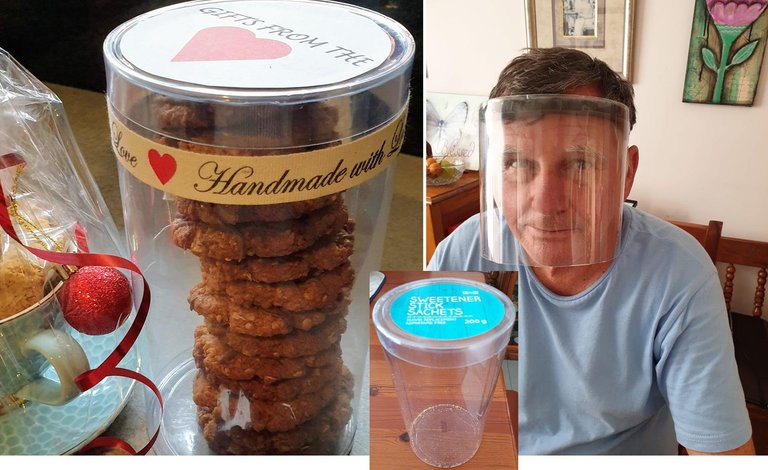 Plastic bags have many uses; here I used them for crushing cornflakes as I make my own crumbs for crumbed chicken.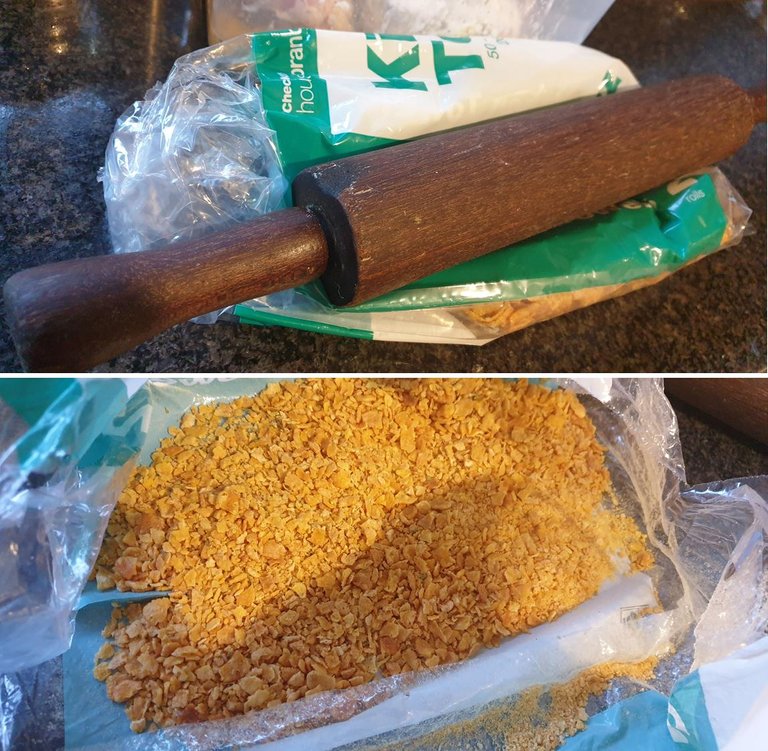 Here in South Africa we collect bread tags which are collected and sold by an organization to buy wheelchairs, but of course many tags are needed. They have recently started collecting plastic bottle tops as well for this purpose.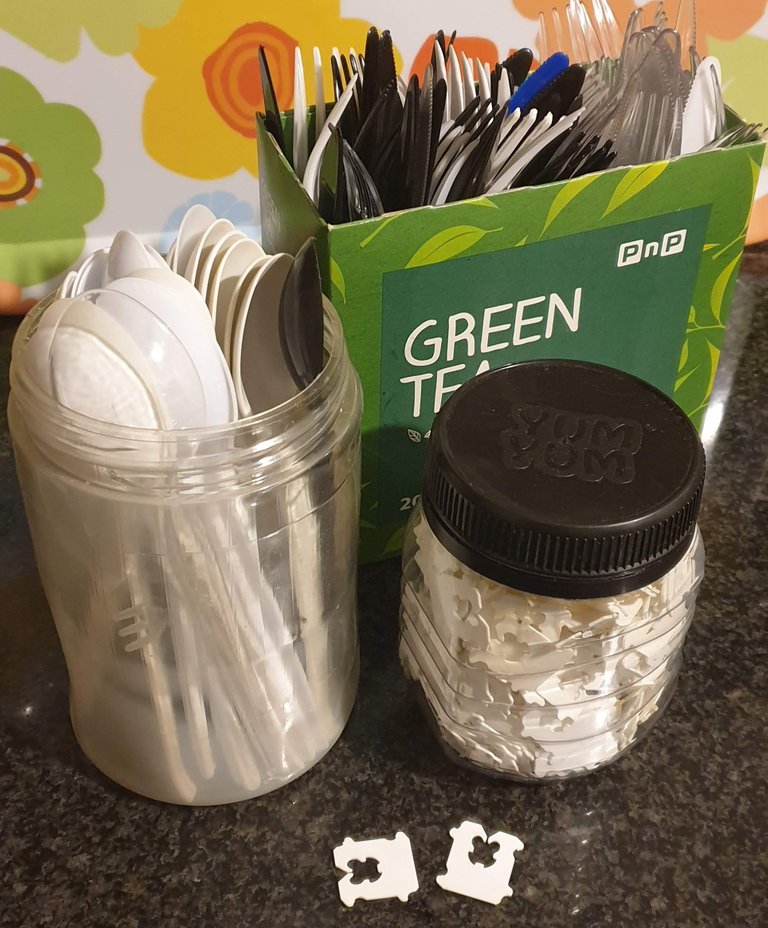 We recycle rainwater by collecting all the roof water in our two JoJo tanks and use it in the garden, to wash the car and also used it for washing clothes immediately after the awful storm that destroyed much of our infrastructure in April. The tanks were full and we had more than enough to share with friends and neighbours.
Some people install filters and connect them to their waterpipes for use in the house, but that is a costly exercise. This tank is next to our bnb cottage so that kind of system could be installed here, but our other tank catches rainwater from the garage. Unfortunately our garden layout is such that we cannot install another one next to the house.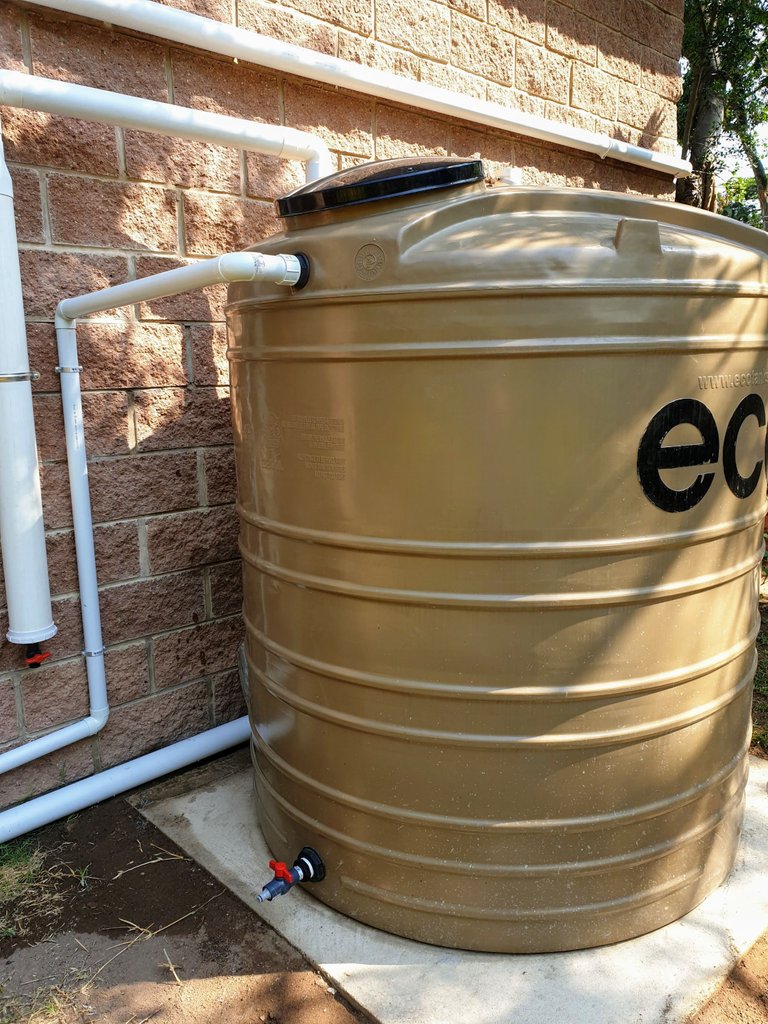 Empty cardboard boxes like this tea box make ideal gift boxes by covering it in gift wrap.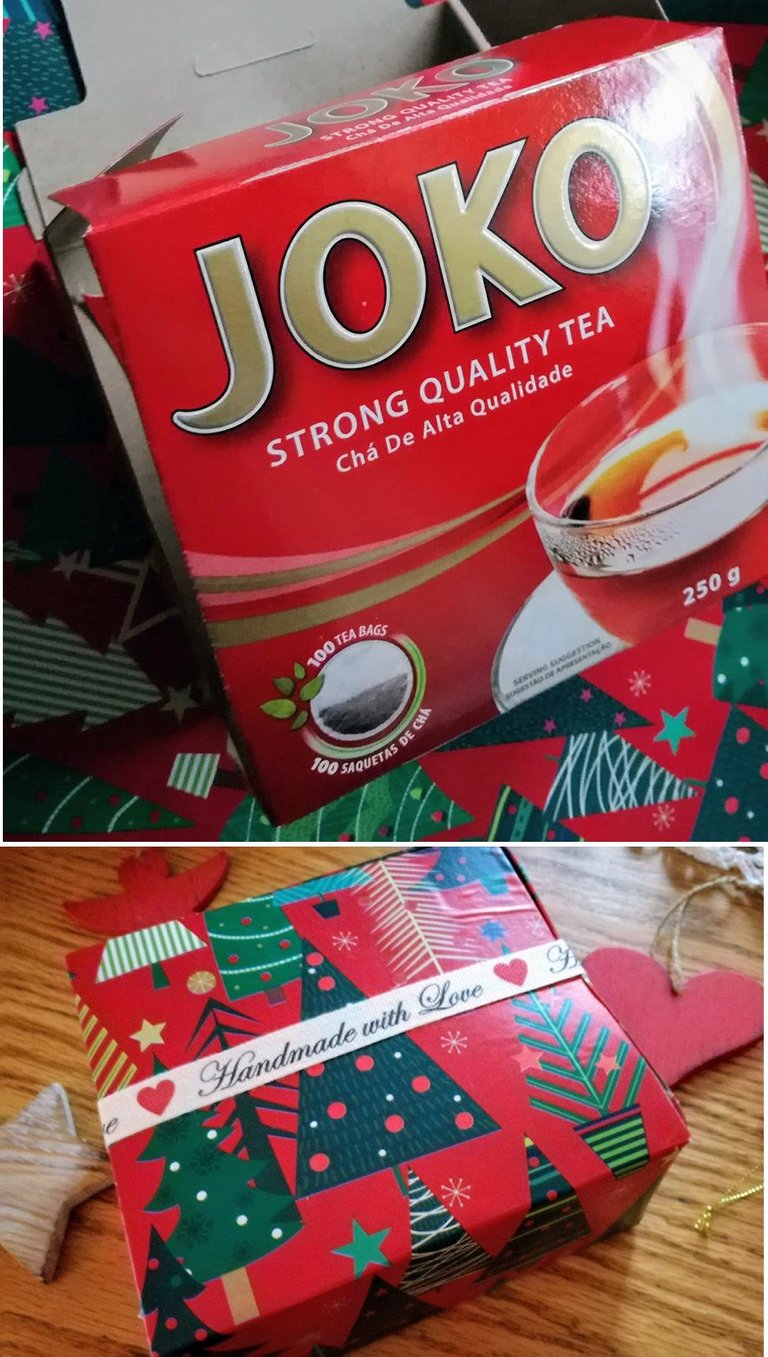 Heavy-duty paper bags from my favourite online store that deliver groceries within 60 minutes, can be returned to them for recycling, but I find it way too useful for many things, although the pile is growing, so I guess it will also have to go to the paper waste at our local dump! No, I don't have to, I can simply give it back to them next time they deliver as they will recycle it!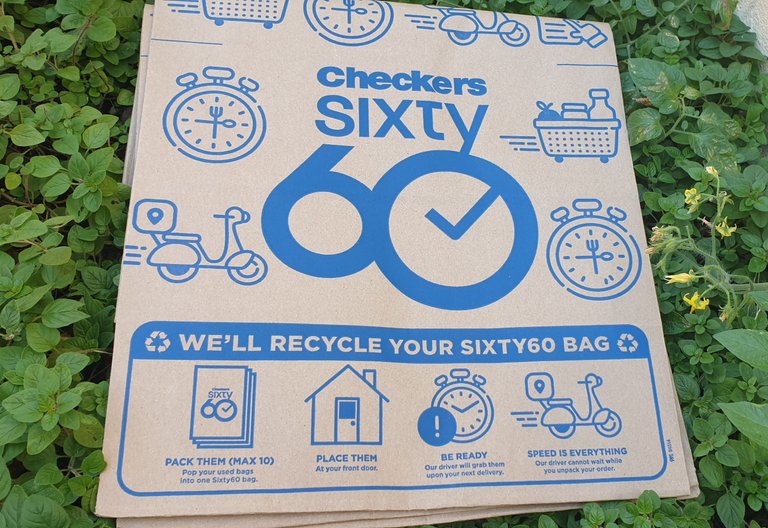 A gift from my friend @artywink, a beautiful macrame made with recycled cloth, makes the perfect home for a pot containing dried proteas.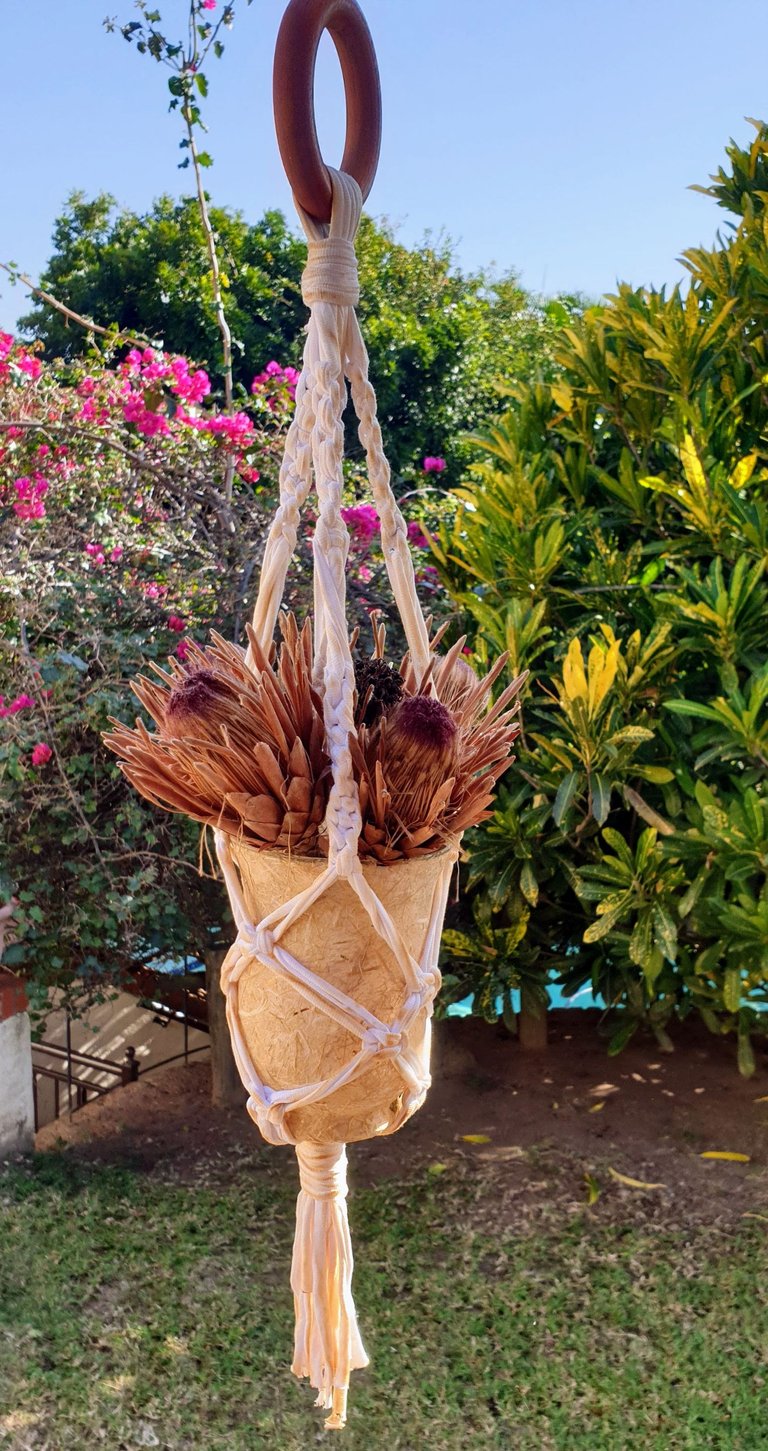 Our gardener made this for us as a gift one Christmas, it's an art that our Zulu people are known for; they use coloured telephone wire to weave beautiful patterns on bottles.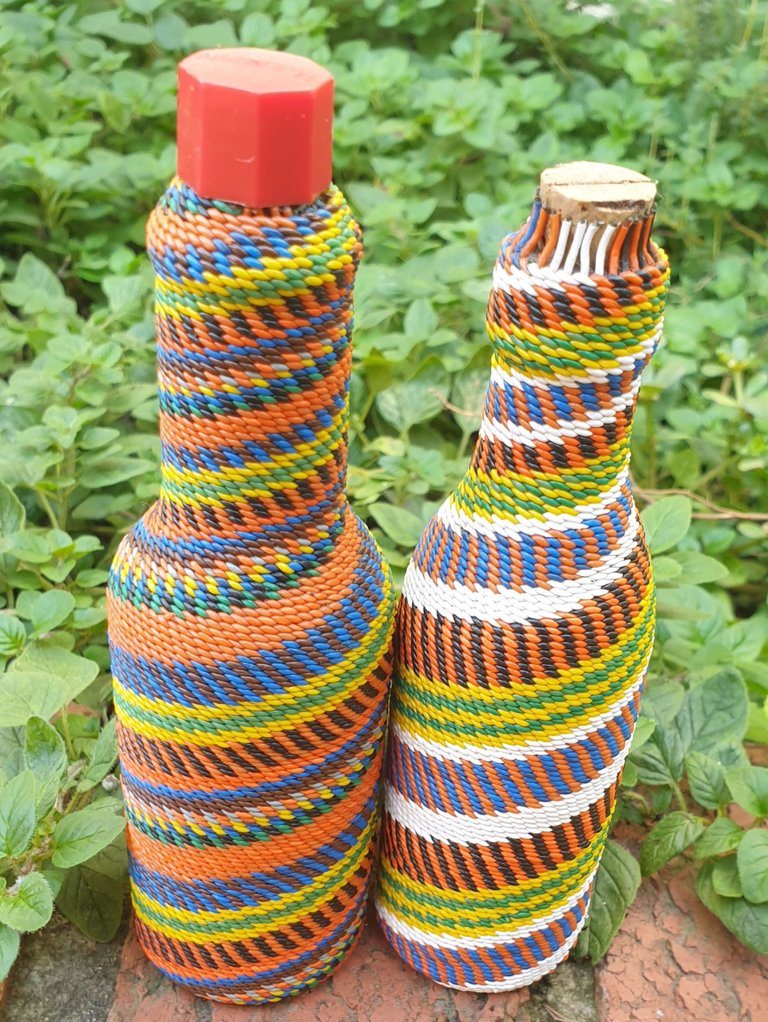 I still recycle clothes, not like my Ouma did; they're either outdated or I've outgrown them, much to my horror! I pass it on to our domestic worker who gives it away to people who really need it.
I'll end off with a beautiful gift from one of our regular guests. She used an old enamel bowl and made a pretty succulent garden.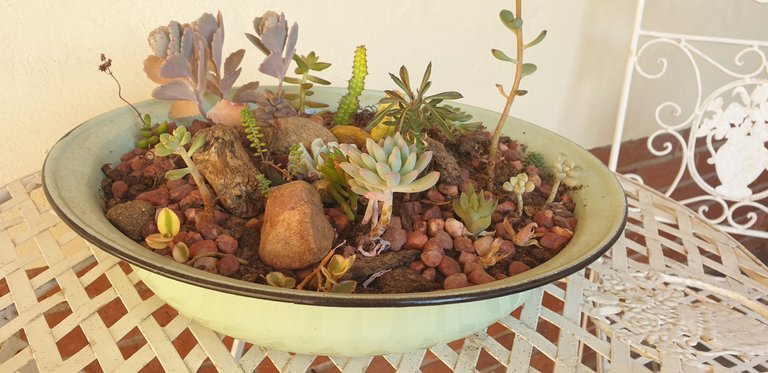 I hope my ineligible entry has given you some recycling ideas, but I look forward to see what you do with your recyclable waste in our Blog of the Month - June 2022!
Remember the deadline, so there's still time:
The contest closes at midnight GMT (also known as UTC) on Monday 13 June and the winners will be announced later the following week.
---
Original Content by @lizelle
Thank you for stopping by
Copyright @lizelle – All Rights Reserved
JOIN Hive using my referral LINK
---


Banner created by @derangedvisions
...here on Hive and in our Coffee-Corner on discord!
---
Thank you for your awesomeness!
---
---