Wicked Whirlwind Weekend

What does it take to turn a pair of old silvers' sedate lifestyle upside down and inside out?
The 'kids' of course!
Busy buzzy BnB
We celebrated Woman's Day here in SA yesterday, so many took the opportunity to have a looong weekend by taking leave on Monday.
Anyone who's been involved in the hospitality industry knows what that means - a busy buzzy BnB!
However, the guests were super, and a sweet story emerged; a widower on the younger side of silver, drove all of 900 kilometres to finally meet a virtual lady friend in person. As he said, long-distance relationships are not easy, and if something develops, someone will have to be uprooted if they want to take the friendship to another level.
Both parties were very cautious, but he will be back, by air next time, as you can imagine it's no fun taking a long road trip by yourself!
This guest was considerate and super duper neat, making my job really easy.
Our other young guest has been here for almost three weeks and has become like family; a really nice, easy-going young man who's enjoying the home cooking, as did the 'kids' who also kept our guest entertained.
Food, food and more food
Needless to say, Mom, (that is my name), was kept busy in the kitchen.
The reason the kids came for the weekend was a sad one, as the girlfriend lost her Mom, but as she had been suffering for a very long time, it was a release.
Indulgence
After all the sadness, the kids took us to one of our favourite spots on Women's Day, and I was like a naughty child by ordering an over-the-top luscious wicked Salted Caramel Milkshake.
No cappuccino for me this time!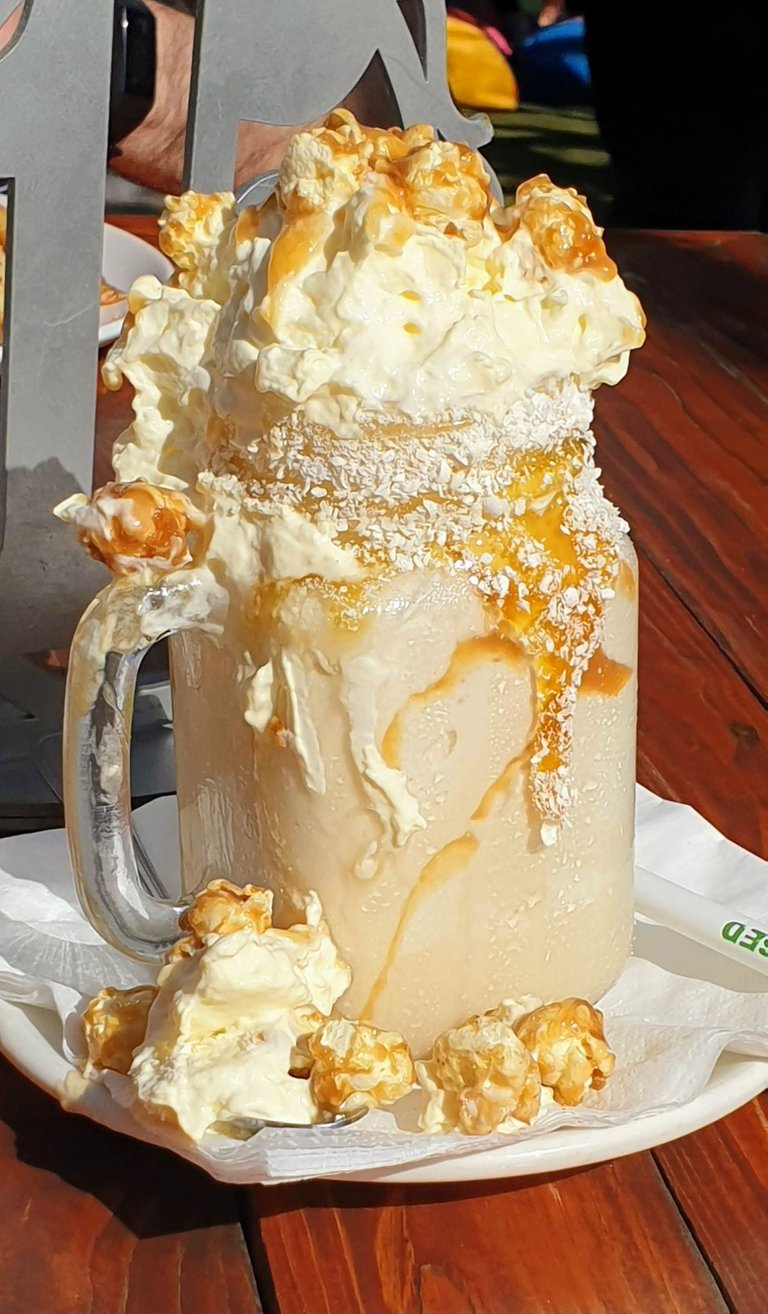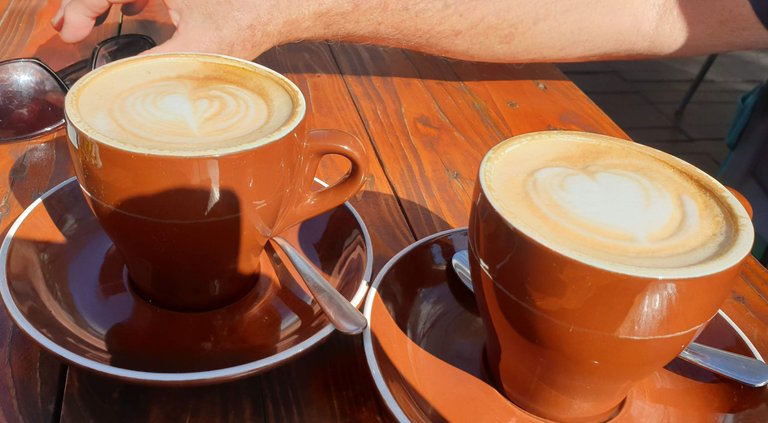 Did I enjoy it? Yes, very, but I could only eat half a Croissant served with cream cheese and smoked Salmon; I had the rest for breakfast the following day.
Was it good for me - no!
Was it worth it - yes!
Poison for someone with reflux, but it was goood and there are many remedies to counter-act the acidity ;)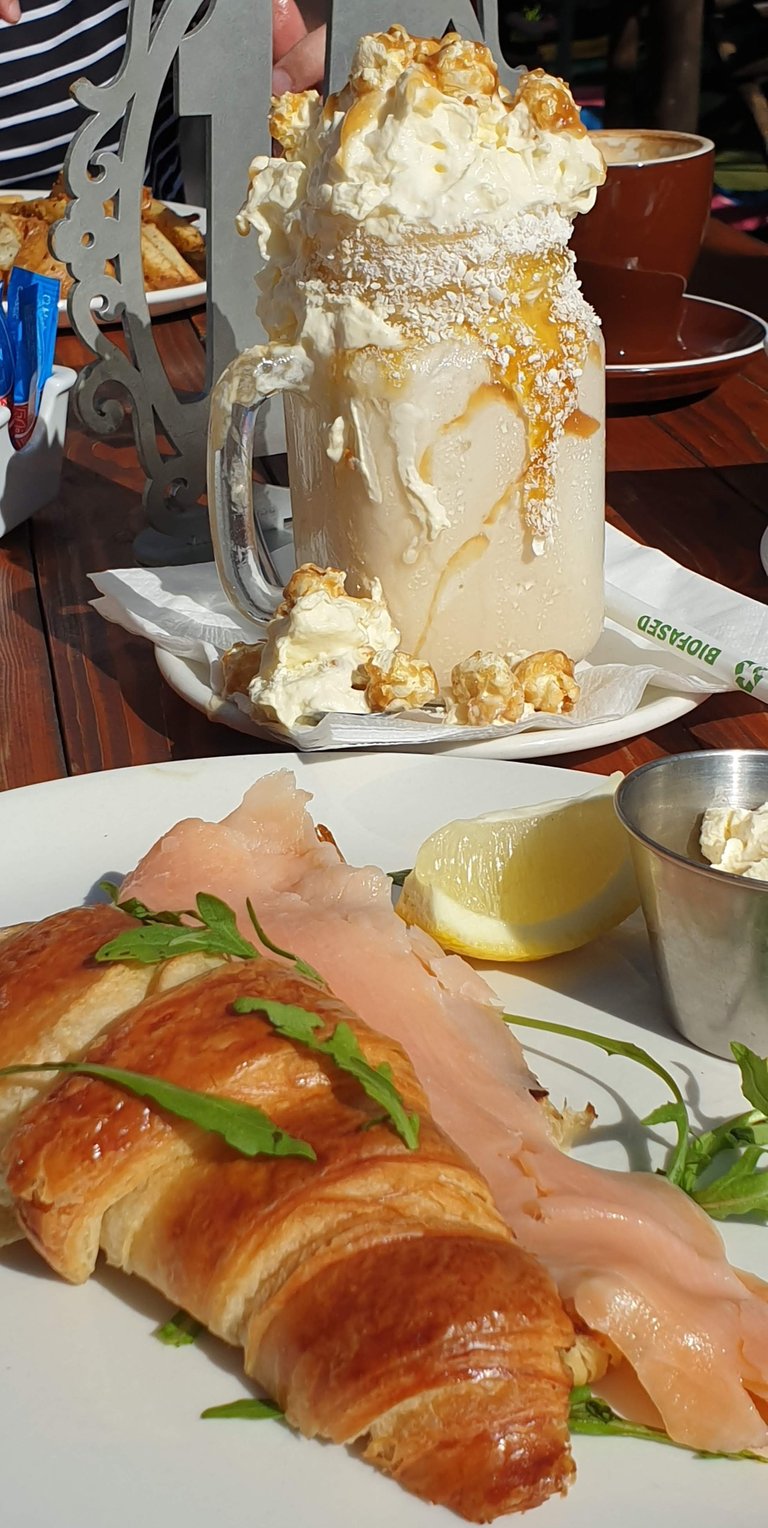 Everyone else behaved, no decadent milkshakes for them.
A very good pizza with the thinnest crispiest base, a homemade burger with crispy onion rings and the best chips, hubby ordered a jacket potato filled with bacon and other deliciousness!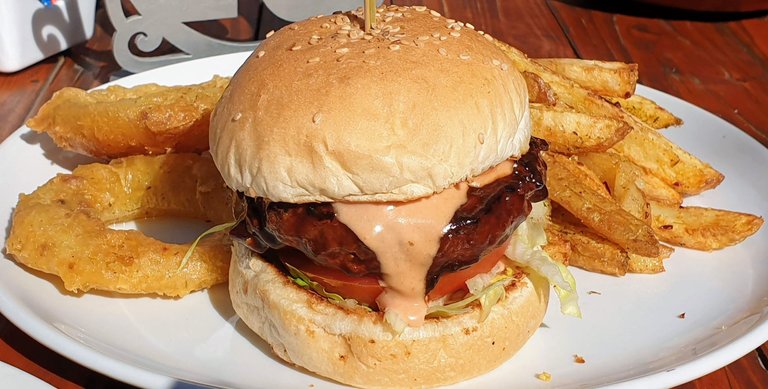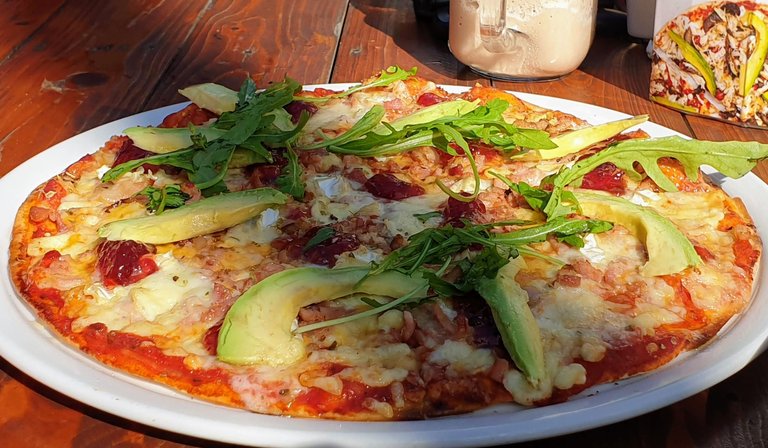 A Chip on her Shoulder
Afterward, we stopped by my brother and his wife whose shoulder was badly injured in a fall, and now has a 'chip on her shoulder' as she calls it; a bone graft, a steel plate, screws, and a funny spider-like thing. She still is in a lot of pain but has not lost her sense of humour.
I won't show you the carrot cake gateau that we took for afternoon tea - another indulgence!
They have a lovely home away from the city, and all the plants are hardy and mostly indigenous. Here is the Spekboom, known as the best carbon sequestrators in the world.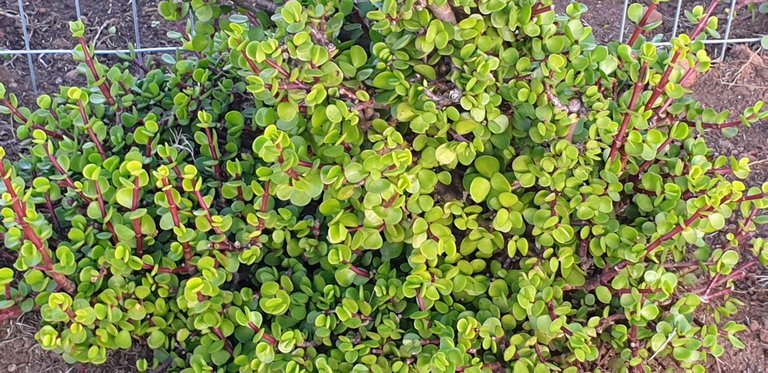 Foxtail Agave and other plants that need very little care grow happily here and are fuss-free.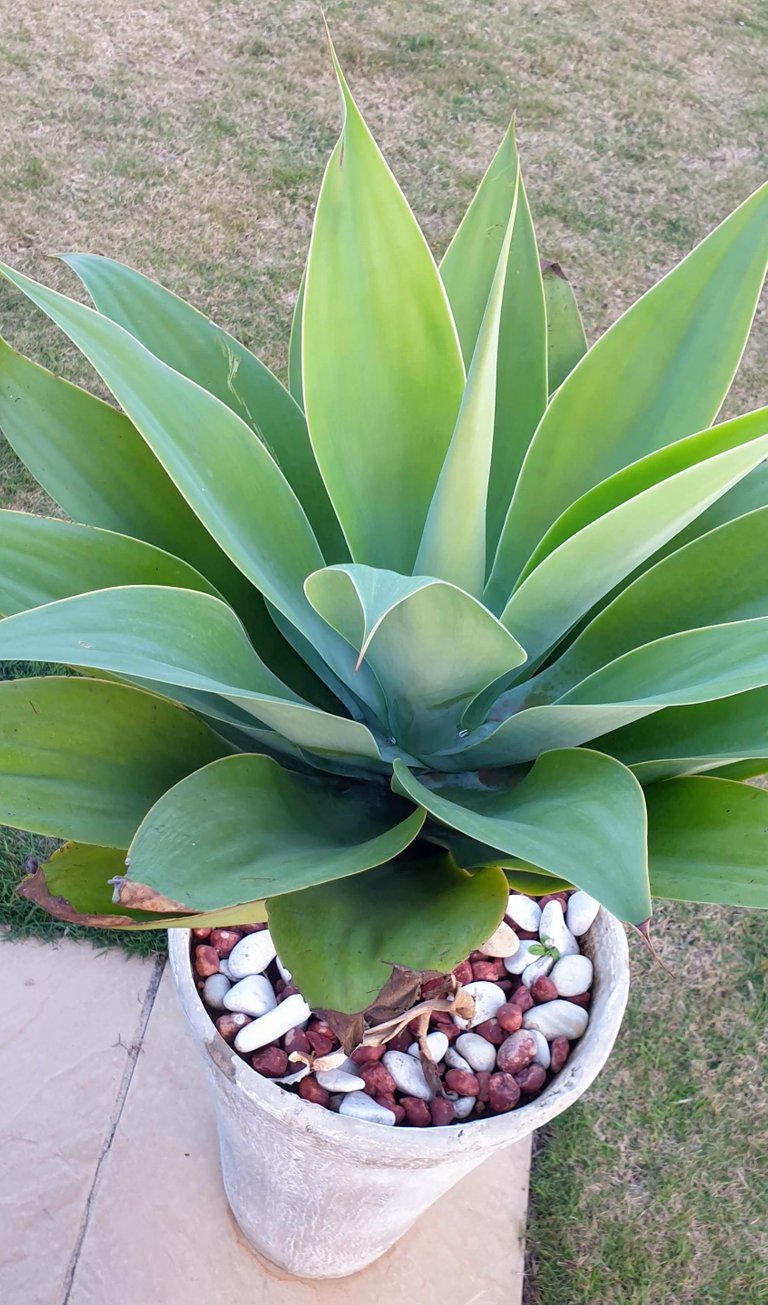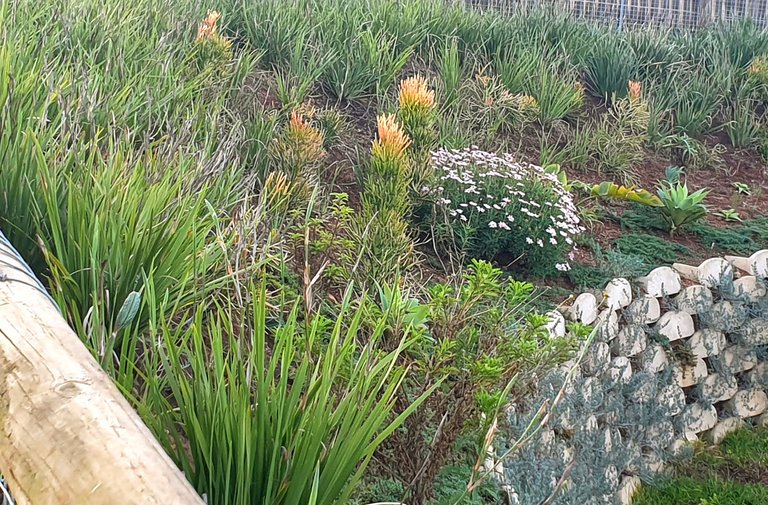 These geese sit and wait on the rooftops every afternoon waiting for a silver man on the estate who feeds them.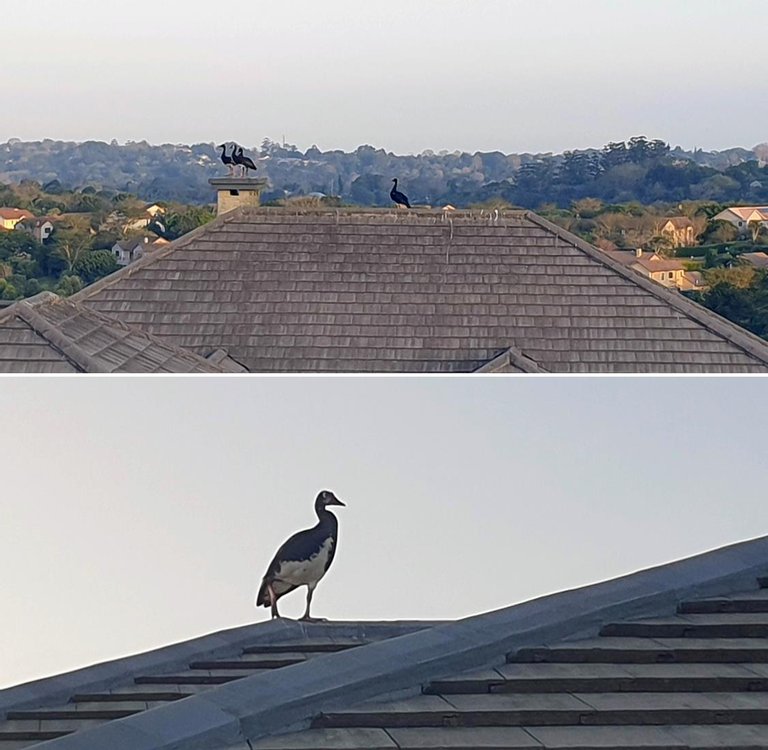 By the time we left, the sun was setting, turning the horizon into the most glorious colours; saying time to slow down, and time to rest!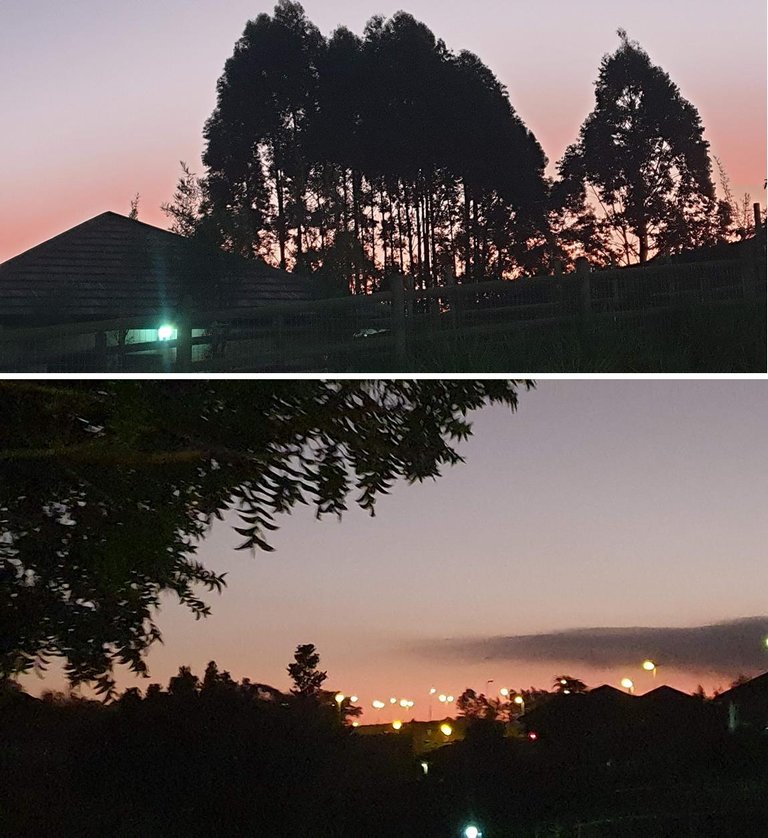 ---
Original Content by @lizelle
Thank you for stopping by
Copyright @lizelle – All Rights Reserved
JOIN Hive using my referral LINK
---
---
---