SPLINTERLANDS- HIGHLIGHTS FROM THE LADDER - ANTI MAGIC EDITION
Hello world and fellow Hivers
Before we begin with the actual purpose of my post, I would like to share a few things with you about my considerable absence from the platform and several communities in which I was involved. So I would like to clarify that I was not on vacation and that I couldn't keep up with Hive because of my job and several changes that happened in my life in general. I don't believe that giving you more info would benefit anyone but the general idea was that I struggled a lot with money and time during the past 1-2 months. Now things are looking much better in terms of my free time and I believe that I could be active again both on Hive and on discord and most importantly I will try to be daily active again on Splinterlands and the other games that I played regularly. So enough with that and let's see the real reason that you clicked this article. As I said earlier I didn't keep up with the game at all during this period and as you can imagine I was at Novice rank and our journey began from there. To be honest, I was pretty impressed with the quality of decks that I encountered in bronze and I indeed struggled a bit to rise through bronze 1 but I believe that tomorrow I will reach the Silver rank. So today we are going to review one of my battles that I believe you could find pretty useful in similar situations/ranks. So kick back relax and enjoy the battle.

The Battle
Ruleset

Standart: This is by far my favorite ruleset and it translates at there are no rules.

The available mana for this battle is 23 and we can play all the classes except Water

Summoner Selection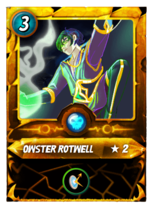 Well, in order to choose our summoner we must think about what the objective is for this time and we already know that our opponent probably is going to focus on Magic attack monsters, therefore, we should exploit that by any means. That in my mind translates to a few summoners and in this specific situation, I believed that the greatest solution was Owster Rotwell. For those who don't know this summoner grants to our whole formation the Magic Reflect ability.

Teams' Formation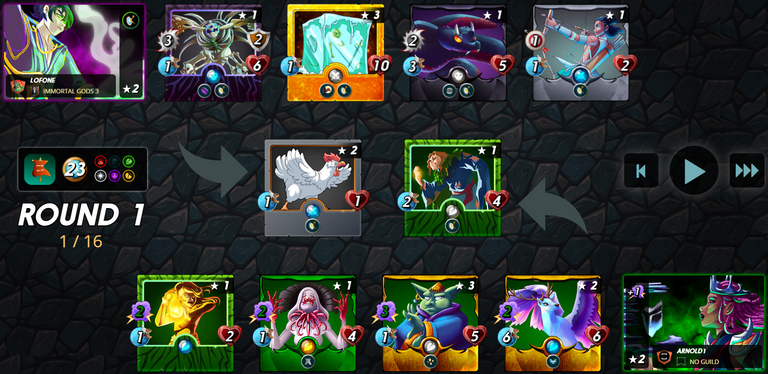 Team presentation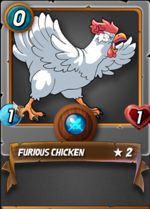 The first card that I chose to place in my formation was the Furious chicken and the major reason for this decision was the fact that this card would not only stall my opponent's offense but it's going to deal some damage back because of the ability it got from my summoner. I highly recommend using it in similar situations and especially in low mana battles.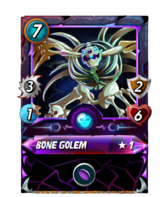 The second card that I played in this formation was the Bone Golem and the logic behind this decision was pretty obvious I believe and it's the ability this card has Void. This is my main tank for the battle and I pretty much wanted to stall my opponent as much as I could. It's a pretty decent card even at level 1 for 7 mana and I believe that it did a really huge difference in this battle.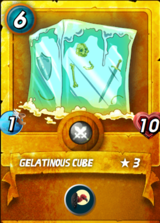 Well, the third card that I chose for this position was the Gelatinous Cube and you already understand that we are going to focus more on the defense instead of the offense. This is one of the greatest defensive cards and has plenty of uses in various scenarios (poisonous rulesets, etc). Except for the base health that it has we really are interested in the ability it has Scavenger. As you would see in the video of the battle below it's going to be hella helpful for this battle.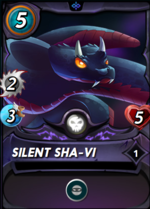 The fourth card that I used in this formation was the Silent Sha-Vi and the reason that I chose this 5-mana monster was the Sneak ability. So I noticed that in the Magic formations that my opponent played regularly the backline of his formation was pretty vulnerable from potential threads. So I thought that one way to increase the speed of the collapse of his formation could be achieved by adding a sneak attack monster.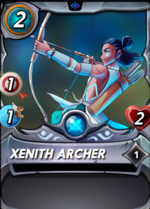 The last card that I played was the Xenith Archer. Well, I just wanted to pressure a little bit and from the frontline but I had only 2 mana available and it was pretty much my only solid option to place here. It's not a bad card and it helped in a way in this combat but I can really say that I chose it for a specific reason I just wanted to increase my damage output in total.

Watch the Action!
Now you can see the battle below without having an account at Splinterlands! If you want to see the battle at the game, I will leave a link below! I hope you will enjoy the battle and if you have any questions or suggestions please leave a comment!
Here is also a link for the battle on the Splinterlands platform: LINK

Thank you for reading
Don't forget to leave your thoughts and questions in the comment section!

If you want to see more of my posts and take participate in future giveaways I am planning, you should follow me.

I will distribute some @lolztoken in the comments!

Also, you can check out the @thgaming community for more amazing content and rewards!

Make sure to stop by the @thealliance and their discord server, you will find plenty of help and many rewards waiting for you!

Images used in this post are owned and open-sourced by splinterlands.com

Thumbnail was made on canva.com

If you didn't join SPLINTERLANDS yet here is my referral link:
https://splinterlands.com?ref=lofone


---
---