Share Your Battle Challenge with a Giveaway! Soul Strangler!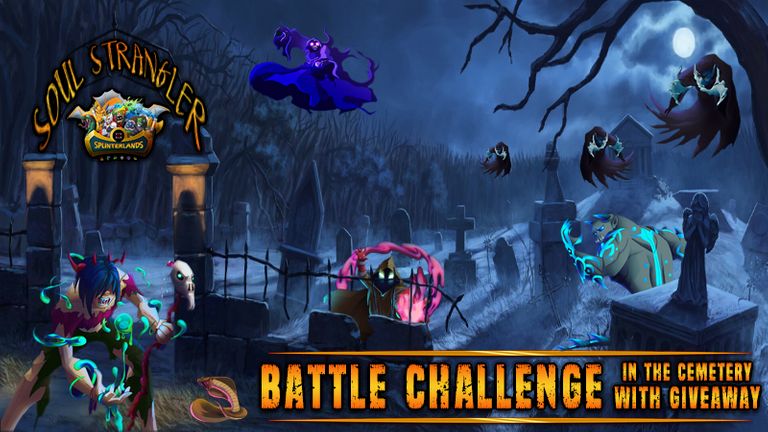 ---
Lore
---
Before the chaos gate opened, the towered city of Darkholde was peaceful and quiet. Situated in the cold, Blackworth mountain range, it was presided over by a long-standing noble family and governed by Baron Kutziq Neculai. If the citizens knew the truth about their governor, then maybe they wouldn't have been so loyal, but the Baron's tastes were sated with great restraint and he truly did care for them, taking only what he must and never more than he had to. For Kutziq was a vampire, a race as ancient as the stones they'd used to build the city. A man who loved his people in many ways, including their unique flavour.
The soul strangler is a creature of nobility, of good stock and incredible wealth. They live in lavish opulence, wearing the finest attire and moving in the most sophisticated of circles, often engaging with the high born from other cities and enjoying intimate gatherings that last for days.
However, when this vampire chooses to hunt, they take on whole new guise, almost shifting their form to become more accomplished for the chase. Pointed ears extend refining their hearing and their eyes change colour affording the ability to see in the dark – their preferred time to hunt. Long fangs grow from their mouth and vicious talons sprout from their fingers. But what you can't see in either form is the power they hold within their mind, an ability to attack at a spiritual level when they eventually find their adversary, squeezing the very life from them; a ranged attack that if not avoided, will have devastating consequences.

I always loved the Death theme in any game I played started with Diablo 2, Heroes of Might and Magic or World of Warcraft, where I was always playing with the Necromancer class or race. 😇
They have a special vibe with all the demons, skeletons, vampires, undeads, devils running around and shareing death and suffering whoever they touch or battle.
In Splinterlands the Death Splinter is not an exception for me, because they got so many excellent monster and summoner that is hard to choose from. They are known for their curses, which are reducing the opponent team abilities or stats in multiple way.
Some example for the amazing creatures you can choose from:
Creatures that are reducing the Melee ⚔️ attack to all of the enemy creatures are the Boogeyman, Octopider, Fallen Specter and even their summoner could do the same using Zintar Mortalis. 😁
Creatures that are reducing the Ranged 🏹 attack to all of the enemy creatures are the Riftwing, Fallen Specter**, Soulstorm and even their summoner could do the same using Contessa L'ament and Mimosa Nightshade. 😊
Creatures that are reducing the Magic 🔮 attack to all of the enemy creatures are the Death Elemental, Phantom Soldier, Corpse Fiend and even their summoner could do the same using Thaddius Brood. 😘
There should be a special mention to Waka Spiritblade, who provides to all of his creatures the famous weapon of the Death creatures, which is the Poison. 🤢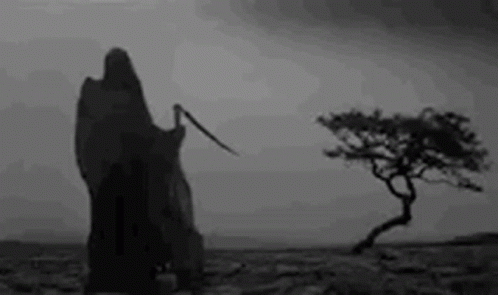 Let's see his stats and abilities on all levels.
The Soul Strangler is a low cost Ranged 🏹 attack creature and such he comes really handy in low mana battles or in the Little League ruleset. He has 2 attack damage, which is huge from a creature of 3 mana cost and on his Level 3 it will further increased to 3.
He doesn't have any abilities hence the 3 mana cost, but on Level 8 he receives the Poison ability, which will make his attacks to have a chance to apply poison, which does automatic damage to the target at the beginning of each round after the poison is applied. (The posion has got a 50% triggering rate.)
---


| Ruleset | Description |
| --- | --- |
| Standard | No modification to the standard gameplay rules and mechanics. |
| | |

My lineup and the decision behind it!
Summoner
Thaddeus Brood


In Splinterlands one of the strongest attack form is Magic damage 🔮 and it is very difficult to fight against it. That is why one of the strongest summoner is Thaddeus Brood, because his ability is to remove 1 Magic 🔮 damage and 1 Health ❤️ from all the enemy monsters.
These abilities makes my opponent creatures significantly weaker and makes Thaddius Brood a solid choice against players playing Magic damage teams in a row. 😁

Main Tank
Harklaw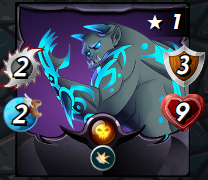 The Harklaw is one of the best main tank within the game alongside with the Chain Golem. Both of this creatures share one strong ability, which is Shield. (Reducing the damage from Melee and Ranged attacks, so the attack damage gets halved (rounded up), except attack 1 which deals 0 damage.)
This ability is pretty strong if you ask me and the only weakness of the Harklaw is the Magic damage. That is why Thaddeus is the perfect choice against almost any team. 😇

Damage Dealer
Life Sapper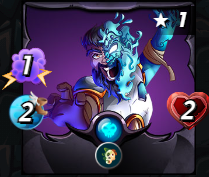 The Life Sapper is not the perfect damage dealer, because he has the minimum damage available in the game, but his ability is Life Leech, which makes this monster's health increases each time it damages an enemy monster's health in proportion to the damage dealt.
He cost only 3 mana, which is quite low and if he can damage the enemy monster he will increase his own health and eventually withstand more damage then my opponent creatures. 😉

Damage Dealer
Soul Strangler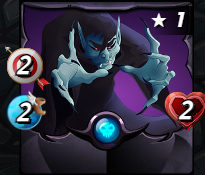 The Soul Strangler is a good all around choice as a damage dealer, because he has 2 Ranged 🏹 damage for only 3 mana. (Nice deal! 😎) There are some rulesets, where this little beast or vampire shine more, which is the Little Laegue or Reverse Speed, just need to get a gold foil version of him! 😊

Backline Damage Dealer
Death Elemental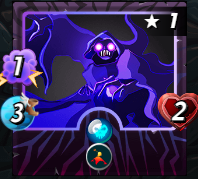 Usually I setup my team to burst down my opponent creatures one by one, but the Death Elemental comes in very handy if my opponent has a very strong tank with healers backing him up. I have checked my enemy last matches and he brought the Green Splinter, so it was obvious for me that I need to kill his healers first, so I brought creatures with Snipe.

The Snipe targets enemy Monsters with Ranged, Magic, or no attack that are not in the first position, so it is possible to go behind their main tank with some luck. 🍀

Sneaker Damage Dealer
Uraeus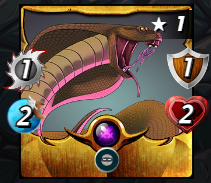 The Uraeus doesn't looks strong on paper, but he is quite good removing my opponent backline targeting the last monster everytime he attacks. This card is so good that I have even bought a gold foil version of him 🤑, because I try to use him as much as possible and give hard time to my opponents to prepare against him as it cost only 3 mana.

Hidden/Backline Damage Dealer
Magi Necrosi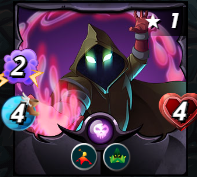 The Magi Necrosi has got the same role as the Death Elemental, but in a much stronger version. He has an extra ability next to the Snipe, which is the Camouflage and that makes him almost invisible to all of my opponent creatures. (This Monster cannot be targeted for attacks unless it's in the first position.)
I like him a lot and the 6 mana cost is quite reasonable for a 2 Magic 🔮 damage and 4 Speed 👟 monster. 😘

---

Click on the picture for the replay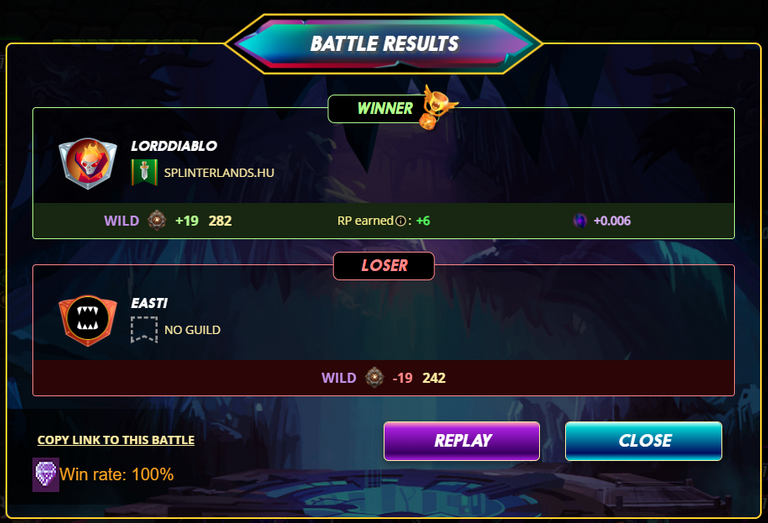 This battle could be easily fatal if I wouldn't bring Thaddeus Brood to negate his Obsidian's damage buff. He brought 3 Magic 🔮 damage creature and a Unicorn, which is quite strong, but my opponent made a huge mistake bringing the same setup in his last 5 match, so it was easy for me to prepare my self against his setup. 😊
My strategy worked very well, his Magic attack creatures were damaging very little and my Snipers and Sneaker killed my opponent backline before his main tank died. Without a proper support on his Unicorn I just had to damage down much quicker than he would do mine.
My win rate was 100%, but if I wouldn't bring Thaddeus I believe I wouldn't stand any chance against him, because my Harklaw would die in the first round.

Giveaway Time!
I love giveaways as I personally think it is a very good way to reward those people in the community who are willing to read and support others contents.
So, I will run a raffle and the prize will be a Soul Strangler of course.
---

The Winner 👑 will be chosen and notified when this post pays out and will be chosen with this tool.
In order to participate just need a comment. Any upvote, re-blog, tips are not necessary, but it is much appreciated. 😊
---
And let's see who won the Portal Spinner from my previous Battle Challenge post.

The Winner is @criptosectadepit, Congratulations and thank you to everyone who was participated.


---
I like to help new players 😉, so if you are just starting this game and you can use my referral link to sign-up, write me a message on Discord (LordDiablooo#3750), so I will send you 100 DEC and few key cards (delegated for an entire season) to kick off your career in Splinterlands. 😊
---
Thank you so much 🙏 that you took the time to read my Weekly Battle Challenge.
I hope it was informative and you liked it. 🤞
---
---