A particularly ordinary story about a unique and unforgettable character.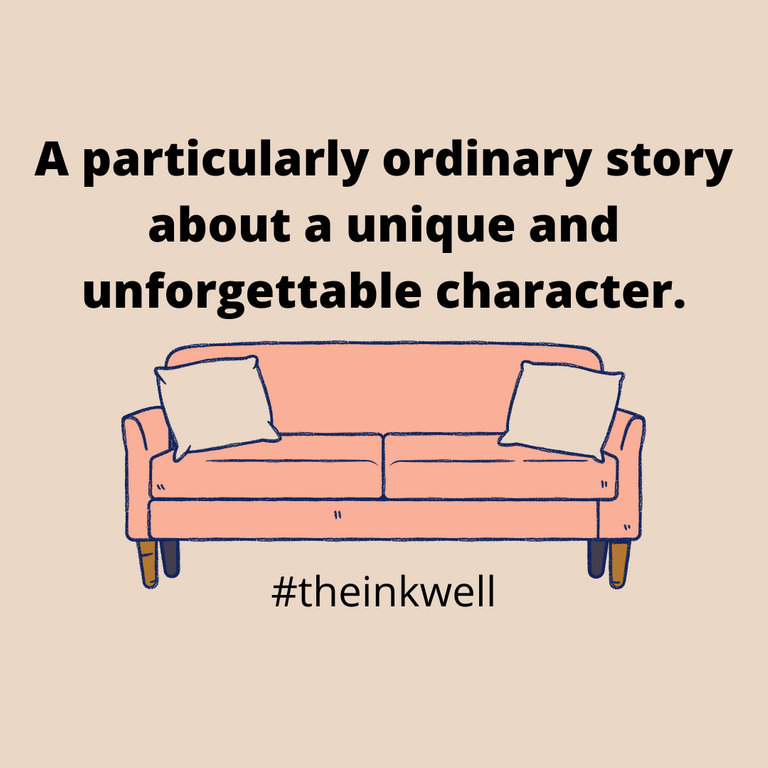 It was a particularly ordinary day, at a particularly ordinary time, when Lionel made a decision. He was sitting on his couch, doing something particularly ordinary, when he jumped up and exclaimed, "I'm going to be a unique and unforgettable character! When I walk down the street, people will remember me!" After a lifetime of blending into the crowd and, not quite sure how he was going to reinvent himself, he sat back on his couch to give this some thought.
It was then that a particularly brilliant idea roused his imagination. When it first came upon him, he shifted his eyes to the right and pursed his lips in thought. His face muscles tensed, and he began to nod. He realised, despite the absence of fanfare, that all he needed was a new look. Lionel, ever pragmatic, turned to his laptop and began to search for trending celebrities.
Ever pragmatic, Lionel dismissed images of shirtless men whose bodies rippled with an intimidating sheen. He then decided to also dismiss images of men in tight pants; ever pragmatic, Lionel understood his own limitations. The brilliance of his idea did not dull, however, and spurred him on through pages of searches which took him down many tangents, diversions, digressions and deviations!
And then Lionel paused – he wondered if he'd finally found his elixir. Was this the mithridatium of his own despair? He hovered his mouse over the title of an article, 'How to impress women by matching your shoes to your belt'. Lionel continued to hesitate, he felt he may have just stumbled across an article which would change his life. But was he ready? He wasn't sure a woman had ever noticed his existence; how could he possibly cope with copious attention? He began to imagine women literally throwing themselves in front of him as he pushed his trolley through the supermarket and calling out offensive remarks about his buttocks from cars which drove past him on his afternoon stroll. He would certainly be living on the edge given the safety issues the imaginings presented! He had only ever frequented a bar once before, but he could start to see woman after woman offering to buy him a drink. Again, he had to wonder, was he ready?
He was. Lionel clicked the article and took note of the fashion advice – it was, as the title suggested, all about matching your belt and your shoes. Lionel reflected on the simplicity of the advice and then it hit him. He would take the basic principle and extrapolate it. He would match everything! 'Brilliant!' he shouted! He wasn't the kind of man who could offer a cackling laugh as the expression of his plotting was thought through though, but he did smile as he continued to sit on his couch.
His next step was logical. He needed to audit his wardrobe, and so he powered down his laptop and embarked on his voyage into what he now called, 'The abyss of fashion'. First, he picked out his only pair of lace up shoes. They were a pair of black leather shoes he had worn to a wedding a number of years earlier; they were perfect! He was a bit thrown, however, when he realised that his only belt was tan brown. Ever pragmatic, however, Lionel took the belt back to his study where he found his permanent marker, taking a couple of minutes to colour the belt black with the pen. 'Aha!' he exclaimed when he finished, proceeding to flourish a black belt about him!
Walking back to his wardrobe Lionel was feeling great with the progress he was making. He'd achieved the first part of his brilliant plan and was onto the extrapolation! He quickly found a pair of black track pants and took them from his pile, and he was satisfied when he completed the look with a black t-shirt. Lionel undressed, and re-dressed all in black; feeling fortunate to find a pair of black socks in his drawer and a black beanie which he didn't recall ever wearing before. He looked in the mirror and thought he looked curious, but he quickly admonished himself, who was he to question fashion advice he found online?
He winked at his own reflection in the mirror and spoke in a way which he imagined women might think was suggestive, 'Hello, my name is Lionel. Yes, I would like you to buy me a drink'. He winked again at his reflection and he was struct by a fantastical thought: one day he would be sitting on his couch, and next to him, would be sitting his new lady friend. Driven by the fantasy, Lionel walked briskly from his wardrobe mirror to his front door, where he stood, breathed in and then breathed out. He was on the precipice of changing his world. But would the world take note of him?
This piece was in response to #theinkwell's prompt.
Cover image created in CANVA using free elements.
---
---