Accidental Win: Dominating an unbeatable opponent by absolute fluke. Strategy Chat!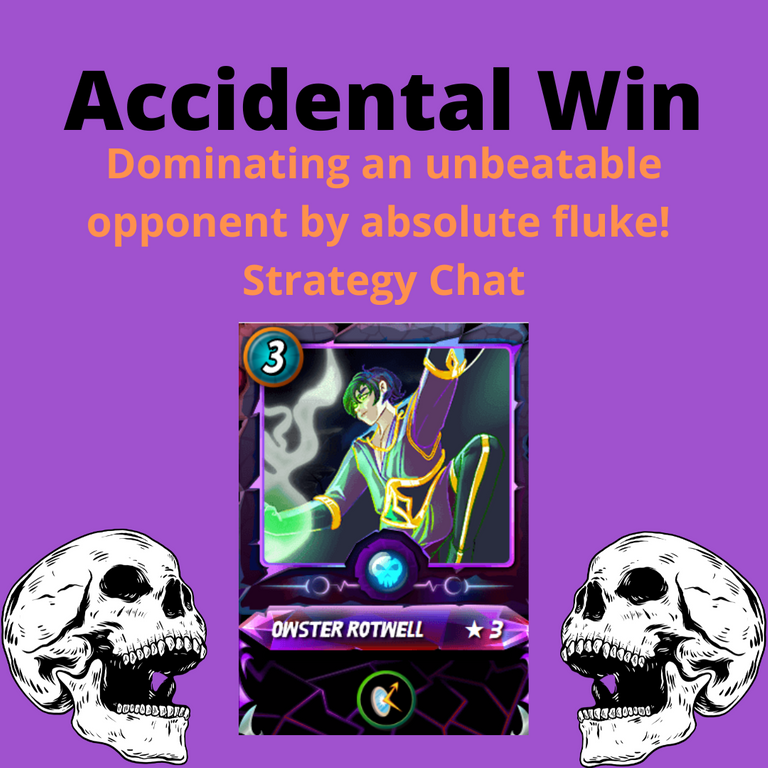 Hey Splinterfriends;
Today I wanted to share with you one of my luckiest wins ever, where I kind of just 'accidentally won'. My opponent played the most amazing team that should have been unbeatable, but I somehow just got incredibly lucky - so I wanted to share that with you today. In a nutshell, the thing I didn't know was this: in a blast ruleset, if you play reflect - the initial damage is reflected back, along with the blast damage!
So I got given this RULESET, which is where my accidental luck all just kicked in!



Accident One:
The day before my FOCUS SPLINTER was DEATH, so I rented an OWSTER ROTWELL at Level 3 for the day. It was a cheap pickup to help me win a few games in SILVER. As it turns out - I still had this rental.
Accident Two:
My FOCUS SPLINTER today was DRAGON, but the ruleset I got was capped at 4 MANA Monsters. Given my dragons are higher mana, I couldn't play it.
Accident Three:
I had no idea that REFLECT returns damage inflicted by BLAST. I could see my opponent's history, and every match they played OBSIDIAN - so for me, it just made sense to try a DEATH team and see if I could get lucky. Turns out, I got super lucky!
Accident Four:
I was putting my team together, being a bit uncertain, and I ended up playing Venari Bonesmith - mostly because he had 4 health - and I figured, if I was going to reflect, I wanted to put the highest health monsters available to me at the start of my line-up. I put a 6 health in the tank position, a 5 health in the offtank position, then Venari played in the next spot - However, I didn't take into account VENARI BONESMITH's LIFELEECH ability. Basically, it's this: he hits for 1 magic, and gains 1 health. The blast does further damage, and he again gets +1 health. 2 health for every hit! There's an interesting thing to learn, eh?




Here's a replay of the entire battle, to watch how this accidental strategy beats a VERY, VERY, VERY good line-up. Check it out, and then below I'll go through it in a bit more detail:




Start of Round 1:
As the teams loaded up on the starting line, I gulped. I was pretty confident that I was doomed! You see, my opponent has a total of 12 damage lined up. I have a total of 8 damage - 7 of which will hit armour before health, and my opponent's QUEEN MYCELA has put +2 armour on every card. My opponent has 20 health, I also have 20 health. If I was being honest, I'd have to say - I'm well and truly the underdog, and at this point in the battle I sighed and thought, 'Oh well, I was outplayed'.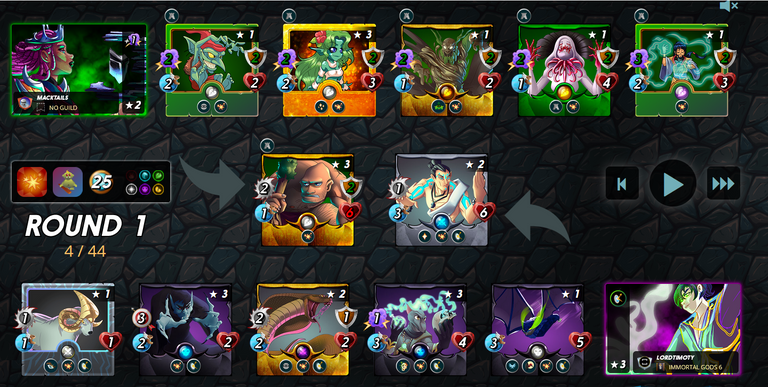 Start of Round 2:
And then as Round 2 got underway, all of a sudden I was sitting in the box seat for an upset win. It started to turn when the MAGI OF THE FOREST hit my Xenith Monk for 3 Magic, and BLASTED my RIFTWING for 2! The RIFTWING reflected the magic back, as did the MONK and all of a sudden, the MAGI OF THE FOREST was dead - and, my RIFTWING was gaining stats from his VULTURE ability. This didn't just happen with the MAGI OF THE FOREST, it was replicated right through my opponent's line up. His GOBLIN SORCEROR and DJINN BILJKA both have 2 health. That meant that as soon as they took their hit, and blasted - that they received 2 damage back and both died in the same way. Honestly - this was really a bizarre fluke - especially as my RIFTWING just kept gaining health as a consequence of the hits.
I also noticed that my VENARI BONESMITH was hitting for +1 magic, and gaining health with LIFE LEECH, and then the BLAST damage also gave him additional life. He was on fire!! You'll notice that the health equation has changed significantly too. My opponent has 10 health total, whereas I kept my health with 12 total. This battle really is looking like I fluked something - especially given as we go into Round 2, all my monsters have the speed advantage to hit early.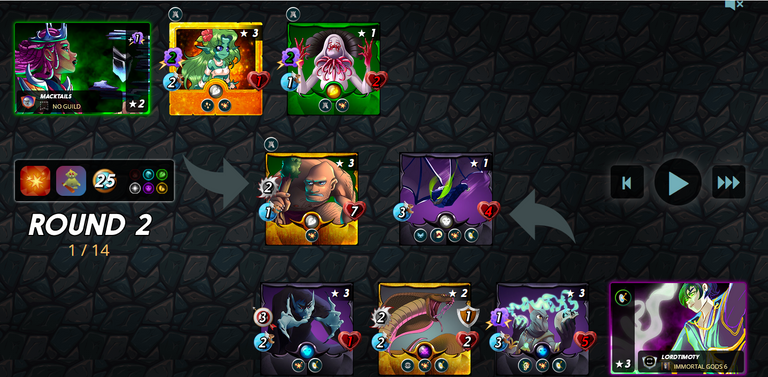 Start of Round 3:
And then by the time Round 3 was underway, the battle was over on the first hit of this round. I somehow found myself winning a battle I thought was impossible.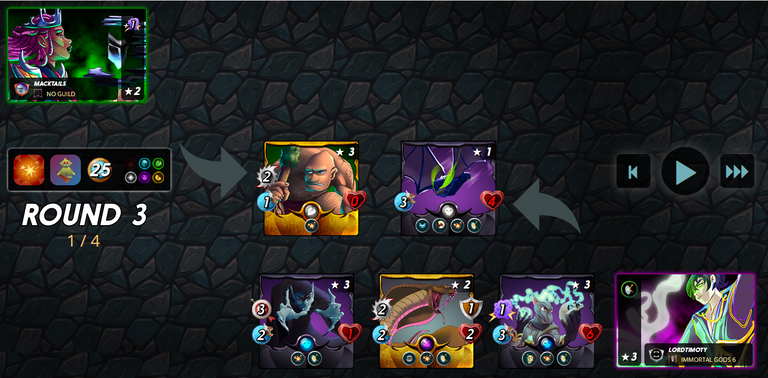 Concluding Thoughts:
This battle blew my mind. Honestly, I had seen the teams my opponent was playing, and I basically gave up the battle before it started. The only strategy I had was to play OWSTER and get as much starting health on the field as possible. I wasn't considering LIFE LEECH, I wasn't considering SCAVENGE. I was simply thinking, 'I've lost, what would be the best way to put up any defence without just surrendering' (I'd never surrender a battle!).
It just goes to show, that SPLINTERLANDS is a suprrising game, and you learn something new every day - but equally, it shows the importance of luck.
What if I hadn't still had my OWSTER rental? I'd never have known about REFLECT reflecting BLAST? And the luckier part, this is only the 2nd day I've rented OWSTER since I started playing in November 2021. Another piece of luck! All in all, I guess I learned that sometimes your best wins can be by accident!

Don't forget, you can click here and sign up with my affiliate link.
#splinterlands #spt #play2earn
#oneup #hivegaming #battle
#pimp #neoxian #archon #palnet
#proofofbrain #thgaming
---
---