Let's talk about LORD ARIANTHUS - A discovery ending in love! Check out this battle review <--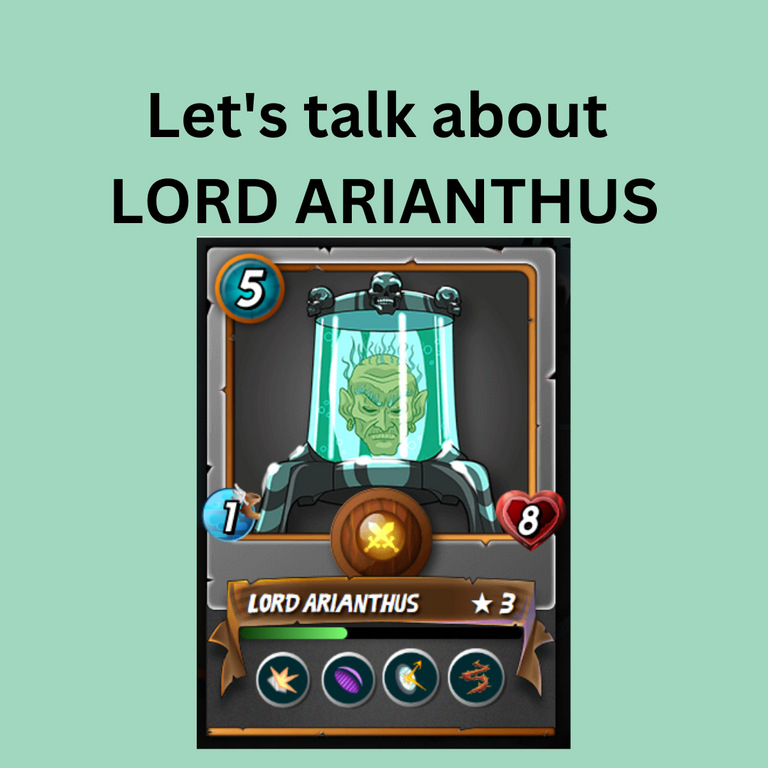 Let's talk about LORD ARIANTHUS. It's an old card, but a good card.
As we come to the end of another season, I can make the declaration with confidence, that this has been my best season to date. Basically, I was able to get to DIAMOND league for the first time in a couple of seasons, and I got there with 7 days to go! From that point on, I dropped back into Gold and held my place at around 2600 rating points. With one day to go, I'm back to DIAMOND at 2833 - but it's largely thanks to some really choice rentals. I've been talking to @captainquack22 about rentals more and more - and what I'm realising is, a few expensive friends will often more than pay for themselves.
This is certainly the case with LORD ARIANTHUS, let's check him out:
Right away, it's clear to see this guy isn't going to smash through an opponent's line up with ridiculously high melee. In fact, he has no melee attacks, but what makes him powerful is his THORNS and MAGIC REFLECT. Basically, the only way to hit him 'safely' is with arrows. But even then, his SHIELD ability will reduce their effectiveness and his VOID MAGIC will limit the magic damage he takes.
In summary, this is a 5 mana card, but you get an absolutely amazing tank who is going to frustrate the crap out of any opponent you run into. Let me say that again - 5 mana! And, it ocurs to me, he can nearly single-handedly win a lot of battles.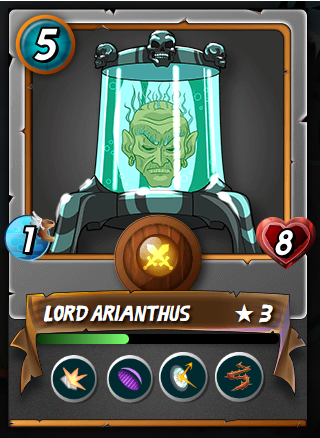 From an investment point of view, htis is a card I'd love to own - of course, and I'd only really want him at Level 3, given that level unlocks THORNS. Looking on the market, the card, at it's lowest dollar BCX is $33 - and if I could get this card for around $165 I'd be laughing. In truth, the $42 BCX probably looks more reasonable, and so I'll be probably looking around $200 for the card. I have a lot of cards on my radar to buy, but this one is going to feature on a shopping list sooner or later I think.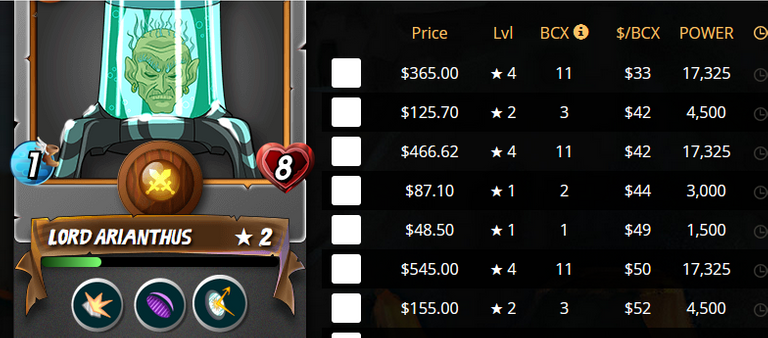 Having established I don't own the card, obviously then I invested in the rental. Jumping onto PEAKMONSTERS, I can tell you this guy set me back 105 DEC/DAY. Look, that to me seems reasonable for the last 48 hours of the season. But, given it's so 'reasonable', I guess that will ultimately mean I'm more likely to keep renting this guy as needed for a while longer yet. Looking back through my battle log, I only used this card twice - for two wins. That said, battles in my log were lost, so I used him more than that. The big issue I have is I always go straight to 7 mana cards for my tank, so I often forget about playing him. I need to learn to put him on the field more!

Now - having established that this card is BOSS, all I needed to do was figure out the right line-up to frustrate an opponent in, and I think I found just the one:
In this 22 mana battle, I wanted to play a long line-up - which meant I was going to play a lot of low mana cards to support LORD ARIANTHUS.
For my SUMMONER, I chose Byzantine Kitty. I wanted to make use of Kitty's HEAL ability, as a way of making my LORD ARIANTHUS harder to knock over. It was for this reason I also hcose to play my MERDAALI GUARDIAN. I figure if I have two sources healing LORD ARIANTHUS, that will allow him to be incredibly deadly out front. I then choose a SNEAK attack with URAEUS, whose poison should come in handy, and partner him with the PELACOR BANDIT. Basically, that's +5 melee damage on the rear each round, with the potential of a +2 poison damage. I then play the FIEND at the back of the line-up to act as a meat-shield, in the same way I play the CHAOS AGENT in the off-tank position at the front. With this team in place, I think it's time to get underway.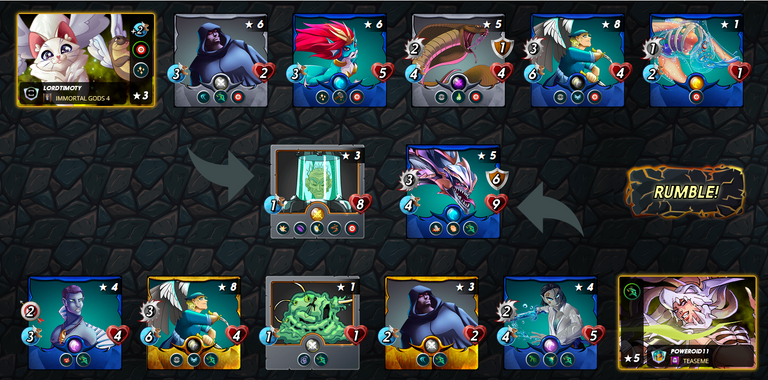 Through Round 1 my SNEAK attackers were able to knock over my opponent's ARCHER at the rear, while LORD ARIANTHUS was able to inflict +2 THORN damage on my opponent's mighty DIEMONSHARK. In doing so, my ARIANTHUS was healed, and starts ROUND 2 without any damage on him. Already in this early position in the battle, I was starting to marvel at my mightier tank.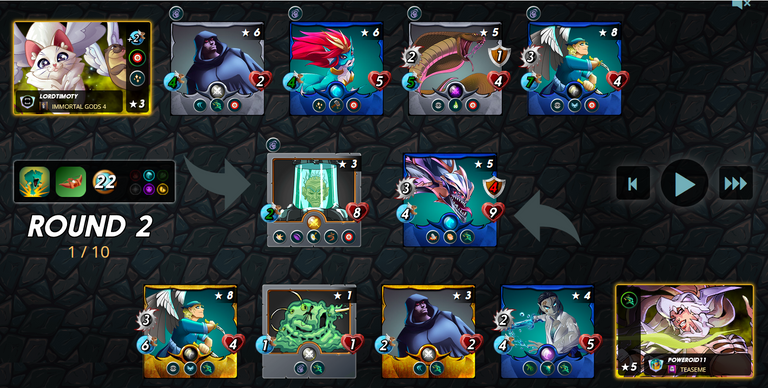 Quite significantly, Round 2 becomes a repeat of Round 1, as I am able to continue to rip through my opponent's back line, taking his PELACOR BANDIT. At the front, LORD ARIANTHUS continues to take the DIEMONSHARK's shield and the HEALING on my team keeps him looking pristine. My opponent has played the TIDE BITER, whose REFLECTION SHIELD has kept him from taking on thorn damage, or else he'd be absolutely at the point of death. Not that it will matter, as my tank is unmovable out front, and my SNEAKERS will eventually take out the entirity of the back-line.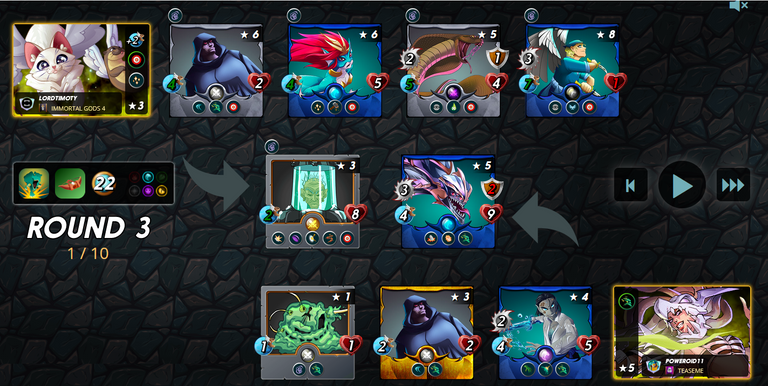 Rounds 3 and 4 continued to go to script, with the end result being my opponent's back-line is now completely cleared out. Meanwhile up front, my LORD ARIANTHUS has taken all of the DIEMONSHARK's armour (+6) and has taken his first +2 health. This has activated the DIEMONSHARK's ENRAGE, but still, my ARIANTHUS will be fully healed as Round 5 begins. Thanks Kitty!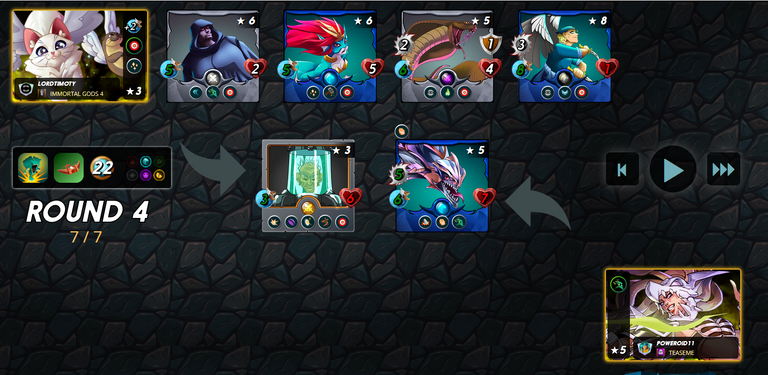 How appropriate then, since this battle was all about LORD ARIANTHUS that he would be hit by the DIEMONSHARK, and his thorns would take the final +2 health.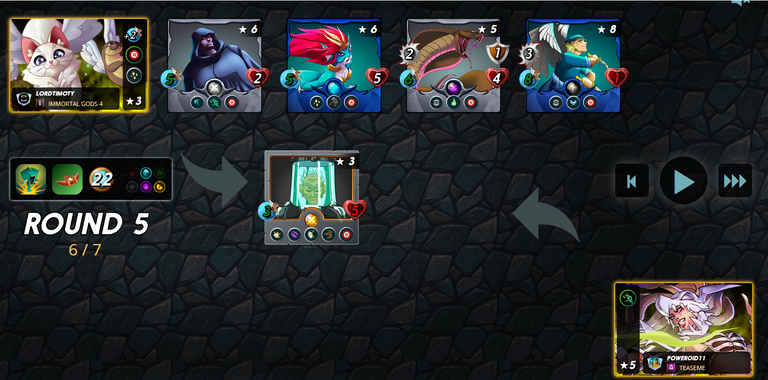 Want to re-live the battle? Here's the link:
https://splinterlands.com/?p=battle&id=sl_f011a538f5969a2891799778901fe31e
Evaluation:
In this battle I learned the value of having a LORD ARIANTHUS out front. In truth, I suspected this was the case, given I'd versed him a number of times and found myself incredibly frustrated by his defenses. But it's not just his defense which is impressive, in fact, my opponent couldn't even come close to dropping him, it was the fact that he was also an OFFENSIVE weapon. To recap, he took +6 armour and +4 health from the DIEMONSHARK. A crazy number of damage given this card doesn't actually do any damage.
Would I use this card again in the future? Absolutely! And, just imagine how much better he'd be if I played an AMPLIFY card to help him out. The mind boggles! As new cards will be continually coming out now and into the future, this card does have a strong investment case, as his utility will have lasting effects.

Don't forget, you can click here and sign up with my affiliate link.
#splinterlands #spt #play2earn
#oneup #hivegaming #battle #leofinance
#pimp #neoxian
#proofofbrain #thgaming
#leofinance #battle
---
---