LIFE LEECH skill + a look at how supply can impact card pricing (Comparing VENARI BONESMITH and LIFE SAPPER, and then using them both to gain strategic advantage!)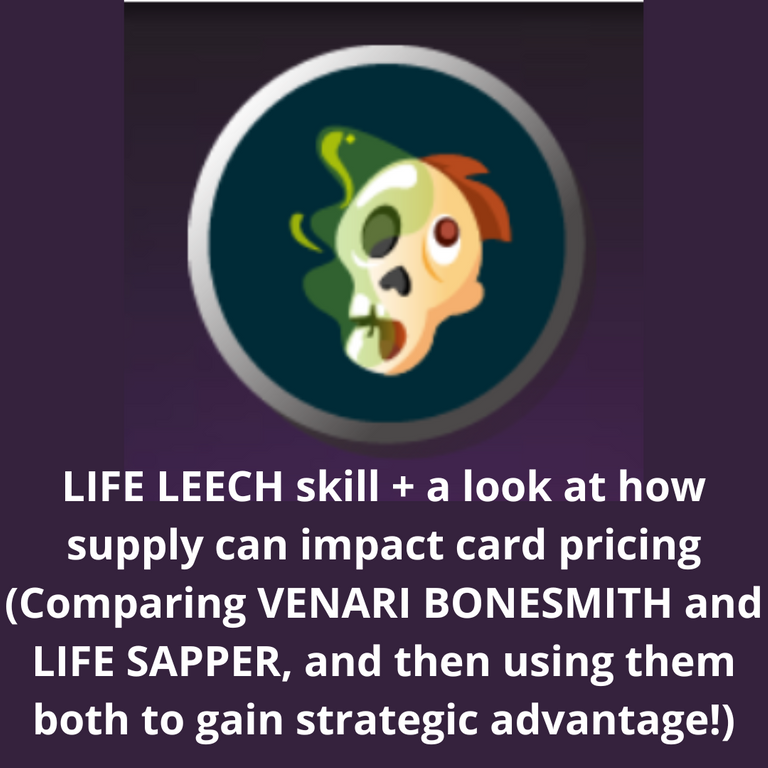 LIFE LEECH skill + a look at how supply can impact card pricing (Comparing VENARI BONESMITH and LIFE SAPPER, and then using them both to gain strategic advantage!)
Hey Splinterfriends;
Today I want to explore the LIFE LEECH skill. It's a funny one, eh? In my experience, when I first started out playing Splinterlands, I tended to use this one a lot - I guess in the NOVICE league it's easy to just play in DEATH and have STARTER cards that work in low mana settings - and this skill seemed to fit that description - but as I grew into being a SILVER player, I left DEATH splinter behind, and seen more potential in playing battles with lots of MELEE bashing - than something a bit more interesting or strategic.
It's only fitting then, that as I'm re-discovering the DEATH splinter (thanks in large part to the SPAM bots playing OBSIDIAN over and over) - that I should find this skill and come to understand just how awesome it could be.
So what is the skill? LIFE LEECH does what it sounds like it does; it is associated with MAGIC damage. You hit your opponent for 1 damage, you gain 1 health. Simple!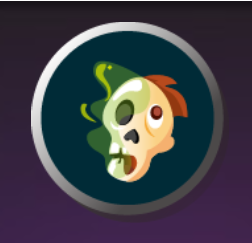 And, one of my favourite LIFE LEECH cards is of course VENARI BONESMITH. This is actually a rather interesting card, because his stats at Level 1, 2 and 3 are pretty similar - but, at Level 4 he gains the POISON skill! I actually purchased this card up to Level 6. Now - at his current prices, you'd pay about 3 cents for one, which is worth 20 CARD POWER. Let me be blunt - that's an absolute steal!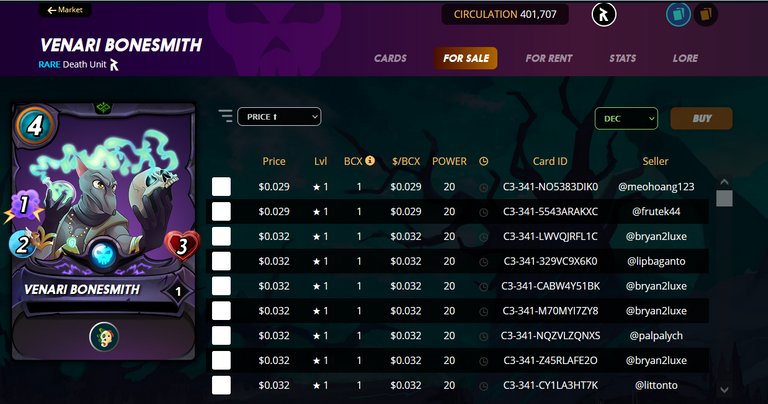 The reason is, the Splintercards stats tell us that there will only ever be 2,000,000 of this card printed - and we're already over half way through its run as a REWARD card. Granted, this card has been a reward for a while, with the new REWARDS systems rewarding 1000000s of chests per season, in all likelihood, this number will skyrocket to fully printed sooner rather than later. Based on the current stats of the card, there are only 402,000 of these guys circulating. My guess is most of these would be singles - with players holding multiples singles in their decks. This still means this card is being combined - and why not? It gets better the bigger it goes up! To take this card to MAX LEVEL 8, you would need 115 of them! At 3 cents each, that means for around $3.50 USD you could have a maxed card! Now - if EVERY card started to be combined, the MAXIMUM amount of fully maxed cards possible will be around 17,000. I guess this means - get in quick, because supply, while it seems like a lot, is limited. I guess what I'm saying is, this card is good, demand will pick up once supply is exhausted - consider picking up a couple of cheapies now while the buying is good.

Now for fun, I used this VENARI as my rear-guard in a EQUALIZER battle, with somewhat hysterical outcomes. You see, while he started with 11 Health, by the end of the battle he was up to 20 health! Let's face it, an almost impossible mountain for any opponent to try and knock over!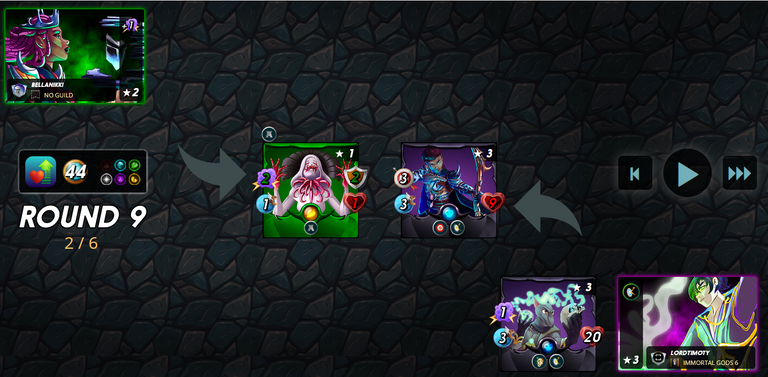 Now of course, there are other options in DEATH to use LIFE LEECH. One of the better ones is the CHAOS LEGION card, 'LIFE SAPPER'. I wanted to line up his stats, however, next to VENARI BONESMITH. And here is what I noticed. In a nutshell, these cards are pretty much identical to stats; with the exception of LIFE SAPPER getting to 2 damage at Level 4, to VENARI BONESMITH achieving this at Level 6. In truth though, VENARI'S poison ability at Level 4 feels like a far better asset than the extra magic stat.

So with that being the case, you'd think that VENARI BONESMITH and LIFE SAPPER would be roughly on par for their cost, right? Well have a look at this! A LIFE SAPPER, despite being a bit better or a bit worse than VENARI BONESMITH, is worth 10x the price! 30 cents vs 3 cents! I guess this is all about supply - which is why I suggest you keep VENARI on your radar, because he will bounce as soon as supply tightens.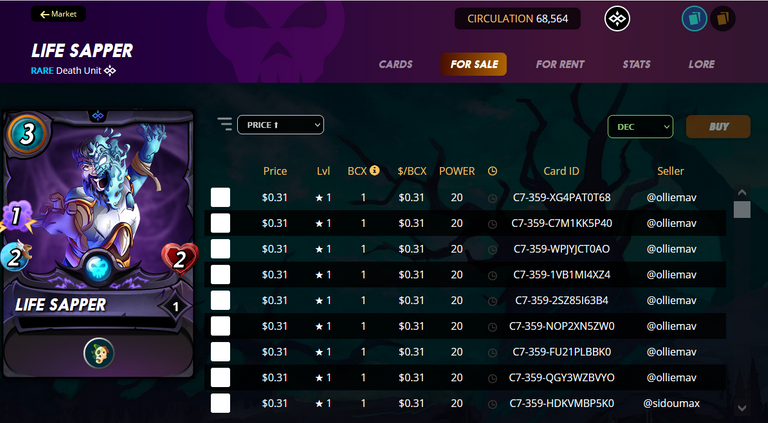 But in the spirit of seeing them side-by-side continued, I decided it was worth my time to find a battle to put them both in, just to see them shine together. And you know what I found? These guys, in partnership, are great! Again, I knew my opponent would be using OBSIDIAN - thanks to the BOTS who are incredibly predictable, so I played an OWSTER line-up to reflect back significant magic damage, and put my LIFE LEECH duo at the back of the line-up, figuring - that their HEALTH would grow and grow, and this would allow them greater ability to reflect more magic damage. A simple strategy - thanks LIFE LEECH!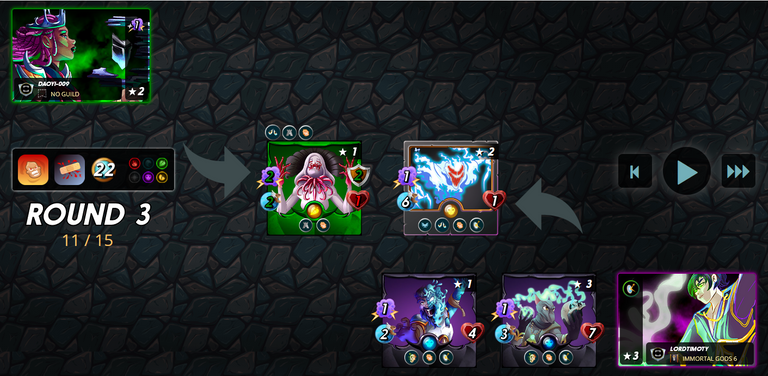 Evaluation:
I started this blog with the purpose of exploring LIFE LEECH in the DEATH splinter, and in the end, my comparison took on a #leofinance quality - by looking at how supply will determine price. That said, what I've found is a super strategy for dealing with the spamming OBSIDIAN bots. Use OWSTER and LIFE LEECH = you can't lose! To that end, LIFE SAPPER is worth his 30 cent price tag - and VENARI BONESMITH, at 3 cents, is an absolute bargain and a half!

Don't forget, you can click here and sign up with my affiliate link.
#splinterlands #spt #play2earn
#oneup #hivegaming #battle
#pimp #neoxian #archon #palnet
#proofofbrain #thgaming
#leofinance
---
---