Poison at the front, Poison at the rear. Strategy: Using 2 x poison attackers to destroy an opponent!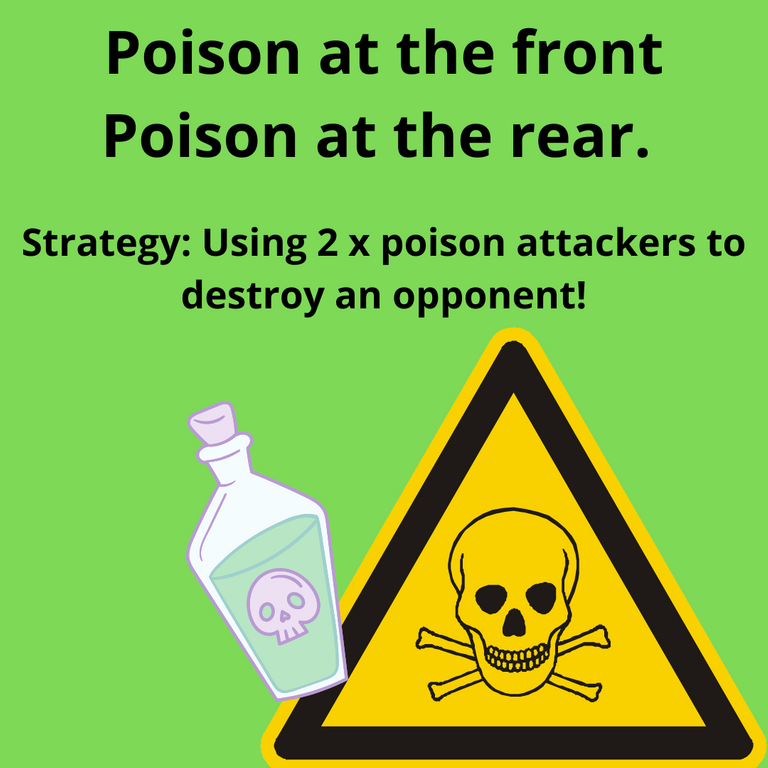 You've heard the description of a mullet: business at the front, party at the back. And that's really a great way to think about the potential of the POISON ability. I have a philosophy in my Splinterlands battles - I like to avoid splitting my attack in multiple different directions. I figure, if I can have 5 or 6 of my cards all trying to kill one of my opponents, I'm likely to get it down a whole lot quicker than I would by targeting 3 cards!
But, there's an exception that I wanted to put on the table, because I think it's key to unlocking a strategy that's likely to get a lot of wins on the board - and it's quite simply this: Poison your opponent's tank AND poison your opponent's rearguard.
It's an effective way of ripping through a line-up, and I've got a team I like to use that I thought I'd share (because, it's a killer line up, literally!) The two cards I want to discuss are VENARI BONESMITH and URAEUS. Join me!
The first card worth considering if the RARE DEATH card, VENARI BONESMITH. Now, this is a card I rather love - he's a dangerous contender with his LIFELEECH skill, meaning every time he hits an opponent, he gains health - but you can see, at Level 4 - he gains that POISON ability. I have my VENARI in the GOLD PRINT edition, which meant that it cost me 4 x $1.35 or so to level it up. It's a pretty cheap investment because by having GOLD FOIL cards on the battle field, you ultimately end up getting additional rSHARES - which in turn, equals more chests quicker. As an investment then, this one is all about making a good return, which is magnified because you save ECR, in turn, generating a higher ROI - even if that return is largely invisible.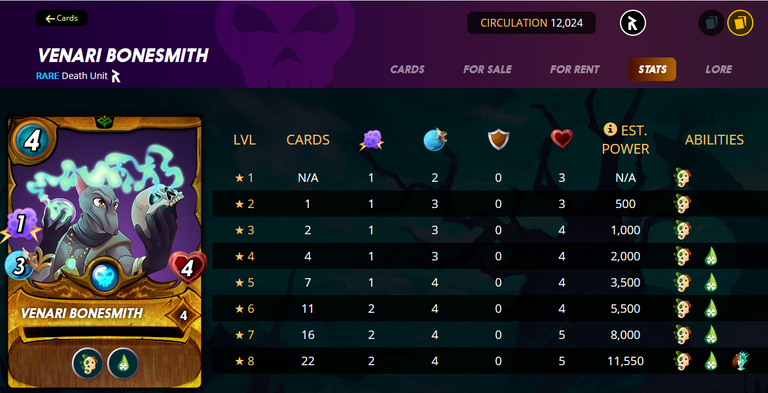 The second card then, I think of him as VENARI BONESMITH's partner in crime, is URAEUS. Check out this big fella - you'll notice that while VENARI will be targeting the tank, that URAEUS has the SNEAK ability, and this let's him target the rear. You will, like VENARI, need to Level him up to Level 4 in order to access the poison ability - and have a summoner and league unlocked that will let you play him also. With his 2 melee attack, this card is useful - and often I find that he'll hit, take the rear-guards armour, and then the poison will kill them at the end of the round. This guy is an EPIC card and is more expensive to level up than VENARI BONESMITH, as you'll pay around $7 for a card and need four of these to level him up. That said, because he is NEUTRAL, you get a lot of bang for your buck, and again - having GOLD PRINT cards is essential to generate that return on your investment quicker - factoring in chests and ECR. There'd have to be a #leofinance guru around somewhere that would know how to work this out. If you have a formula, let me know!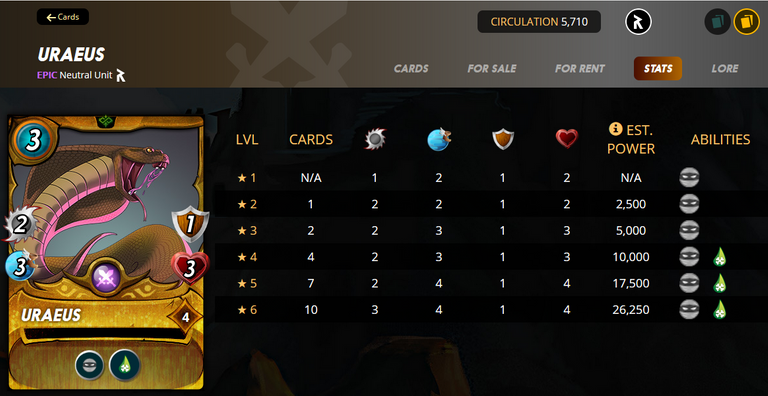 On both cases, you'll notice that the cards are low mana. That's key - because it means that they're versatile enough to fit in an awful lot of line-ups - and I find myself playing this strategy over and over again. But here's a battle I did particularly enjoy. It's interesting for a few reasons.
It has the HEALTH equalizer ruleset which means that all your cards start with the same health. This is great when you're playing low mana cards like both of my POISON ASSASSINS.
The blast has BLAST - this will actually suit VENARI BONESMITH who will gain health from his LIFE LEECH skill on both the tank he hits, and the off-tank. That will certainly allow him longevity in the battle itself.
But looking at the battle open, you'll notice that my opponent has +8 melee that will hit me each round, this is in comparison to my 3 damage which can initially hit. To me, it looks like this may put me at a disadvantage - but, I know I can count on my poison becoming a weapon which will quickly take out my opponents.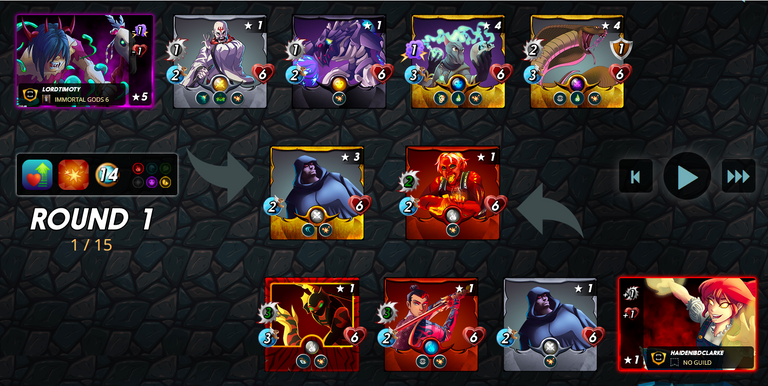 By the conclusion of the first round, you'll note that my opponent's RADIATED SCORCHER and his SERPENTINE SPY have been been infected with POISON - and they both went -2 health as a consequence of that. This certainly puts me in the box seat - as now they're both down to 2 health, it guarentees they'll both be dead at the end of Round 2.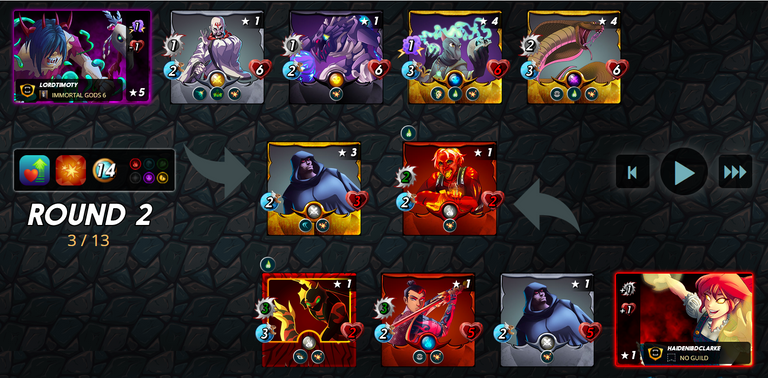 And then as ROUND 3 hits, it's party time on my side of the teams, as I poison my opponent's TENYII STRIKER. At the end of Round 3 - that will drop him, leaving only the CHAOS AGENT with no attacks to defeat. Unfortunately, before the TENYII STRIKER lost his last health, he did manage to drop my URAEUS.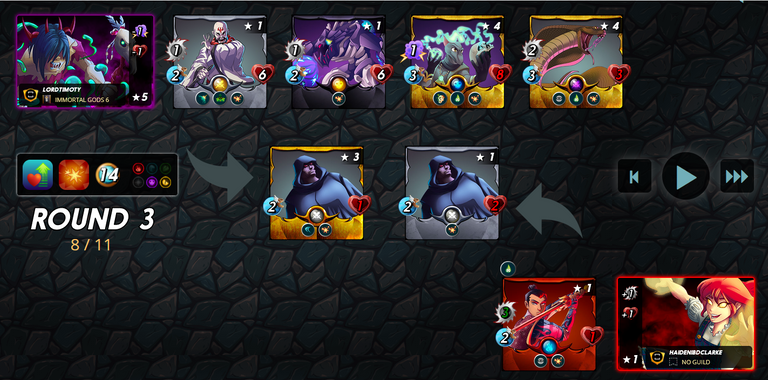 And then in Round 5 - you guessed it, POISON strikes again, and as my opponent's final card, his CHAOS AGENT falls to the ground, he falls with POISON! - It certainly shows just how potent it is!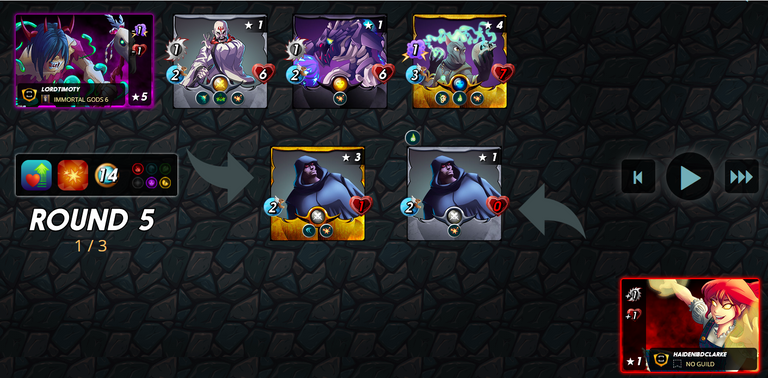 Now - of course this will leave you wondering, what other poison options exist? In truth - it's not a common skill, and it is often the Level 10 skill on amazingly expensive cards - so when you do find it in a cheap card, it's worth more than the dollar value you pay. My favourite other poison fiend is the DEEPLURKER. Have you seen this card at Level 6?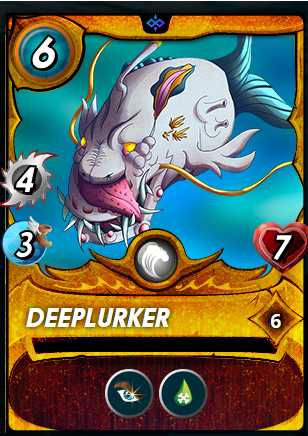 Want to watch the battle in full? Here's the link:
https://splinterlands.com/?p=battle&id=sl_3d101bae800c1bf284988190da646477
Or, let's celebrate the video together:
Evaluation:
It sucks to be poisoned; indeed, every time I play in the NOXIOUS FUMES ruleset, I panic and stuff up and lose in a pile. But, it sucks even more when my opponent's poison me. That's why this skillset is particularly awesome when it is in your team, and the potential to knock out your opponent's attack from the front and the back will certainly expose his vulnerabilities quickly in the piece - and the best part, it ignores ARMOUR!
One of my intentions has been to transform my team from a regular deck into a gold foil deck. The poison cards discussed above are actually rather cheap - and from an investment point of view, rather amazing given the way they increase your rSHARES per win, meaning that you save a lot of your ECR in gaining daily and season chests. That's got to be worth a few bucks!

Don't forget, you can click here and sign up with my affiliate link.
#splinterlands #spt #play2earn
#oneup #hivegaming #battle #leofinance
#pimp #neoxian #archon #palnet
#proofofbrain #thgaming
#leofinance #battle
---
---