[#spillthebeans] A lesson on homophones: Cereal / Serial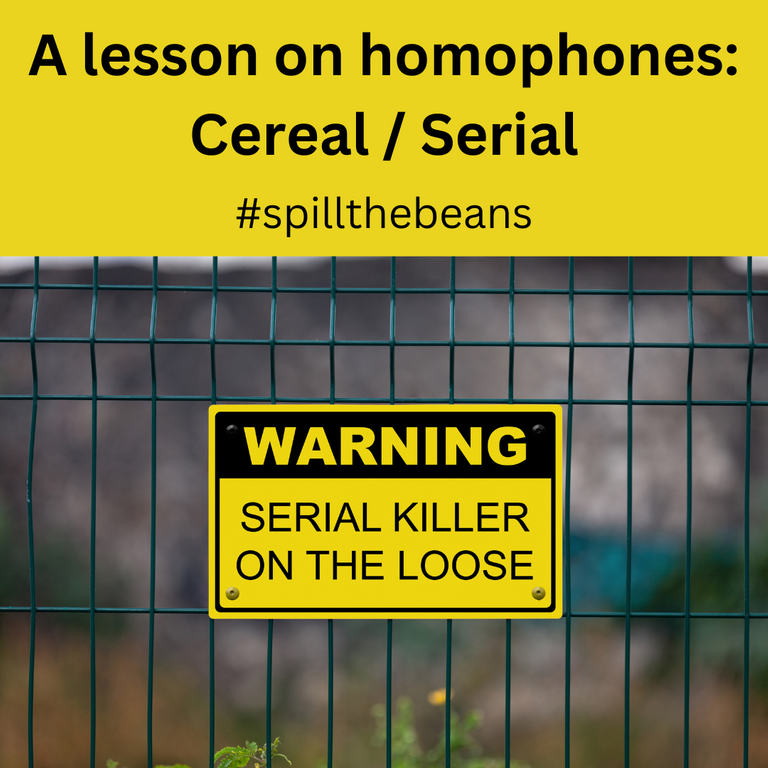 The Coffee Bean Killer
Rusty was often described as a dreamboat by all the girls in his grade. He had sun drenched blonde locks and when he wasn't stuck in school he lived on the waves. He had learned to surf at a young age, as well as learning to wear his cap backwards. His teachers suggested he could barely write his name, but he could certainly write 240 characters on social media with such speed that his practised fingers would have impressed any of the most dedicated pianists in the world. Speaking of pianists, however, would make Rusty chuckle with such immaturity that his whole body would shake.
But, despite having all the girls hanging off his every word and having a horde of meatheads idolising and imitating him, Rusty felt incomplete. He wanted fame, and would often say, 'I want to go viral!' His sister had contracted viral meningitis a couple of months earlier, and Rusty felt cheated that it wasn't him and their relationship had been cold ever since.
Sitting at his breakfast table on Monday morning, Rusty had used his Dad's French press to make his morning coffee and had a large bowl of corn flakes in front of him. He could hear the ocean and was looking forward to getting out there before school – but not on an empty stomach. But of course, sibling rivalry is a fickle thing, and his sister came into the kitchen screaming abuse that Rusty had stolen her blonde shampoo. She demanded accountability, but all he could utter was, 'Dude, calm down' and ran his hand through his hair. In rage, she picked up his coffee cup and poured its contents into the bowl of corn flakes.
Rusty's cereal was ruined, and as his sister disappeared back to her bedroom to slam her door – Rusty sat back down and instantly got his phone out. Never one to miss an opportunity to update his socials, he wrote, 'I'm living with a serial killer. Just seen my sister murder with hot coffee. Stay safe peeps'. And, despite his empty stomach, he went for a surf.
Little did he know, his post was starting to gain momentum, as one like led to another and one share led to another. Comments of support were coming in, as well as a series of distressed girls who feared for Rusty's safety and indeed, their own. The post itself was manoeuvring and choreographing its way all across the internet until it was trending and being read by a journalist in the big smoke. The journalist eye's widened at the story he could see – a seventeen word warning – becoming a front page story which would eventually win him his journalism award. He had a swig of his own morning coffee and began to type his piece.
'Serial Killer on the loose. Citizens of the coast terrified by the Coffee Bean Killer'. The journalist developed his piece by picking out comments on the post, capturing the terror and fear that was being felt. He then found a Wikipedia post on ways in which coffee could be used to commit murder – speculating on possible murder scenarios which could be the mark of the serial killer.
The journalist rang the police station proximate to where the murders were occurring for comment, but the sergeant thought the call a hoax – after all, nothing ever happened in his sleepy coastal hamlet. But he thought he'd give the hoax caller a laugh, so offered, 'Yea, killed with black coffee – the murderer makes you drink it, then you cark it. Sad way to go, but coffee without milk is a fate, some would argue, worse than death'. The journalist thanked the Sarge for his time, and the sarge put the phone down shaking his head, while Rusty's post continued to circumnavigate the globe.
The next morning The Daily Telegraph broke the story on the front page of the paper: "The Coffee Bean Killer's reign of terror has been largely kept quiet by authorities, but the fear that is pulsing through this community is crippling, as the body count is piling up. The local police sergeant gave official comment but is yet to act. This paper demands immediate justice and an inquiry into the way the police have allowed such criminality to fester, allowing the Coffee Bean Killer to claim notoriety as one of our country's worst serial killers". The story went on to name Rusty and published a screenshot of his accusatory post.
That same morning, as Rusty was checking his socials and smugly drinking his French-pressed coffee, he felt elated that his post had become the most re-blogged post on the site the previous day. He had an unmanageable trail of pings confirming hundreds of thousands of new followers, keen to get insight into his feelings and messages from global news networks all around the world wanting to get him on air. On the other side of town, the police sergeant was also drinking his morning coffee when he spat it out – all over the front page of the daily paper. Meanwhile, Rusty's teacher was doing some lesson preparation for later that day, excitedly putting together a lesson on homophones.
---
---