The Art of War: Lipsticks, Faux Pearls and Lawn.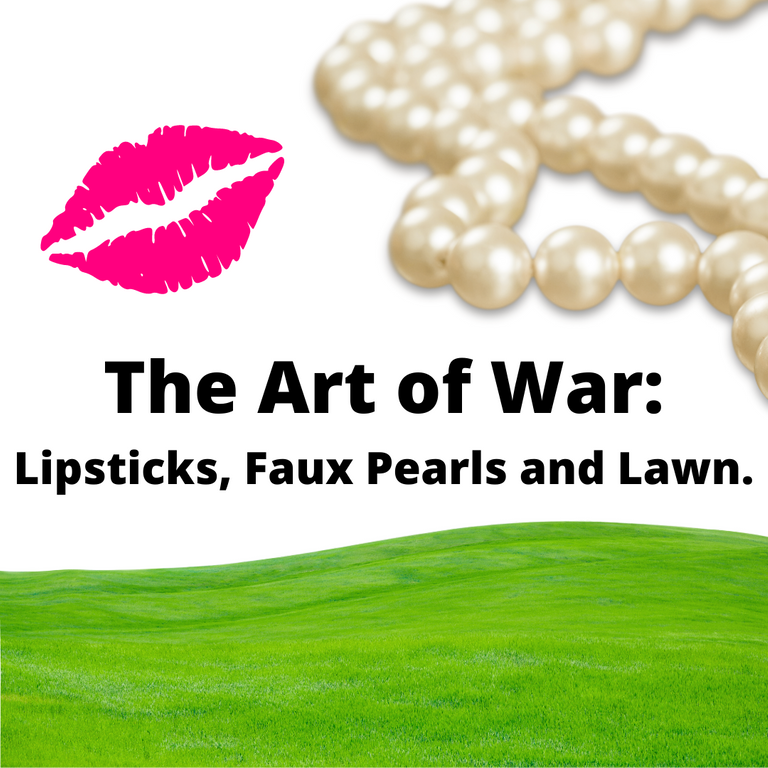 Janine stood on her porch proudly surveying her manicured lawn. The help had just finished sweeping the paths and trimming each blade to the standard 2.6 inches. It was, you understand, the unofficial, yet standard height of all the lawns in Windsor Boulevard, necessitating a maintenance team to visit each Wednesday morning. This was not, however, a typical Wednesday. As Janine completed her quality control of the lawn, the glee on her face transformed into a leer as her eyes were drawn beyond her camelia hedges to the house beyond the white picket fence which stood opposite her.
As the leer lingered, Janine's face had begun to contort. The new residents of the previously meticulously upkept lawn had not shown the same level of care and resolve to fit in as Janine had hoped. Janine counted back the days to the Saturday before last and announced in a breathy spat of disproval that it had been eleven days since the husband figure of the house had pushed his own mower around the block. 'Heavens!', she gasped.
Janine knew that these imposters were trouble from the moment their furniture van had arrived. She had set about the task of defrosting one of her pecan pies as a welcome gesture, but had stalled on its delivery. She recalled the moment vividly, her hair had looked great, having re-curled it for the occasion, she had been walking down the garden path, pie in hand – and then she faltered. Even from a distance she could see the woman was wearing faux pearls. Of all the insipid things to cause offense, Janine went weak at the knees and felt the urge to retreat.
The memory swirled, but she knew exactly what must be done. She would go back inside and put on her deep green velvet coat and apply a darker shade of lippy. She did not want her hostility to be spoken through pink lips. She would wait until nine o'clock, not wanting to be accused of impropriety, and then make her way down her path to knock firmly on the door opposite hers.
Before long, she found herself walking with a stern gait up to that door which had been painted navy blue. She would knock. She would refuse the invite in. She would say her piece. She would leave and in return, she would expect to see results. Janine had once read the cover of 'The Art of War', and it made her confident in this engagement.
A blue eyed and smiling woman opened the door. Up close, Janine could see she had mistaken her age and respected the wrinkles she could see spreading from her eyes. Janine felt unsettled further, then, when she found herself accepting an offer to share a coffee and a freshly baked chocolate chip cookie. Hysteria and panic raced through Janine's mind, it seemed to her that she had fallen victim to a devious attack; she assumed this woman, who introduced herself as Sammy, had perhaps read the book that she had not.
Sammy, continuing to smile as she sat down at the kitchen counter, proffering a hot beverage in each hand, confided in her new acquaintance that she had been her first visitor. She had said she had felt a little bit invisible since moving in and hadn't yet made a friend. She placed emphasis in the conversation on the word, 'friend', and looked furtively in Janine's direction. Janine, always alert for wily tricks, had attempted to keep her guard up, but found herself asking questions about Sammy's life.
'Well, I've only just moved back to the area. I had been out west looking after my parents, whose ill health had kept them bedridden. But now, Callam, that's my husband, we're here to start our next chapter. We're in the process of setting up our business; I work with children with disabilities from disadvantaged backgrounds and Cal is a caseworker, often in the field.'
The monologue continued, but Janine could no longer hear it. She understood that this woman may have still been wearing her faux pearls, but that underneath it all, she had the proverbial heart of gold. Janine finished her drink, and found herself wanting to help Sammy out. She told her quite directly that she would be organising her gardeners to take care of her lawn from now on. Whispering conspiratorially, 'Some of those neighbours around here judge us on the length of the lawns we keep'.
---
---