The SCAVO HIRELING: Beast and Bargain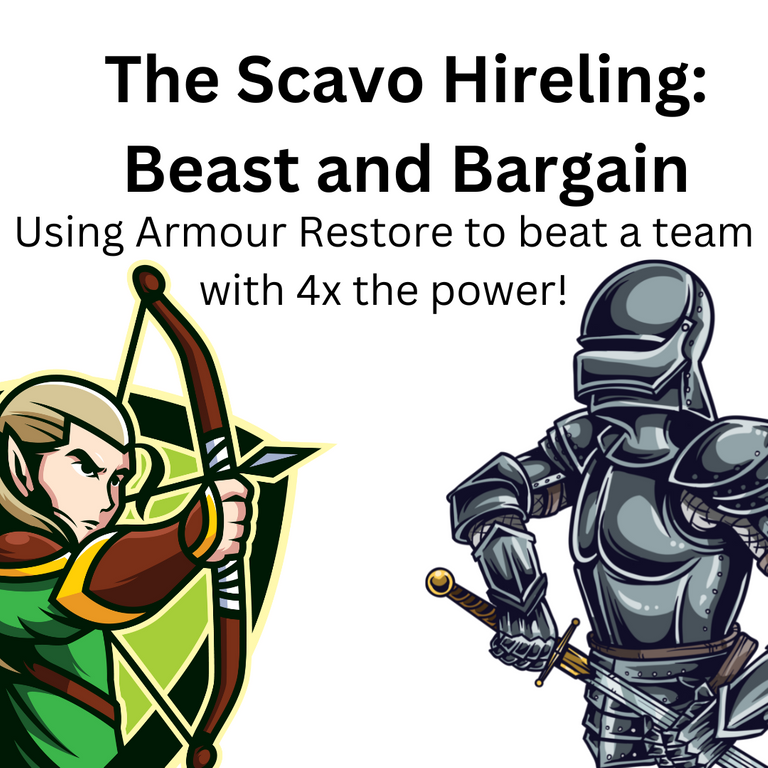 I am constantly amazed in Splinterlands at the impact of the right card in the right battle - it can be absolutely devastating to an opponent, and despite being potentially underpowered, you can so often take out a big one. Of course, these battles are usually tied to the idea of strategy and ruleset - and, let's face it, are typically low mana. If I get 99 mana, I'm throwing every 10 mana card I have at that battle!
But today then, I want to talk about SCAVO HIRELING - It's a card that is part of the CHAOS LEGION and until recently, I only held as a Level 3. That said, I have been preparing to have a maxed deck to improve rewards, and in doing so, have pushed this guy up to a Level 8 - and it's making me increasingly impressed!
While the card doesn't have any attack, he has two skills which make him an incredible asset in many line-ups.
Armour restore - this skill does what it says, it restores armour that has been lost. This is absolutely key, as my new favourite summoner is Grandmaster Raithe - where magic hits armour before health. Armour is always going to be key with this guy.
Camouflage - this means that SCAVO HIRELING can not be hit until he is in the first position. This is really the huge advantage in leveling this card up, because if you have a solid tank out front that you can keep protecting, in all likelihood, your SCAVO HIRELING will never find itself in the tank position, and boom - you win!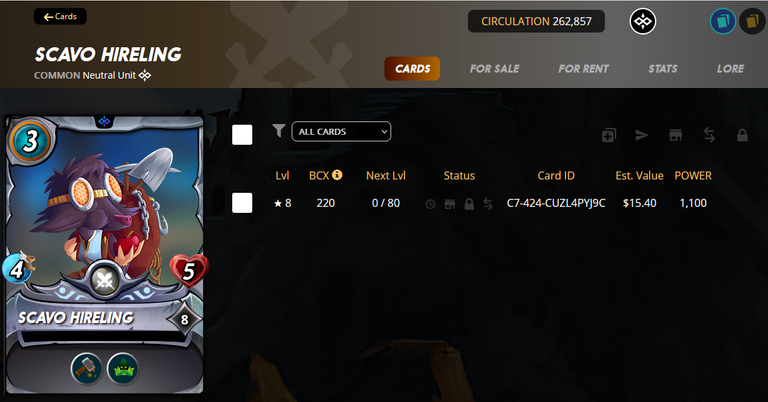 And while my card is Level 8 - the max for GOLD LEAGUE, I've been increasingly playing in Diamond league - and look then what he does? He has a speed reduction at Level 10. In a nutshell, this guy is quite the card to frustrate an opponent's attack! It is, however, a COMMON card are there are close to 240,000 of these little guys circulating. That said, the price of the card has come down recently, and now might be the time to invest. You see, you can get these guy for as low as 0.070 per BCX! That's a crazy price, considering he's been over 10 cents a card in the past. I need 180 more to max this guy out, and let me tell you, that will be an investment I'll be making sooner rather than later!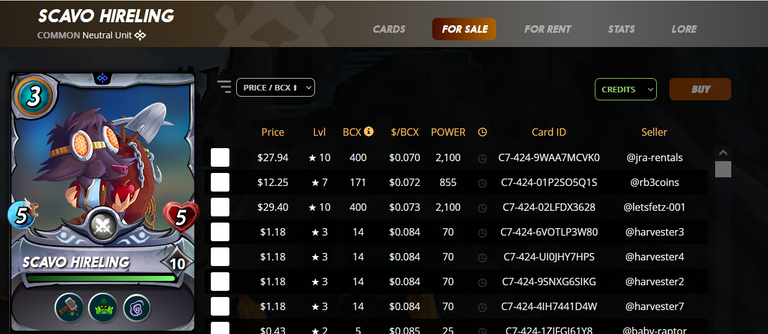 But I started this post wanting to see this card shine - so let's do just that and review one of my recent matches:
Prematch:
In my battle I got two really fun rulesets
No melee allowed; archers and magicians only!
Return fire - archers will have their damage returned.
And all this in 16 mana! It was time to get creative - so I played:
Summoner: Grandmaster Raithe - this would give all my cards ARMOUR, which would allow SCAVO HIRELING to restore it.
Tank: Pelacor Conjuror - If my opponent played magic, I wanted to send those bolts back! If he played arrows, the ruleset would send them back!
Off-tank: I played the SCAVO HIRELING in the second position as this would allow him to constantly restore the PELACOR's armour.
Back-row: I played the Runeslinger - a card I quite like, as it has the AFFLICTION and the STUN skill. Basically, I wanted to make sure that whatever tank was being played on my opponent's side, I didn't want it to be able to be healed.
That idea about healing was lucky, as my opponent certainly played a healer!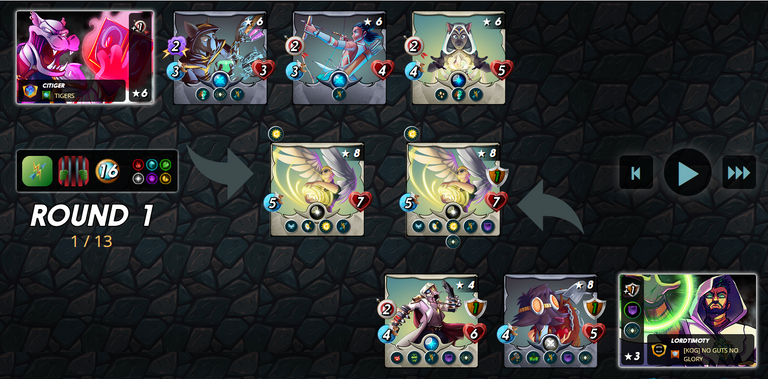 End of Round 1:
Round 1 was a very good round for me, as my opponent had played General Sloan and increased all his ARCHER damage - meaning that more damage was reflected back on him! Yes, my RUNESLINGER took some damage from RETURN FIRE, but the SCAVO HIRELING restored the armour loss. In all, you can see that my opponent has had all three of his back-row cards injured, and in all likehood, they will fall in Round 2, as - Grandmaster Raithe also has the AMPLIFY skill built in to maximise those return shots. BAM!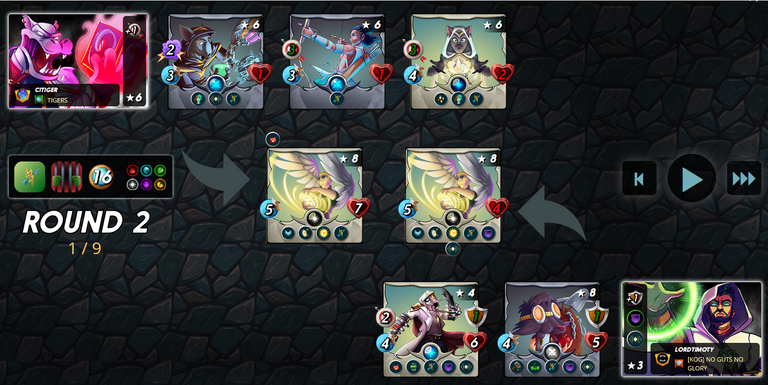 Coming to the end of Round 3, my opponent has lost two of his attackers, as their own attacks were turned against them. The only attacker left standing on my opponent's team is the XENITH ARCHER and that is by virtue of the fact that my PELACOR CONJUROR keeps dodging. As soon as that Archer lands a hit, that will be enough to kill him too! (EVIL LAUGH moment, right?)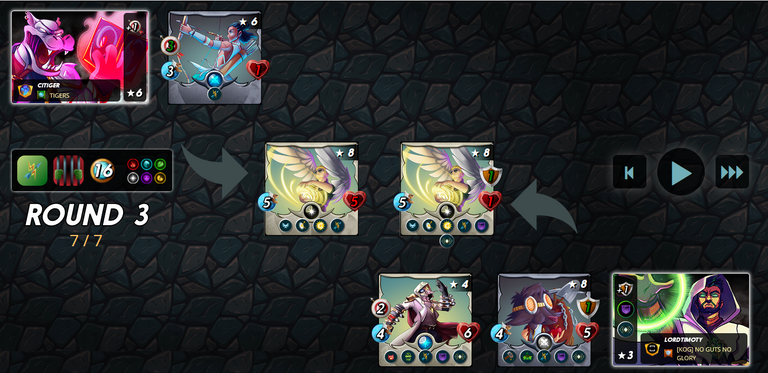 It took another 2 rounds then for the XENITH ARCHER to finally land a hit, with the RETURN FIRE knocking him out of the battle. In those same two rounds my RUNESLINGER only landed one hit - but, with the SCAVO HIRELING continuing to repair armour, I will finish this battle with all of my original team standing.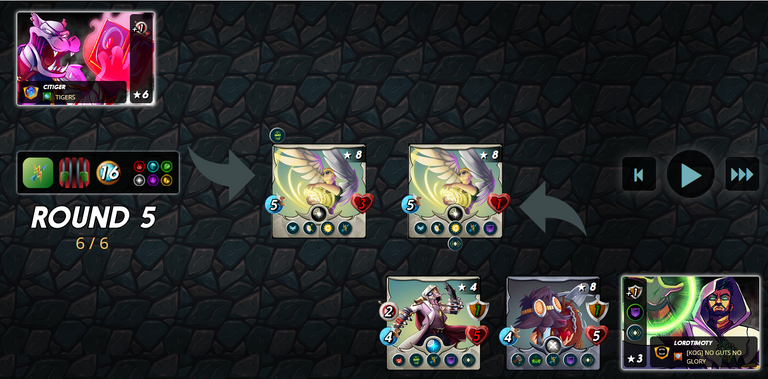 And then another 2 rounds later, at the end of Round 9, my little team finally took the final hits (gosh that Pelacor dodges a lot!) to take this battle out, for what I'm going to call, a memorable victory!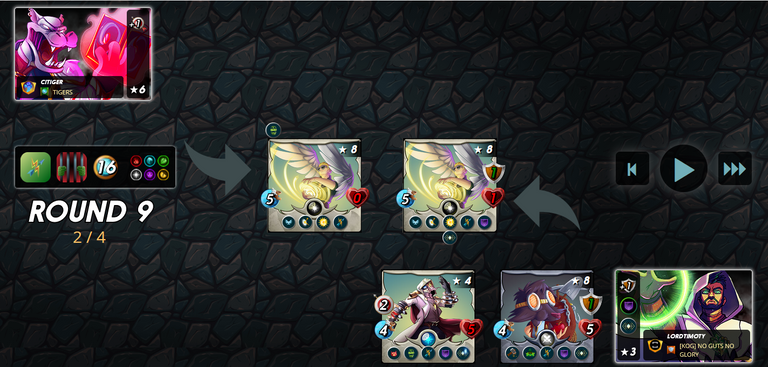 Want to re-live the battle? Check it out here:
https://splinterlands.com/?p=battle&id=sl_14eae46b446f5603ee3a2227281f865d
Review:
I so often talk about synergies, and this battle was a prime example of synergies in action, you see, while my SCAVO HIRELING did his job of restoring armour, over and over again - it was the GRANDMASTER RAITHE whose AMPLIFY let the PELACOR shine - but, without the SCAVO restoring the PELACOR's armour, the PELACOR would have died. It just goes to show that all the cards needed to work together to get the win in this battle.
And, that's how a team with only 2 attack can beat a team with 4x more attacking power!
So would I continue to buy this card? Absolutely, the SCAVO HIRELING isn't just a beast, it is most certainly a bargain!

Don't forget, you can click here and sign up with my affiliate link.
#splinterlands #spt #play2earn
#oneup #hivegaming #battle #leofinance
#pimp #neoxian
#proofofbrain #thgaming
#leofinance #battle
---
---