[#TheInkWell] He wanted to change his life. But the foil foiled true love.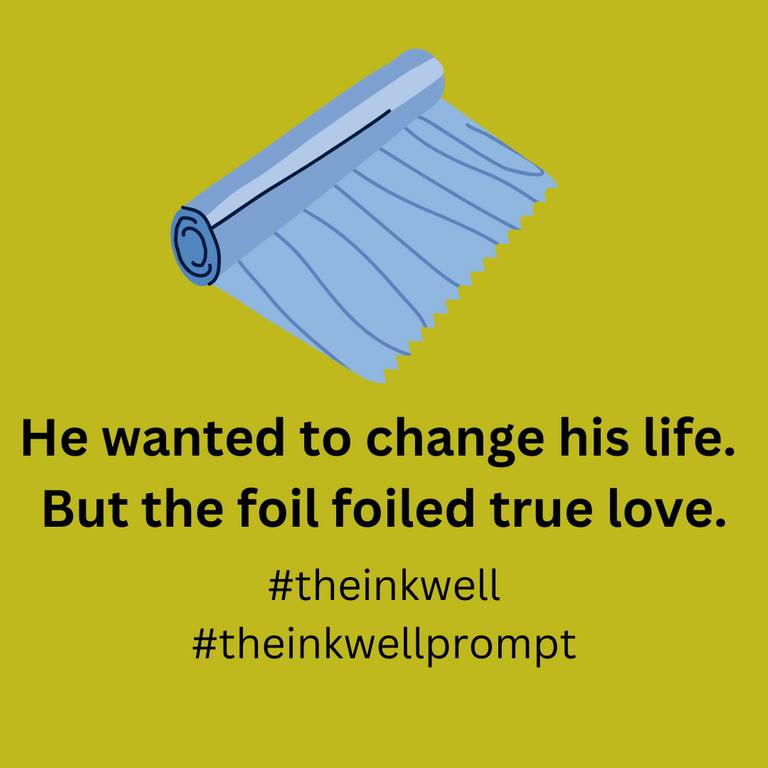 Cover created in CANVA using free elements.
Part 1: Allan makes a life altering decision.
The overcast skies stretched into the distance and demanded a gloom descend into each bedroom over which its pall was cast. Allan, always one to have his mood dictated by the weather, peeped open his eyes and looked past his doona at the grey beyond his window. He huffed. It was an expressive huff, and he meant it. Today was supposed to be the day he changed his life, but he couldn't help suppose that life-altering decisions should only be made in pleasant sunshine. He rolled over in bed and went back to sleep.
Part 2: Let's try again, Allan makes a life altering decision.
The next morning God had created a masterclass in the sky; painting whirling oranges and purples which blended into the horizon and created a sense of drama, tied together with the chirp of birds from each tree in the neighbourhood, whose boughs would gently sway in rhythm with the music. Allan was agreeable to this sky, and he didn't so much get out of bed, but leap. He strode down the hallway and announced to Felix, his ginger cat, 'Today I change my life!' Allan filled up his cereal bowl and ate it in a most determined fashion, quickly taking in spoon upon spoon, anxious to get the day started. He raced through his shower that morning, and didn't quite brush his teeth for the dentist-specified timing. How could he? He could barely contain his intense urges – today, afterall, was the day.
Once dressed, and having quite deliberately saved his lucky underpants for this occasion, Allan took his seat at his laptop and begun his mission. He was going to create an online advertisement in order to find a girlfriend.
Part 3: Allan is in love.
Later that day, Allan received his first ping. He was elated, and, on checking the weather, he felt it was safe to open the email. Indeed, the afternoon sun foreshadowed the good news that he would be opening. He had received an invitation for a phone call, and immediately wrote out a script that he would use to help him avoid awkward silences. He then punched the number into his phone.
A voice picked up on the other end of the line. Allan stood a little taller in the middle of the kitchen. The voice must have asked how he was, as he answered, 'I'm swell'. Small niceties followed and then came a question which Allan had not given thought to. The voice had asked him his name: the answer of course should have been easy, but he felt a strong grip on his privacy and wanted to keep some distance between the pair, should the phone conversation end poorly. Panicked, he looked about the kitchen before noticing his bottom drawer was slightly open. It gave him enough of an idea, and so he responded, 'Oh, I'm Mr Foil'. The name he thought sounded believable, and the conversation developed; he had to clarify, of course, and told her his name was Allan.
Allan leaned back on the kitchen bench and allowed himself to smile as he talked to the voice on the other end of the phone. They'd had a lot in common, they both liked long walks on the beach and they both owned a cat. They'd both enjoyed reading anything from Raymond Chandler, but neither enjoyed the cinema. Allan began to twirl his finger in his hair and crossed one leg over the other. As the conversation was continuing, he took one deep breath, remembering that today was the day he changed his life, and then he propositioned the voice to a meeting. He promised candle lighting and appropriately romantic food. The date was set for that night; Allan was smitten.
Part 4: Allan is crippled with fear.
Later that evening, Allan was becoming increasingly frustrated with his Windsor knot. How could he possibly show up at the 'Coeur du Mensonge' without a Windsor knot? Sure, he could settle for the half-Windsor, but he recognised the message that sent may not have been consistent with the drama of that morning's sky. And then, he froze.
He had played back a snippet of the conversation he'd had with the voice earlier that day. Mr Foil was how he'd introduced himself; clarifying as Allan. Terror swept over his face as he realised he would be introducing himself as Al-foil for the rest of his life. He put his tie back into his tie-drawer and began to will the sky to rain; demanding he inform the weather this evening, rather than the reverse.
Sitting at the restaurant by herself, the voice was starting to feel agitated, and the breadbasket was nearly empty – as was her stomach. And, as couples came and ate and laughed and went, she realised she was alone. She breathed out and felt a sense of relief which physical showed in her relaxed shoulders. The woman's name was Tina, but ever since a young age, she'd been known as Tin. Imagine, she thought, what her driver's licence one day might read: Tin-foil. She went home that night, happily alone, as Allan sat on his bed looking at the darkness beyond his window.
---
---