Tutorial: How to buy RIFTWATCHERS packs and load them into SPLINTERLANDS. + Investing in 120 packs. Show me the gold foils!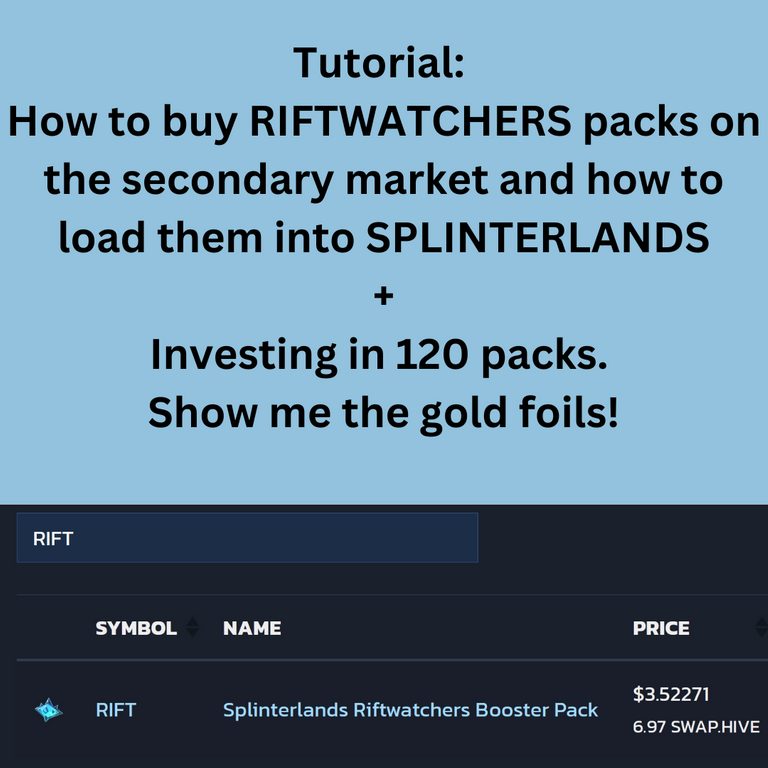 It's time to invest into the RIFTWATCHERS.
Splinterlands is one of those games which you can just tell is building into an absolute BEHEMOTH. Every month the team is putting together new developments and exciting proposals and the game is ever growing and ever evolving. I think it's fair to say it was stagnant for a while - possibly a couple of months, while Chaos Legion was in full swing. Now, all the 'stuff in the background' is coming to the front, and the game is getting increasingly exciting day by day.
It raises a lot of questions about where to invest? Should I be looking at Chaos Legion - or should I be moving towards Riftwatchers or LAND or Tower Defense? In my own mind, I'm looking at Riftwatchers to see how that plays, and then I wouldn't mind the Tower Defense option.
But right now - I'm all about the RIFT. You see, this is a mini-set which will have only 3,000,000 packs available - and already 600,000 of those have been bought up in just about 2 minutes; can you believe it? Will all 3,000,000 sell out in under 10 minutes?
I don't know the answer to that question, but it's an exciting wondering - and why not, as from what we've seen of the cards, they are certainly 'must-haves' in every respect.
But - did you know you can buy them on the secondary market?
Step 1: To do this, I would load up www.tribaldex.com - in the top left hand corner, you then click on the button which says 'TOKENS'.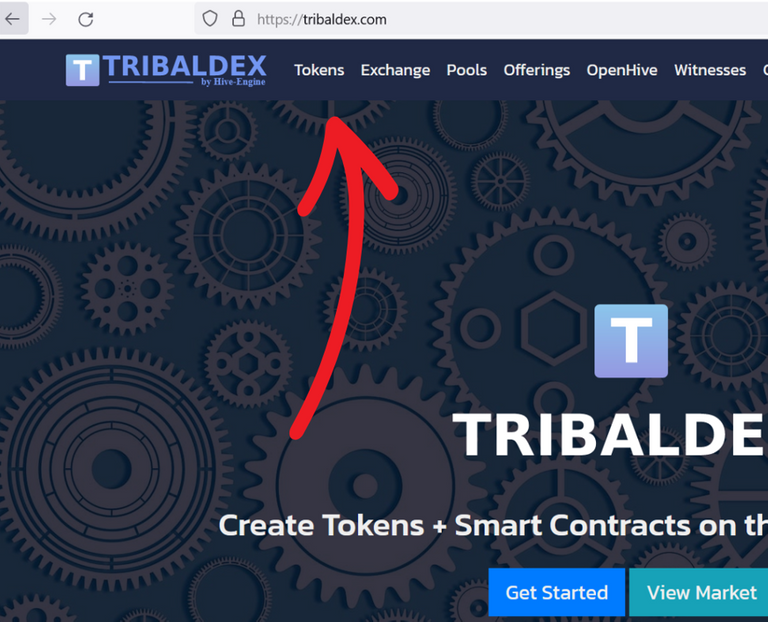 Step 2: You then need to find the RIFT pack. This is easy enough, all you need to do is type 'RIFT' in the search token bar, and it pops straight up. This initial page gives you all the information able the token - and, you'll notice it's pretty tightly held.
It has a Market Capitalization of $10,570,046 - but, less than $8,000 of this was turned over in the past 24hours. This says to me that this little token signifying a pack is being TIGHTLY HELD. This might indicate a real boom in the price of packs once the set is live, and I think gets at the idea that they'll sell out quickly.

Step 3: Putting in a buy order is simple on Tribaldex, you just need to click on the price you want to pay and input how many packs you'd like. It does all the math for you - so long as you have enough swap.hive available. You can see the spread between the BUY and SELL is pretty close, so if you're only after 1 pack, it probably would be easy enough to pay the 7.0 instead of trying around the 6.8. To put it another way though, if you purchased 35 packs, that 0.2 could get you one for free - but it really depends on how much you value that 0.2 swap.hive whether you want to bid or just buy.
From my perspecitve, I've done both - some packs I put a BUY order in (I had buy orders earlier today at 6.84 and 6.90 both filled, but I've also just paid the 6.99 a few times too).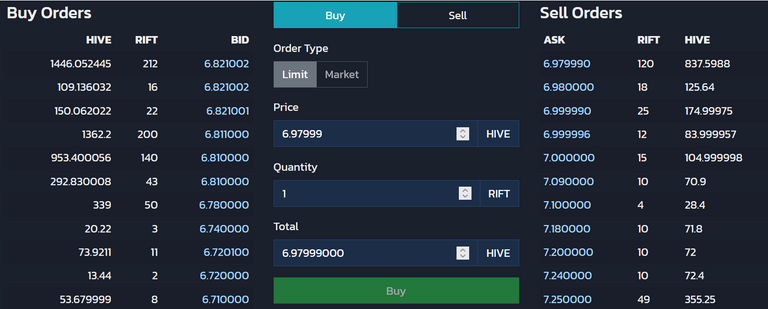 Step 4: Converting your tokens to in-game packs. This one sounds complicated the first time you do it, but it's actually easier than it sounds.
You need to go to the 'OPEN' tab in Splinterlands - it's a pretty familiar place to most of us I'd say, as we'd go there to open CHAOS and GLADIUS packs.
You'll notice the OPEN has been updated to include the new RIFTWATCHERS symbol, next to the symbol are 4 small icons, you will want to hit the lowest one, which is a little circle. When you click it, it will say 'CONVERT'. Go ahead, give it a click!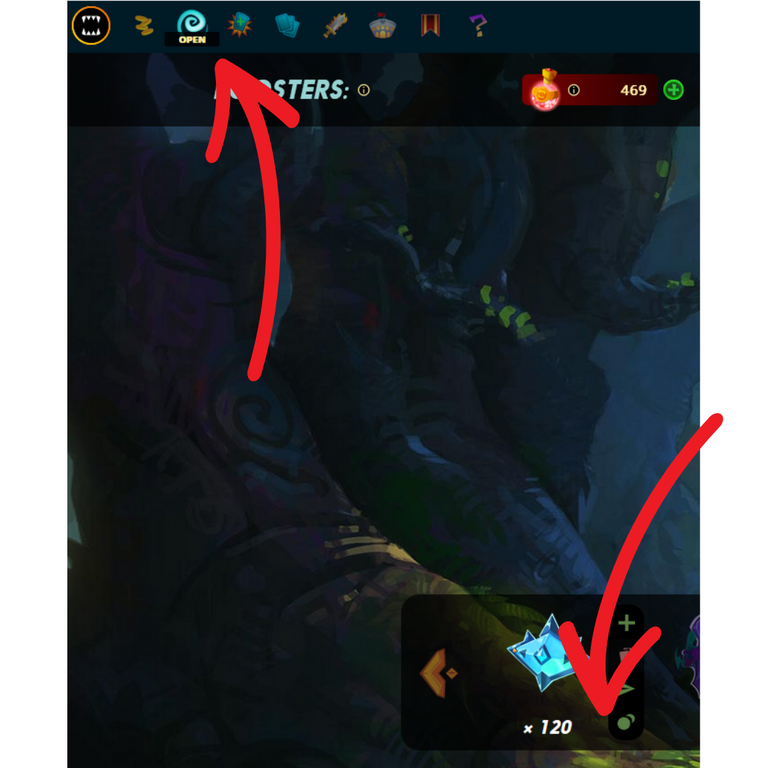 And then finally, you need to put in the quantity you want to convert (which you purchased on tribaldex) and then you click 'DEPOSIT'. This will deposit them into the game and you'll end up with a message saying you've received a gift - which is the packs. Easy! And - if you ever want to move the packs from the game to sell on the secondary market, you'd simple click 'tokenize' to take them out of the game. Easy!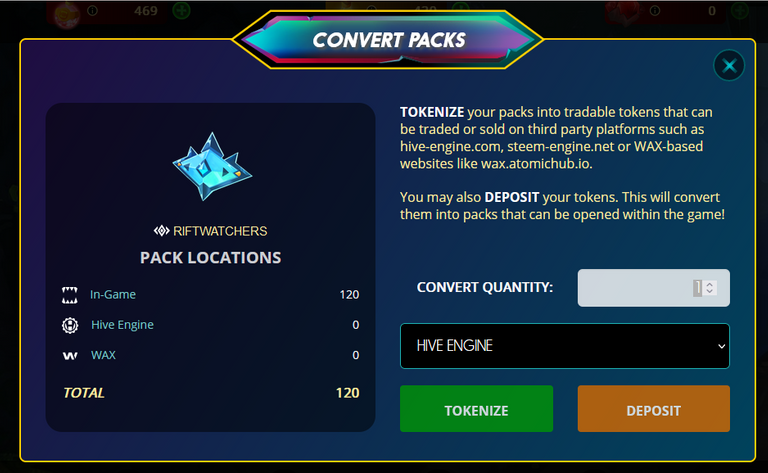 So you might have noticed that I actually already have 120 of these packs. My biggest issue in life then is that I need 600 each of LEGENDARY and ALCHEMY potions to be able to open them up. At this point, I'm a little bit sure - and let me tell you, there is no way I'd open these without the potions as they double your chance of receiving legendary drops and also gold foil drops - the two drops you really want, and even more if they're together!

So - with that being the case, here's a rough back-of-envelope calculation.
I purchased my 120 packs on HIVE for, let's round it up to $3.50 a pack - and the total is about $420. That's a good chunk of coin in anyone's language, but here was the alternative:
If I wanted to buy these and be eligible for the airdrops, I'd be paying $5 per pack, plus a voucher, which is currently selling for around 50 cents. That same 120 packs would cost me approximately $660.
To that end, what's better? The packs or the airdrops. Could the airdrops be worth $240? Who knows; but what I do know is that the RIFTWATCHERS cards will be in high demand. Most tournaments now are MODERN format, which will make these cards necessary to be able to compete. Will I do well out of my buys? Who knows, I need to have an average card value of 70 cents to break even - which I think will be quite realistic given the low pack mintage and the extreme awesomeness of these cards.
In the screen grab below you can see from Splinterlands you can see that this set is certainly skewed towards the Legendary end of cards, which will mean that these cards will become instant game-changers.

Good luck in buying your packs, and then opening up TREASURE. As we know with splinterlands, assets will go up over time so the best time to buy them is now!
PS - This is my favourite card so far; I pinched it from @bulldog1205's stream today. For me, I'm an Alric/Magic lover and this card just made me faint!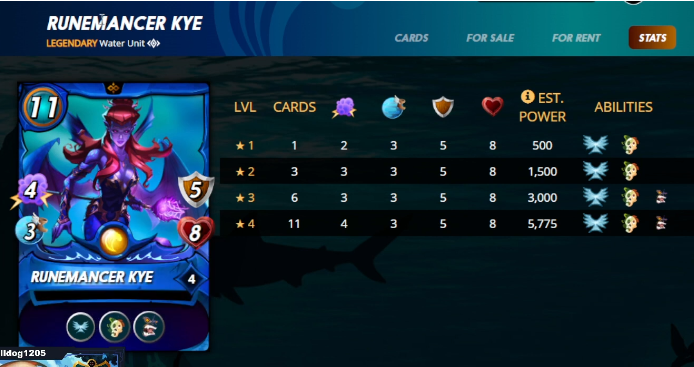 Don't forget, you can click here and sign up with my affiliate link.
#splinterlands #spt #play2earn
#oneup #hivegaming #battle #leofinance
#pimp #neoxian
#proofofbrain #thgaming
#leofinance #battle
---
---